How to Add Effects
Chris Converse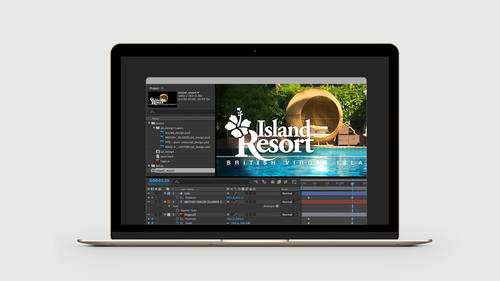 How to Add Effects
Chris Converse
Lesson Info
4. How to Add Effects
Lesson Info
How to Add Effects
So we applied two effects already. We did our color overlay and we did a drop shadow and we used the Effects panel to do that. There's other kinds of effects that we can use that are assigned in the Effects and Pre-sets panel. So let's just take quick look at some of the things we can do inside of there. So to continue our layout, we're gonna scroll up in the Timeline panel so we can see the top. Let's open up our Design Comp Layers and what I want to do is, I want to use the pre-comp that we got from the layer group inside of Photoshop. So I'm gonna grab the Book It and just drag and drop it. And just drop it right on the main stage. So now this is gonna show up exactly in the right spot. If I want to go in and edit this, I can either double click it from the Project panel, I can double click it from the Timeline panel or I can double click it from the stage. In any case, if I double click this, I'm now going into the pre-composition, which again, is very much like editing a symbol in...
Illustrator or editing a smart object in Photoshop. When I double click on this, I am now inside of the Book It comp, which is inside Design Comp, which is inside Island Resorts, so I can see the full path on how I got to this particular piece of artwork. And so like I said before, I don't want to change anything here. I want to keep this exactly the way it is. And when we talk about paths and masks, in a little bit, we'll talk about exactly how this got structured in here. The last thing I'll bring up is, down here in the Timeline panel, if I have more than one composition open at a time, I'll see all of these showing up down here as different tabs. So again, I keep bringing this up because in After Effects, there's so many ways to get to the different pieces. It's important to understand how the structure is being put up here. So as I have all these open, I can just simply go back to Island Resort by clicking on that tab in the Timeline panel. That'll bring me back to here. Okay, so let's temporarily add a few effects to the Book It comp. We're not gonna save any of these but I just want to show you how some of the effects work cause we're gonna apply an effect later to the video. So let's say for example I want to add a gaussian blur to the Book It comp here. So what I would do is, again I like to have my Effects controls next to the Effects and Pre-sets. The best way to find effects is to start typing in some content. So I want to look for a gaussian blur. Once I find an effect, whatever effect I find, if I have that item selected, either in the Timeline or on the composition, if I double click on gaussian blur or click and drag and drop it on the composition or the Timeline panel, in three different ways, I can apply that gaussian blur to this item here. And so, with that applied, I can now see that there's an Effect panel showing up here in the Timeline, that tells me that there is an effect being assigned. I can see the effect highlighted in the Effects and Pre-sets panel and I can also see this area will now light up with all of those different effects. So this is pretty quick to see when we have one piece, when we have lots and lots of layers, this can take a few seconds sometimes to find where your effects are. So with this selected, if I wanted to apply a gaussian blur, I would simply just click and drag. And you can start to see the blur taking effect on that main object. So that's pretty straight forward. One thing you'll notice is every, just about every effect, anything we can do inside of After Effects has these little stopwatches next to it, this is how we apply animations. So we'll be talking about that in a few minutes. We can also add effects together. So let's come in and add a drop shadow. This time I'll type it in the right spot. So I'll do drop shadow down here. Click and drag, we can drop that onto this piece here. And again, very similar to the work flow we saw by applying the layer style, the drop shadow settings can be applied here as well. So we can change the angle, I can change the distance and move this around. I can change the softness and what's also key here is we can turn on and off individual effects and we can even change the order of an effect. So if I hit the Command or Control in Windows, left bracket, I can put the gaussian blur after the drop shadow. In some cases in After Effects, the order of your effects can make a big difference. If you do a hue saturation and then apply something like a color overlay or a lighting effect, you can actually change the order. Apply the light before the hue saturation. Everything in this panel here is basically a Layers panel with all of the different effects that are being applied to all this individual artwork. Again, the only reason I didn't use the drop shadow effect here on the logo is because the logo is using a color overlay. So I wanted to use the drop shadow piece for that, to get that piece in place. Okay so let's remove that by simply just hitting delete on each one of these effects. The one really powerful thing about effects, and this is in all of the Creative Cloud applications, is that effects are non-destructive. They get applied to the layer and you can always remove them or change those individual properties.
Ratings and Reviews
I've known for some time that I should learn After Effects, but it seemed so overwhelming and yucky. This course gave me a concise, approachable starting point that gives me the confidence to start making a simple video. I know I'll learn more as I go. Getting started is the hardest part, and this course has solved that for me. Yay! I especially liked the asides about making the workflow more efficient and about what makes animation more polished. I'd love to see a more in-depth course from this instructor now that I've had this taste.
Wonderful After Effects course! He teaches the software so well and in such an easy way, that you will not just know how to but most importantly also 'understand.' I am very happy for the time I invested in this course and I look forward to learn more from him.
I've always wondered why video tutorials don't start with the similarities with other Adobe design apps. Those similarities make the intuitive leaps of learning this new experience much easier. Mr. Converse moves at a comfortable, reassuring pace. Very happy I bought this!
Student Work