Tour of the Interface
Chris Converse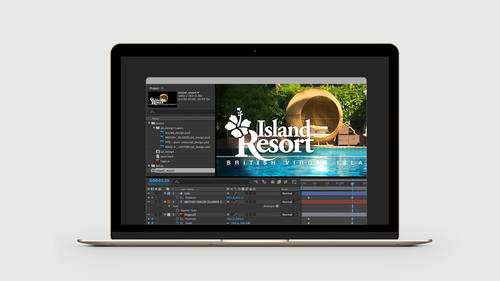 Tour of the Interface
Chris Converse
Lesson Info
2. Tour of the Interface
Lesson Info
Tour of the Interface
Let's take a jump into After Effects. So like I said before, After Effects can be a little intimidating when you start, when you first open it up. There's lots of panels, lot of places that things are sort of hiding. But again, we talked earlier about sort of what's in a name, how we relate pieces in After Effects to pieces inside Photoshop, InDesign, and Illustrator. So in the upper left hand corner, by default, actually I should bring up the fact that at the very top where in the default workspace if you've launched After Effects for the first time, it'll be in the default space. In the upper left hand corner will be the Project panel. So the Project panel's broken into two sections. This is a preview area, and this will show all the files that are linked in, just like the Linking panel in InDesign and Illustrator. In the center is the Composition panel. This is where we see all of the artwork that we're working with. And down at the bottom is the Timeline panel. As we add artwork to...
our composition, it shows up down in the Layers panel, so that's where our Layers panel's gonna show up down here. This is called Timeline, but again, it'll work exactly the same way. Over in the right hand side you'll see the Libraries panel here, this'll be open by default. The panel we're gonna be most concerned with is this one here called Effects and Presets. This is where we're going to apply all of our effects. Now in Photoshop if you go to the Effects panel, you'll see maybe eight or nine different effects inside of there. After Effects has hundreds of possible effects. There is tons and tons of things we can do. I'm only gonna show you just a couple. But if you don't take anything else away from this class, I want you to take away the, sort of the desire to play with all the different effects in Photoshop, or I'm sorry, in After Effects. So just go through and pick them and just keep playing. There are so many really interesting things we can do. The other thing I'll bring up before we jump into creating our layout is the panel that's missing here by default is the Effects Controls, so in After Effects, just like Photoshop, you apply an effect, and then you have to run the controls. So if I go to the Window menu and come down to Effect Controls, right down here, this will bring up a control panel where I can change the properties of an effect. In Photoshop, this comes up as a dialogue box whenever you apply an effect. So by default, in the default preset, this will show up next to the Project panel so now these two panels I can click back and forth. So what I like to do is I like to take the Effect Controls, drag this panel out, and I like to put it on the left hand side of my Effects and Presets. And I'm also gonna come in here and just close some of these that I'm not gonna use. I'm not gonna use audio, and again, the workspace here works exactly like the other Adobe applications, so this is the way I like to set this up. I like to have my Effects and Presets on the right, my Controls next to it, my composition, my Project panel, and then the timeline. This makes me the most happy, this makes my brain feel good.
Ratings and Reviews
I've known for some time that I should learn After Effects, but it seemed so overwhelming and yucky. This course gave me a concise, approachable starting point that gives me the confidence to start making a simple video. I know I'll learn more as I go. Getting started is the hardest part, and this course has solved that for me. Yay! I especially liked the asides about making the workflow more efficient and about what makes animation more polished. I'd love to see a more in-depth course from this instructor now that I've had this taste.
Wonderful After Effects course! He teaches the software so well and in such an easy way, that you will not just know how to but most importantly also 'understand.' I am very happy for the time I invested in this course and I look forward to learn more from him.
I've always wondered why video tutorials don't start with the similarities with other Adobe design apps. Those similarities make the intuitive leaps of learning this new experience much easier. Mr. Converse moves at a comfortable, reassuring pace. Very happy I bought this!
Student Work