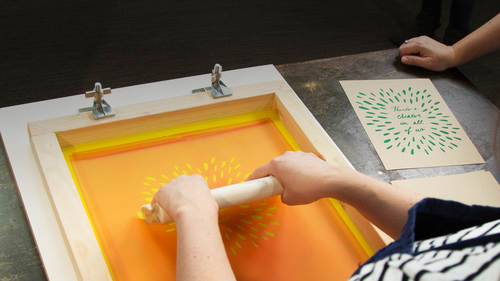 Class Description
Screen printing is a popular, fun and creative way to apply your designs to new materials. The idea of taking on a creative outlet can be daunting for illustrators, artists and creative business owners but with Introduction to Screen Printing, Erin Dollar will walk you through the entire creative process with a DIY workflow, making it accessible and approachable for anyone.
Erin Dollar is the talented textile designer and printmaker behind Cotton & Flax. Join her for this beginning class on the art of screen printing, and you'll learn:
How to create a bold design and transparency that will translate well to printing

What materials and tools are best for beginners

How to work with photosensitive materials and create a dark room in your space

Best practices to prepare your screens for printing on paper
Erin has applied her art to a wide variety of patterns and mediums, blending fine art and fine craft to produce fresh and vibrant designs. Learn proper printing techniques and take advantage of her streamlined process for screen printing. Empower yourself with this new skill set and bring this versatile and dynamic craft to your creative space!
Reviews
Wow, that was a great course. Erin is clear, engaging and encouraging. I would loooove to see a follow up course with her that explores some of the more advanced silk screen printing techniques that she mentions in the last segment. Great job!
Erin is such an outstanding instructor. She's just so confident with her topic and with her ability to communicate. This class helped me realize that I'm not ready yet to start screen printing, which in my opinion is just as important as recognizing when you are ready to try something.
Loved this class so much, I purchased it half way through the complimentary viewing. With the step by step directions, and tips provided throughout the class, I went right out and purchased the supplies that I needed, and I am ready to do my first project! Having the class available to refer back to throughout the process gives me the confidence that I need. I would definitely recommend this class to anyone that would like to learn how to screenprint, the right way!!