Introduction to Toy Cameras
Introduction to Toy Cameras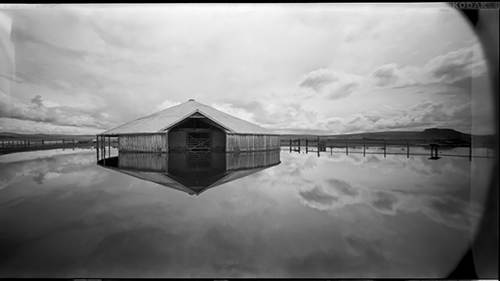 Introduction to Toy Cameras
Introduction to Toy Cameras
Lesson Info
Introduction to Toy Cameras
Michelle bates is basically the expert on everything twin cameras I believe this is intruded joy cameras and I'm excited to see what she's going to show us today so come on shall come on over excited to have you here you know we're limited on time, so I just want you dive right in okay there and enjoy yourself. Thanks everybody for coming and thanks everybody for watching this's of course about toy cameras, water toy cameras, toy cameras are really cheap, simple cameras that take film remember film anybody? Um, there have been lots of them that have been popular in the fine art photography world since the nineteen sixties, so I'm going to talk about a few of them today I'm going to show you bunch of images and I'm going to show you how to work with the whole good camera, which is my favorite um these cameras started off with the diana camera, which was introduced in the late nineteen sixties and there were several clones of these cameras here is a couple this is the door ease and this ...
is a danny a um they were found in drug stores, they were like a dollar cameras and people in fine art photography program started using them for the simplicity, for the way is that they even doubt they the equipment scene between the students so there wasn't about what kind of equipment you had is about what you could see on dh these kind of cameras were around until the late seventies and they stop being made andan in nineteen eighty two the whole good camera was introduced and they still make whole goes today so this is what I got started with in nineteen ninety one and today there are a whole bunch more cameras that have been made in this world which I'll show you more of afterwards, eh? So what I'm going to do is show you a whole lot of images and I'm going to talk with each of the images something technically about how how they're made with the limitations or the advantages of these cameras and some is about the subjects in the type of things that you can use them for because you know especially now the more advanced the equipment that is available you know you think that you need the latest and greatest to shoot like weddings or you know, commercial photography or all these things but I'm going to show you people doing all these types of work with these really really simple cameras and getting really spectacular results. So so this is the diana like I was saying in a couple of the cute boxes you know, part of the appeal of these is that they're cute and they're fun in there kitty and I love these old boxes and then this is the whole good camera so this is the second version of them the one twenty and which has some very slight additions and advances over the first version but basically they're the same as when they were first created. So when I started working with these cameras this I was trying to figure out what to do. I was in of course that the main photographic workshops which has now mean media workshops trying to figure out how to make some good images and a black and white photography course and this is an image that I took the whole goes and most of these take one twenty film there are other ones as well thirty five mil everyone's but the kind of most of them are one twenty and this is what I got when I printed in the darkroom using a standard negative carrie and I was like well that's nice but I could see that the negative had more information on it that I really liked so what I did because I didn't know what I was doing it was like my very second photography course or something was I took a piece of cardboard and I started cutting it out to make a negative carrier that would actually follow the edge of the image so this is one version of it where I was sort of getting there and getting the top in the bottom in this regulated um and this is what I ended up with this is from ah twenty five sheet kodak paper box and and I still use this today so this was nineteen, ninety one right? Like twenty some years later err on dh it's very precious to me and this is what I end up with on my images so they have this kind of old tv look it has become my style has become the way I see things and I love using this so everybody can have their own luck people deal with the fact that these images are an odd shape in different ways and you'll see some examples of that but you can see this I got the whole negative in here which I really love um this is another image that I took in my hometown which is just this little snowman and it ended up winning an award for best humor photograph which I just love because some people think it's sad because he's going to melt and some people think it's funny on I've ended up shooting a lot of animals and characters and sculptures and stuff like that this is a and like on on lee hole got could really take this image if your regular camera took this you know you'd think it was broken or you'd return the lens or something like that like that's why modern lenses have all these coatings and multiple multiple elements is to avoid flair so this is one of the things that happens with toy cameras and these very simple plastic lenses like one element uncoated plastic lens and one of the things that you get is flair, and when you use, like a whole gut, you're not looking through the viewfinder, right? So the lens is here and the view finder is here, so you're not getting what you see through the lens when you look here's the land's, here's, the viewfinder. So when I was looking through the viewfinder, I couldn't see that I was going to get this or there's any effect. So it's the kind of thing where I took several shots to experiment and was shooting into the sun, which is, I think, not a very good idea with digital campus, but I love the effective it, and it just came out so fun. I call it holy cow and this's a shot in new york again, like I love, you know, shooting the weird animal things, and I also like the it's not quite square, but it's sort of a squarish format more so than our normal, you know the kind of default standard of rectangular photographs, but it's it's very different to shoot square images as anybody has used a medium format or hasa bladder, a twin lens reflex knows, and I like manhattan for that it's, a very vertical city so you can find interesting things to do in your vertical space. So this is a dog driving the car, and this is out here in washington state. Um, I love the way that whole goes deal with clouds and there's, beautiful clouds all the time here in the northwest. Uh, so you end up with these really nice interpretations of clouds and there's. These sculptures are huge, they're kind of life size, but they're flat and but the format and they've been getting, I feel, like, gives a life to these sculptures that you wouldn't necessarily get when you have a regular photo of them. And so this is a photo that I took a coney island, and one of the interesting things about this photo was coney island was closed the day that I went there, and but we wanted to shoot, and my friend and I talked her way in, and there was a fence around this, you can kind of see the the fence going around it, but I like this thing, and I want to take an image. So I took the camera and I stuck my hand through the fence like this and pointed it of the thing, and I took one shot of this character, and it is it is, you know, a lot of people don't ever look through the viewfinder, the camera anyway, since what you get isn't exactly what you're going toe what you see anyway, but it's amazing to me that I got this perfectly straight and center. And I got this thing in the middle of his head, because I probably couldn't have if I had tried, and was there have you buy their, you know, so it's amazing to me, but it's great and ended up being on this cd cover and got a lot of play and that's really fun for me. It is the perfect date for cd covers, right? You know, um, I was also early on. I was visiting somebody in the hospital, and I heard this helicopter coming in. This is in new jersey, and I took this siri's of five photos of of the helicopter landing. And then this is the first one in the last one. And these are my favorite ones of it. But it's, this whole siri's and the hospital ended up using one of these in their annual report, and they actually asked me recently again, do you still have those photos? Because we might be interesting using them, um, and to me that's, really representative of using what can sometimes be thought of as a quirky camera and a lot of my images are quirky and funny and silly but you can also use them for these serious topics and just give a different interpretation and added drama to what would normally be you know a very traditional serious serious topic and again these beautiful clouds which I burned in here in the dark room so I also ah shot for many years for the local weekly newspapers here in seattle and it was great because they really allowed me to photograph a wide variety of topics um I usually would bring her along a thirty five millimeter camera just in case to make sure I got something but it was always really fun working with people andi you sort of give them the camera to hold and they think it's going to be heavy and it's really really light on but really kind of can break down that break the ice between people when you have this like toy camera and you know it's good to have this year's camera too so they think you know what you're doing but it's really ends up with some great stuff um and so this is ahh by hilbert he did the translation of this a poem in pioneer square which is a very well known area and skate parks with the skating space needle um I have a photograph a lot of theater and performers on dh that was generally for the first bunch of years on medium format for six, four, five and now it's digital but every once in a while somebody wants me to do a whole damage to represent themselves they're artistically so this is a friend of mine who is a juggler on dwi shot this on bass on with the backlight and everything and this one I sort of cheated a little because there actually was a bird in the sky for the third writing in a sense I scanned it I added the third ball in there it just happened to be in the right place though, and I have I always photographed my friend's wedding with the whole gun it's a really I won't do the main wedding photography because a wedding photographer you're so difficult and technical and specific and I want to leave that to the people who are really professional wedding photographers because it's so difficult and um a lot of them are actually shooting whole goes for their weddings now and I like to do this for my friends and give it to them framed little wedding present, which means I don't have to go shopping, which is great for wedding gifts and they get a really unique image um so they're tired of people out there doing more and more of this now, which is really fun um and so I've lived in seattle since nineteen ninety two and I've been involved with a local event called a three month summer solstice parade and I've helped build it and you know, create this is nine a m in the parade and I've been photographing it for all of these years and so I shoot color film when I'm doing this and this is poll goes take color film and I actually do color darkroom work so I actually still can print these in the darkroom although like anybody everybody else I'm getting more in tow scanning the color negatives and then doing digital prints but most of what I've done until very recently is color dark room um and I just I love the effect I love the way these things look and work ah and then this was taken at the oregon country fair which is another kind of community celebration arts event in oregon and on dh there's a couple of really holgate things about this so there's this light leak on the bottom so in color your light leaks tend to end up being yellow or red or are nt and sometimes those can work with what you want sometimes not lite leagues or the kind of thing you can control them to a certain extent withhold go if you want or you don't have to and some people like to integrate them into their imagery in black and white it somewhat easier too burning man or get rid of them digitally in color, since they have a color with him. It's a little bit trickier. So it's, always nice when they work well in the image, and then in the lower left of the lower right of the image, there is the little double hand and that's kind of an effect that sometimes happens with the whole guy it's, just a feature of a very little cheap shutter mechanism. And this is an event where they ah, people where these blind masks and follow the sound of a bell. So it's very, very slow and it's great to photograph, because they can't see you so they don't get self conscious. This is an image that I took in manhattan at a park with the water coming down over these steps, and it ended up being the bridge into a whole series of images, that I called urban oasis interpretations of natural elements in cities. And it was great for me because it's so much it's a more serious topic. It's not quirky, funny animals are sculptures and things like that which I love but it's nice to branch out, and they I like the images that have an abstract quality to them. You can also get a sense of the hoga shutter speed here, which is about one one hundredth of a second it's either that or bulb so you don't have much options and bold is like really long s so you can't really adjust your centre street in too many ways, but I'll show also some possibilities for how to do that later. Um and this is another one from that siri's of a pond call conservatory water in central park that has a reflection of the buildings and the floating leaves. And so it adds some ambiguity and some light leaks in there that I kind of like, how they work this's a totally straight image. People always think this is somehow manipulated, andi, I love that about it. So this is at the museum of fine arts in boston, where these enormous walls and huge trees and so this is the sunset coming right through the trees onto the wall, which I took rolls and rolls of film of on dh that's just a window that sent into the wall that just happens to be reflecting at that particular part of it. And so I have a whole series of these with different things, which I just love, but I love that kind of ambiguity and something that shows you, you know, you've got the nature in the city, and this is another one where all you're seeing is light and water, but you know exactly where you are, right golden gate bridge I've also photographed a lot in nature over the years you know basically I'll have my old goes with me when I'm traveling when I'm hiking when I'm doing whatever so I've ended up with lots of siri's and when you get shows and you wantto put together a new siri's you just sort of look through what you have and collect stuffs okay have a serious of trees and I seem to have this thing for dead trees and that's great this is yellowstone yosemite and so this is obviously a very famous scene but it's somewhat of a different interpretation with the focus on the dead tree and then that rounded vignette id seen to it um this is out at the whole rainforest on the olympic peninsula in washington and this's rain forest so it's very mossy but this snow on it which is somewhat unusual so again like a different interpretation of what your normal nature scene and here's a couple more the one which were you looking on your right is ah of some apple trees that were cut down in an orchard on vashon island and that was taken with ill for delta thirty two hundred film so mostly I used try ax which is a great standard film this was kind of low light foggy day so used a faster film the delta thirty two hundred is the only one twenty film made now for black and white that's faster than four hundred um, and I really like the grainy quality to it. I don't know how much you can see that on here. Um, and then this is a really new one of this crazy foggy after a rainstorm light, leaky shooting into the light thing in eastern washington and these air some burned trees, um in utah on a road trip there. So a few years ago, I took a trip teo, thailand and a paul, and I didn't do this purposely, but I realized afterwards that I've been shooting the same subject with different cameras, and I found it really fascinating to see how they interpret the subject, so I had it took me ages to figure out which cameras to bring with me on this trip because I have, like, an entire room full of cameras, right? You know, four by fives and point shoots and digitals and the twin lenses and cabinets full of toy cameras and all of this stuff, so I ended up bringing to holders one for color and one for black and white and a digital point and shoot. When was the first time I even had used it digital point shoot on die just love to see how the camera and interprets different things, and I've got a few examples of these, so this isn't chiang mai in thailand and this is in the katmandu airport parking lot where is like well look at that tree in that light you know no no get on the plane but it's so pretty and I like both of them so much but they're just so completely different uh and you can even see the rays of light on them but the shape of that and they've been getting in the corners and the roundness just adds somewhat so many different elements to it then this does and even the abstraction of the black and white versus the color and this is in a paul um it's such an interesting thing that we think of straight edge rectangular photographs as normal as right as correct, you know it's totally arbitrary right there's nothing really that that makes that riel except that you know we see somewhat more horizontally because there's two lies but, um we also see in a way that incorporates vignette ing and falling off so I think in a way this mirrors you know how we see a little bit more and then this is a more recent one of this amazing scene in eastern oregon where the uh fields were flooded and that's what? So this is one of my images where I haven't been printed yet I just scan the negative and so it doesn't have my fuzzy edge frame on it but that's what the negatives look like just coming straight straight out there and you'll see some some other people print them like that normally this was a place that I went to in israel when I was visiting their friend told me about this you have to go you have to go and it was sort of like a graveyard for parade floats s so when I got there I realized oh my god, this is heaven, you know, except for the fact that it was like noon in july in israel so it's kind of like hell because it was really hot but I had a great time photographing these things and here's an example where this camera had a really consistent light leak on the top there and all the photos and I actually love the way that it looks on knees, which is great because if you don't, you know there's nothing you can do about it this is film, you know, it's really hard to fix these and I never crop holgate images so either the composition works or it doesn't for me and sometimes it's really painful because I lose images that way but it's just it's the limitation of shooting with these and this is one more image that's sort of interesting to me, so this is a new york a union station which is paul is one of the only places I've seen where you can look found on the trains, and so then the newer holders have bulb settings, and the bulb setting is where you hold the shutter down and there's the shutter stays open as long as you hold it, and then you release it. It's got so you get, you know, you can't really do anything really shorter than about a second or however long you want, um, generally do this with a tripod, but you can't really use a tripod in the subway, right? So so there is a railing up here, and I lean the camera on the railing and did several long exposures until you know, the the transit people in baby leave because you're not supposed to photograph in the subway, which I don't think it's true, but what I like about this is this guy is standing really still, and then you have the movement in the crowd and it's hard to get that effect with the hogan, and you can't get it outside because you can't close the shutter down to really small aperture. Um, so it was ah, kind of a unique situation of being able to get that that kind of effect. So one of the things that you can do with the whole guns, so the holder is you manually wind the film, great sound, and, um the camera doesn't wind it for you, and it doesn't remind youto wind the film and it doesn't really care if you wind it or not. So a lot of times, if you don't think about it, you can end up with double exposures, multiple exposures on the same frame, and you can use it to your advantage. So what you khun dio is wind the film partway uh and get these panorama is, and I'll show you examples of some other people who are doing this spectacularly. This is a little when I did in chelsea in new york s o this is four frames and you can see the four frames and the three little areas of overlap, and it takes a little figuring out to get it to be really right if you want it to. I represent a true panorama, but there are also people who take different types of images and make sort of fantasy panoramas. There's a question, how do you scan something like that? The panorama? Because I've tried doing stuff like that, and I just bin, it messes it all up when I'm trying to scan it digitally, right? So scanning hold a negative this is sort of tricky because most scanners want you to put your film into these little frames, right? And those pretty much never work because they the whole good negatives go right to the edge of the film and I'll actually have a slide of film later um and so what I do is I have a flatbed scanner with glass that will scan without using the frames and so you just put the film right down on the glass and so if you have one that does, you know, a long a long piece or you know khun dio either eight and a half by eleven or even the narrower piece you can scan something like this and I'll show you another photographer who shoots entire roles like this and I'm assuming that she scans it bit by bit and then puts it together tried to dio just didn't it didn't work out exactly like I know that's what you have to dio I mean, you know, there's sort of the low end of the high end you can't do the medium and so the low end is flatbed scanners, although they're getting better and better on then there's um, the kind of just film scanners and those don't work at all and then there's drum scanners, which you can also do the holding but those air really expensive you access to that maybe in a school or rental facility, then maybe you can do it, but you just draw the little outlines on your things and then you can scan it also you know, I think that this piece is long enough that you could actually printed in a four by five and larger or if you have to have access also to it eight by ten and larger then you can rig up either a glass carrier or make a handmade carrier that will hold your long things and then you can print them in the dark room and then you can scan prince right? I know it gets very confusing okay so now so that's kind of most of wanting to show you my own work in two thousand six I put together this book plastic cameras doing with creativity and it had I think thirty three photogs I was in it and it's like sort of a history and introduction to all of this in two thousand ten I updated it on dh the second edition has forty nine photographers and you know has sort of updated the history since two thousand six which things have been changing so much so I'm going to show you work by a bunch of other people who are in the book both historical and new in this whole realm so this is nancy rexroth and she was the first person to shoot with the diana camera who attained some kind of well renown and fame in the fine art world shooting with these and so she did a serious called iowa in the early nineteen seventies with the diana camera in some of these air shot on the bulb setting which the diane has always had ah and she's still around and she's going to re release this buck soon which is great because it's really a piece of history mary ann lynch has been shooting also with diana's for a very long time and this is one of her siri's of artistic muse is so this is the yamato artistic count colony in new hampshire and this's elvis's birthplace and the apollo theater and just got lots of siri's of that um so you know people there are a lot of people who shoot different types of cameras and so they'll use diana's or whole goes for a certain siri's but not for other work and then there are other people who um well shoot all sorts of cameras for the same type of work and integrate them and a lot of different ways you can work with it in nineteen ninety six nancy sesil did was a staff of the new york times and she had to do some convincing but she did in fact convince him tio let her do a series of taken with the whole ge and in the new york times and so this is a serious about times square um and it was actually a really ordeal to even find this teo put it in the book ah and here's one of the images from that and times square was really uh, you know, a dodgy place kind of she was documenting the changeover from when it was all, you know, x rated theaters to disneyland that it is now. And, you know, a lot of people didn't look kindly on photographers, and so she went in using the toy camera. It actually helped her to get some of these images because she's like, no, no it's, just a toy. David burnett is a world famous in these realms news photographer, photojournalist he's been he photographed president kennedy and he's been photographing every president since and he's very well known and respected in the fine art in the photojournalist world in this image of al gore in two thousand four one a when a major photo award. And he had this experience of looking around one of the photo pools one day and realizing that everybody was using the same cameras and everybody was using the same lenses and all the pictures look the same. So he decided to just do something different, and so he carries around holders, and he also uses a four by five speed graphic, um, and he's done some amazing work with both cameras, and this is doing a little panorama this princeton university football team, and he does crazy things like photographing the olympics for the whole gun right's actually an olympic skeleton race and you know he gets access so he can be up close which is great but you wouldn't necessarily think that you can use something so technically ridiculous is a whole ge for shooting sports but you know if you really understand what you're doing and you know what the technical limitations of the camera on what you need then you can use it for these all these types of things that you wouldn't normally think of on on the bottom is a representation of using a contact sheet basically as your final image so uh president obama before I think when he was still campaigning um yeah I interrupt you for just one second I just wanted to ask the studio audience how many of you people how many of you guys are using these cameras or how many of you own them boy meant to do that at the beginning you do can you take the mike and tell people what you have I mean I have a couple of different holders and I um I also collect like all the thirty five millimeter goodwill cameras like any camera goodwill that like catches my eye kind of pick that up I have a lot of really really random ones that I just run tests on through and have a couple of polaroid ones as well a couple and cameras great thank you sorry to interrupt I just wanted to find out you know, take a poll all right, take away. Michelle. Yeah. You know, there are other cameras out there that people are using these days. So the company is the whole ge and other companies are making new cameras. So this is one that I really love, which is a holdup in whole wide or pinhole wide pinhole camera. And so it's, kind of like a whole ge except it's six by twelve centimeter format and it's got a pin hole here. And I love this camera on the top is an image that david burnett took of the white house, which, um I think it's beautiful. I mean, having access is really great, but I'll show you some more images taken with that later. Polly in saint denis is a new york city commercial photographer, and so she does high end photo shoots for these really high end clients. This one was done for the sirius satellite network, um, and she's doing all sorts of crazy things here. So she's doing the multiple exposure. And she is doing the panorama where she advances the film partway she's using studio strobes with jelled light and shooting this on chrome film on transparency film. So if anybody knows about how that works, um, your film is your final product, so you have to get your exposures just right. Or you don't really have anything when you shoot negatives, you have some leeway when you print or scan to make it lighter or darker, but with transparency feeling you don't, so you really have to know what you're doing to use a toy camera with transparency film when you're using studio lights, you do have a lot of control over your light so it's not actually not a bad fit to use like stupid hole goes with smart studio lights anyway, she is a master at doing that and doesn't beautiful work. And here a couple more examples of that indoors and outdoors, which is pretty hard to d'oh and the one on the bottom is for delta and gabbana so again a very high end clients that she's doing this cheap camera cameras with and in general when you do that kind of work again like you probably want to use real cameras to or the art director's kind of freak out on you but often times you know if you can bring in the rial camera and do the whole shoot hey, do you mind if I do will view these toy things will say ok, you know at the end of the day and then that's what they end up using because those images have so much more personality than the regular camera ones a lot of the time mark sink is ah kind of another old time diana camera shooter and again the diana's, unlike the whole ghost started out with a bulb setting so you could do these long exposure so here is all night long exposure shot obviously quite a while ago with the twin towers in new york and he's also done a lot of commercial work. And so this is grace jones, you know, high end uh, celebrity photos and step so one day I was just leafing through newsweek and I stumbled on these photos and I, you know, like a like out there holding photos in newsweek and is like, that can't possibly be true. Well, news we'd be doing publishing holger photos, but, you know, I researched it and I looked into a knight and I found through koyama is the photographer and I found his work, and in fact, he is a roving photojournalist all over the world and in addition to his regular cameras, he takes hold is with him and and she's this beautiful imagery that, you know, gets into these major news publications and black and white. I mean, how often do you really even ever see news photographs in black and white? And this is two thousand five so fairly recently so here's one of his photographs from the earthquake in pakistan and what I said earlier was that you don't when you look through the hole goes viewfinder you don't see exactly what comes through the lens you actually see less through the viewfinder than what you get in the image, right? So this is something that you have to kind of learn so when you look through the viewfinder he wouldn't have been able to see this officer on the right here this is people getting aid after the earthquake so people are lining up to register something so he wouldn't have been able to see that guy and he wouldn't really have been able to see the people in the background so you have to learn um in some ways it's you know more less complicated than a you know, a digital fancy camera with all your menus and things and in other ways it's a little bit more complicated you have to think about things in a different way there are other again, like there are lots of other toy cameras out there that people are using some of them are these little display sort of disposable so many disposable thirty five millimeter ones some of them are panoramic francisco montero assesses a fabulous photographer with the aunts go panoramic, which is a reusable ah little thirty five millimeter one dion reynolds uses thea disposable ones in this beautiful work with them teo and you know again like the difference between regular thirty five millimeter or digital formats and the square when you shoot with a format like this you really have to be able to see in that format and he doesn't really beautiful job of that. Becky ramen toschi is an expert in shooting star astral photography and she actually does some of this with the whole god s oh this is a very long exposure um I think it's two hours and she's also shooting this on chrome film so she really has to know exactly what she's getting so she got the camera on a tripod shooting at the north star and has these beautiful star trails and this is another example of ones that she does where she has the camera on amount that follows the stars so this one I think is twenty minutes they may be switched on dh you can see that the trees there have moved on the bottom but the stars air really relatively sharp and you can kind of see the milky way and stuff it's ah it's again one of these things where when your knowledge of the principles of photography is good enough, then you can take the really simple tool and make it do what you want or decide that no it can't really do that but thea idea is don't just let the camera think for you learn the principles and then think and then you can use any of these tools for however you want um this is harvey stein who lives in new york and he's one of the I think few people shooting street photography with with toy cameras he does a lot of other type of work but I love these I love images that integrate light and shadow as a subject in the image and it's a little harder to shoot street photography these days because ever had so camera savvy that they didn't used to be but I think people still don't know what to make of the toy camera and this is who I was referring to earlier susan boeing she she told a and she shoots entire rolls of film all over latte and she doesn't try to make realistic panoramas she's just shooting kind of random imagery and seeing how they end up overlapping it's social shoot an entire roll and scan it probably bit by bit like we were talking and then she his part that she likes and print those and makes for some really big beautiful digital prints of them um so you know there's uh las vegas and you know, carnivals and the subways in new york so they don't always have to look realistic you can kind of have interpretive panorama is to ted or land is a long time toy camera photographer and teacher and santa cruz so in this image he put a whole gate and a ziploc baggie and shot underwater photography so you get kind of you know, extra blurry weird effect from being underwater and shooting through a plastic bag and you get these funny light leaks on and this is an older style of, uh color negative film that they don't make anymore that had particularly punchy colors now they've they've focused down the a number of films that they make so kodak makes this portrait siri's which I like andre used to have a variety of vividness of color like this is the ultra color and now since most people are scanning color negatives and they can adjust that as they want, they have fewer plus fewer people are buying film but there's still some great options out there for a color negative film this is a camera that ted modified himself to be a pinhole camera and now holger actually makes pinhole cameras I showed you the panoramic one but they make a regular one but you can it's really easy to take the lens off of these and put on a pinhole if you want or take the whole front linds piece off and make you can modify these cameras really easily they're very cheap olga's go for about thirty dollars these days you can get multiple ones and you can, you know, modify them in a variety of ways so he made this into a pinhole camera and with pinhole photography you have what's called infinite depth of field, which means instead of having one area that's in focus like you do with normal cameras pretty much everything's in focus from really close up too far away, which really messes with your perspective because you're usedto using that to be able to gauge distance. So this one is kind of fun and it's a little six inch high sculpture that's about six inches away from the lens, and you can't really tell that from the image, and this is a type of photography that he, I think, pioneered some other people doing it. Maybe other people did it first, she's what I've seen, where he she's a whole bunch of different holger negatives and then scans them in and then just puts them together and photo shop and messes around with the transparency of the images of some of them. You can see how the edges of the frame and there and some don't on dh, so he makes these beautiful collages of the images I'm busy. Queenie is a belgian photographer, and she does a lot of documentary and editorial photography says she works with various ngos, non governmental organizations and she's gone to a lot of countries to shoot projects, and she almost exclusive issues with holders, so the eyes, part of a siri's from gaza called unfortunately, it was paradise, the beach there, and this weird dolls in there, and she does really, really beautiful work just with the whole guy. And, you know, some photographers really emphasized the fact that their work is done with whole goes and toy cameras and kind of make it part of the selling point of it, and some people don't. They're just images, and so she's somebody who just makes these images and they're beautiful and they're used and usable without making a big deal about the fact that they're there holger uhm so thomas, michael element is also ah, hold of tyre, for he lives in l a and what he did with this image is this is one of these insane freeways in los angeles, but he put the camera on a tripod and he shot the shutter multiple times. So you have this a sea of lights here, and the cars are actually ghosts, and so a ghost is when you shoot something that's, not for the entire exposure of the film, and so you can see through it. So actually, all these cars air kind of see through, but you have all these lights, um and that's there's two ways. Using the shatter to add more light to your whole get images. So what is the bulb exposure where you can do it for a long time and want us to shoot the shutter multiple times on the same brain without advancing it to that city example of this and here's another example just of using light and shadow is a subject for an image which I just think he does incredibly well. So jennifer shaz in new orleans photographer and she had this crazy experience during hurricane katrina of being about to give birth to her first child and being evacuated um and the following day you know, when she was out on the road somewhere like kansas or something, she had her son and then spent two months traveling around the country with her new family and the dogs and the husband and everything, and so she wasn't there, but when she eventually got back to her home, she did the syriza work about this whole experience and so it's called hard hurricane story and she got little dolls and he did all these photographs using the whole goal really close up to represent this story, and she has this whole siri's that's fifty two images now she used a magnifying glass and she just guessed so she held she held the whole ge and the magnifying glass here and just took hundreds of frames and that's one way to do it but I think it was a little labor intensive, but they're actually ways that you can measure and figure out your focal distance for really close up work with the whole gut and the whole good company actually makes some close up filters that fit right on here now that have the measurements on them. So there are ways that you can do this maybe a little bit easier, but I think she got great results so it's a few hours the images from there but baby being born and watching things on tv and it was months till the phone was restored and in spite of it all there's no place like home so it's a really creative, interesting way of using photography to represent an experience that she couldn't photograph at the time. Sylvia placke is a very well known photographer. She photographed for the village voice for many years and interspersed with the rest of her work. She sometimes used whole get images and it's a really beautiful work with them. Um, and some of these were taken in aa eastern europe where she came from. This is another example of doing close up photography, but with somebody who sort of figured out a system for actually measuring and doing this beautiful close up work um rebecca talk ah, with close up filters and this is a siri's on george back did hey took hold got tio auschwitz you could go visit now and did these images and to represent this air place nous of it he made these images and printed them on a transparent medium and then put them in the middle of these glass blocks so you're not looking at a flat image on the wall you're looking at, you know, a building block material of something which I didn't see this in person I would love to but I think adds something to the representation of the place dan zamudio takes contact sheets and creates them as the whole image. So as you saw most of the images most of the whole gang images that you've seen so far kind of rounded edge right when you buy the camera it actually comes with two inserts that you put in the camera and one of them is a rectangle and one is the square and you can use those in there and it makes the image is somewhat more square it takes away a little bit of the rounding and then getting and it's just a choice that some people do so this is what he's doing here is this is taken with the whole ge and he's got these more straight edges and so he's shooting you know the entire roll of film to trying to represent them ah as an entire contact sheet actually, this is sixteen frames so it might be with the diana but it's the same idea and shannon wells shoots with holger and then she uses what's, you know, sort of an alternative process darkroom process called lift printing. There is a lot a lot of people out there now combining, you know, toy camera work with digital scanning outputting digital negatives than using all processes to create images. There's, this amazing amalgamation going on right now a lot of alternative process photography uses contact, printing so what you do is you put the negative right on the paper and when you have little negatives, you get little prince, but what you can do now and people are doing this is scanned negatives and then output bigger negatives. And then you can make bigger prints with these old time contact prints. It's pretty amazing all the other stuff that's going on right now with that this's ryan sent it back and he uses infrared photography. Infrared film in whole goes on, and some people think that used I couldn't really do that because they're plastic and maybe the infrared would leak, but actually it works. Great. Um, infrared film uh, is sensitive to both visible light and infrared light so you can use is a normal film if you want to get infrared effect you put a dark red or even an opaque filter over the lens to cut out the visible light and then you get more of this infrared effect and it actually works oddly well in a whole gustines if you put an opaque filter over the lens you can still see through the viewfinder which you can't in an slr normal camera we actually see through the lens but it definitely takes a lot of experimenting to figure out I'm getting your exposure is right and this is michael kenna who is a world famous photographer does a lot of night photography and beautiful photography and night photography is very technical and difficult to do a good job on and he has been doing it for so long that now it's really second nature to him so the challenge of it that used to be really interesting is less so now so for fun and for, you know, unpredictability now he carries around a whole go with him wherever he goes and he she's that way so I love that he's he's such an expert and he's so good at what he does that you know, the whole ge is the thing that is showing him again the magic of photography and it's great because I really think that you know, holders and toy cameras in general has something for the real beginner photographer because there's these ways where they're really simple to use and they have something to offer their you know, professionals and people have been doing it for a long kind because there's you know, there's nothing to adjust, right? So when you're used to really taking out your cameras and adjusting everything and making sure it's perfect and then you you take this camera out and you go to shoot and you're like like that's all there is to d'oh it's just so amazing and then you go to look at the camera, the picture on the back and there's nothing there so you just keep looking around for more images, so they're a zoe mentioned there's a lot going on in the toy camera world right now, so I'm going to talk to you about different cameras and what? What in what other ways people are getting them out there so that the whole good company is just kind of go into town and creating all these different cameras they made their whole goal would collection and I have my gold holger, we don't know what I'll use to show you the insides of it because you can kind of see it a little better than the black ones on dh then they have, like, glow in the dark ones, which are fun and silly and these are some of the sort of mutated the whole gut versions and they have now so one that I showed you already is the pinhole wide and then they also have the wide format whole god that has a lens so this is a little bit easier to use because pinhole takes longer you have to do a longer exposure is this is like a regular lens, but it's kind of a monster it's a little huge, but for a six by twelve format panoramic camera this is definitely the cheapest and lightest camera that you're going to get and it's a great intro to that format because it's a really fun format and they also make two different versions of stereo olga's one with lenders and one with pinholes and they also make little holders uh, and viewers so uh, you know, just to have fun with it. And so there's a couple more pictures that I took with a pinhole wide um and you get if you take out the insert that it comes with, you get kind of this rounded edge and again playing with flair um, so this is a polaroid back on a holder and it's kind of a monstrosity. Here is one that I have here. So there have been several versions of these over the years um and polaroid no no longer makes film, but fuji film makes film that fits in these backs actually, the original versions of these took polaroid eighty serious film which stopping made like a long time ago and the newer ones take both. So this is a newer one, they're made by a power and you can stick it on your whole ge and get instant feedback, and you can use black and white or color film, and it has a little die after on the front teo change the focal point from where it would normally be inside the camera to back here and so it's, you know, people are still amazed by instant photography. Fuji film is make some of these great little in stacks, many cameras, and I, you know, I'll take them in shooting, shoot, and it spits out process, and I show them to people in there just like amazed, and they're like where's, the digital version like no, there is no debate over, is it? This is it on dso you could do that with the whole go, which is really, really fun, and here is an image that I took with that, so the film is rectangular, so they don't. They're not exactly centred are squaring it, but they're still pretty fun. And here again, or some of the old timey cameras, the diana f and, um, the door ease some of the old ones. And ah lot of people still use these cameras, so they either have their old ones or they buy them on ebay. Diana cameras since those were the best known really kind of go for a lot of money, all of these clones are also available, some are better quality than others and you can get them for a lot cheaper if you want that style the way that they shoot is somewhat different smaller squares and a few different things but it's the same idea, but for all the people out there who are really open to this, a company called the loma graphic society reverse engineered a diana and made a new version of it called the diana plus, um but I don't think I ended up bringing and it s o it looks a lot like a day of it, and they've added a few other interesting things to it like entertain double lenses and it's got a built in pinhole, which is the land's coming off there and there's a few different lenses that you can use with it and there's ah, an incident back that fits on it that uses thean stacks film and it comes in lots of different colors and they've created a huge business out of creating not only the diana cameras but whole bunch of other twenty cameras and a huge online presence and website and stores in new york and cities all over the world, so they're a big player in popularizing toy cameras. They've been selling them at urban outfitters, and so you'll see a lot of that, and people talk about tomography tower camera shooting and generally mammography and so that's. Why? Because they've been a really big player in creating some of these cameras, selling cameras like the whole guy, distributing them, making a lot of fun around it. Um s so there are a lot of thirty five millimeter cameras out there too. One twenty film is, you know, it's a little bit of a specialty product. It's you can't really buy it at your corner drug store, you know you can buy it at specialty photo stores here in seattle. There's glaser's who invited at a rahm? Are any of these other places? Freestyle photographic supply is a place that has a lot of whole goes and film and any anything that you would need. But since some people have more access to thirty five millimeter film processing, they are people are producing some of these cameras as well. The blackbird fly, which I have here, is tweeting twin lands thirty five millimeter camera which I think is unique I don't think there's any other ones like this most twin lens cameras are one twenty take one twenty film and so they're kind of fun and the idea here is that you look through this lens and it shoots through this lens and um uh this one shoots two halfs of the frame on one thirty five millimeter frame and there's a whole collection of other cameras that shoot four and six and nine and eight images on one thirty five millimeter frame so there's a whole lot of like fun things to play with if you want um so everybody's always like, well, how do you get this kind of effect in digital right and there's a lot more ways now than there used to be, but one way that so back a while ago already somebody created the lens baby to kind of try and get that sort of effect on a either a thirty five millimetre slr or digital cameras and they're really fun little little things that you put on and you move them around and they play with the focus and stuff and they've been doing all sorts of fun stuff with it so this is a couple of images taken with that and the effect in the end isn't really much like a whole ge but it has a term all its own that's made them really, really popular and this is another one of those really exciting sunday mornings when I woke up and pulled out my new york times sunday magazine when oh, my god, that's, elin's baby photo. And it is so lyndsey addario did this image of obviously a very serious topic, but shot with a lens baby. Another camera that kind of straddles these worlds of toy camera and digital itself is the roly many ditty. And this is just the cutest thing ever. Yeah, I know it's just adorable, and I wear it is a necklace sometimes because it's just so cute, but it works and it shoots digital. It does, like build two megapixel files. There. Just teeny files have super duper fund. It really emphasizes that relationship between the person in this subject because everybody sees this just got so hot on dh that's. Really an important element of how you photograph is that personal relationship. And when using big fancy equipment, you really have to use the force of your personality when you have a cute camera kind of helps. But I just love the images that it makes. Two. This is seattle flying and over seattle, matt rainier. And it does close up and everything and it's shooting with his a sort of the opposite of shooting with a whole ge. So the whole got the camera only does one thing like it has one setting and then you have to figure out how to add or take away light. This has auto focus and auto exposure, and you can adjust it so you just have to let it do everything and then try and figure out how to mess with it yourself very boats in the northwest cirque du soleil visiting but I love that it can shoot in low light and do all these interesting things. So so, you know, what's, what do you do with toy camera images? You know, how do you interact with them in the world? You know, I showed you some people using them professionally, um, there have for a very long time been toy camera communities, and even though I was involved with them, I can't really remember how we all met each other before the internet. But we did, and now it's even easier and over various times there've been different. Publications that have featured this so light weeks was a great one that went on for a few years and is now sadly gone, uh, that featured a lot of toy camera photographers and reviews of cameras and technical information, which was really fun and you know as with any fine art photography people published books eso these air a few monographs that have been published eric linda looms book is diana work? Um tammy calmer campbell's look through to the orchard is a documentary syriza about environmental justice in east texas and the last harvest from perryville back about truck farmers in the deep south and so these air those two whole get images of these very serious topics um and john stand meyer so published this book of spiritual ceremonies in bali and he's a from the photo agencies seven and he's very well known and he has this whole syria because he used to live in bali, then there's the whole world of on demand publishing so you know, it's made book publishing accessible to everybody blurb is a company where you upload and create a book on there and then you don't have tio order you know, a thousand of them people order them online and they print them as you order them. And so if you go on there and you put in search parameters like whole ge you just get like dozens or hundreds of books of people that have photographed with these serious and find some beautiful, gorgeous work that people do and you can order these little sizes and I have a whole stack of these I mean, I have a whole collection of pretty much, almost everything I confined of toy camera books now it's. Impossible, because so many people are doing it, but I have a lot of books that people have created. I'm so karen, marshal of the summers and thomas element has done a few different siri's ahs faras shows there a lot of toy camera competitions and shows out there, so this is the kind of the queen of them is the crappy camera competition at soho photo gallery in new york and that's been going on the longest, um, and people from all over the world center that and I've been part of the show and it's it's really, really fun. The openings were just zoo, but that's one of the ways that people have always got together to do these two meet each other in the toy camera world, and there are other ones there's curious camera in you saw on and toyed with, and durango and light box in this story. Oregon have all of these these competitions, and they're they're fun to be participating to see other people's work in and get your work out there. And, um, between my first book and the second book, the company, that makes the whole ge, which is based in hong kong and really had no relationship with the photographers until then finally sort of came out into the world and I met them and they saw my book and they were just thrilled you know that it collected all these people doing great work with their cameras and they created a thing called holger inspire and there's ten of us who were involved in this and there's a touring show but they've also been just creating more of a community around people doing great hold a work around the world and um publicizing people's shows and workshops and things like that so that's kind of the end of this part of it and then I'm going to show you some of these cameras and how to work with a whole ge but does anybody have any questions for right now we certainly do online ok a couple questions right? First I have a couple comments I want to read to really quickly francesca says hi michelle from bash on loving these you know michelle no, but I used a little ambassador local loving these examples showing what you can actually do with the cameras let's once start to grease up that old imagination and she says we love you in all caps so motion girl says yea and gary young photo says I'm loving it, inspiring me and letting my imagination run with all the different things others do with these toy cameras so that was really appreciated so excuse me a couple questions that came up jose rivera says do you have a specific project or shot in mind or are your shots inspired by the moment on both? So, you know, there's there's just sort of general life when I'm out and about, and I have a whole go with me, and I'll show you what's interesting to me on dh, then their road trips, which I do a lot of road trips, which generally it'll take me a couple of days to get out of my head and real life, and then I'll just start looking everywhere, and then I'll just start shooting, you know, I live in seattle, so it's really easy to get out into the west and the grand country and find all sorts of interesting things to photograph on dh then sometimes I'm shooting for a specific project. So with the urban oasis siri's, I started off with that waterfall picture, and then I specifically went out shooting for it. So one of the places I went with boston in the winter, when the trees are all bear and it's just very graphic and vivid to me. So I spent a few days shooting there and got a ton of stuff in a very short period of time because I was really, really focused, so it's a mix. Another question from jose rivera the photos are so beautiful and consistent do you find yourself always leaning towards the same film, emotions and photo paper? Or do you mix it up? I it's funny that you say that things were consistent because, you know, you're seeing the best here, right? Right? So you're they're not consistent, you know, that's one thing that you're not going to get when you see a roll of pelican found this consistency, so don't expect it. I wait, uh, like using try x and I like using the portrait film and sometimes the delta thirty two hundred, but I don't mix it up all that much for me it's more the imagery, but I am just one person, and there are plenty of people who do mix it up. There are a lot of people who are into shooting with outdated film, and so you get old film and then you get even more unexpected results with that. And now there are other types of films out there that people use to give you even other weird event results like this red scale film, I think where you're shooting backwards through the emotion and you can get all sorts of other results and now with there's, different types of photo papers. And all the things that you can do if you scan and print digitally. It's really infinite. So your decisions about what your images look like, you know, they start with the film and the camera, and then they, you know, and there's so many options there, and then once you're going to either scan or print or scan your prints or dual, this there's really a lot of options for what you're finding. A final result is going to look like lots of room for experimentation. Ok, can I do one more? Yeah, all right, debbie says what which is in shell's favourite holding to shoot with my favorite one. Tio well, so lately, it's been like my gold one just cause it's just pretty. And then sort of blinking for black and white. I shoot this and then I have this one. So this eyes my kind of souped up whole got that was there's, a website called hold ahmad's dot com where the sky randy smith has been modifying holders for a very long time. So he did the bulb setting in a tripod port before that whole goes, came with that, um and so he's been modifying them and so he's kind of soup, this one up with dell crow and painting it and putting a waist level of you find around it and so this one I shoot for color and so this is the one with the pictures of the kind of decaying carnival parade floats where there's a light leak in the top that comes through this so people get to know the personalities of there individual hold us so when I want that effect all she would this one and it's yellow which is great I do have more actually we'll also my friend kate haley who were share credit live we were asking what the tape was for and she said it was prevent light leaks and help the cameras hold together is that why you have and that's what I was going get to next to kind of show you a little bit about howto get a whole gut together and what all the pieces and parts d'oh okay for that that's a good segue way ok, perfect perfect let's look at the camera here for a minute so I want to show you kind of give you a little tour of the whole gun ah it you know it would seem like it's fairly simple but there are things that you should know about it so you know here's the lens and it's his optical lens which is kind of like well what what else would it be but you know, it says that so you know what it is? This is nice it's a sixty millimeter lens this is medium format camera, so that actually is not normal like it would be in thirty five millimeter regular digital it's wide angle um the camera has ah little focus on here I don't know if you can see that with one person, three people, a group of people and a mountain and you can adjust the focus on here it it doesn't do is much as it does on a regular camera, so if this is on the wrong setting, your pictures aren't going to be blurry, blurry like they would be, but you confined tended a little bit and I've done measurements of what the general focus is of course the soul change between the different cameras, but they also give instructions for how to do that in my book or in the my longer workshops, and you can even adjust the camera two focus closer than what it normally does, which is about three feet by like breaking the lens off and turning mr focus is a little bit closer, which is really very satisfying. There is a little switch above the lens here and it has a little sun and it has a little cloud, a little rain storm on it now until recently this which didn't actually do it anything so there's a little arm that that's which is in front of the lens when you move that, but the hole in that was bigger than the actual aperture. So for all the whole goes, and any old ones that you might have until the last couple of years, they don't actually do anything. Now they've started making a small enough hole in the arm that it will give you a smaller aperture, but it is, in fact, so small that it will actually give you a little bit of a circle to your frame so it's worth figuring out which one your camera is when you have one and also deciding which one you like and so, uh I usually we'll just leave it on the cloudy raining, which is the wider setting, and then if you want to try and do the smaller aperture to cut down the lighter to get that round frame, then you can do that too, but it's worth experimenting and trying on your particular hole. Good to see which one you have. This is the shutter button and it means a great sound again the setting on here, the shutter speed is just one one hundredth of a second and that's it if you want to do above setting underneath the camera here is a little switch and it says be an end so ann is normal and that's, when you get your one one hundredth of a second shutter, speed and b is for bulb setting, and when you have it on b, the shutter stays open as long as you hold it down. Now, since this is on the bottom of the camera, it's pretty easy to accidentally leave it on the b setting, and then all your pictures are overexposed and blurry, so I recommend taping this on to the end so that you don't accidentally move it, but it's really handy to have, and here's the tripod port if you want to do long exposures, okay, this year, as a shitty before, is the viewfinder. It is unrelated to the lens, right? When you're shooting at a normal distance, it doesn't really make that much of a difference that it's not in the same place, but as you shoot closer and closer, what you see through the viewfinder is going to be off, and so that's called parallel out there, and if you are going to shoot close up with the camera than it's worth paying attention to actually where the lenses shooting versus what you see through the viewfinder and adjusting for that up here is our film advance minder makes a great sounded, and if you can hear it and you have to pay attention to how far you wind it on the back of the camera is a little screen, and through there you see the numbers on the back of the paper. So you shoot one twenty film in these if you've never worked with one twenty film before, it has a paper backing on it. There's no sprocket holes, it's bigger it's about this big then thirty five millimeters got paper on the back and his number's on the back. So when you wind this, you're looking for the numbers to go from one to three up until twelve, which is what you have and I cover this so that you don't get too much light leaking through the little filter here and through the paper onto the back. Some versions of the whole go have a hot shoe on the top, and for that you can, you can put in a flash um, they make little flashes this's one made by holder that looks really cute on here and it's small, so you probably, you know we'll want to carry it with you. But it's also a really weak and it doesn't have any adjustments and his right over the lens, none of what your ideal, although it's small, you can also use a fancy flash was my big night con flash it fits on here you can do all the fancy things with these that you normally would like bounce off the ceiling or put a modifier on it or even use the built in adjustments on the flash toe have it read them read the light on here but it's really heavy and makes the camera top heavy and you might not have it with you all the time and newer versions of these flashes one actually work with manual cameras says worth figuring out which ones are which these were the clips that hold the camera the back onto the camera here and they're not they're not very good so that's why I have tape on here because they will often fail you generally have the uh strap to the whole go hanging on to them so that pulls on them even more um and creates more stress so I always tape these on here just so the camera and I and I still even so when this can't this tape gets dirty or whatever I've had the back fall off even recently and I is gaffer's tape for all these things on the back it's really easy to tear and it works really well so this is the back of the whole guy in the end it's very simple plastic and here's the inside of the whole gun and can you see that well enough okay, well that's this is the slide of the back of the camera was showing you those places where a tape and that piece of tape on the top is like just for extra good measure and this is the inside of the camera so this is one twenty film and you insert it and the left of the camera and you have a real that you put on the right side and the film wraps around and rolls all the way onto the right hand real there are a couple of things that are good to do in the camera too keep things light leaking so you can see these two little bits of purple tape on the top usually I use black but it's easier to see that way and those will give you light leaks if you don't cover them and some people like that and they like to leave those uncovered but I like to you know, cover those up and I put some electrical tape because it's smoother than gaffer's tape over these little dividers here because there's kind of a rough surface on those and if you don't cover them it can scratch the film as it pulls across uh the film tightening rolling mechanism on these is not really all that great so one of the things that we also do is put some little bits of paper and stuff underneath this real here to tighten it up a little bit and if you don't, and sometimes even if you do, no matter how much you try, the film will roll on sort of cricket. Uh, and you're we're finished roles will be kind of fat when you take the back off the camera, the light can leak under the edges of the film, and for that, I recommend generally having a changing bag with you, which is little portable darkness to adjust the film, uh and tighten it up in and again, some people like the light leaks that you get in those and so just a couple more sides here to show you what you're going to end up with. This is hold a film, black and white and color, and you can see that the images go all the way to the edge of the film and that's. Why scanning with your normal frames is just is not going to work really well, and so why you want to use a flatbed scanner or especially made negative carrier in the darkroom so that you get the entire frame instead of cutting it off? If that's what you want, francesca had asked, what scanner do you use or recommend besides the expensive drum one break? So I have I for a while I had the absent v five hundred. And what you need is a flatbed scanner that has a transparency adapter, and so the v five hundred and other ones like it have one strip in the middle, and so you can put one strip of one twenty film and scan either part of that air, the whole thing, then they make another one absent makes the seven hundred, which has a full either way by ten hour and a half by eleven scanning bed. And then you can put this entire sheet down there, or at least the frame without the negative sleeves, and you can scan the entire thing and those air very affordable. Yeah, I could take that. We can take our film, have them, too, that if we don't necessarily want to invest in the scanner, are those places? Oh, yeah, I think so. So all right, so what do you do with your film, right? What do you do with it now? I so process black and white film at home, and you don't need a dark room to process black and white film, you just needed some I'm changing bag or a dark closet to load your film and then a sink so anybody can do that wherever you are, as long as you can access the chemistry color film, you need to take somewhere and since a lot of people live in areas where they don't have processing these days, a lot of companies will, some are doing more in the way of mail order uh, so there are places I don't have them office have my head, but I have links to those I think san francisco photo works is one that a recording toy camera photographers and saying, you know, we'll process your film, mail it to us, and we'll either scan it or some of them are still making contact sheets. This is really the best way to see your images, not many places air doing this anymore, where you put the full sheet of negatives down on the photo paper and see the whole thing. A lot of places went even the labs when they're scanning them, they're putting them those in those little frames, and you're not getting the whole frame, so you have to create a relationship. So here in seattle, we have panda labs is very hold a savvy, and if you go into places like that where you could talk to them and say, can you scan it full frame and sometime maybe they'll charge extra because it takes more work to do it on a flatbed than just feeding it into a film scanner, um but there are a lot of resources and their places online where toy camera people congregate and you can ask them questions where do you use in your town where is a good place to mail order um so there are a lot of a lot of options like that if you you know and if you can creator on dark room like basically didn't get dark on equipment for free these days because so many people are running from it so if you have the room and the time in the space and the will to do it you can get dark room equipment and and do your own work which is great but the's flatbed scanners air really really handy to um there you know, a couple hundred bucks so they're not really a lot of money there were questions from jerry hughes do the holder lenses available for dea solares give a similar effect so they don't and here's here's the thing so um ah lenz throws a circle of light right it's round or circular rates so it's throws a circular thing of like when you have a proper camera real camera it will create a circle that's you know say this big and then your image capture area will be right in the center of it like the best part of it and all the rest of this area won't be captured because that's the lower quality what a holder does is the the lands has you know this big of a circle and it was originally actually created to be t do rectangular photos and that's why when it comes one of the things that comes with is a rectangular insert which most people don't use but it could make you know sort of decent photos with that because that's also taking the better part of the image circle when you shoot without an insert it gets more of the image circle where the falloff is where the edges are so when you put ah hold balance onto a digital camera the sensors are so small that is kind of getting the better part of what the lens can dio and you know, I guess that can be an advantage if you want a better image but it takes away sort of some of the holiness of the image and they actually make adapters hogle lenses that fit on that kind of cannon and stuff or you can adapt your own or use these adapters and they just work in different ways so you can try the pull the one you can try today and in one or they might use the smaller lenses for the thirty five millimeter and then you might get more of an effect awesome what do we have any final questions in the studio audience? I think we've all learned quite a lesson about toy cameras today we're excited to have you here the the studio audience seems to be the people online to be really excited about this whole subject and this is a really cool topic so it is you know it is so there's this whole world out there of the alps right? So there's hips dramatic and all these aps that create these images that look like these and it's amazing to me because you know, in the fifteen plus years that I was first doing I'm the type of work people didn't understand what the images were when they would see them they're square and they're rounding and they're just odd looking and now it's so common that these aps makes square pictures that have these weird effects to them and so there it's very very popular now which is amazing to me and it is a great introduction to my work because when people see you know this camera what is that say well, you know your your hips, dramatic pictures or all of these ones that look like that this is what they're based on um and so I love that people are into it that people are thinking in the square format that there are so many ways to access the images that look like this but there is always a difference between what your process is your creative process so shooting with a phone is really, really great and accessible and simple in a lot of ways shooting with a digital slr you know where you later manipulated to look like these is a whole other experience shooting with a toy camera is an experience onto itself you know the cameras are light, they're cheap they're silly you know, if you get a pink one there even sillier right? You know or if you decorate it yourself you can make them really funky there are elements to the process of shooting with them that just make it a different creative process and that is worth it something into itself it's not all about the final results and so you get to choose what are you doing with your time? What are you handling? What you interacting with? How you're interacting with people? What do you want to do later? Whether it's scanning or dark and all of that is part of not only your final image but also your artistic creative process and what you're doing with your time and what you have time and money for. So, you know, it's fun to experiment with some people find you know the just too hard to work with or that film is expensive were you hard to process and all that stuff and they might not choose to use it and they might end up, you know, using the app some people just use the aps, but there are a lot of different options for ways to play with creativity and photography in general and it's accessible in, you know, more ways than ever before that people these days, which I think is great.
Class Description
Every artist has their own favorite medium or texture. Toy cameras are the Van Gogh oil paintings of photography — they create gorgeous images with a heavily textured, beautifully imperfect hand. Michelle Bates will teach you how to use these powerful plastic toys to take vivid photos — covering Holga settings, film choices, and how to use the limited settings to your stylistic advantage.