Create Gradient in Image
Khara Plicanic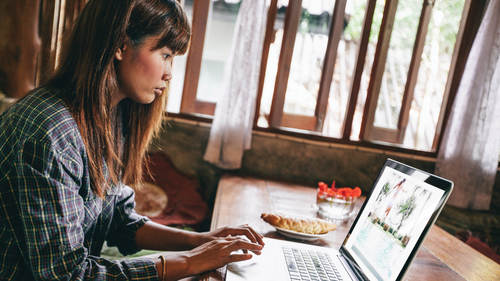 Create Gradient in Image
Khara Plicanic
Lesson Info
25. Create Gradient in Image
Lesson Info
Create Gradient in Image
This is looking pretty good. I think we can spiff this up with the addition of a rainbow. I don't know about you, but when I think about a castle in a cloud I feel like, I feel like it's not complete without a rainbow. So let's talk about how on Earth would we do that. We are gonna make use of something called the gradient tool. And before we get all into the rainbow, I just want to show you how the gradient tool works. So I'm just gonna mess around a little bit, I'm gonna create a new blank layer and I'm just gonna mess around a little bit with the gradient tool before we actually make this rainbow. So let's talk about the gradient tool. First of all, what is a gradient? A gradient is a fancy art word that just means a transition. So when we talk about gradients we're talking about transitioning between one color and another. So that could be, we could be transitioning between black and white, so that means that somewhere in between the black and white we would have some gray area. We...
could transition between black, white, and then into purple, orange, and green, so you can have more than just two colors that you're transitioning. And gradients are all around us even if we don't even notice it. So there's gradients in the studio here behind me on the site walls. There are gradients when you look in the sky at any time. We like to say that the sky is blue, and it is, but it's not just one shade of blue, it's a whole gradient and transition of different blues, it's depending on the time of day, and also, obviously, some other colors as well, especially during a sunset there's a lot of different colors. So those are all gradients, they're all around us, part of the world that we live in, and we can create them in Photoshop, as well, and that's how you can create a lot more realism in your image. So even if we look right here in this sky scene that we have, if we were gonna try, if for some reason I was gonna try to recreate this sky, I would be looking at this as a gradient and I would see that the sky area over here is really light, I mean, it's practically white, and then it sort of fades and transitions into a blue color over here, and then it seems to fade again over here.
Ratings and Reviews
Just watching this class live. It's my first class with Khara; she is a wonderful teacher, moving at a steady speed but always being careful to let us know what she's doing in the moment. I would classify myself as intermediate in terms of PSE but I've learned lots of little things that will make further use even easier and more fun. I really appreciated her descriptions of the difference between PS and PSE and her encouragement in using Photoshop Elements and all that it can do.
I have only been able to watch portions of this class but every single part that I have watched has been technically clear and inspiring to me. Based on this experience and the thorough, 58 item list of lessons, I will surely be buying this class soon! Thank you Khara and Creativelive for making a class on this topic and making it be super!!
Great course. You can tell she knows the programme inside out.
Student Work