Explanation of Photoshop Elements
Khara Plicanic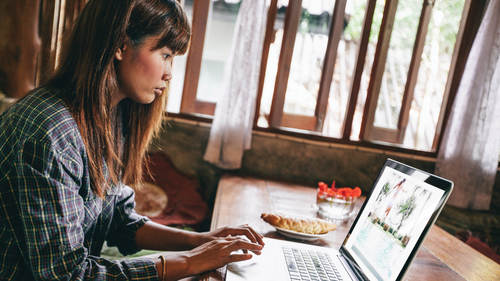 Explanation of Photoshop Elements
Khara Plicanic
Lesson Info
12. Explanation of Photoshop Elements
Lesson Info
Explanation of Photoshop Elements
I want to go over a few housekeeping kind of things that we had some questions, I guess, that were floating around a little bit in the chat rooms earlier about versions of Photoshop Elements. So I happen to be working with the most recent version, which is Photoshop Elements 15. And they just released this, I mean really recently. So it's even pretty new to me right now. But that's what I'm working with. You do not have to have Elements 15 in order to follow along with this class. We had some questions about even like Version 12, for example, and it's still gonna work. It'll look a little bit different, but the concept is still the same. It's still a catalog, it's still a database of all of your images that you've got on your hard drive. It's still an organizer and an editor that are sort of merged together in one piece of software. All of those things are still gonna be the same. It still has great tools, you can still add type to your images, I think you can still do pretty much ever...
ything we're gonna do. It just that it seems like with every new release, they just make it better. They make it run a little faster. They add some new tools, and I'm gonna show you one where you can actually edit someone's face so you can turn a frown into a smile in a photo. And I tried it out this morning, this brand-new feature, and it's actually kind of fun, and I'm gonna show you how that works. Now that doesn't mean you couldn't do it before. You could. There's always been this filter called Liquefy. Well, maybe not always, but for a long time there's been this filter called Liquefy that you can accomplish the same thing but it takes more practice and more skill to pull off whatever it is you're trying to do. So the thing that's new with Elements 15 is that now it's a button that you can just click and drag a little slider and you don't have to practice and learn so much about how you use that Liquefy tool. So they've made it easier to do some of these things. And that becomes, then, the new feature. So those are some of the things that make one version different than another. But the files that are included in the bonus materials, the practice files, including the ones that you see that I've been using here to do these edits, they're gonna work the same in either program. They are .jpeg files, just like any .jpeg files. So hopefully that will address some of the questions we had about versions. The other thing that I wanted to talk about quickly is the difference between Photoshop Elements and Photoshop proper. Big Photoshop, I guess. That's a question that I get asked a lot. And it is kind of a gray area sometimes, especially if you find yourself in the camp where you're into photos, you do a lot with photos, you like to shoot and edit them, but you're not considering yourself full-time or a professional, and so making the investment in Photoshop proper maybe doesn't make a whole lot of sense to you. Or maybe you just like Elements. I mean, there's a little bit of a gray area there. But the idea between Photoshop big brother and Elements is that Elements is really targeted towards the hobbyist, the person who loves to work with photos, but maybe doesn't want to commit to the learning that has to come with Photoshop big brother and all of that. So that's the idea behind it, but I can personally tell you, when people say, yeah, yeah, yeah, but which one should I get? I can personally tell you that Elements is every bit as powerful. It's not that Elements is less powerful than the other Photoshop. It's just that it tries to be a little more helpful, I think. That's one thing about it. And it actually has some really good features that I wish that the other version of Photoshop had. Like the Photo Bin that I showed you earlier, and we'll be using a lot from now on. That's a really great feature that I wish was in the other version of Photoshop. So it's not that one's better than the other, it's just that they're different. One other big difference that I think is pretty key is actually, and this may change in the future, it has changed already in the past, is the way that you get the software. So currently, the way that everything works, the other version of Photoshop is available as part of something called Creative Cloud. And that's an Adobe collection of images that is managed, or, not images, programs. It's a collection of software programs that's managed on the cloud. So it used to be that you would purchase whatever program you wanted, like you do for Photoshop Elements. You purchased it, you get the license to use it, you get a serial number, and it's yours. That's it. It's yours until your computer completely dies on you, and if you don't transfer it to another computer then that's it, you've just got it. But the way that the other version of Photoshop works now is that you're basically subscribing to it. So you pay instead of a large up-front cost, you are paying to sort-of like rent it, to subscribe to it. And the license for it lives in the cloud. So you still download it to your system, but you will need Internet access to go and check the license that lives in the cloud. And your monthly fee goes to maintain that license. So that kinda changes things a little bit. Maybe that makes the other version more accessible for people and maybe that makes some people think, eh, I think I'll just stick with what I can just buy and then just have. So that's the reality of how it works right now. That could change in the future. There is the other Photoshop is available, I think it's currently available for like 10 bucks a month or something. And it includes Light Room, which is kind of like the other version of the organizer. And that's kinda where the software sits right now. So as far as abilities of what you can do in one version or the other, the differences are shrinking every day it seems. You can still do things as we will do shortly, I think yet even today, we're gonna get into working with layers, we're gonna work with adjustment layers, layer masks, all kinds of things that you can do in Elements. You can even do, we may or may not get to it in this class, but working with actions. You can even work with actions in Elements. That used to be something you could only do in the other version of Photoshop. But you can do it in Elements now too. So hopefully that explains and clarifies a little bit of that difference. But if you're thinking that you are somehow getting less of a product or a piece of software because you're working with Elements, that is completely not the case. There is a lot of power in this software, and a lot of neat things you can do. And like I said, a lot of really cool features that I wish that the other version had. So this is a great place to be, and we're gonna be exploring lots of fun things with it. So hopefully that makes sense. And I also wanted to say that I would love to see what you guys are making, so there's a couple of places you can share your work. Under the video player there is the student work tab, if you click on that, you can upload screenshots or whatever files you're working on. And I'd love to see your work too. I'm a big user on Instagram. My account is just KPlickovich. So it's my first initial and my last name, and I'd love to see what you're doing. So you can find me there and tag me with, tag your photos with my handle. And I look forward to checking that out. So don't be shy.
Ratings and Reviews
Just watching this class live. It's my first class with Khara; she is a wonderful teacher, moving at a steady speed but always being careful to let us know what she's doing in the moment. I would classify myself as intermediate in terms of PSE but I've learned lots of little things that will make further use even easier and more fun. I really appreciated her descriptions of the difference between PS and PSE and her encouragement in using Photoshop Elements and all that it can do.
I have only been able to watch portions of this class but every single part that I have watched has been technically clear and inspiring to me. Based on this experience and the thorough, 58 item list of lessons, I will surely be buying this class soon! Thank you Khara and Creativelive for making a class on this topic and making it be super!!
Great course. You can tell she knows the programme inside out.
Student Work