Finish Image with Custom Shape Tool
Khara Plicanic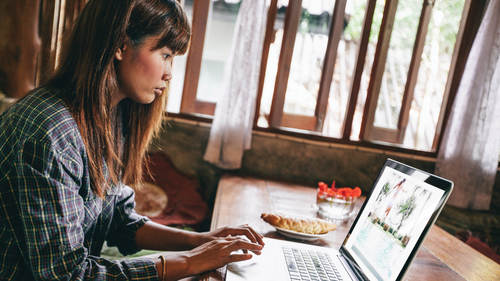 Finish Image with Custom Shape Tool
Khara Plicanic
Lesson Info
33. Finish Image with Custom Shape Tool
Lesson Info
Finish Image with Custom Shape Tool
And then let's finish it with one final shape so again I'm gonna go back to that shape tool, the custom shape tool, select this little dropdown arrow. I'm viewing all element shapes and then we have this, like river stream or what do that they call it, river I'm gonna double click that I don't know how's it's gonna look on top of all this stuff but let's just see. And then we'll click and drag. And I'm not holding shift, I'm just gonna stretch it out like this, and then we'll let go and there we have a little stream, in our illustration. Let's finish that, we'll do one more texture because I think it's just too much fun. So flip that add one more blank layer. Clip it by pressing and holding alt or option. Let's go back to our brush. I'll come down here and let's see try a different category. I think that, the wet media brushes, there's one that I used it one time for something and then I forgot which brush it was and I don't think I've ever remember. But let's try, I don't know this on...
e. That looks interesting and again I'm gonna change the color something light this time, there we go. And let's just see what this looks like, no idea. Ooh it does actually kinda look watery. So I'm just gonna smear that around and then maybe I want to actually blend in a little more. I'll come over here and lower the opacity down. So we get some neat looking texture and if I really want to get fancy I can make a gradient for the sky. I don't know what colors I would go with. We'll grab our gradient tool and come in and see what we have under color harmonies, no. Let's try pastels. ooh Maybe like this one and let's just have it go I guess I'm on the background layers so this will paint on the background. And we'll just do maybe like that. Ooh maybe the other direction, oh yeah that's a little better. That's a little better. If I wanted to fade that I could do a couple of things. I could put another blank layer on top of it and fill that with white by going to edit, fill layer and from this menu here choosing white. I feel like that's a little bit strong, so I'll fill this layer with white and then fade, fade that down like that. That's actually not too bad. So there's an example of some fun things that you can do with brushes, with shape tools
Ratings and Reviews
Just watching this class live. It's my first class with Khara; she is a wonderful teacher, moving at a steady speed but always being careful to let us know what she's doing in the moment. I would classify myself as intermediate in terms of PSE but I've learned lots of little things that will make further use even easier and more fun. I really appreciated her descriptions of the difference between PS and PSE and her encouragement in using Photoshop Elements and all that it can do.
I have only been able to watch portions of this class but every single part that I have watched has been technically clear and inspiring to me. Based on this experience and the thorough, 58 item list of lessons, I will surely be buying this class soon! Thank you Khara and Creativelive for making a class on this topic and making it be super!!
Great course. You can tell she knows the programme inside out.
Student Work