How to Use Content-Aware Move Tool
Khara Plicanic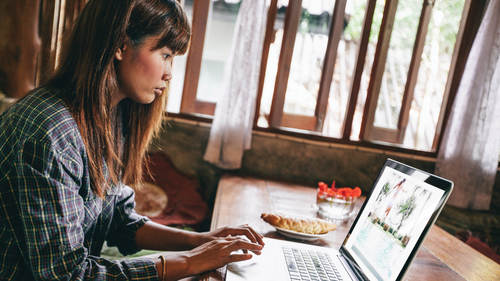 How to Use Content-Aware Move Tool
Khara Plicanic
Lesson Info
39. How to Use Content-Aware Move Tool
Lesson Info
How to Use Content-Aware Move Tool
Let's say instead of removing this bird completely, maybe we just wanna reposition him. Maybe for whatever reason our composition would be nicer if he was like down here or over here? So how could we just move him? There's a tool specifically for that and it's right down here. This is called the content aware move tool. So if I select that I've already got this outline that I made using that lasso tool. So with this active I can grab this tool and click right on the bird and I'm just gonna click and drag him like maybe here and let go. We've copied him over here temporarily, but when it processes then you see that it not only removed him from here, but it put him over here now. So let's see if it did a good job blending him in. We'll deselect again and again I think it nailed it. That's not always the case. If we zoom in really close, I mean, I guess that looks kind of funny. So one way that we could remedy that, if I undo this whole thing, even the selection. One thing that we can do ...
to give ourselves some additional flexibility is before we start any of this, duplicating the background. So I could do that by clicking and dragging the background to the new layer button or I can press command or control J to copy the background with a keyboard shortcut. Then if I grab that lasso tool and let's just do this little selection one more time all around the bird. We'll grab that content aware tool and I'll just click and drag to move him. Where did we put him? Somewhere here? And when we let go we get the option to make adjustments. When we're happy with it we can click the commit button and then it will render him over there. Now it didn't do as good of a job this time cleaning up this area. So I'm gonna show you how we can try to fix that in a minute. Let's deselect this by pressing command or control D. That actually looks really good right now. I was pretty strategic about where I positioned him. That, I think, is also a huge part of retouching is just having a good strategy. So what I mean by that is that looking at the area he came from I noticed at the top of this area there was some of this yellowey grass. I don't know what you call that, moss? Whatever it is, it's kind of yellow and this area is green. So when I was looking for a place that I could put him to make it easy on Photoshop, I was looking for where I could position him and have his head be in a similar area. So this was yellow over here. That way I could drop him in place and the blending happens really well. If it didn't work out so nicely I could try masking that layer over here in the layers panel by just adding a layer mask and then painting away the, not with this wild brush, but with a more simplistic just round brush. Remember that our layer masks work by painting with black. So I could brush away the edge if I didn't think that it blended very well. I could just paint it away like that and sort of manually transition this. I would probably wanna do that with a soft brush. So with the brush settings I would want to grab the hardness and drag it down and then I could help it just blend a little more if it needed some help, but I really think that the elements did a pretty amazing job. So I wouldn't really do any of that in this case. I'm gonna grab this layer mask and just drag it to the trash. We'll just delete that. I think it did pretty well, but we need to talk about how to fix this. There's two things we can do. One is quite easy. We could hide some of that, but then we're gonna lose our bird over here, so what we want to do is grab our lasso tool again. Making sure we're on this duplicated layer and I'm just gonna select this little blob and then we're gonna try to run content aware fill on it and see if that'll clean it up. So we'll go to the edit menu and choose fill, content aware and that did a better job. Sometimes when you are creating these retouched projects you might have to re-retouch to really finish the piece. Sometimes in cleaning up and retouching the image sometimes you have to make it a little bit worse in some areas, but then you could go back and fix it. So just keep that in mind. I like to think of it as like when you're cooking, you know, you have to mess up the kitchen a little bit. Sometimes you gotta break some eggs to make that cake, so in this case, if you make a bit of a mess along the way, you can just clean it up using the same techniques. Let's look at another example on a portrait over here. I'm gonna start off again by duplicating that background. So I'm just gonna drag that up to the new layer icon and then let's zoom in and maybe we wanna take this little bird earring and maybe she wants to have that on her nose instead. That would be something we could try doing. So I'm gonna move it. We could either try the duplicating again or we could move it. So I'm gonna just move it. I'll click and I can actually use this tool as well to make a selection. So you could draw it up here with the lasso tool. If you wanna try doing a content aware fill, but if you're going to content aware move, you can actually use this tool as a lasso as well. So that'll save you a tool switch. So I've got that selected. Then I'm gonna just click and drag to position that over here on her nose. Maybe I wanna scale it down in this case? So I'll drag in from a corner. Maybe I wanna rotate it? I do have to keep in mind the shadow though, right? So if I do something super drastic like flip it around then the shadows would be backwards and that would look weird. So we wanna not rotate it too much and I'll go ahead and select it and deselect the marching ants by pressing command or control D and that looks kind of okay. (laughing) We can see this edge around it. So this is the perfect opportunity to add that layer mask, grab that soft, round brush. I'll use my left bracket keys to make it small again and maybe I'll even reduce the opacity of the brush to like 50%, so that I can blend even more easily. Then I'm just gonna paint with black on that layer mask to blend this bird into it's new environment. And if you take the time to do that really carefully it's really gonna be a seamless thing and it's gonna look very real. One of the things that's also helpful about working on a separate layer is you can then hide, show and hide that layer. So a lot of times when I'm doing retouching I feel like I need a point of reference. So after a while you can't tell like, is this mark here on this part of the image, is that on the bird layer? Is that original? Did I just transplant this over here? And I can't tell so I'll flip this layer on and off and then I can see, all right, that was part of the image. We'll just leave it. But I can tell that when I flip this layer on and off by toggling the eyeball on and off to hide it or show it, I can see that this area if flashing along with the bird. So I know that this is not part of the original image. So I'm gonna wanna mask that out too. So I'll just brush over that a little bit more. My goal would then be so that when I toggle that layer on and off I don't want to see anything flashing except the actual bird. There's still a little piece right here. Let's move the opacity back to 100%. There we go. Now I can toggle that on and off and I'm not seeing any extra material anywhere. Then I know, okay we've got that done. So now she has a bird over here instead of on her ear.
Ratings and Reviews
Just watching this class live. It's my first class with Khara; she is a wonderful teacher, moving at a steady speed but always being careful to let us know what she's doing in the moment. I would classify myself as intermediate in terms of PSE but I've learned lots of little things that will make further use even easier and more fun. I really appreciated her descriptions of the difference between PS and PSE and her encouragement in using Photoshop Elements and all that it can do.
I have only been able to watch portions of this class but every single part that I have watched has been technically clear and inspiring to me. Based on this experience and the thorough, 58 item list of lessons, I will surely be buying this class soon! Thank you Khara and Creativelive for making a class on this topic and making it be super!!
Great course. You can tell she knows the programme inside out.
Student Work