Remove Frown Lines with Retouching
Khara Plicanic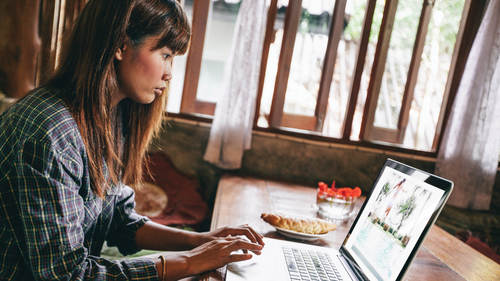 Remove Frown Lines with Retouching
Khara Plicanic
Lesson Info
41. Remove Frown Lines with Retouching
Lesson Info
Remove Frown Lines with Retouching
Let's take a peek at this other image that I have here, this sunlit portrait. We can use that same spot healing brush tool to do a number of other things. So I'm gonna come up and duplicate, or not duplicate, just make a blank layer again and she has all these beautiful freckles. I'm gonna come in and let's just pretend, and this is not something I would do probably unless she asked, but let's just say that she says, "Oh, I really want you to do something "about these lines right here." That's super easy to do. This is a lot where you have to be careful, I think, especially if you're taking pictures of your family and friends and you suddenly just retouch their face to be something noticeably different than what it is. That could be really perceived as an insult, right? So we don't wanna be suggesting, "Oh, I just took some liberties with your face "and gave you some digital, plastic surgery." (snickering) So I usually try to fix things that are just temporary like if someone has a ble...
mish. That's probably something that would go away on it's own so that's something I usually take off without ever even, they never even know really because that's just sort of a nice service and I think it makes sense, but I would never go in and just like remove someone's birthmark or a mole or even a scar. That's part of who they are. I have scars on my face. I don't know if you can see, but I earned this. A cat did this to me when I was really little. (snickering) So I think it'd be weird if someone took a picture of me and then just suggested that my face is flawed because of this mark here. So I would tread lightly with some of this stuff. I wouldn't do scars or any of those moles, like I said, unless a client asks. I had a client one time who had an accident and had a big scar on her neck and I think she was just not in a place yet where she wanted to see that in her photos and there were a couple from her wedding that she asked me to fix that and I honestly had no idea what she was talking about because I had not noticed it, but to her it was really important. So I took care of it in the images that it mattered, but I would never just have done that on my own. So you always have to kind of feel it out a little bit. But here if we wanted to do these lines, the technique would be exactly the same. I made a blank layer. I've got the spot healing brush and I could just draw over those lines and they disappear. Sometimes we go too far with our retouching and I am totally just as guilty of this as anybody and I think particularly when you're new to this it's really fun to just see what you could do and I, in my early days with my business, I had a client who I got really excited about some new retouching technique that I had learned and I like went to town on her picture. (laughing) I'm so embarrassed now when I think of it because I can't believe I didn't know better, I guess? I think what happened was I lost perspective and I had a hard time, like I forgot sort of where we started and I just was focused on what I was doing and I don't think I did the comparing back to the original and I think that's really key. So I just like way over retouched it. Bless her heart, she messaged me back and said, "Um, that's a great photo, but maybe "a less retouched version would be nice?" And I immediately recognized what I had done and I was mortified and I have never done that again. So maybe you can learn from my mistakes, but one thing that you can do to dial back any retouching, particularly when it comes to women and when it comes to some lines that you might be working on, even at their request. Sometimes we overdo it and obviously a face is gonna look weird if there are no lines. Especially if the person is smiling. There should be lines. In this case her expression is pretty relaxed, so we don't have smile lines to try to maintain, but even something here. Especially if it's a person who has earned their stripes and they're more advanced in their years, it'd be weird to have a face that didn't reflect that. So even though I've retouched these and they're gone now, I might want to bring them back a little bit and I can do that because that work is in it's own layer. Remember if I hide the background, we can see the actual healing that took place. We can see it right here. So if I wanna just basically fade that healing away I can grab the opacity slider and then just drag it to the middle and then those lines are there, but they're faded. That's something that I do a lot because I'm not removing the lines, but depending on the lighting and the scene, sometimes the light can actually really accentuate that. So this is my technique for just toning those lines down. So if someone is concerned about lines in their face and they ask you to retouch it, it's a good idea to really just fade them rather than remove them completely because even though clients, or your friends or family, they may think that's what they want, but the reality is it looks super weird. So striking a happy medium is important and this helps to make that happen.
Ratings and Reviews
Just watching this class live. It's my first class with Khara; she is a wonderful teacher, moving at a steady speed but always being careful to let us know what she's doing in the moment. I would classify myself as intermediate in terms of PSE but I've learned lots of little things that will make further use even easier and more fun. I really appreciated her descriptions of the difference between PS and PSE and her encouragement in using Photoshop Elements and all that it can do.
I have only been able to watch portions of this class but every single part that I have watched has been technically clear and inspiring to me. Based on this experience and the thorough, 58 item list of lessons, I will surely be buying this class soon! Thank you Khara and Creativelive for making a class on this topic and making it be super!!
Great course. You can tell she knows the programme inside out.
Student Work