Timeline for Image Organization
Khara Plicanic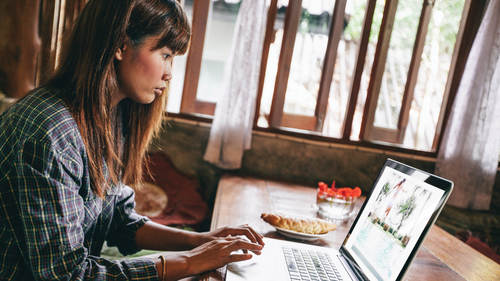 Timeline for Image Organization
Khara Plicanic
Lesson Info
57. Timeline for Image Organization
Lesson Info
Timeline for Image Organization
One more thing that I wanted to tell you that I think is possibly the most handy thing in all of Elements, so even if you're like, "I'm never gonna keyword tag anything, I'm never gonna make event tags, I'm never gonna add GPS data to any of my files, I'm never gonna do any of that," one thing that you can do is come up to the View menu and choose Timeline. And this, I just love this feature. And you get what you would expect. You get a timeline. And what I love about this is it requires absolutely no effort on your part, no approving faces, no reorganizing of dates on your Events, none of that. You don't have to do any of that, it just pulls data from whatever the date and time stamp on that file were. So all you really have to do is make sure that your camera is set to the correct date and time and this timeline feature will work for you. So all of these little stacks represent images that were taken in a particular month of a particular year. So, for example, here I happen to have s...
ome images from 2015, and if I hover over it, I think it'll show the month, if we're really patient. I'm not gonna be that patient, but you can see if I click, it's gonna jump to images that were taken in that particular month of that particular year. So if I'm looking for images and I'm like, oh, where's that picture of Zade's first birthday? Well, his birthday was in April, so all I have to do is find about April in and here we go. I can click on the stack just even knowing roughly what sort of timeline I was looking for, and now I can see here are the pictures from his first birthday. So even if I never wanna touch a tag or approve any faces or anything like that, by just having the date and time set, I'm able to actually take advantage of this. So I think that is pretty cool. And for whatever reason, I really just like this horizontal timeline structure. You have something similar with that Events area when we look over here and we see we're able to click through and say 2016 and whatever, but I like that horizontal format myself, personally.
Ratings and Reviews
Just watching this class live. It's my first class with Khara; she is a wonderful teacher, moving at a steady speed but always being careful to let us know what she's doing in the moment. I would classify myself as intermediate in terms of PSE but I've learned lots of little things that will make further use even easier and more fun. I really appreciated her descriptions of the difference between PS and PSE and her encouragement in using Photoshop Elements and all that it can do.
I have only been able to watch portions of this class but every single part that I have watched has been technically clear and inspiring to me. Based on this experience and the thorough, 58 item list of lessons, I will surely be buying this class soon! Thank you Khara and Creativelive for making a class on this topic and making it be super!!
Great course. You can tell she knows the programme inside out.
Student Work