Understand How Elements Works
Khara Plicanic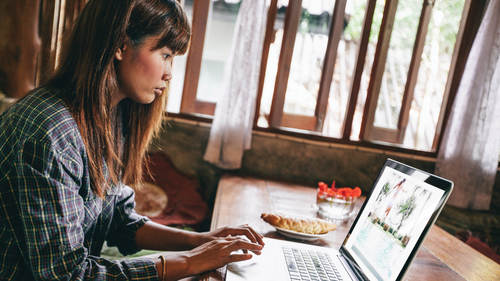 Understand How Elements Works
Khara Plicanic
Lesson Info
2. Understand How Elements Works
Lesson Info
Understand How Elements Works
Let's talk a little about some, a key concept that you really need to understand in order to make all of this work and that is the fact that when we work with our images in Elements, they're not actually stored in Elements. They're stored just on your computer, your hard drive, wherever it is that you normally store your photos but we just work with them in the software. So in that sense, it's like a window to your hard drive allowing us to see and manage our images. But you can rest assured that we're not duplicating files. We are not gobbling up tons of space on your hard drive and we're not moving things all around. So your photos are gonna be safe right where they are and if for some reason, you ever decide that you wanna remove Elements from your computer, you don't have to worry that it's going to take your photos with it because that just doesn't happen. That's not how the software works. So I think the best way to help convey that point is to just dig right in and get started. ...
So let's take a look at what you see when you first open the software. Generally, by default, you're gonna be greeted with a screen similar to this. This is the Welcome Screen and it has some just neat things. If you want to use some video tutorials, there's a link right here that makes that easy and doable. You can check out the new features and whatever version of Elements you happen to be working with. And here we see little buttons that will take you straight to the Photo Editor or the Organizer. This is one thing that I think is really a new concept for people when they're first experiencing Photoshop and Elements is this two programs in one thing. So they really are two separate programs but they're sort of joined or connected at the hip here. So as we work through this, I'll show you how that works but this welcome screen is sort of like a fork in the road. So when you launch the software, it's gonna ask you where do you wanna go. Do you wanna go to the Editor or do you wanna go into the Organizer? So you can choose here one or the other. If you bought your software as a package, it may have come with the Elements version of a product called Adobe Premiere and that is for doing video editing. So if you fancy yourself a video editor and you wanna work with some of that, you'd wanna look into this program. We won't be talking about it in class today but sometimes it does come packaged with the Editor and the Organizer. So you may see that here. We're gonna go ahead and start with the Organizer. In the future at home, when you're working with this, if you are tired of always starting with a welcome screen, you can come up here in the Setting and turn that off by selecting here where it says On Start Always Launch either the Welcome Screen or if you always like to start with your Organizer or the Photo Editor, you can pick whichever one works for you. And then you won't have to see the screen again. I'm gonna go ahead and click the Organizer button to open that. If for some reason at any time you wanna get that Welcome Screen back, you can find it from the Help menu by choosing Welcome Screen. So that's gonna be right there. Okay. So here we are in our workspace which is currently empty. So the way that the Organizer works is it keeps track of all of our images in what Photoshop calls a Catalog. And basically, the catalog is just another word for database. So if you think of storing information, that's what this catalog is. When we get our images loaded into the catalog, we'll see them here. So we'll see the thumbnails but remember that the images are not inside the software, they're just on your hard drive. So the catalog is really just a database that is keeping a record of three things. It's keeping a record of all kinds of information about the photo. So it'll be keeping track of the name of the file, when it was created, and a number of other attributes. It will be keeping track of and displaying a thumbnail preview for each of the photos that are on the system as well as linking to the original file that's on the disc. So it's keeping track of the location. So it's just a huge data manager really for your files. Okay so that's what we when we talk about Catalog. Kind of like it's a library when you used to go and visit in the old days of where it was computerized and there was the old card catalog that kept track of everything and you would open those drawers and it was filled with all the cards that represented the different books on the shelf in the library. That's how this works. So the cards are not the books themselves, they just reference the books that are on the shelf. So your photos are like those books on the shelf of your hard drive and this your card catalog. So that said, generally speaking you're only gonna have one catalog when you work with Elements. And you wanna keep everything pretty much in that one catalog. The more catalogs you have, the more potential you have for a mess. So that's nice, we only have to worry about one catalog.
Ratings and Reviews
Just watching this class live. It's my first class with Khara; she is a wonderful teacher, moving at a steady speed but always being careful to let us know what she's doing in the moment. I would classify myself as intermediate in terms of PSE but I've learned lots of little things that will make further use even easier and more fun. I really appreciated her descriptions of the difference between PS and PSE and her encouragement in using Photoshop Elements and all that it can do.
I have only been able to watch portions of this class but every single part that I have watched has been technically clear and inspiring to me. Based on this experience and the thorough, 58 item list of lessons, I will surely be buying this class soon! Thank you Khara and Creativelive for making a class on this topic and making it be super!!
Great course. You can tell she knows the programme inside out.
Student Work