Use Event Tags on Images
Khara Plicanic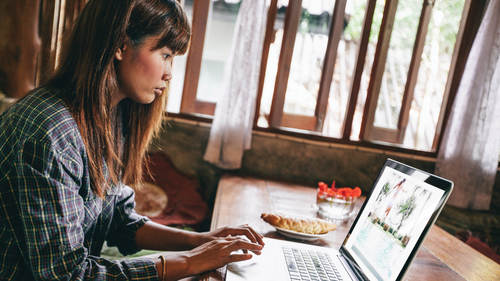 Use Event Tags on Images
Khara Plicanic
Lesson Info
56. Use Event Tags on Images
Lesson Info
Use Event Tags on Images
Another thing, another way to find stuff easily is with events. And as you are now seeing, elements is really good at just sort of auto suggesting events. So I've got an events folder here that I made for this purpose and if we scroll up and down it is suggesting depending on where we have this divided it's suggesting right now three events. And I look at this and I think I think there's actually four here so if I tell it to split that up a little bit more, it actually got it right, or five events. So this happens to be, it really nailed this. This happens to be Zea's first trip to a ball park so I'll go ahead and say yes let's add that event and I'll name it like first ball park and I'm not gonna worry about descriptions. This is where if you are a person who really loves organization you could write description. I could put who played the game that day or whatever else relevant information that I care about. But I'm not that detailed centric so I'll just click okay. So those have now...
been added to an event. This was a half marathon so LNK half marathon. This was actually the one where I got the best time I've gotten yet. So that might actually be memorable. This is Zea's first birthday. So I'd click add event and then say first birthday. These end dates are wrong, so you might want to double check those. If you want to make a change you can do that here. So I don't know what, why those are coming up that way. But we'll just go head and keep them both the same. So we'll click okay, And then we have Easter. also Easter did not start in March and end in May but we'll just say that it did. But we can change that if we want to and this was the primary election. Alright, okay. So now we've created all these events we can also see them on the calendar if we come over here we can see for any month that has an event in it will be highlighted here with blue so I could click on that month to see any of the events that take place in that month or the images that are part of the event that take place in that month. So that's a neat thing. But also then if we go back to media we will see just like our people tags we now have tags under places. So those tags we created are now here as well as events. So now if I go back to all my media so I'm looking at my whole catalog which could have potentially thousands of images if I want to see the pictures from Zea's first birthday all I have to do is come and click that little socket next to his first birthday event tag and ooh somehow this got included in his first birthday. So we want to exclude that. So I'm gonna select these images and I'm gonna right click and say remove from, remove this keyword tag, not a smart tag, I wonder if that's because of the date and time on there. That's kind of funny. We don't want these included, So another thing that we can do is adjust the date and time. I don't know if this will solve the problem. But you can do this just so you know I think it might be pulling these in because of the date span that was so incorrect on his birthday. But here I could if I wanted to change the date and time. I could do that by setting it to a specific date and time or I could shift it even for like a time zone but I don't think it's gonna do that. Let's just try, let's just pretend this was not May, but let's say like January. I don't think it's gonna take it out of there it just reorganized it because we're seeing this with the newest photos first. So I'm not sure how I managed to tag those that way and why it's not letting me remove it. But normally you would right click and you would be able to remove it that way.
Ratings and Reviews
Just watching this class live. It's my first class with Khara; she is a wonderful teacher, moving at a steady speed but always being careful to let us know what she's doing in the moment. I would classify myself as intermediate in terms of PSE but I've learned lots of little things that will make further use even easier and more fun. I really appreciated her descriptions of the difference between PS and PSE and her encouragement in using Photoshop Elements and all that it can do.
I have only been able to watch portions of this class but every single part that I have watched has been technically clear and inspiring to me. Based on this experience and the thorough, 58 item list of lessons, I will surely be buying this class soon! Thank you Khara and Creativelive for making a class on this topic and making it be super!!
Great course. You can tell she knows the programme inside out.
Student Work