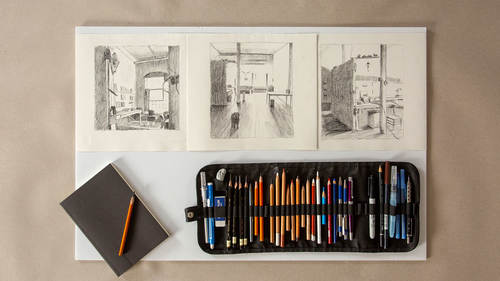 Lesson Info
5. Time and Space
Lesson Info
Time and Space
I'm gonna give you a challenge, interior drawing challenge. I do this with my students a lot. I prompt them to draw something, maybe over a period of time, maybe the same location over a period of time with variations. So the benefit of a challenge is that, you have a prompt like homework, and it can be motivational. The benefit of doing a series of drawings is that you start to understand and kind of embrace an environment, an interior, in terms of how the space feels over time. So I am developing a series currently in my studio, I'm using charcoal, which we explored in this lesson and my studio, I've been in this studio for quite a long time and I have developed just the beginning of a series of charcoal drawings exploring the space. In this one here, this is a two-point perspective, which we've done. It's looking into a corner and it's really sort of creating deep space by having larger, sort of almost like a doorway looking through to an area that's in the distance. In this drawing...
I've pushed some of my light's and dark's with a lot of drama, a lot of light coming through the window. And I've put in some personal objects. If you choose to do a space that is personal to you, it really is almost like a diary in a way. This piece here has my dog Captain in it, and this is a classic one-point perspective, which we explored in the hallway drawing downstairs. A lot of bright light coming through the window, but again some areas in silhouette, including the dog. Playing with texture, playing with direction of the line. In this one here, working with an architectural form that actually blocks the light so one side of the picture's quite bright and the other side is darker. So I really encourage you to choose something. And it should be doable. It shouldn't be like I have to drive four hours to this building, to go to this room everyday to make this drawing. It should be, literally it could be your bathroom, it could be your pantry. And do a series of drawings, maybe do a dozen drawings. Maybe do a drawing a day, or a drawing a week, or whatever it might be. And then post it to our student gallery, and I'll take a look at it and this is what starts to build momentum and motivation. So work in a series, show your work, it might feel a little vulnerable at first to do that, but I guarantee you it will build momentum and it will be fabulous practice for drawing interiors in the future.
Ratings and Reviews
Inspiring and fresh. Amy does a wonderful job of teaching me information efficiently, showing the beginning of processes and the more finished process, as well as lots of alternative ways of approaching the practice. i love the student work shown as well to reinforce the lessons.
A miraculous teacher, with very refreshing talk. But to me has not become clear completely as with the Perspex disc functions practically without achieving absolutely shaky results. Could one not have shown this still briefly?
Student Work