How Atmosphere Affects a Scene
Pye Jirsa, SLR Lounge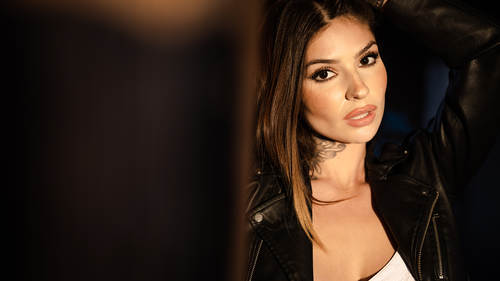 How Atmosphere Affects a Scene
Pye Jirsa, SLR Lounge
Lesson Info
8. How Atmosphere Affects a Scene
Pye uses Atmosphere Aerosol to create a short case study on the effects of atmosphere on environmental lighting.
Lesson Info
How Atmosphere Affects a Scene
in this video, we'll be using atmosphere aerosol to create a short case study on how atmosphere affects your environmental light. Namely in a situation like this, where we have a scene that's backlit with golden hour sunlight coming through the window, how that becomes visible with a little bit of this atmosphere in the air. Now, after this, we're going to move on to create our own sunlight coming through the window, and then we're actually going to compare the two and see if we can't simulate that daylight. But let's go ahead and jump into this first and you stay right there, right here. Mhm, Yeah, Keep going, Keep going and stop. See, I like the shots that I'm about to get from the scene. But sometimes I watch the behind the scenes footage and I'm like, What the hell? Carlo, Mike and Alex, This is a really cool shot to Why wouldn't you tell me that behind the scenes angle, you've got a cool shot. Look at him. He's like moving back and forth within this light. Anyway, I wanted to paus...
e the video right here, just so you guys can see that from the cinematographers camera angle. We have this beautiful light kind of shining through and hitting all those atmospheric particles. You're going to see the same thing in camera from a different angle and perspective. But this is another fantastic shot angle. Thanks, team for, you know, save them. Carl, give me a thumbs up right now. Okay? From this with all the smoke, I want you to kind of look out towards the like, Give me that towards the wall. So I get a full profile. Yeah, but you can keep the body position where you were, so keep the body. Just kind of turn and look out there. Yes. Switch it out. Two. Oh, there it is. Hold that right there. Give me the camera. Yes. Put the hair well like that where you're kind of like bunching up like, Almost like a bun. Kind of. Yeah. There you go. There. Hold that. Switch it up. Yeah, and tight. Look down and towards this side, keep turning more right there and look down to the ground with the chin right there. Brush the hair kind of hand. Go through it. There you go. Oh, my goodness. Yeah, Look at this. Oh, my God. Let's wrap up our case study by just looking at the images side by side because I want you to see the difference between these and just how a little bit of atmosphere can really add so much drama to your images. It just looks absolutely amazing. So this is that first shot on the left again. All of these images are shot with the exact same settings. First shot, no atmosphere other than what was already just the dust that was already in the air inside that train car. Yes, we have permission. Then we go into the the first shot where we're laying down a lot of atmosphere. I always like to wait just a few seconds for to dissipate a bit, because usually I get my favorite shots once it's starting to dissipate. So this is at the beginning of that kind of dissipation, and then we can see it kind of fade a little bit more and fade a little bit more, and I'm somewhere in between here where I really love this look where it's kind of a soft, subtle look. We can see those lines coming through, but it's not so strong that It's kind of carrying that light over the face, but let's just go ahead and grab one of these images and let's work on it for a second. So what I want to say and what I want you guys to kind of notices when you're shooting an image like this with that light and flair kind of going over the face, we don't necessarily want to correct all of that light out. In fact, we're not going to do that much work to the image now. This was my favorite image, and if I were to edit this on my own, I would simply select soft light. And I would probably just pull the exposure back just a little bit somewhere around here, and I'm going to call it good. So this is again reset out. So let's just do this by hand with one another for just a moment, okay? So on this shot, all I'm going to do is just raise my exposure a bit. I'm going to go ahead and dial in a white balance that's a little bit more subtle somewhere around here, and then I'm just gonna add a little bit of blacks and then pull down a bit of the shadows. And what I might do is actually reverse that. So add a little bit of shadow and pull down a little bit of black. Just so I want there to be some contrast. But I actually don't want that to drop across the face. If we pull down shadows, it is controlling some of the light on the face on this image. Okay, I'm not going to do a whole heck of a lot to this image because it doesn't need a lot. So sometimes we get into that habit of, like over processing an image and really, with this kind of a shot, all I would do is what you see here is just adding a little bit of overall contrast, raising the exposure bit kind of fine tuning and tweaking the temperature and the tint just a bit. And what I might do is add a little more greens as well, just to kind of give it a little bit more subtle. The look and that's kind of it. Now, if you want to get into your brushes and do all that kind of stuff, you totally can. But I just wanted this to be a brief little case study on how atmosphere affects the background and how really from an editing side, we're going to keep this more on the subtle kind of changes. I want to keep this video short and sweet. So that's it for now. Later, we're actually going to recreate that golden hour light, and we're gonna shoot it with a lot of different directions. So not only will we get that kind of backlit look in the window similar to this, but then we're gonna shoot hard light. We're actually going to compare it to natural golden hour light, and you're going to see if you can tell the difference. So we'll cover that later. For now, let's jump to the next video.
Class Materials
Lighting 401 Exercise Files
Ratings and Reviews
Jye is an exceptional teacher and these videos really breakdown the construction of great lighting techniques. Enjoy the dry humour throughout. Well worth watching for even experienced photographers as there are lots of tips and tricks here.
Kyle made Pye's work look simple. I learned a lot of new ideas and was reminded of some that I had forgotten about. I'll be reviewing 201-401 again with the practice images.
Student Work