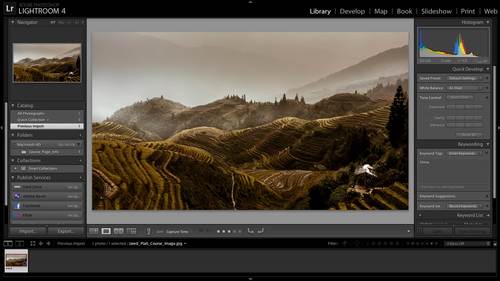 Class Description
Join Jared as he takes you through every single module in Lightroom! Learn everything from importing to exporting and everything in-between. You'll learn to edit, organize and share your photos.
Started using Lightroom last year but you just can't get the hang of it, or you bought it but it's still on the shelf because you're afraid of new software? Maybe you've only heard about Lightroom and you're not sure how it works or why you need it. Or you've been using it for a few years, but you've only been using a few very basic modules and you haven't ventured out to discover its full capabilities. Whatever your situation is, you need Lightroom 101 with The Lightroom Professor, Jared Platt. With Jared's simple, direct and entertaining approach to teaching and his vast knowledge of Lightroom, you will be using Lightroom to the fullest capacity in no time. Don't spend months or years discovering Lightroom—spend three days with Jared and learn everything you need to know!
If you took Jared's Ultimate Lightroom Workflow class on creativeLIVE, you learned the workflow surrounding Lightroom. Now it's time to learn the nuts and bolts of every option and every slider and become a master at using the most powerful and simple photo tool ever built.
Software Used: Adobe Lightroom 4

Reviews
This is perfect for the person that wants to really understand the efficiency around workflow of Lightroom. I am amazed and excited about the things that I learned, and I am eagerly excited about purchasing this nugget of knowledge for my personal review from time to time. Great value, and an excellent presentation of the material.
I was only able to watch about 30% of the live sessions but was very impressed with what I saw. I purchased the session. Jared is very knowledgeable and i have already begun to put to use what I did pick up watching live. I thought his humor was interjected just enough to make the presentation very enjoyable. This was one of the best training/teaching sessions I have seen on CL and there have been many good ones no doubt.