Thanks + Credits
Laura Shoe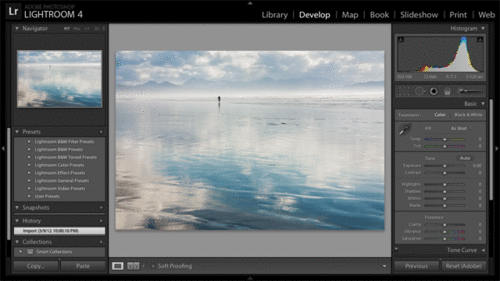 Thanks + Credits
Laura Shoe
Lesson Info
49. Thanks + Credits
Lesson Info
Thanks + Credits
Welcome back, everyone. For our final afternoon segment with Laura Shoe Light room. Laura, we have had a wonderful three days with you light with light Laura. And so before we finish up, we just wanted to do a round of Thank you. So first of all, thank you all of us for joining us out there in our worldwide global created by audience, you are the special sauce of creativelive all of you watching and joining us here today and for the past couple days. So first we want to shout out to B NH photo Who helps make these productions happen? It's very expensive to put on behind the scenes here. Everything that we do with the production and b NH helps make this possible. So again, if you're gonna buy something at being H, if you can use the URL bh photo video dot com slash creative life that just let's b NH know that you love what we're doing and you want us to continue doing these workshops. There's also a number of folks who help us out, kind of on an ongoing basis. We have borrow lenses who ...
provides us with free rentals of not just lenses, but lots of gear and audio equipment. So if you are ever in a bind or you're just wanting to check out new lenses or cameras before purchasing them, borrow lenses is excellent. They have amazing customer service that we've heard so highly recommend them tether tools as wonderful equipment for tethering that we have that they have given us to use Kobold for our lights. Kessler Crane for the big overhead cream that we use in a number of workshops. Glazers is our local favorite camera store just down the street, and they provide us with a lot of rentals as well for free. So thank you, Glazers, for everything that you help us out with, especially last minute when we're like Oh my gosh, we forgot something down the street to Glazer's and they hook us up. So thank you and Black Rapid. We gave away a couple of few different prizes from Black Rapid this week, and they just constantly support us with prizes to give away. Black Rapid is located here in Seattle, and so we're big fans of them and hope you are too. So also want to thank some of our special folks that helped us out this weekend. The three days with prizes. So, Laura, I'm gonna ask you to talk about these folks. Absolutely. I mean, first blurb books who produces excellent photo quality books and you can produce them straight from light room. And I'm gonna show you some basics on how to do that in just a little bit. They really effectively partnered with Adobe to make the process easy. And the products are great. So I appreciate their support. The light room Queen Victoria Baptist in I've never met her in person, but she's out there in cyberspace and is actually in England. When I don't know something in light room, I turned to the light room queen and her missing f A Q book. LRB plug ins. This is Sean McCormick over in Ireland, just a great light room community member. These air both adobe community professional professionals, which is quite an honor, and he makes great plug ins, presets, etcetera for light room and then X equals Brandon Polling and others that produce what I say about them is film is not dead. So great presets for new making film looks, etcetera, high quality and really just great light room community members that you'll find on Twitter and on the Web. I feel like I thought you would. And the light when clean. We're best buddies, met in person the way you talk about her. So that's fantastic. I love that she's overseas and absolutely it. Twitter is where it all started. So nights, light room, community nice. So I also want to give a big thank you to our Creativelive crew. You don't see everybody that does all the hard work to make these things happen. So there's a lot of folks behind the scenes or camera guys our Deco's and you may have noticed that we have a lot of new faces in Italia. I was here on screen with us for the first time this week, which has been fabulous, and we have where we are growing and expanding. So I want to give a special thank you to our producer who stood in who was in training today. McCall and we have Monty back there who is doing what Adam normally does is our technical director, and Kellen is filling in for Tatler. It's doing tests job or is doing Kaelin's job. A lot of people behind the scenes. Yeah, and a lot of today was great because we had a lot of a lot of new faces or old faces, You know what I mean? So great job. Too hard are secondary crew. And to everybody who has been helping out the folks upstairs who are in the chat room and so a final Thank you, Teoh Light room. Laura, Lower shoe herself. This has just been a fabulous class of thank you to you guys in person. The energy for this type of work. Chapo's software workshop is definitely been been really helped by you guys. But thank you, Laura. Just so much. I feel like you should have, like, a late room Laura bubbles coming out of your head or something. But you're just tiger, you're clear. And your style of teaching is just really easy to understand. Lots of people online have been saying that. So lots of our Hawes and people who have said their workflow has increased tremendously and will courage. So thank you so much for joining us. Oh, and thank you so much. Just been such a wonderful experience. That's a great opportunity. And you know, everybody that you've mentioned is, you know, really made this just just wonderful. So thank you
Class Materials
Lightroom Day 1 Slides.pdf
Favorite-Lightroom-Shortcuts.pdf
Ratings and Reviews
Great workshop! New to Lightroom and found it very helpful. Saved me a couple hundred dollars and time by not taking an evening LR class. Creative Live workshops match my learning style perfectly. Laura is awesome! My only complaint is maybe Laura can use a PC next time which is what she seems more comfortable using. Her shortcut mix-ups on a Mac were making me a bit dizzy :)
I cannot express enough how impressed I was with Laura and this class. I learned more in the 3 days of this workshop than I did in all 6 weeks of a class I took online that cost three times as much. I left not only impressed by the class but MOST importantly - refreshed and energized to put my new knowledge to use! Thank you for that!!!
Excellent workshop bar none. I learned more about Lightroom than I did from any other tutorial/workshp that I previously encountered. Thanks Laura!
Student Work