Migrating a Lightroom Classic Catalog to Lightroom CC
Mark Wallace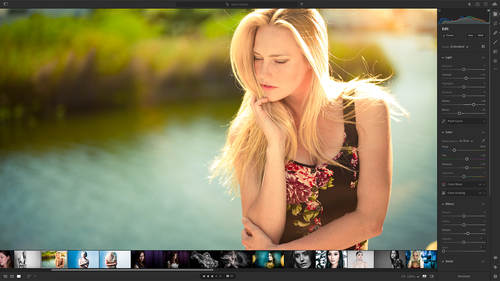 Migrating a Lightroom Classic Catalog to Lightroom CC
Mark Wallace
Lesson Info
26. Migrating a Lightroom Classic Catalog to Lightroom CC
Lightroom Classic catalogs can easily be migrated to Lightroom CC. In this session, Mark discusses why you might want to do this. Mark also gives a step-by-step demonstration of the process.
Lesson Info
Migrating a Lightroom Classic Catalog to Lightroom CC
Lightroom Classic and Lightroom CC work well, together you can sync between those two. We're gonna do, we're gonna talk about that in the next session, but there are reasons that you might want to migrate a Lightroom Classic catalog into Lightroom. So why would you want to do that? Well, I've made some bullet points here of some things that you might want to understand. So when you sink from Lightroom Classic to Lightroom, only the sink, the only sink that's happening are the smart previews. So sinking from Lightroom Classic only sinks the smart previews. And so you're not getting the benefit of everything being backed up in the cloud, Your only backing up your smart previews. So if you migrate into light room, all your work is backed up in the cloud, all those original files and all of that kind of stuff. And also when you migrate your preserving all your metadata, your flags, and your ratings, all those captions, all that stuff that you spent so many years creating all of that is it ...
is preserved. The one caveat, there's a couple of things that you might run into some issues. One is Photoshop files. So, because there is no longer that ability in Lightroom to open a copy with Lightroom changes. You might see uh, Photoshop files that you've made changes to in Lightroom Classic only showing up as a single layer. We talked about that. So you'd have to go back to the original version using versions in the edit section of Lightroom. But the benefit, the real big benefit to migrating is that you're backing up all of your photos and so it's a huge winner. So again, if you're just sinking from Lightroom Classic over to Lightroom, you're only sinking the smart previews, not the original files. And so if you have lots and lots of files that you wanna back up to the cloud, you might want to migrate that over into Lightroom. It's very, very easy. There's one more thing that you need to understand and that is if you're migrating a very, very large catalog, 10 or 20 or 50,000 images that sink, it might take hours or days depending on your connection to the internet. So if you have really high speed connection, you might be able to sync all that stuff in a day or two. If you've got a slow collect connection, it might take several days, but that's okay. As long as light room is open, it's sinking and when you close it it just stops sinking and the next time you open it it will start from where you left off. So you can let it run all night if you have to do that. Um, so there is sort of a time crunch that takes place when you do your migrations, we're gonna talk about the differences between sinking from Lightroom Classic to Lightroom or sinking from Lightroom to Lightroom Classic, which direction things go and which way it works best in the next session. So if I've confused you about the sink, don't worry, the big benefit is if you migrate into light room, you're gonna get all of the the full backup and all the the features that lightroom offers you. So how do we do it? Let's hop over here into light room to do that first. You need to have a lightroom catalog. So I have a lightroom catalog. It's over here on my desktop. It's called Ireland. If we go in here, you can see there's Ireland LR cat. We've got our smart previews. We have all of our images. So this is just a small catalog of about 22 pictures of images I shot in Ireland you want to make sure that your Lightroom Classic catalog is in good shape. So you know, Lightroom Classic has tools to go and inspect your catalog and make sure everything is good. Do that first. So I've already done that. Um and so it should be ready to go. So the next thing we need to do is migrate. So we just go up here to the very top file migrate from. And you'll notice that we can migrate from our Lightroom Classic catalog. But also we can migrate from apple photos. So we can just bring everything in from apple photos if we want or Photoshop elements. If you're on a pc, you might have other options that I'm seeing here. So we can get lots of stuff into Lightroom automatically. So I'm going to choose. Lightroom Classic catalog. And this is going to tell me the wonderful things that will happen when I migrate to Lightroom. And then note, you can only migrate a catalog once. And so if you've migrated catalog from Lightroom Classic and then you go in and you start working on it and you want to migrate it again. You can't. And so you can only do this one time. And then also if you have an older version of Lightroom CC or Lightroom six, it gives you a little warning about that. You can click learn more to find out all the goodness and things you need to worry about. So next we're gonna click continue and then it's gonna ask me to choose my catalog. So I'm gonna browse my computer and I'll go to the desktop. I'm going to click on Ireland and Ireland LR Cat. That's my library catalog. And I will click migrate now. Lightroom is going to scan to make sure this catalog is all cleaning up snuff. So I'll click that and it says, alright, no missing originals, no metadata conflicts, Everything is good. Everything is wonderful. Start the migration. So I will click this and it's going to start adding photos and videos and all this stuff. Now it does say this may take a while And it might take a long while. So I did some other catalogs earlier this week. And some of them took 2030 minutes or an hour a long time. So it's going to go through and look at um all the stacks and all that kind of stuff. All the people. It's gonna start looking at your metadata and adding all that stuff. So you can open a log file if your geeky like me and see what happened. We're not gonna do that. I'm going to say done. And you can see here are all of my Ireland pictures. They have been loaded in. The other thing you can see is up on the right hand side. It's sinking all of those photos. So right now there's 22 photos that are being sync to the cloud. And so we need to let that finish um depending on your connection speed. Again, that can take anywhere from a few minutes to a long time. And it also depends on the size of your files. Okay. So now that we know how to migrate our catalogs into Lightroom, there's one more and more advanced topic we need to talk about and that is how we sink our images between Lightroom Classic and Lightroom
Class Materials
Tether Tools Pro Kit Discount
Tether Tools Starter Kit Discount
Ratings and Reviews
What a great class! I've started & stopped a few Lightroom classes up until now, but generally gotten bored, confused or felt I needed to step away to learn something else like Adobe Bridge first. Mark is a great instructor, engaging, specific & very clear with his explanations. I finally feel confident to play in Lightroom instead of feeling constantly overwhelmed by what I don't know!! Awesome! Thank you, Mark, you've also inspired me to dream about travelling again now the world is opening back up :)
Excellent fundamentals course on Lightroom! I really enjoyed Mark's teaching style which is easy to follow and very relaxed :-)
Student Work