Adobe® Lightroom® CC Photo Editing: The Complete Guide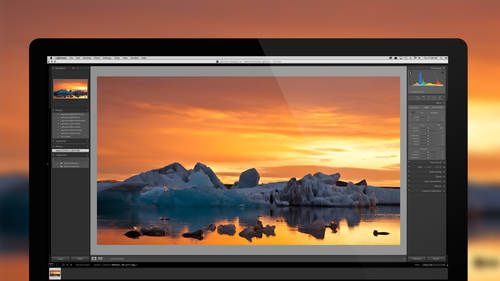 Welcome to CreativeLive's comprehensive Lightroom
®
 workshop! Join one of our best software instructors, Ben Willmore, to learn how to process and organize your images more efficiently - and have more time to spend doing the stuff that matters. In this series of lessons, you'll learn how to:
Import and organize your images
Optimize your photos and workflow
Make your images searchable within the program
Exporting, printing, and troubleshooting
When you purchase this course you'll gain access to both an enduring resource to build your skills and a community with which to share the fruits of your work. Ben will provide a workbook that acts as a reference guide.
Don't have Photoshop yet? Get it now so you can follow along with the course!
Software Used: Adobe Lightroom CC 2015.2 - 2015.3

Reviews
Creative Live is a godsend and, in my opinion, Ben Willmore is one of their best instructors - if not the best. He is as natural and thoughtful a teacher as he must be a learner. He knows a lot! He is clear about what his students want and need to know, from basic to advanced concepts, and he is constantly aware that he has students watching who are of different knowledge levels. He never takes off, leaving the less experienced behind - instead he moves forward at a good pace while referring back to create mental links during the progression; good for all levels. I work with Lightroom already and so have both experience and questions about how to work more efficiently and creatively. This bootcamp is definitely helping me. I've watched others of Ben's classes, and they always help. Thank you, Ben and Creative Live.
Thanks again Ben, for your fabulous teaching and your ability to actually teach and not just show and tell...As other people have commented you have a gift to teach in the way that you do. I have purchased many of your courses and was not going to purchase this, thinking I have all your prior courses...alas, you are just too good!!! I had to buy it in the end and thanks again for all the goodies, so worth the money: Really looking forward to June for your Photoshop class. Once again, I have taken many of your photoshop courses but you keep adding such great info that I cannot resist...see you in June!! Keep up the fabulous work, byw, I love all the yoga poses, what fun you both have with this idea...
I have had the privilege of participating in this excellent class from the front row seat in the Creative Live San Francisco studios. After only a few of the 20 sessions, I quickly appreciated the many features and benefits of using LightRoom to organize and edit all of my images. If you're like me, you've had access to LR for a while, and have opened it and fumbled through the myriad of complex menus a few times, then have gone back to using Photoshop. After these classes with Ben Willmore, (and they're not even done yet), I have tackled the job of re-organizing and keywording tens of thousands of images that reside on various backup drives, many of which I've never even had time to look at. I now have a path forward to enjoying what is in my archives rather than letting them gather dust. I have made HDR images, panoramas, slide shows and Blurb books with ease based on the techniques learned in class. Throughout the class, we lobbed many questions at Ben, and every single time he knew the answer in an instant, or could give us a work-around or several ways to do what we're trying to accomplish in LR. His deep knowledge of LR (and PS) simply cannot be matched, and he's a natural trainer. The days have flown by, and after each day I can't wait to get home and start working on my images. Regardless of your type of photography - professional, avid amateur, or hobbyist - if you shoot and edit a lot of images, LR can be a huge benefit in your workflow. Even if you think you already sort of know how LR works, there is still plenty of useful info in this course that will help you to extract maximum benefit from Lightroom. For me it has been nothing short of transformative!