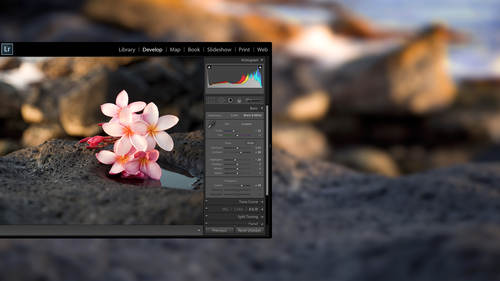 Class Description
Ready to take control of your photo library and actually enjoy image processing? Join best-selling author and image-editing/stock expert Lesa Snider for a comprehensive three-day immersion into Adobe Photoshop Lightroom.
Lesa will cover everything you need to know about importing, managing, and correcting images using Lightroom's non-destructive workspace. You'll learn how to apply global changes to photos, how to target specific areas for more selective changes, and how to apply changes to multiple photos en masse. You'll also learn how to fix skies, retouch portraits, remove sensor spots and other objects, as well as when and how to switch over to Photoshop (or Elements) for more difficult tasks. Lesa will also show you how to sharpen like a pro (with nods to specific settings for submitting stock imagery), export your photos, apply a wide variety of practical effects, share images via social media networks, add location data, build photo books, create sizzling slideshows, customize print layouts, create gorgeous web galleries, and much more.
By the end of this course, you'll be in love with Photoshop Lightroom and you'll have mastered the art of photo management and non-destructive editing.
Software Used: Adobe Lightroom 5

Reviews
I am a photographer and photo teacher in the Greater Toronto Area. Along with my private clients I am often asked to teach photography classes to the larger photo clubs in the region. I've got a big three-night class coming up on LR in the spring so I thought I'd best check-in with Lesa to see if I was missing anything. LOL learned so much about little timesavers that I bought the course. :) This isn't my first Lightroom course either. Lesa is teaching exactly what the newcomer needs and offers tons of tips for pros. Lisa's explanation of how LR actually works is worth the price of the course alone if you're new to this fabulous database and editing program! As for Lesa she's a wonderful teacher and has a great way of explaining some of technical challenges we all run into when editing. If you're a pro, you'll recoup the price of the course when you edit your next big job.
Wonderful class! I had privately hired someone to teach me about Lightroom, but ultimately, I was unable to understand what Lightroom was capable of or how to navigate it. By the end of the first five sessions with Lesa, I knew I had finally found someone who was capable of teaching Lightroom in a clear and cohesive way. I am so thankful to CreativeLive and to Lesa for putting together instructional courses like this so that I can move forward with my passion for photography and use the tools that others have mastered. Thank you, thank you, thank you!
Amazing, amazing course -- got off to a fantastic start with lightroom thanks to this -- its packed with tips and timesavers, and gets you from photos on a stick to the finish and even a web page if you like...