Student Shoot: From Bad to Good
Roberto Valenzuela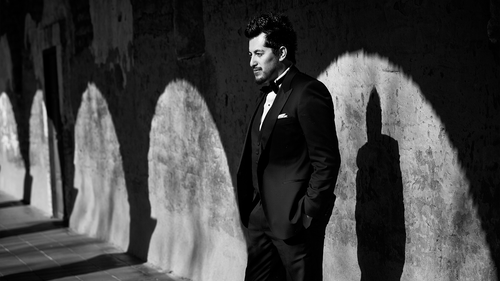 Student Shoot: From Bad to Good
Roberto Valenzuela
Lesson Info
27. Student Shoot: From Bad to Good
Summary
(Generated from Transcript)
During this lesson, Roberto Valenzuela discusses how to improve a photo shoot by using location, posing, and execution techniques. He explains how to create a dramatic effect by underexposing a window and using flashes to mimic the window light. Valenzuela also demonstrates how to pose subjects and adjust lighting to achieve the desired effect. He emphasizes the importance of experimenting and incorporating elements that may initially seem distracting or problematic into the final image.
Q&A:
What is the main concept discussed in this lesson?

The main concept discussed in this lesson is how to improve a photo shoot by utilizing location, posing, and execution techniques.

How can underexposing a window create a dramatic effect?

Underexposing a window can create a dramatic effect by making the room appear dark and highlighting the subjects as if they are being lit by the window.

How does Valenzuela use flashes to mimic window light?

Valenzuela uses flashes to match the luminosity level of the window on the subjects' faces, giving the impression that they are being lit by the window.

What does Valenzuela suggest doing with elements that may initially seem distracting or problematic?

Valenzuela suggests incorporating elements that may initially seem distracting or problematic into the final image, by finding ways to minimize their impact or using them to enhance the overall composition.

What is the overall goal of the photo shoot discussed in this lesson?

The overall goal of the photo shoot discussed in this lesson is to create a visually striking image with a fashion-forward look, while utilizing location, posing, and execution techniques.
Lesson Info
Student Shoot: From Bad to Good
we have this white couch we have these guys I just thought because we have his white war and it's not distracting how cool would it be to have this window on the left under exposed so the whole room gets dark and make you look like the window is just hitting them and you have this element of window on the left you have them kind of just getting laid by the window light except they're not they're getting late by my flashes and then you have this vast space and it just looks so like wow that makes sense then you can use it can you envision it let me let's try it ok ok let me move you guys completely with this right here right there and then yeah please so what I'm doing is this the window okay here's your photo ok explain it this way the window's gonna show in the frame I'm gonna match the luminous level of the window on their face the window will be the light source quote unquote not really but that's what the viewers are going to think and then they're just gonna be receiving that ligh...
t in this vast environment we're going to make you look big the only thing that's gonna get in the way of this photo is the television but I can't move it so we're just gonna leave it in the photo okay so let's go out and start all right see tyson come over here katy coming this side closer to the camera on dh when you see something both taken see to there and just face the window it's going and set on the like comfortably there lean your body forward so I can see both his face and your face from the side or something since you don't want to be blocking his face right so bring your body forward on written chin up so that shows she showering in that sunlight okay see all these things come up keep both of your legs come out no you just you just keep it like that I'm put it closer and and then you cross your legs just looked really chilled keep your spinal cord straight keep your spinal cord straight um name we see here I'm gonna borrow this camera back up back up your body again now tyson you move forward with your body lean forward and chin up now bring your chin down just a tad I don't look out the window just look straight at that metal phone wire going on razor changes that katie bring your nose more to your right and looks straight at the beginning of the window chin up just a tad so I'm not creating this romantic look at all I'm going for a more fire who cares fashionably look because I don't want people to think there's a wedding workshop it's not that principles that I'm using applied toe everybody everything let's fake the lighting now so where's the flashing in flashes going to fake the light on and we need a lights then we don't have I'm gonna open up this toe twenty four millimeters can anybody tell me why I'm going to go as wide angle as possible on the flash head get a spread because we trying to fake we know we're going to fake this right so good good strange way you see so I have to do a couple of test shots to get the light but I'm gonna move back a little bit when you move back more can somebody move this guy please this little let's put it behind me be careful with the cable I'm gonna be standing here so we don't want to wait so what I'm gonna do is I'm gonna point my camera towards the window so I can expose for its that's the whole point of this right someone exposed for the window so right now I'm a f nineteen okay I'm gonna lower it to f thirteen just to allow some of that like to blow out okay maybe you're not but that lean forward more thousands more now let's make the flash a little brighter right so stray this okay I'm not liking the way that flashes looking but I like the way the light is the way that light is coming out to some makes sense now the tv's in there let's try a vertical shot and this is going to be what I'm gonna do is I'm gonna hide the flash hopefully that's hitting enough ok can you bring in china baton packs and bring your head slightly to the left wait a minute you're not more aunt stop right there so I didn't like that light showing up so we're we're fixing it making it look totally different that flashes now hitting that well over there okay if you put it on the floor at least it's not distracting from the window anymore since the windows what I wanted to show up like that the floor is kind of messed up because of the light but we can always is easier to remove that which is in the floor benefits in the window I make sense so anyway we used the stuff that was bothering us and we incorporated it towards them that's when it what it wants and we'll try to different fun thing right
Class Materials
RobertoValenzuela_LPE_Charts.pdf
Roberto Valenzuela creativeLIVE Keynote Slides.pdf
Ratings and Reviews
Im a freelancer and have studied photo school several years ago and also been working as an assistant for a few years. I think you always have things to learn and keep you from getting stagnant in photography, and i find creative live is a great source for that. Been taking some of Lindseys classes and watched several others from Sue Bryce as well as other classes for equipment and about shooting people in general. I always read what others have said before to avoid any classes that are not informative etc or have a teacher that leave out too much, i was drawn to what people said about Roberto walking the students through the shoots and that he had this great system you could use and take with you when you go forward. I actually never heard of Roberto before but were mainly interested cause of what he was teaching here. I have now watched almost the whole course and first of all let me say i do recommend it a lot. Its a great system to use in my opinion, and i have learned some great stuff to think about that will enhance my own photography, and its a great reference to go back to when you need it. Roberto as a teacher is relaxed, intelligent and has great humor that i can relate to. So you you are not "bored" which is also very important, he keeps it interesting. Some things that i did not like about his way of teaching was that he was a little too impatient at times when the students tried shooting themselves , he reminded me of other photographers i have worked with in past. They were also very impatient sometimes when people around them were moving to slow for the shot to get done etc. I understand during the course the students had limited time to get every shoot done. But many times i was frustrated with that Roberto almost always stepped in too early to "help" them out but instead kind of took over telling them what angle would work best or what light that should be used. It was almost as he wanted his system to show up as flawless and felt as he was scared letting the students try it out on their own because that would somehow show a flaw in his system. I would rather have had him let them try first and later he could come in and suggest the different angles and light. But now many times he would take over and also take his own picture and pointed to the strengths of that picture and why it worked. Still, you learn because he explains at the same time, and walk you through everything. I just find that you would learn even more letting the students fail first or do it right on their own. Also sometimes he would choose a location and say: You can use this wall and these props etc, then when the student would start he would suddenly limit them and instead tell them what to use and how they should crop so that the location itself would not make much difference. Otherwise though, great course. I think i would buy another course from Roberto as well if it was something i needed from it.
I have seen many of the creative live workshops, and attended many great workshops by photographers, including Jerry Ghionis. It was Jerry's wife - Meliisa Ghionis who suggested that Roberto's course on creative live should be a must see. This course was by far the best on creative live for improving your photography of couples, it is just brilliant and has improved my photography in leaps and bounds. There are many great photographers, but most do not know how to pass on their knowledge to others - Roberto is the exception I would consider this course a must see for any wedding photographer, no matter what your experience.
Love Love Love this class!! The way Roberto integrates class participation into his teaching is such an amazing teaching technique! CreativeLIVE has some amazing teachers, I have learned so much from many of them, but Roberto's "hands-on" approach put's the on-line audience in the moment. Very captivating teacher! By far I would say this is one of the, if not the best photography class I have watched!! Thank you!!
Student Work