Student Shoot: Portrait with Lens Flare
Roberto Valenzuela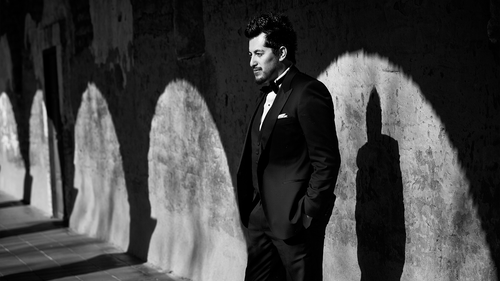 Student Shoot: Portrait with Lens Flare
Roberto Valenzuela
Lesson Info
28. Student Shoot: Portrait with Lens Flare
Summary
(Generated from Transcript)
The topic of this lesson is portrait photography and how to create a unique and professional look using location, posing, and execution techniques.
Q&A:
What is the instructor's suggestion for keeping the camera steady during a portrait shoot?

The instructor suggests using a tripod or leaning against a wall to keep the camera steady.

How does the instructor recommend avoiding lens flare when shooting a portrait?

The instructor advises not to extend the invisible plane into the subject's eyes and to use a white reflector or wall to add more light.

What settings does the instructor recommend adjusting before shooting a portrait?

The instructor suggests checking the aperture setting, adjusting it to achieve the desired depth of field, and checking the flash power.

How does the instructor recommend creating a more natural and finessed look in a portrait?

The instructor suggests incorporating movement and directing the subject to make small adjustments to their pose.

What is the benefit of positioning the flash closer to the lens axis in a portrait shoot?

Positioning the flash closer to the lens axis allows the rays from the flash to hit the lens, creating a romantic and glamorous look in the photo.

What are some key elements to consider when comparing a well-executed portrait to a less successful one?

Key elements include the direction of light, the simplicity of the background, the angle and perspective of the shot, and the use of different lenses and apertures.
Lesson Info
Student Shoot: Portrait with Lens Flare
friend I wanted to photograph katie okay just by herself okay let's go for let me see let me change the lancer school for the seventy two hundred pleas of understanding up no naked around the center on the floor and you can lean against that you see here on the floor sir thank you thank you thank you all you want to do is keep the twenty one things that we talked about pretty steady okay so just keep it steady okay you think waiting for lexie I just don't like kevin you don't want to do that because you don't want to extend the invisible plane right into her eyes right so yeah when I just kind of right on the eye you don't have to use this if you want you can use I'm just showing you this as an example ok but you can use the wall and you can do whatever you want to do but wait can use white reflector here even add more light okay so where is the white for moving on I finally crazy white home yeah thank you thank you okay so let's we're gonna put this guy for you with the white side of ...
this way to see you looking so you had your eyes probably focusing around here yeah good because you're going to get the cracks like yeah that's what I'm trying to be serious face whatever you want teo um kind of like thank me later smith thank you go ahead okay I get you to put maybe this hand um here is that to posey no not if she doesn't write that's good just to be playing with her necklace or something so it looks natural like actually if you like there right there right there you see how it looks like she's doing something with your drop it again and then start to pick it up on right there right there yeah thank you okay that light's hitting her getting creating catch lights right looks beautiful okay go ahead okay right now you're in f thirteen always check your settings before you shoot so we're gonna change it to fifty change the settings to point a crisis it's a single person right yes and we're going to go toe we're gonna goto coloring and so instead of days we're gonna go to that ok go ahead help here you go here you go thank you alright thanks for booth friend get the perspective right yes you're at two point eight play with don't worry about anything just beautify the photograph okay what I'm thinking just really simple I just want her in the tire frame is that that's kind of like really obvious maybe don't show too much of the carpet but you're introducing another element it's sure you can still see it though I'll just take it and then summon from now you don't feel also thank you let's take a look did you check your teetering before we did that sorry really okay it's pretty nice right let's make it better let's make her hair the minister so turn this on again I'll turn this on now let's do it again you're just you're just a wee bit over here yet but you guys yeah probably thank you try that now we're going to change when you shake when you shoot this photo actually it's a little bit dark so we're going to try that ok ok so how do you fix that we'll have to drop its looking cool don't get me wrong it's starting to get there right yeah so we're gonna lower the power of the flash but it looks pretty neat see what I'm saying she looks totally you're you're transforming the scene into a very exciting look basically photographers watching online or anybody watching try not to keep the location to look what like what isthe rember that one white thing we saw in the yard yesterday how I transformed into a bunch of frames it's transforming the element in your environment or something sense we're transforming right now look at the way this looks like look at the way it's looking on the screen it's a whole difference right so let's lower the power of that flash we're going to control it with this on dh I'm gonna go to a white flash it's wide at the manor right flash spaces were also going tio we're also going to make it less powerful thanks for no problem you're doing great looked at your photograph by the way are you introducing any carpet or any colors that distracting no no it's a lighting transfer like you transforming the lighting situation into something unique and more professional yes yes if you were not using all the stuff that you're transforming the photo will look like what it looks like your naked eye yeah okay so I tried again uh let's take it one more time let's change the lands to the eighty five millimeter now so let me get the eighty five millimeter yep really well here's the eighty five we're going to switch the aperture to two point oh so push that button right there okay you just put this lonely here we're okay did you say we change okay this is just a two point oh yeah and you got to speed this up a little bit right okay katie doing wonderfully thank you my suggestion when you look at the screen on the tv she looks good but take a look at the screen carefully she's kind of stiff on the whole body like losing a person's body like maybe do a tail head may be filled back maybe she knew you have tto finesse the photo so you are taking a good one but she looks a little better needs to be more finessed got you tried out so yeah okay so you two you're here so the same pose in essence however getting to your head a little bit more this time can I change your eyes actually you're forgetting one important thing remember yesterday when we said let's make it more natural looking finessed what did we do we made movement that's right so get your camera ready focused right on her eyeballs right on that left owner right I assist the one closest to the camera on as she's moving by your direction take the photograph so you can get your hands on your land thank you keep keep the crop to sense we might have to get closer ok I guess I'll get you teo however tilt her head to see what it looks like every till now till the other way now we'll do the way not till back forward you see how that changes changes drastically kid he's like a total freaking awesome rock star yeah I know everything's gonna be all right go ahead okay so okay so good to hear again um probably tell you I like it to stay that way uh you and so you're playing in a club just so kind of like to channel they all go she hear you okay uh take a look at the screen different it's just the way the flash came into that came into the camera okay so let's go ahead and make some adjustments here we're going to go like that now take it again what did you just do roberto I changed the shutter speed I slowed down the shutter speed by half a star ok you on uh maybe let's let's get that flash a little lower like bring it lower so your actual mother race actually enter the lens that's what gave you that gucci bcbg you know what I'm saying that good she looked with a flair and all that stuff because I like the key to that they still have some of the race enter the camera but they're entering at an angle because if they entered directly causes the rings you know what I'm talking about the little ok ok go ahead okay look amazing move for a little bit like slow movements I know as your cameras on your I and you're ready to shoot okay sorry early don't be shy friend make small adjustments on her face okay um so to your carefully the way with your camera in your face so you're ready to go okay sorry um and I just just playing in that place when you like what you see take it ok just prefer unit is rooting for you friend girlfriend okay uh let's do it again with her eyes open uh it's just it's alright there's do it again let's bring the flash closer toe the access of the lens so it hits the lens so we're going to do something like this you see joseph maybe more like right there so show some of those rays into the lens so if the people watching online what we're doing what joe's doing hears he's holding the flash in the near the same access as the lens so that that race from the flash hit the lens and it creates this very romantic glamour look way have to then yeah ah a little less there you go okay ready girlfriend go uh okay just keep ready cropping up tighter it's looking very good on your you're kicking butt friends getting things this is looking really cool if I was flipping through gucci magazine I'm sorry post what flipping through vanity fair magazine or something and I saw this I would not even blink I would be like that's what I would expect that makes sense that's what I would see okay now you created this is that crazy or what now for the audience let's make sure that when we get the crane over here so we can see from above what's going on I want to keep this distance I want to keep uh I want to have a snapshot of what's going on here so we understand how that execution stuff is playing a role here okay now the execution chart is right here let's let's see this worse tyson it doesn't come over here for a second let's leave everything exactly the same if you want just rescue on for a second job just here's here's what you should probably not do so much on guys maybe you can come over here for a sec could you stand in front of that wall st just yeah just stand on donegan do anything just stand back if we were to take a picture of him right now is the lighting coming through a direction or is he just kind of flat in his face right but how many of us default to this we're like wall standing front of a take the picture compare that to the photo on the screen off katie that's just not even not even in the same level something sense but why is that that's where you have to look at the photo and ask yourself what's going on here on what's going on here so julian and try it out what's different about this setup then this entire setup with the flash pointing and stuff like that well first of all there's this reflector right position um there's the background that's very blah I mean little block and um there's lights coming straight here is the light coming from are very strong direction sure it is it's not just like it's not like we have the window here and we just hitting her with flash but it's reflecting softly back her correct which adds dimension this is the strong light kids and then they started kind of just starts to slyly directory that's that three dimensional look right okay notice if you look at tyson here they both have simplicity through subtraction there's nothing in the background of peace and there's nothing nothing in the background of her so that's kind of even the difference is the angle friend took the picture from is she sitting down she's sitting down that's a different perspective than just a standup six foot perspective rimmer I said at the beginning ofthe today most of our photos are used to taken from my life by her going down he'd already offers a different angle altogether she gorgeous gorgeous picture oh she looks like well she is incredible but the picture is definitely very well done my friend doesn't she looks great but everyone watching online I want people to be to realize that this is not that hard just follow this little rules right here the lighting is through direction the lining on tyson is not the direction it's flat yes they both have simple backgrounds now look at those and perspective through lenses you used the eighty five one point two the eighty five is a very good portrait lens if you would have used the fish eye it wouldn't have been very good but also that lends you used is we used it a two point oh aperture which at that time that any blurs the background more also she's not standing in front off a wall that was way back there I didn't know that beth in the background some incense and last but not least beauty through angles you had her turned her face away from the camera it wasn't just a typical shot off tyson standing infront looking at the camera can you look at the camera ruby dictation hears me you just look at the camera oh oh that's just not gonna work now tyson can you look at that camera now look at don't look this way good number in your chain this way now you're starting to at an angle right now trump your way so you shift your weight to your toe one of now you're starting to increase the angles right now tilt your body forward a little bit there you go that's very nice now bring your eyes slightly no I mean your chin there you go you're gonna turn into more modeling and more you're financing the ford over this okay thank you good job oh thank you thank you you like girlfriend go go friend freddie so nervous he's so funny that's a pretty darn good photograph off her people are asking about if you have rules for cropping hands and different body parts I'm sure that comes from like where do you cross the wrists and all these different things right I don't sleep I don't lose sleep over it yeah some incense people have these little rules like there's this way to do it and there's that way to do it and it's like it's photography if it looks good do it now if you do crop right there maybe you can try to crop more like right here so it's not just a hand that's missing because if you look at someone without a single hand you kind of feel bad for them like you're like what happened to you right but if you crop their hand here you just think it's just a photo crop
Class Materials
RobertoValenzuela_LPE_Charts.pdf
Roberto Valenzuela creativeLIVE Keynote Slides.pdf
Ratings and Reviews
Im a freelancer and have studied photo school several years ago and also been working as an assistant for a few years. I think you always have things to learn and keep you from getting stagnant in photography, and i find creative live is a great source for that. Been taking some of Lindseys classes and watched several others from Sue Bryce as well as other classes for equipment and about shooting people in general. I always read what others have said before to avoid any classes that are not informative etc or have a teacher that leave out too much, i was drawn to what people said about Roberto walking the students through the shoots and that he had this great system you could use and take with you when you go forward. I actually never heard of Roberto before but were mainly interested cause of what he was teaching here. I have now watched almost the whole course and first of all let me say i do recommend it a lot. Its a great system to use in my opinion, and i have learned some great stuff to think about that will enhance my own photography, and its a great reference to go back to when you need it. Roberto as a teacher is relaxed, intelligent and has great humor that i can relate to. So you you are not "bored" which is also very important, he keeps it interesting. Some things that i did not like about his way of teaching was that he was a little too impatient at times when the students tried shooting themselves , he reminded me of other photographers i have worked with in past. They were also very impatient sometimes when people around them were moving to slow for the shot to get done etc. I understand during the course the students had limited time to get every shoot done. But many times i was frustrated with that Roberto almost always stepped in too early to "help" them out but instead kind of took over telling them what angle would work best or what light that should be used. It was almost as he wanted his system to show up as flawless and felt as he was scared letting the students try it out on their own because that would somehow show a flaw in his system. I would rather have had him let them try first and later he could come in and suggest the different angles and light. But now many times he would take over and also take his own picture and pointed to the strengths of that picture and why it worked. Still, you learn because he explains at the same time, and walk you through everything. I just find that you would learn even more letting the students fail first or do it right on their own. Also sometimes he would choose a location and say: You can use this wall and these props etc, then when the student would start he would suddenly limit them and instead tell them what to use and how they should crop so that the location itself would not make much difference. Otherwise though, great course. I think i would buy another course from Roberto as well if it was something i needed from it.
I have seen many of the creative live workshops, and attended many great workshops by photographers, including Jerry Ghionis. It was Jerry's wife - Meliisa Ghionis who suggested that Roberto's course on creative live should be a must see. This course was by far the best on creative live for improving your photography of couples, it is just brilliant and has improved my photography in leaps and bounds. There are many great photographers, but most do not know how to pass on their knowledge to others - Roberto is the exception I would consider this course a must see for any wedding photographer, no matter what your experience.
Love Love Love this class!! The way Roberto integrates class participation into his teaching is such an amazing teaching technique! CreativeLIVE has some amazing teachers, I have learned so much from many of them, but Roberto's "hands-on" approach put's the on-line audience in the moment. Very captivating teacher! By far I would say this is one of the, if not the best photography class I have watched!! Thank you!!
Student Work