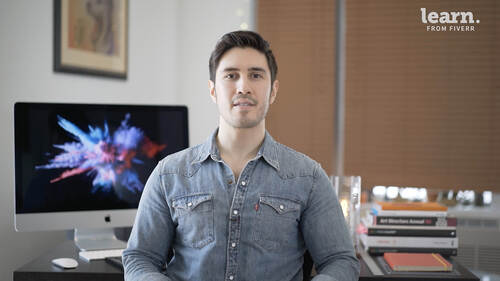 Lesson Info
25. Typography
Lesson Info
Typography
this lesson is about typography as it relates to your logo designs. Remember synergy is key many times a monogram and a pictorial logo needs supporting type. This is usually the full name of the company, choose a typeface that complements your mark but doesn't overpower it. Remember for a monogram especially type should always be secondary. Try not to mix too many fonts either. Usually for a logo, you shouldn't use any more than two. One is actually pretty common. You could use two different weights of one font. But the only exception to this guide is if your actual concept involves using multiple funds for a specific reason and again, this is going to be a very unique use case and I wouldn't concentrate on that too much. I would stick to the rule of no more than two fonts per logo. Think about secondary fonts that have similar qualities to the monogram or go in the complete opposite direction and pick something that creates a lot of contrast for this exercise. I'd like you to follow a...
long with me, you can download a starter file and will pair various typefaces with the monogram. Remember to always assess for synergy and overall impact. Many times monograms and pictorial logos need supporting type, which is usually the full name of the company. I've provided you with a couple folders. One is a template that I created in illustrator and the other one's a group of fonts. So let's open the template First we have two art boards. The first one is the name of your company. In this case it's milestones and the second one we're going to get to later, but this is where we're going to pair up some of these font decisions that we're making with the monogram that we just created. I've provided 15 fonts so you don't need that many. I'd say anywhere between 7 to 15 is a good number to look at what I'm doing is I'm just duplicating the name milestones. So once I've duplicated by holding the option key and dragging, I can command D to then duplicated again and again and again and I can select all of them and hold the option key again and hold shift, drag to the right and then hit mandy again. Here we have a page full of duplications of the word milestones. So now it's time to look at our fonts and look at different styles and make some decisions. If we look at our fonts folder first thing is to make sure all of them are activated. Once they are, let's just go down the line. If you just click on the word, then you go to the properties panel and the character palette. Just type in burial and let's try regular. You can look at some different weights to just bold. Let's stick with regular for this. Let's assess command zero. So what feels right here, what feels like it could be something that would be appropriate for a child psychology startup. Some of them look a little too formal. Some look nice and playful. Other ones look a little too aggressive and masculine. I definitely like the rounded corners. So burial. Yeah, that's that's a possibility. Let's just duplicate that everything's in all caps right now, but it doesn't necessarily have to be that way. So if you go to a character palette and we hit these three dots here, if you click this button right here, you can toggle between upper and lower and all caps. All right now we have a look at everything. You know what I like? The uppercase and lowercase version. I'm gonna pull that off. What else is working? This is kind of nice. It might be a little too complicated, but I like big mouth as well. So I'm gonna pull these out. This is a variation of the nice rounded terminals and beautiful curves. So it does have kind of a friendly, approachable feeling. So does this very approachable, pretty neutral intro in line. I feel like that's going to get too complicated. So yeah, it's a beautiful font, but I feel like something like that's not appropriate. Neither is mrs eaves very pretty, but a little too formal about varna. That's not right either. It's definitely really hip. It has a bit of a black letter vibe, which is really in right now, but that's not working for this. This could work to missed another one, definitely not the stencil it's too aggressive looks militaristic. Maybe even slightly techy. So that's not the right feeling at all. So let's take all of these. Move them over. We've narrowed it down to five choices. That kind of feel appropriate. So we're just going to duplicate a few more times. Again, command d duplicate these. Little trick is if you group these together and you just hit the center button, same thing with this and aligned to the horizontal centers gives you a nice clean organized layout. So now let's start looking at these user type tool. So if I use my direct selection tool by pressing a you can actually take both lines of copy here and changing both at the same time to big mouth. So I'm just gonna do the same thing for all of these. Okay, so this is what we're working with. Upper case is strong, but I do think for font like burial for instance, I was really liking the way the lower case letters worked here. So we're just going to hit all caps button here. Okay, I can get a little bigger. Let's try intro bold. Okay, one thing to think about here is either want to choose a font that complements the monogram that picks up the same characteristics or something that has a strong contrast. Let's try this one in upper and lower case as well. I like having psychology stay uppercase I think make this a little bit bigger. Alright, so big mouth, what can we do with this? Let's look at upper and lower for a second. This should definitely get bigger. So I love it on its own. But I do think that the really interesting nature of this fund kind of takes away from everything happening in the monogram and that's not something we want to do. I would say my two favorites are this guy right here and this guy right here duplicate the art board again, you just click on the art board tool, hold option and shift and drag that over. So let's eliminate the ones we know are going to work. Bigmouth is just a little too loud. This is a little too strong, a little too sharp. And between these three that are left. I love how they all kind of pick up the rounded terminals of the logo. That's really nice. This one that's a little more condensed. I think we're going to eliminate that. So we're left with two. So let's look at them side by side. Okay, if we group them together, we can scale them proportionally at the same time. Yeah, these are both working for me. I really like them. Let's say we like everything about missed, but we really want to work on this. Why right here. So right now everything is type. It's all text. I can change this word too. Whatever I want it to be. What I want to show you guys is that you can hit shift command. Oh, which creates outlines and it changes it from live type into a shape. Let's see, we have some anchor points there. Let's start with deleting these, deleting these. Let's see. We want that rounded terminal. So one thing we can do is we can copy it from the H command C, command F. Move this over, bring this anchor point down. Alright. And let's merge that. Okay, great. So we changed that. Y And again, we're going to have to duplicate it. So all I'm doing is I'm using my direct selection tool, hitting a clicking in the center of the shape, holding option and shift. And I'm dragging that over at command X for cut. And then you select the one you want to get rid of. Delete all those anchor points and command F to paste in place. I think they both work really well, but I think I'm gonna go with burial as the brand font. The final step would be adding color in this case. Uh, color progressions. So I think this is a good place to stop. We have to successful iterations of typography that work really well with the mark, we picked the favorite and we started to explore a color scheme and I think this is going to end up working out really well
Ratings and Reviews
Amazing course, Really helped me a lot. Thank you
Great! highly recommended this course for all designers.
Student Work