Picking The Right Font
Mark Sposato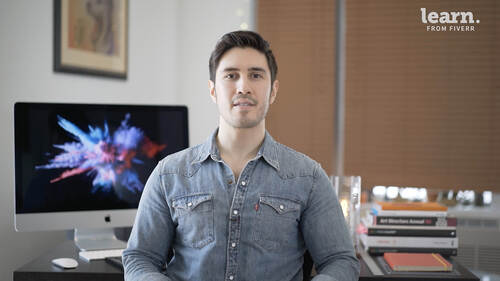 Picking The Right Font
Mark Sposato
Lesson Info
34. Picking The Right Font
Lesson Info
Picking The Right Font
Let's talk about picking the right font. This is extremely important for setting the mood and the tone of your logo when making a logo based on type. Your font choice is really important. You may manipulate that font but it's really essential to start with something solid. Another approach is to draw your own letters, but this is a very specific skill set and this would be considered custom lettering. There are actually specific courses dedicated to that skill set that you can find on fiber for this lesson. We're going to look at exploring topography for your logo type. First off, since we're using my blaze logo as an example, make sure that you activate somatic. So let's open up the sample document here, blaze type exploration and we simply have the name of the company, nice and big in the somatic font that we want to work with. So let's duplicate that a few times and let's see if we can get some variations here to consider. So let's look at rounded. That's an interesting feeling. Let...
's also look at case if we go to our more options in the character palette, which is under the properties tab, we can change the case to upper and lower, let's say we want something a bit bolder or even a bit thinner than what the font actually comes with. We can always add a stroke. So if we click on our stroke, click the color black. There you go. Remember this is okay to do, especially in this case because we're really just trying to find the right feeling for this logo. Don't think of it so much as just type. It's also artwork. Let's see what these upper and lowercase versions look like a little bit thinner. You can actually make a white stroke rather than a black stroke to see what they would look like in a thinner. Wait. Okay. And then there you go. And we're slimming down that front and there's things that are happening that if we were to go this route, we would definitely have to address like that cross stroke on the E gets way too thin and we'd have to work on that. We definitely would look at our proportions here. But this is just the basic sense of what we'd like to go with this one right here for me, that's the winner. I feel like it's an interesting font. The upper and lower case both have their merits. It's not super techie, which is something that was in the brief so we didn't want to go too far in that direction. There's little details like that. Perfect A that's so geometric. This be here, that has the bigger bottom half. It just has a lot of character and I feel like there's a lot to work with
Ratings and Reviews
Amazing course, Really helped me a lot. Thank you
Great! highly recommended this course for all designers.
Student Work