Fading Credits and Export
Rafael "RC" Concepcion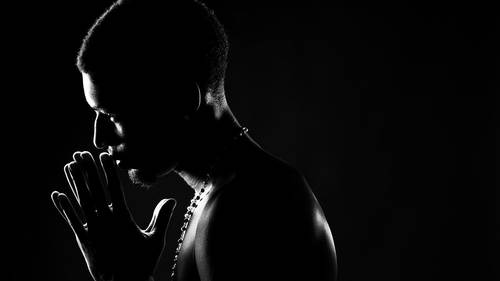 Fading Credits and Export
Rafael "RC" Concepcion
Lesson Info
9. Fading Credits and Export
Lesson Info
Fading Credits and Export
What if I want to take then, this text that we have here. I'll move it to the center. Let's do some type work. I'm gonna triple click to get the whole line selected, and I'm gonna type in A Short Film By hit the enter key, RC Concepcion, in all caps. Let's do some styling now. Hit the up arrow, brings me to the first line. Hold on the shift key and hit the up arrow, and it selects the entire line. Rather than choosing a point size at the very top up here and getting it wrong all the time, just put your cursor over the text tool, and it turns into an arrow with two heads. Now you can just scrub. Now once you have that, if you want to adjust the distance between the two, which is known as the leading, highlight both of those. You can hold on the option key and just go down with the down arrow or up with the up arrow. That'll change your leading. Command + space, oh, nope Command + return. Now you're done. I want to center this layer. Select all, command + a. Hit the move tool, letter V. ...
Notice at the very top you're selecting center, vertical center, and what I would do is I would actually cheat it down just a little bit. (jazzy music) And then from there trim it out. I would just make a duplicate. Oh, no. Let's go ahead and highlight short film. Make a duplicate. Move it over. (jazzy music) And then in here, let's add a second one. So now (jazzy music) it gets even better. Watch this! I have to do this because I'm already here. Watch. This is advanced. I wasn't gonna cover this, but I think it's kinda neat. Look, so you're here at this moment in time, right? I'll show you this 'cause we've only got like four minutes. Well, at this moment in time, notice that you can highlight this thing, and this thing that you have selected here has a transformation, an opacity, a style, and a text wrap. Right? These little things are called key frames. Right? If you click on this, it's basically saying I'm gonna put a dot at this moment in time to record that this is here. Right? Now, I'm gonna grab that, and I'm just gonna drag it down, way down and hit the arrow key and drag it all the way down. That arrow is recording that this is there. I'm gonna move all the way over here. I gotta stretch this out. And now at this moment in time, I'm gonna put another key frame, which saying is I'm recording that that is there, but I don't want it to be there. I'm gonna hold on the shift key and go use the up arrow. There it is. And I'm gonna drag. Now that it's up, I'm gonna single click and drag it all the way up here and finish it off with some arrows. So it's recording that it is up there. Now I'm gonna come back over here. (jazzy music) Oh, no, no, no, come back! So the first one, where are you, buddy? I gotta find you now. Where are you? All right, let's try this again. I'm gonna grab this, duplicate it, bring it over here, and we'll guide and we'll transform there, and then we'll come over here. We'll transform here, and we're gonna move this up. So now, it's not letting me do it. No, go down, and now you go to the next key frame and you want to grab this guy, and you want to go up. Ah, it's not gonna work for us. Bugger. Okay. Now, the final thing that I want to be able to do for this is I want to be able to export this. All right? So, I'm gonna grab this guy, and I want to be able to finish the video. To do that, I'll single click on file and then from here I want to be able to export, and you'll notice that you have a section inside of here called render video. Select render video. Right from inside of here, you're going to be using the Adobe Media Encoder. You select a format: DPX, H264, or QuickTime. More often than not what you're doing is you're doing 264. And you would set all these different presets. Right? And inside of here, you have all these different presets that they already have prebuilt for you. Now to show you most of this what I'm gonna do is I'm just gonna close this guy and I'm gonna open from our oven the exported or the file that I would finish exporting out for us. So here, watch. There's the for more infomation on Tougo Coffee. There's our scrolling text. I needed to see it at that point because I was just like, "It's gonna be crazy!" So I would do a file. I would do export. Now, the cool thing about this exporting here is that the export that it does is it does based on the Adobe Media Encoder. We're just gonna render that. We're gonna render that as high quality. It's gonna send that, and it's gonna use the same media encoder that you would use for Premiere. But in an hour we've been able to cover all of the essential portions about the video. The timing, I think is probably the thing that's the most important when you're working with this kind of stuff. It's important for you to be able to kind of just make sure that you're matching action and that you're working on continuity, but the actual assembly of it uses all of the same tools and skills that you would do inside of Photoshop, and you can do it very, very easily. The more that you start seeing that, the more that you start seeing stuff from a video standpoint, and it can push you into that world. If you want to see more infomation about me, by all means please feel free to stop by aboutrc.com. You can also follow me on Instagram @aboutrc. I would be more than happy to help you answer any questions that you can there.
Ratings and Reviews
I am so excited about this class! I knew there had to be an alternative subscribing to a pricey service that allows one to display images and video clips in a video format. This class gives you all the tools you need to whip out a custom video showing shoots and images taken during them. I cannot wait to employ RC's excellent instruction. Great class!!
great class. This is one area of PS that I am sure most people are unaware of. Great class. Practical applications. Love RC's presentation.
Wow! I had no idea that you could do video in Photoshop! I have been wanting to incorporate video clips into my client gallery slideshows. This was such a cool walk through, and at a manageable pace too! Great class!
Student Work