Master Your People Skills
Vanessa Van Edwards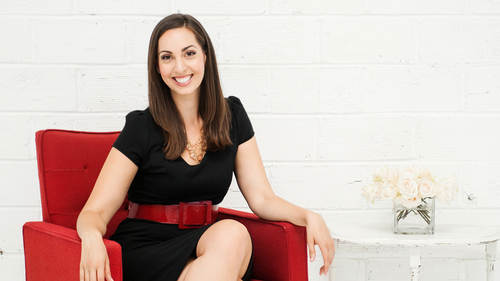 Master Your People Skills
Vanessa Van Edwards
Class Description
Short on time? This class is available HERE as a Fast Class, exclusively for CreativeLive subscribers.
Learn how to inspire, influence, and engage people in this life-changing program with Vanessa Van Edwards.


If you want to succeed in business, life, and love you need to master the science of interpersonal intelligence. Master Your People Skills will show you how to effectively communicate with partners, clients, and colleagues so you can flourish in all aspects of your life.

In Master Your People Skills, Vanessa will teach you the communication methods and relationship-building strategies that will transform your interactions. You will learn how to increase your likability, deal with difficult people, be a master conversationalist, and quickly identify personality types.

This is class has 30 lessons each 45-60 minutes that are comprehensive lessons, activities, and challenges to assess and improve your people skills.
You'll also develop techniques for overcoming awkward interactions, avoiding toxic people, and building rewarding relationships. Not only will Vanessa show you how to be proud of your in-person interactions, but you will also learn how to communicate more effectively online — via email, text, and social media.

Here's how Vanessa will help you increase your impact:

You will be able to command respect and supercharge your first impression.

You will know exactly how to win more deals and attract more clients.

By the end of week three you will have learned the art of speed-reading people.

You will have mastered your presence to be more persuasive, likable and influential.

Vanessa transformed lives in her previous CreativeLive class, The Power of Body Language. In Master Your People Skills, Vanessa will go beyond non-verbal communication, showing you how to boost your emotional and social intelligence.
Class Materials
High PQ Skills Answer Key
Personality Matrix Cheat Sheets
Questions Every Couple Should Answer
Personality Matrix One Pager
Your Next Big Thing Worksheet
Killer Conversation Starters
Bonus Video: How to be a Master Conversationalist
Workbook - Master Your People Skills
Ratings and Reviews
This is the best course I have ever taken on anything, anywhere, ever. As an adult with Asperger's, I have been studying social skills and nonverbal communication for a long time. All the books I've read and other courses like these I've watched prior to this one, didn't even teach me half of what Vanessa has taught me in this course. Master Your People Skills has provided me with literally everything I have ever wanted to learn from inner confidence, charisma, making conversation, making a great first impression, being memorable, etc. Vanessa is such a charismatic, passionate, and knowledgable mentor, who has a real gift of taking her many years of research and hard work, and teaching it in a way that is easy and fun to learn. This course is the real deal, you will be a master after you are finished with it, and I would recommend it to anyone.
I have just finished day 13 and so far the course has been amazing every single day. Vanessa is a great teacher and I love how her work is down-to-earth, practical, very applicable and rooted in scientific research. It's not the usual "ra ra ra, I can turn you into a master people schmoozer-type courses" found elsewhere. Anyone that wants to improve themselves and have better relationships in all aspects of their lives, both professional and personal, should get this course. There is so much quality material in this course, I look forward to going over the videos and the workbook more than once in order to improve my own people skills. The course is worth every penny and much more! Thank you Vanessa!
Student Work