Mobile Filmmaking with IK Multimedia and FiLMiC Pro
FiLMiC Pro Walk Through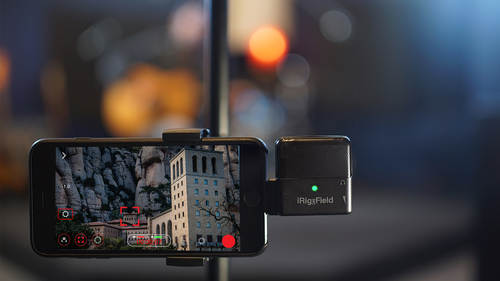 Mobile Filmmaking with IK Multimedia and FiLMiC Pro
FiLMiC Pro Walk Through
Lesson Info
FiLMiC Pro Walk Through
So we're gonna breeze through a quick little introduction to FiLMiC Pro, try to get people up and running if you're unfamiliar with the app, or if you're confused by some of the functionality in there. And then we're gonna quickly get to the promised Tangerine trailer, and then the interview with the filmmakers. Okay, introduction to FiLMiC Pro, superior image quality. Johnathan's been going on about this a bit, but the ability to shoot at 50 megabytes a second if you would like to at 1080p is going to let your image hold up better to any sort of color grading, post processing, that you might wanna do. And when we first introduced FiLMiC Extreme, I think the 5D shot at like 25 megabytes a second. So there's a great window there where we had an even higher data rate than the Canon 5D and tons of manual control, which is mostly a good thing. But when people first open the app and turn on all the bells and whistles, it can get a little overwhelming so we're gonna get you through all of th...
at. Johnathan talked about the separate control over focus and exposure and white balance. We talked about the frame rates. The other thing that's very cool that FiLMiC does that you can't do on the native camera is go through all sorts of different resolutions. I think they might have a square video option, but if you wanna shoot 16:9 at 1080p, at 720p, at 540p, if you wanna shoot at 2K, 3K, few kinks that I think we might have 'em all worked out in the next build, you can do that. Audio, video encoding rates, if you wanna shoot uncompressed audio, that's another great thing that you can do in the app. Other audio features that we're gonna showcase with some of the gear from IK Multimedia, though it would go well with some other stuff as well, is the ability to control levels, headphone monitoring, audio metering, stereo support for stereo mics, and the ability to disable audio gain control, which we will showcase in the second half when we do the shotgun mic set up and extensive fast and slow motion effects. We talked a little bit about that, mostly from slow motion. You shoot a very high frame rate, playback at a normal or slower frame rate, you're gonna induce slow motion. You shoot at one, two, four, six frames a second and then play it back at 24, you're gonna do some equivalent of fast effects or time lapse. Okay, this is probably the most familiar way that people shoot with the app, and the default setting is what I call Dual Reticle Mode. This is your focus reticle right here, your exposure reticle right there, and these are the locks for your white balance, focus, and exposure control. So you move the reticle where you wanna focus on an object, and then you tap the corresponding focus reticle lock, and you have locked focus. Now, you can move your camera around wherever you want without those potentially irritating little pulsating... Focus searches. Yeah, yeah, yeah. Same way with exposure, so I often look for the most overexposed spot in the scene, try to bring that down. You can probably speak to this well, but much better to slightly underexpose an image than overexpose it, and at that point, you're pretty much screwed. Yeah, what's cool about it is you can really slide it around and find that zone where you feel like you hold onto the highlights and also hold onto your detail as much as possible, so you can kind of just play with it and slide it, it's really fun. You kind of find that zone, that sweet spot, to get your proper exposure, which again, exposure is so key when it comes to really good imagery. And so, when you find that sweet spot, just tap the exposure lock, and then you've locked it. Quick little walkthrough for people who haven't seen the app before. Time code counters, battery, and storage indicators, FiLMiC library settings, record button, and the advanced zoom controls, which we'll get to in a little bit. If you want a really simple experience, you can sample both focus and exposure from the same reticle. This is something that you can find in settings, but if you have high aspirations at all, I think you'll quickly grow out of single reticle and appreciate the separate control focus and exposure. Okay, Manual White Balance Mode, so reticles are one way to control the image. With the advant of iOS 8, we added a really cool feature where you can access at anytime manual controls by doing a long hold on the corresponding button. So here, we're in color temperature, Kelvin. You would just do a two second long hold on the white balance icon, and then you get this available left hand slider, and you change from any color temperature that you want, actually gives you much more granular control than just locking the white balance, which usually tilts to the blue and green, or sorry, blue and orange. Yeah, and for anybody who's not familiar with what white balance is, how it's powerful and can be used, we're gonna go over that later on in my little cinematography class to talk about how cool versus warm light can actually show different types of, you can, yeah, whatever, we're gonna go over it later. Okay, I'd ask you about the 18 percent grade card, but we'll definitely run over it. Cruising right along, same deal with the, so any of the three controls, you can access manually by doing a long hold. And so here, we have a deep focus image, and you can scroll to shallow depth of field, which is actually something that people want very often in smartphone devices and don't know how to get them because they're all pretty much a fixed aperture. But by scrolling down to 0. and doing shallow depth of field, macro focus, you can get actually somewhat creamy focus, or maybe both, maybe not creamy, but cutting close. Same way with exposure, long hold, get in there, you can stop down your exposure, you can stop up. It isn't actually an aperture, they don't exist on these devices, but it works very well and gives you control over exposure in a way that's probably got a broader range than your image alone would. Okay, same with IS0, daylight, 130. You get into nighttime conditions, low light, which actually, that should've been one of the cons on the lists, but I forgot to put it there. But low light, these devices don't do particularly well. Not yet. Not yet. Got that. There's hope. HDR sensors, I think, are on the horizon. Quick thing, you don't have to be fully in Manual Mode, or you don't have to be fully in Reticle Mode. You can be what we call in Hybrid Mode where, in this case, you're in manual white balance and manual exposure, but the white reticle means that you're in standard focus mode and it's unlocked. And there is the focus reticle on the ship, and why is it unlocked? Because the ship's actually moving, it's gonna be 20, 30, 40, 50 feet further away as your time code continues that I guess we're not playing there. Simple plus, minus zoom, those are self explanatory. That's how it defaults, there's this is the slide I wanted to make sure that we get to. Actually, if we can cover these next two, then we can be good to get into the trailer. FiLMiC Action Slider, it's the little arrow on the upper left hand corner. From there, you can access the information tab. Do access more than just the first tab. Swipe over to your left and look at all 14, and you can learn tons of cool features, including how to rack focus in the app, which is one of our favorite bells and whistles. Thirds guide, this speaks specifically to what Johnathan's been talking about, about shot composition, and we'll get into it undoubtedly in the second segment. Understand what the grid means and what the difference between the one, two, three, and four hotspots are. Audio meter, you can toggle on an audio meter that lets you know the strength of your incoming signal with either the onboard mics or an external mic. And this, you can control the levels of whatever your incoming signal is, which is advantageous for the onboard mics or anything without a line level input, but in the microphones we're using today, we're gonna have a line level input. So you actually won't wanna control it from the iPhone itself. You'll wanna control it from the incoming audio device, and there's one other trick in settings that we'll show you how to do. Three-way torch, turn it on, adjust the slider to how intense it is. Actually, don't like the default setting and like to bring it down much lower and have a soft amber light. Zoom toggle switch, this is how you get to the advanced controls over there, which we'll show you in a second. Zoom speedometer, control how fast or slow your zoom speed is, and lastly, another self-explanatory camera toggle. Okay, so when you turn on the zoom, advanced zoom toggle switch, you get these one, two and three buttons, and these confuse people a little bit. But what they are are zoom targets, and let's just say I'm shooting Johnathan in a cafe scene. And I wanna start out wide so I have the camera fully zoomed back. I hit the three, and then I get these three dots here and that's my number three zoom target. Then, I decide I wanna pull into a medium close up so I zoom in, I tap the two, and I get the next two hash marks and that's my second zoom target. Then, say I know somewhere in the script that somebody's gonna spring a surprise on them, and he's gonna have a strong reaction. And I wanna go into an extreme close up. Then, I can zoom all the way in, hit the one there, and now, by just tapping any of these buttons, I can go to my wide shot. I can go my medium close, and I can go to my extreme close. And I don't have to worry about zooming too far and being like, "Whoops, I gotta go back," and messing up the shot. So it's very clean, combine that with the zoom speed, and you have a lot of control over your image. One of my favorite shots in The Godfather is that just achingly slow, Gordon Willis, I think he was the DP, pull back that reveals that the Godfather isn't alone. And he's with, you know, the other person who's like pleading for a favor and isn't really gonna get one by the end of the movie but-- Do you wanna go into the Tangerine trailer? Yeah, yeah, yeah. Sneak a peak at that. (laughs) Sounds great.
Class Description
In the last few years, mobile tools for filmmakers, musicians and creators have become more powerful, useful and more widely adopted. IK Multimedia has developed a range of products that are affordable and effective when paired with market leading filmmaking tools like FiLMiC Pro.

In Mobile Filmmaking with IK Multimedia and FiLMiC Pro, Neill Barham, the founder of Cinegenix and FiLMiC Pro, and noted cinematographer, Jonathan Houser will show how to use their mobile app with the IK Multimedia's iRig PRO and iRig Mic Field to get incredible shots and capture pristine audio that will fool anyone into thinking you have the budget of a Hollywood film.

Listen to special guest filmmakers Sean Baker and Chris Bergoch talk about how they used iPhones and FiLMiC Pro to make their Sundance hit Tangerine, which was acquired by Magnolia Pictures. See the trailer here.

Both the iRig PRO and FiLMiC Pro were recently featured in an Apple iPad commercial with Martin Scorsese and are becoming more widely used as professional tools for filmmakers. Learn how to use them to get the breathtaking shots you want. See commercial here.
Reviews
That was wonderful! Thank you! Can't wait to put some of this awesome advice and insight to work! :)
I was impressed by the application design and am very excited to implement this tool within a project I started a week ago. This class came just in time for summer semester of class and I could not be more inspired! This is truly the leading edge of technology. I am looking forward to what Neill and Jonathan produce next!