3rd Party Apps to Add Illustration or Monoprint Looks
Lisa Carney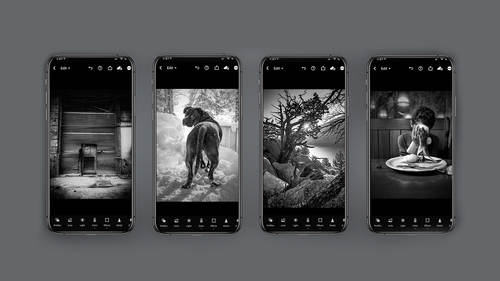 3rd Party Apps to Add Illustration or Monoprint Looks
Lisa Carney
Lesson Info
12. 3rd Party Apps to Add Illustration or Monoprint Looks
Prisma & Lens Distort
Lesson Info
3rd Party Apps to Add Illustration or Monoprint Looks
Another third party app I'd like to talk to you about is Prisma. Prisma is free, and then they have a subscription version that does high definition, but it's pretty minimal in terms of the cost. And what I love about Prisma is you can take these images and give it a print look like a mono print and you'll see on the bottom of the screen there's lots of different artists you can choose from. They are generally color, but you can de saturate to make up black and white image. And I don't know. It just gives this monolith, uh, print kind of look. It's pretty fun. Take a look at this. This is the original over here and then in light room, I did some pretty heavy editing to darken it up and make it black and white. And then I took it into Prisma because I really wanted this illustration kind of magma cartoonish look, and I think I'd like to encourage you guys to to think of this as a really fluid ecosystem. You can work in light room, take it into another program, add some effects to it and...
then bring it back into light room if you choose to. So on this shot it's just a winter scene in the in the forest, and I took it into light room, and as you can see, I darken the edges. I I lightened the background to make it look like it had a little more depth to it, and then I wanted it to look like a watercolor. So I took it into the water color function in Prisma. Now this filter I used was aqua, and it did a colour version. That was lovely, but I wanted it to be black and white, so I just the saturated it. And I think I'd like to kind of encourage you guys to be fluid with your work, go back and forth and see what you can come up with. So on this one, my lovely dog bear, who I love to shoot, and in light room I did a black and white edit. You can see I cropped it, and I did a lot of clarity. I like the shot as it is, but then again, I wanted it to look more like a cartoon or graphic novel look, So I used. I don't know if I'm pronouncing this one right. The monarchy, which is a purplish kind of, uh, filter and paint. And I love the strokes that gives it, and I just be saturated it to make it black and white. So again, back and forth, you're not stuck in just light room. Okay? I just want to be really clear this this whole device, this whole ecosystem, there's so much you can do. So again, this is Baron Jack. And I just wanted to make a kind of gold ish black and white did that light room, and then I want to talk for just a second about lens distort, because sometimes when I'm shooting, especially with a mobile device, you can't quite get what you need, and you need to add some stuff. So I like to do day for night photography. And when I do that, I shoot it in the day, and, um well, there's no stars out in the day, are there? No. So I need to put them in afterwards with a program I called lens. Well, I don't call it. They call it lens distort. And, um so let me show you this. This is a really good example of needing to add a little bit. So this is bare and I shot him at 6 30 in the morning, playing in the full snow, and I mean, it was crazy snowing. But you can't tell because with the shutter exposure, I can't do a long exposure with the dog or the dog would be completely out of focus. But I want that kind of shutter, a long look for the snow. No big deal, I just added after so I took the shot. You can see it's got cool. Morning light took it into light room and made it black and white and did my editing. If you notice, the highlights have been dropped down and the clarity's bumped up so you can kind of see the snow on the deck. But I didn't think the snow looked good enough, so I put a ton of this element from Lens this art called ethereal snow, and I guarantee you that looks more like it felt when we were in the moment. So play, you know, add elements, add rain, add fog, add smoke all in other applications, and if you need to bring it right back into light room
Ratings and Reviews
This is one of the BEST classes on Creative Live, and I have a Creators Pass and have taken tons! As a retired teacher I really appreciated Lisa's teaching style and the clear use of tech aides (circle, highlights etc) to lead me through the steps used on LR mobile. Her clear descriptions make the class easy to follow. I have also used LR mobile for several years and learned at least 3 new things in the first few minutes! In addition Lisa's in-depth knowledge of BNW and how to apply the principles of BNW to color conversions was wonderful. I have shot BNW for years in film and digital and also taught darkroom at the college level (ages ago) and Lisa's teaching and skills rank up there with the best. I learned even more the second time through and will come back to this class frequently and grab any others that Lisa Carney teaches. Highly recommend!
I have always loved black and white photography and so many of the other courses I have taken on Creative Live touch on black and white but it is never as in-depth as I would like it so I was very excited to see this course offered in Lisa's mobile series. I love how explains the black and white presets you can shoot pictures through in the LR camera, the profiles and then the presets in post. Her knowledge of light and how color adjustments even on a B&W photo affect how that light is shown is very informative. This course finally gave me more detailed knowledge and inspiration to do so much more with my B&W pictures. Thank you for another great class!
I loved the information, the tips and tricks and the delivery. I cant wait to do some more of her classes.
Student Work