Processing Black and White Part 3 - Processing Color
Lisa Carney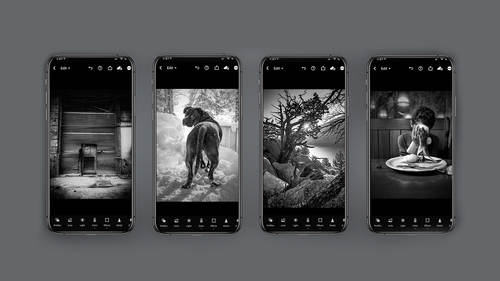 Processing Black and White Part 3 - Processing Color
Lisa Carney
Lesson Info
6. Processing Black and White Part 3 - Processing Color
Using the Color Module for making black and white images.
Lesson Info
Processing Black and White Part 3 - Processing Color
Let's look at using the color module for making black and white. Now I know this might seem kind of easy and one and done, but it's not. There's a lot under the hood here, so let's first discuss what's in the color module in general. So you've got white balance, temperature, tint, vibrance and saturation. But if you notice here you've got a black and white button. You've got a colour grading button and you've got a mixed button. So what do those do in relationship to black and white? Let me show you. So first of all, the most obvious or easy button to click is the black and white, and most that's basic. That's kind of like a minus saturation you might do in Photoshop. And then, in addition, there's something so cool in light room. This is fantastic. If you click on the mixed button, what it will do after you've already clicked on the black and white button is you'll notice you've got this luminous tab, and what that does is it allows you to pick just the reds or the orange or the green...
s and the blues, et cetera, et cetera, and just change the value of that so you can make a really interesting black and white and change the tone of your characters or the background, or what? Not all by using the mix color mix. But wait, there's more. I love light room. So what there is in addition to the color mixed button is the targeted color adjustment, and I call it the pizza Pie. So you click here in the center on this little pizza pie icon, and what that will do for you is that that will give you your targeted image colors, and what you do is you literally click and press on your image to get your color. And then, if you look at the bottom of the screen here, you'll notice you have a hue saturation or illuminates. So for black and white, what we're interested in is luminous or tone. So what you can do, just like with the colour mix, you're actually going to pick a colour, but how you pick it because it's targeted is you click and hold on your image where you want to shift that color and light room is really generous. It'll show you which color you picked and then you literally take as you click and hold the color. If you press and go down, it'll go darker. Press go up. It'll go lighter. Let me go ahead and show you how this is done. Let's look at using the color module to make really interesting black and white images. So click on the color module and select black and white. And at this point, as I said in the demo, you can click on the color mix. And if you go to the colour mix, you can click on the oranges, for example, and you'll notice you can change the luminosity of just the orange values. And please note at the top of the camera, you can see what you have changed. In addition, you can do the yellows. See how it's lightening up the yellows. This is darkening up the yellows now. There's not as many yellows or oranges separately in this picture. Did I tell you that if you double click on the line items, so in this case, the luminescence, when I'm on each colour that will reset it back to zero? If you need to know how to do that, so you could click done and go back to black and white or color. But I'm going to click mix again and I'm going to click on that pizza pie. As I said before, and I haven't set on luminous. And if I click and hold on the image, it'll show me what values are there. And if I drag down, it will darken those values. If I drag up, it will lighten those values. So I'm sure you can imagine how handy this can be to make selected targeted color changes, all with the touch of a button on your phone. Now the weird thing about this is if you look at this window, well, there's no okay button. You just have to click the pizza pie again to get out of it and then hit done, and then you're back in the standard editing mode.
Ratings and Reviews
This is one of the BEST classes on Creative Live, and I have a Creators Pass and have taken tons! As a retired teacher I really appreciated Lisa's teaching style and the clear use of tech aides (circle, highlights etc) to lead me through the steps used on LR mobile. Her clear descriptions make the class easy to follow. I have also used LR mobile for several years and learned at least 3 new things in the first few minutes! In addition Lisa's in-depth knowledge of BNW and how to apply the principles of BNW to color conversions was wonderful. I have shot BNW for years in film and digital and also taught darkroom at the college level (ages ago) and Lisa's teaching and skills rank up there with the best. I learned even more the second time through and will come back to this class frequently and grab any others that Lisa Carney teaches. Highly recommend!
I have always loved black and white photography and so many of the other courses I have taken on Creative Live touch on black and white but it is never as in-depth as I would like it so I was very excited to see this course offered in Lisa's mobile series. I love how explains the black and white presets you can shoot pictures through in the LR camera, the profiles and then the presets in post. Her knowledge of light and how color adjustments even on a B&W photo affect how that light is shown is very informative. This course finally gave me more detailed knowledge and inspiration to do so much more with my B&W pictures. Thank you for another great class!
I loved the information, the tips and tricks and the delivery. I cant wait to do some more of her classes.
Student Work