Capturing for Day for Night
Lisa Carney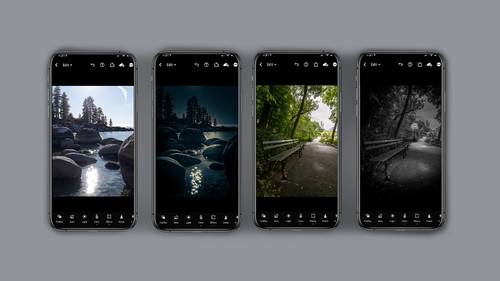 Capturing for Day for Night
Lisa Carney
Lesson Info
2. Capturing for Day for Night
Lesson Info
Capturing for Day for Night
capturing for day, for night process is pretty easy. You just want to know that you need to expose for the highlights. That's the most important thing I can tell you about this process. And if you're gonna shoot through light room, I'm going to suggest those five cameras that are available. The automatic Pro HDR long exposure depth capture, They're not all good for this process. So what you're gonna want to do is stick with the Pro HDR or depth capture. Okay, frankly, I would suggest HDR and depth capture would be your best bet because it'll give you the most information in the highlights. But if your subject is moving or you're moving, it can be happy. One of those things you want to use the pro camera. Okay? But be very careful with the programmer that you're exposing for the highlights. All right. It's really important. Now, in addition to that, you should know that the format you choose makes a difference. So you're gonna want to use the DMG format and on a light room camera. All y...
ou have to do is click on the top of the camera there and you can tell go back and forth between DND or raw you want DMG. Now on that whole raw conversation, do you realize that on your iphone you can actually go through the settings on an iphone 12 for example. And make sure you have Smart HDR clicked. So again on an iphone and at least on iphone 11 or 12, you want to have go to settings and go to smart HDR. Okay. And then on an iphone also, what is brand new? Is there is the iphone Apple Pro raw format. Now that's a little more complicated to get to. So just pay attention. Here you go under settings to photo to camera. Excuse me to format. Okay. And then you scroll down and you'll find the Apple Pro Raw which is very exciting and I have found that actually gives me a larger raw file than I get in light room. Pretty cool. Huh? Again, always exposing for the highlights. Now you can in addition if you want to try this process out, shoot on your regular DSLR camera and just add it to your camera. Roll in Light room either on your ipad or on your on your mobile device and you want to just simply when you're in your library, click on the bottom plus button to add and go from camera roll If you're on your desktop version of light room, not like from classic Light room. If you're on your desktop version of light room, you can go to your camera if you plug your camera in. Isn't that cool? It's this little from camera device icon you see right here and I want to take this second to remind you, we are working across a full ecosystem here. That means right Light room, mobile, like my pad, which is mobile, the desktop or Web. Okay, so I just want to keep that in mind.
Ratings and Reviews
I was so excited to be able to take this last course in the Mobile Photography series and as usual Lisa Carney did not disappoint! I just love her teaching style. She is relaxed, friendly and down to earth. She relates her techniques and processes in plain non techy talk and demonstrates it so you can follow along and learn. I have been a user of Photoshop and Lightroom Classic and now LR Mobile is my go to for most of my post processing work. I also learned about some great new apps for my iPhone and who knew you can take pictures through LR Mobile! Thank you Lisa for putting together this mobile series!
Solid start to my Wednesday, Thank you for great job hosting Kate Dessa. Lisa Carney always gives everything she has in all her tutorials/webinars I have experienced. She continues to "give" and "share" her knowledge and true passion for her craft with everyone, thank you both for this mornings kickoff!
Love Lisa's energy and excitement. The course is well laid out and easy to follow. I recommend this course.
Student Work