Modeling 101
General Q&A
Yoanna House, Matthew Jordan Smith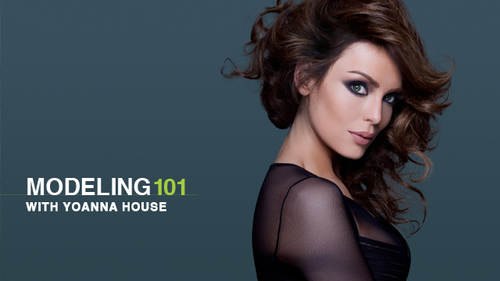 Modeling 101
Yoanna House, Matthew Jordan Smith
Get access to this class +2000 more taught by the world's top experts
24/7 access via desktop, mobile, or TV

New classes added every month

Download lessons for offline viewing

Exclusive content for subscribers
Lesson Info
14. General Q&A
Lesson Info
General Q&A
I have a question from Amanda Amanda's UAF. I'm not sure about the name. Who Who says So many magazines and makeup companies seem to use celebrities now for their ads? How has this changed the industry dramatically and in the sense that works great for some girls like me who came off Top Model because it does open those stores. But I do feel that there is this hunger for the fashion, and there is a hunger for models and learn more about models. You know, MTV came out with this show. Now they're relaunching House of Style and they booked models. They didn't book celebrities, celebrities sell. They're a little more relatable. I mean, let's be real here. You might idolize a five foot 11 gorgeous Brazilian woman, but you know, that's not every day. You know, woman who's raising two kids is not looking up to her. They're probably gonna look up to Reese Witherspoon on, and you know, her family life for her lifestyle or whatever self, I think is a model is important, be approachable. And I th...
ink there's a lot of social media sites that help, like model Lina to kind of get toe learn a little bit more about the models and what they're like in their private lives. I'm giving a little bit of Glimpse, and that's what helps, I think, get these girls booked if they're to hidden than it's hard for clients to, really, they might book them for certain jobs. But if they're really looking to branch out into a wide audience, it's important that the audience knows a little bit about these girls. What you say, Matthew Actually for, like Sports Illustrated girls, Victoria's Secret Girls, you probably do want to know what their favorite ice cream flavor is or you know where they go on a holiday. And so that's why I think they have such a huge following, because they're trying to be a little bit more relatable and given inside toe what their life is like. Yeah, a fun question from from Singapore. Does the book on the Hedwall cat walking really work? I think the book on the head is great in the sense that a lot of girls don't know how to walk with posture, especially tall girls. You know, my mom always said, you have I have the most rounded shoulders looking down talking to people. I'm at a party in New York. And let me tell you, when you're out in l. A All the men that you were like idolising and looking up to their midgets Okay, they're like little tiny people, you know? It's like a special village that they all came from. They're not tall, and they're not like the fantasy that you thought. And you leave there thinking like, Okay, so it's important that, like the book helps with this with standing straight and engaging your core and learning how to walk so it can help. Sure question. From Ryan K. As a model, What qualities do you find important in a photographer? What sets a professional apart from an amateur, and what makes you feel the most comfortable or uncomfortable? That's a really great question. Um, well, I will say working with Matthews a dream because one he makes the environment, he makes the environment comfortable, He asks, What kind of music are you into? It's not all about him. Sometimes the photographers make it too much about themselves that you arrive at. I don't know who the heck this guy is. I don't know. A lot about him. But if you try and make the model comfortable, can I get you something to drink? Where you from? Setting the tone for the day. What music are you into? What can I get you? What would make you comfortable during the shoot I shot with this one photographer. It was paying playing the worst music and I couldn't get into that zone. And it was a beauty shoot. And it was like death metal. And I'm like, Okay, how am I supposed to be looking soft and subtle when there's, like death metal in the background? You know, So I think setting the tone, I think the worst things that photographers for my experiences this has happened probably three times. And it left, you know, permanent etching, in my mind, is not understanding their equipment, not understanding, lighting and getting confused that day and trying to figure out and making the model weight around and around that it's so annoying because can you imagine if I were to show up as a professional, be like, oh, I forgot how to pose? Hold on, let me go. Think you know. So that kind of answers that and a question from fashion TV. Can the photographer influence the casting dishes? Decision. As a photographer, can we suggest a model? Or is it better to be new neutral when we're doing that depends, you know. Sometimes magazines do you want the input, and sometimes they don't. If they're asking you, definitely. If they're not, wait until they dio. Don't you think Matthew, that photographer from the model was that question again? Oh, it was from the can. The photographer influence at the casting calls. Who is which model is chosen? Absolutely, absolutely the definite can. It's a group decision. People always want to find out from the photographer who they like. I mean, I go with it. Remember casting once for for Pantene and we were casting in New York and l A trying to find the right girl and the client found Susan girls that they liked unlike any of the girls had to go and give my opinion of why didn't like any of these girls. They had great hair, but I thought they were dating from the camera because they're looking for that Pantene look of hair. So it took some going back and forth to find the right girl, but it definitely helps having the photographers opinion. And then being to say why you like or don't like a certain girl When one thing photographers do that I can't stand, I think it's so wrong is to criticize other models they worked with. Okay, I eyes a model, don't want to show up. And here, even I may not have ever met the girl. Maybe you don't even like the girl you kind of wanted here. They should not be saying Oh, she showed up, man. She put on £ or your best friend. Yeah. I mean, that could be your friend and they could be, in turn, talking about you. So I think etiquette as a photographer is be be sensitive to the girls too. It's hard. This business is really difficult. And to show up and then toe leave, Aunt, have people talking about you on any sort of social side or instagram or saying she had a great ass or she was this or that. I mean, it kind of leaves you feeling like, really like I hope he liked my work. Was was there more to that? So don't objectify the girls don't make them feel as if they're an object. I kind of relate to them on a human level. Yeah. Great. What? We have one final question for shame, but we have plenty more tomorrow. OK? All right. This is from shoot me and shoot me. Ask, knowing what you now know about the business. Would you encourage your daughter to become a model, or would you rather should choose a different career path? Um, okay. I don't think I would encourage her doing it if she wanted to. And she came to me. I wouldn't put her in there. I wouldn't set it up hoping that she would want to do it. You know, it's just like any parent. When someone wants to be an artist or a musician or photographer in that field, it's really hard. You don't want their dreams to be shattered. But if I did get her involved, I would definitely find out who the key players are and how to make sure that she is working with legitimate people and that she's also continuing her education
Class Description
Yoanna House (winner of America's Next Top Model season 2) is coming to creativeLIVE to teach you all about the modeling industry! This is the inside playbook of the modeling industry! What does it take to be a model? How do you get into modeling and become a model? How should you prepare for your first photo shoot? How do you find an agent? How to stay healthy and how to take care of your skin? During this 2-day workshop, fashion model Yoanna House shares her own experience and teaches the skills needed in various types of modeling: runway, commercial, high fashion, and more.
Photographers: interested in learning how to find and work with models? This course has some great techniques for you, as well as a rare interview with an agency booker who has insider information for you! Also check out the related Working with Models workshop with Matthew Jordan Smith!
Reviews
Tbh, this course should be mandatory viewing for all new models. A very insightful review of how it is to be a model, what is expected, what you can expect, how the industry works, what kind of modelling there is, how to deal with different types of photographers, catwalk, etc. Everything they should know but often need to learn the hard way. All masterfully presented by Yoanna House and Matthew Jordan Smith. Henrik "Imaginara" Bengtsson Sweden