Modeling 101
Learning from Mistakes
Yoanna House, Matthew Jordan Smith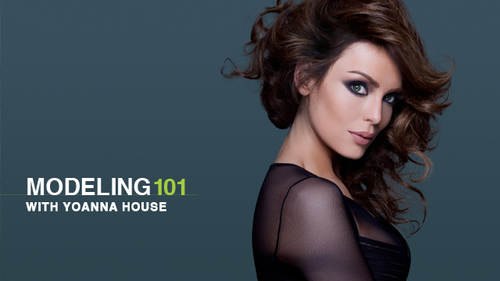 Modeling 101
Yoanna House, Matthew Jordan Smith
Get access to this class +2000 more taught by the world's top experts
24/7 access via desktop, mobile, or TV

New classes added every month

Download lessons for offline viewing

Exclusive content for subscribers
Lesson Info
25. Learning from Mistakes
Lesson Info
Learning from Mistakes
This is our last segment from our two days working together. I've had a lot of fun, actually a little relief, because now this is where the real fun happens, where we could do the runway. I could talk about my mistakes and tell you how much I've learned from my mistakes and what I know that I never going to do again. We talked a little bit about that in the beginning, like being late was a big one. And the agency said that girls have to be punctual. Um, nobody has the right to keep a SAT a photographer, art director, spending their time and their money, or even tests photographers who you don't know what their story. Wasif. They rented out that studio that day for them, and they don't have an in house studio, and you decide to flake out on them or cancel on them last minute. That's not fair to them or the stylist who pulled all of those clothes in order to work with you and the photographer and you cancelled last minute. So it's about communication being professional, and if you can't,...
you know, make the shoot, make your agency, let them know, Give them enough time. Reschedule, You know. So you know, just it's about being fair to an understanding that it's not just about you is the model. You are just one component of this team of a collaboration of a vision. And to be fair, Okay, Um, and Matthew, you have you had mistakes? I don't know. I don't think so. But So let's go to my one of my first mistakes. Which is this was me fragile. Just moved to New York. Just stop. Fresh shop top model growing out my hair and I look scared to death. Okay, I was scared to death. Everyone was coming up to me. He wanted to see what I look like in person as she tall. Is she sending up that she This is she that and I was, you know, feeding into way too much of other people's opinions and not just allowing me to be the best version of myself. I was afraid to pose for the agency because I thought, Oh, my God. They're working with Heidi Klum and all these amazing girls. And here I'm coming in, you know, fresh and like What do they want from me and I had to let go. I had to start learning that if I don't even vote confidence if I don't emote a sense of sensuality, um, then it's gonna read as if I'm afraid. Or is if I'm insecure or I don't know what I'm doing. Um, okay, this is the picture to the left. Is me being super pensive? Okay, Worrying way too much. And that's what I did living in New York over thought things over. Thought rejection, and I over thought Why didn't I get that job was? I not know, was I not my hair Not long enough was my hair. This was my face. This Did they think I wasn't dressed the right way? Overthinking and then, in turn, you know, Then you start not even liking modeling anymore. Okay? If you have a bad experience with the photographer, you start overthinking like over this business. I don't want to do this anymore over thinking it's a business. You can have your highs and your lows have your amazing triumphs and accomplishments and castings that you actually get booked on. And you're so excited you make a great living, and then you're gonna have the months where nobody feel. Nobody wants you anymore. And you've lost your edge. And maybe if you start working now, mawr, whatever. I mean, it's overthinking. Okay, Um, the next picture, it's just a fun picture. I was very kind of, you know, I'm very into music and very intervening. Fashion magazines and agency would tell me time and time again Learn how to dress like a model. And I thought being I did my own hair there. Okay, So this is how I would wear my hair to clients, and I would hear the complaints. They added, You wear your hair. I told you, fresh blown out. That is not fresh blown out. That looks like you were sitting in your bathroom spraying your air with the curling iron, and you didn't even know how to grip the curl and curl it right. So I didn't listen. And then I realised in time Oh, my gosh, I could lose money from not presenting myself the right way. So it's about presenting yourself like a model. Okay, um, the next this is me tired over it. I want a break. I want to get back on a routine I've been traveling like crazy. I haven't been able to work out the way that I like Teoh. I haven't had access to the organic, healthy food that I want Teoh. And it's starting to read like I don't even want to be here. So it's learning when to say yes and no, especially for trade jobs or three jobs. Take a break like if you find that you're doing a bunch of trades and working with people from model mayhem. I have never worked with people, but I'm just saying starting out and this is what people are doing. Take a break because it's gonna be frustrating. Um, if you're constantly using every weekend free weekend that you have and waiting on these pictures or you're traveling and going on castings, take care of yourself first. Okay? And that's what David was saying from the agency. If you're over exercising or not exercising enough, if you're, there's no balance in your life. If you're having problems with your personal life, if you have a problem with drinking or going out too much, it's gonna read. So got to take care of yourself. I know what I need as a model I have to work out. If I have a week off Like doing this amazing opportunity for your life, I'm gonna accept it. I'm not gonna, you know, going inside out. Just But when I get back home, I'm back on my routine I'm back on my juicing I'm back on, you know, cutting out red me, I'm working out, I'm sleeping I'm catching up So that my next client that I need or casting or Polaroid that I have to send out I look my best, Um, the last. This is me having fun. This was a creative tests, but I just used these behind the scenes samples of time and time again, we talked about killing the spread. I ask permission. I was allowed to take these pictures. OK, so it was fine. But I have made a mistake before where I took a picture like this oven outfit that the stylist had picked out. And then the photographer was really upset and annoyed that I had killed his vision. So, girls, please. The social media stuff has gotten way out of control. It's fun. It's great if you want to be in the makeup chair here And you can ask, Can I do something with the makeup artist that ever fund? Fine. Don't be bringing your camera on set on. Guy had to learn that. That's, you know, kind of annoying to these photographers, and these editors and publishers and backstage runway shows find fun. But maybe they don't want you to show the close yet you need. You need to figure out what's acceptable and what's, um, protocol for that day and definitely make friendships super important thing one of the best makeup artists in Miami and, um, making friendships with these makeup artists and having them get you ready for amazing parties and events. It's always a major plus, and it's about making connections. So thank you. And now Matthew, my mistakes. God, there's so many. Oh, I wish I had pictures to show. I try to do that tomorrow morning to start with my mistakes. I think in the beginning of testing models, I thought it was about trying to do a picture that looks like a shot in volts, but like that looking, making it very fashiony. Instead of making it about the girl and showing her fresh look, I learned with that overtime is. Bookers told me right away because they will tell you very bluntly this doesn't work. And okay, we shoot this girl again and then you learn, But it's a process I learned. I think about directing models through doing over and over again and probably doing it the wrong way at first because as a photographer, I think we all have these visions of what we think the industry is like until you get into it. Then you learn from the reality. Um, for me was just all learning and making mistakes and learning as I go, I think one mistake I did, um, was shooting too much. Um, when we first went from film to digital, we were all dogs were excited. We could shoot, you know, 10,000 frames now versus shooting, um, 20 exposures or 36 having to change the film. Now we have You know, these digital camera can shoot 10,000 frames if we want to, but that's not good for a girl because you're wearing them outside, get used to also giving girls time to change and not wear them out and had to figure out what it's like to be on the other side of the camera, and I learned that just by talking to different, you know, girls were now my good friends and figuring out what's the proper pacing about shooting and then also hearing girls talk about the lights like we talked about before. The break about lights and how does affect you? I remember once, um, Tyra, and this is actually one of our iconic shots. But today we did this shoot. I'm shooting with a ring light, so a ring light that goes around the limbs. It's a very bright light, and with that light it can always be blinding. So if you're shooting a lot like and the girl see rings literally after the shoot and I to learn with that, you gotta be very careful about how much you shoot and give them tons of breaks. So if I'm shooting for ring like now shoot couple frames, I give the girl a break. Shoot mawr. I should slower with certain lights. If I shoot the hot light, I shoot differently that I shoot with a shoot versus a stroke because the hot light is harder. One of girls eyes it was shooting on the beach is that sunset And I want that light in her face because the golden hour and all photographers love that golden hour with the light is just lowered about to set That light is right in your eye. So grew has light eyes. It's hard on her. So I to learn about all of that versus No, um, just make it comfortable for the girl or the guy, for that matter, for shooting you guys. Yeah, When you said with the lighting, sometimes you'll go outdoors and they want you to look at a certain line. It could be so strong you can't even see what you're looking at. All you see is this slight. And you know, I wear contacts for vision purposes And to have that you have to say, OK, I just, you know, close your eye, open it. Don't be staring at the light and torturing yourself. You'll learn Teoh when to shut your eyes Open your eyes And if you say I just need a break, I'm started to say those rings or I'm starting to see. You know, I don't know where I am, what I'm seeing any more. Um, you know they're gonna They're gonna work with you on that. Definitely. It's because I learned, I think also from time is one jobs learning how to read the model. I have clients and the clients have. There's a lot of money on it on the line. When a client books the job, what is catalog or cosmetic campaign? Whatever it is, there's only there's a lot of money on the line because a by on the set is getting paid their rate for the job, the clients thinking about the bottom line. I'm suspending. They want all these shots. So sometimes they're pushing the girl to shoot more, shoot more, shoot more Seymour and photographer. I'm kind of like the director, and I've got to make sure I don't wear that girl out. If I lose her, it's hard getting her back. So on that go between between the client and the model, I'm shooting her. I'm feeling her vibe, and now I'll say hi, feel we're beginning my career. I wouldn't say I feel I could see the girl getting tired. With a class like we need more, we need more. We need war. But now let's take a break for a second. I'll talk to the client while the girl gets a break and come back and shoot more, because then I get better shots, I guess. Shoot, shoot, shoot, shoot, shoot and I lose her. I can't get her back by shoot a little bit and give her a break and come back. Then she's fresh again. That was sort of celebrities, models or my mother doesn't matter everybody. That's why it's important to be healthy because, you know, on a day of shooting, you know it is tiring. You know, you're doing so many looks and all of that when they're giving you a chance to break. My advice would be to get that water, go to the bathroom. Don't start taxing. Don't start checking things. Wait till the shooters over. That's your chance to, like, get your three or five minutes together. Get your little bite of dark chocolate or immense or whatever you need. Teoh come back and showing the clients and also showing the photographer Oh can't back. I'm ready. I'm here on dure fresh and you're alive because if you come back still being tired, it's gonna be annoying for the photographer crew, the whole crew because within that time frame of the 3 to 5 minutes that they give you to break, that's your time to collect yourself and to come back and re energized. And also in this industry, it's about having long term clients. You don't want to do a job for one client one time you wanna have 10 years, works that one client over and over and over again. That gives you a career. So as you come on that job and your professional, you're on time. They love you. They want you forever. But you also have that same job come in late, act tired like Oh, I've got a date tonight. Whatever. If I feels that, we'll book you again and you know, that's one thing that as a model, I can't It's annoying for me to come and set my whole day aside and to hear Oh, the makeup artist has lead by one oclock there successfully by two o'clock. The photographer wants to get out of here. By that, you need to let go of all of that comments, the model don't then don't add to and say, Well, I got lied to by four o'clock. I'm trying to meet my boyfriend by the train station, and we're going to go, you know, take a ride to Vancouver. You know you that day when you come to a shoot, belong entirely to that crew. Stay if they want you to stay. Don't try and bolt. Okay? Even if you're getting paid for, expand our stay a little extra, it's not gonna kill you. OK, um, it can only end up working to your benefit if you're gonna get better pictures. But this whole time management, I got to get out of here. I've got a social life most the time. Those girls are not getting booked every day. And they're so worn out that they haven't seen their boyfriend, like, three months or six months. It probably see him at least again that week. So make your work your priority. Okay, is what I'm trying to say and just be a professional. Don't complain about working overtime something. You should save your agent. Okay, Not to the set. If they booked you for an eight hour day and you're working 15 hours, talk to your agent. Your agent will handle that. You don't go around telling everyone I was only supposed to be here till four o'clock. What's the deal? That's really something your agency should be communicated for. Yeah. Okay, great. So, Runway, any questions? I do have a question from none other than fashion TV before. I wonder what time it is there An apple like six? Um, you want as a model? If we have made a mistake or mistakes, do we get a second chance? Oh, how riel or harsh is the industry? What damage control can we do? Mistakes have been made. Approach our Booker. That's like a question. It depends where the mistakes were made. If it's with the photographer, I mean, you know, if it's with the client for a commercial, you know, it depends how much, um, is involved. But it's soon as you make that mistake, and you've been told that you've made that mistake and it's a legitimate mistake. You have to learn from it right away and try to not repeat it again. Agency has to keep telling you, Stop showing up. Tired, stopped showing up, malnourished over and over again. They're gonna dump you, or they're gonna ask you to leave for three months and get your life together and come back. So, um, you know very often you don't get a second chance. Can be mean. There are a lot of girls from all over the world that wanted models, and it's It's a very competitive industry saying for photographers you don't get a second chance, so you give me your best all the time. So just one more question. I guess we're going. We're going to jump into reviewing the the shots of the girls. Jeremy Adam Barton. I had asked if boyfriends at a photo shoot has have had a very bad husbands at a photo shoot. Boyfriends, fiancee's friends Because there's so many scenarios and that will be a whole. Another course will have to come back and teach. But what I want to say is that, um, you don't want to kill the chemistry, you know, that's leave that at the door. This is something intimate that you should be sharing with the photographer. Why? Why is your boyfriend there in the first place? He might be insecure with what you're doing. That might kind of throw you off, or he might be taking pictures in the back and then pissing off the photographer because he's killing the photographer shot definitely and don't offer. And don't put the girl in a situation If you are a boyfriend or significant other. This is a very hard industry. T thrive into in tow, work a long time and be supportive. If she's traveling, let her travel. Don't make her feel like I wish you were staying home with me. Now let her be because you don't know how long she's gonna be able to do this. You don't want the resentment later on. If she has to pose in a swimsuit or lingerie and the agency you know it's wanting this letter, do it, um, so it's important, you know, girls toe be strong and don't bring Tagalongs to the set.
Class Description
Yoanna House (winner of America's Next Top Model season 2) is coming to creativeLIVE to teach you all about the modeling industry! This is the inside playbook of the modeling industry! What does it take to be a model? How do you get into modeling and become a model? How should you prepare for your first photo shoot? How do you find an agent? How to stay healthy and how to take care of your skin? During this 2-day workshop, fashion model Yoanna House shares her own experience and teaches the skills needed in various types of modeling: runway, commercial, high fashion, and more.
Photographers: interested in learning how to find and work with models? This course has some great techniques for you, as well as a rare interview with an agency booker who has insider information for you! Also check out the related Working with Models workshop with Matthew Jordan Smith!
Reviews
Tbh, this course should be mandatory viewing for all new models. A very insightful review of how it is to be a model, what is expected, what you can expect, how the industry works, what kind of modelling there is, how to deal with different types of photographers, catwalk, etc. Everything they should know but often need to learn the hard way. All masterfully presented by Yoanna House and Matthew Jordan Smith. Henrik "Imaginara" Bengtsson Sweden