Modeling 101
Preparing to Test
Yoanna House, Matthew Jordan Smith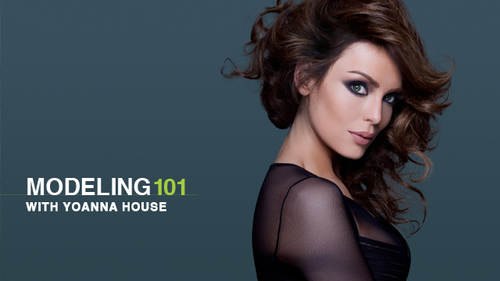 Modeling 101
Yoanna House, Matthew Jordan Smith
Get access to this class +2000 more taught by the world's top experts
24/7 access via desktop, mobile, or TV

New classes added every month

Download lessons for offline viewing

Exclusive content for subscribers
Lesson Info
18. Preparing to Test
Lesson Info
Preparing to Test
All right, So let's break into the testing. We had the question from fashion TV. Expectations of what? When and how models should pay what the photographers are expecting. And the agency. So, first of all, it's important to have tools as a test photographer as a model coming in. This is what I'm gonna be expecting. Now, this would be me clean coming in, and this would be my first experience modeling. OK, now I know what a test photographer should have. Okay, They should have some sort of trick it, or toybox is what they call it, or a wardrobe section. And it could just be a small, tiny rack full of maybe like simple tops or baby doll dress stuff from the goodwill. It could be stopped from h and M Zara that they used over and over again. It could be both faux fur, you know, granny faux fur that they wrapped up a girl. You know, whatever it is something that they can use and that they should always have it available for the girls. They're not always gonna have shoes for you girls. So you...
need to ask if you're starting to test do I bring some shoes. Sometimes they'll have, like, a military boot. They're gonna want to keep you looking young and fresh, so they'll have that. But, um, more likely they won't provide you with shoes. So bring that it now, was a model coming in? I need to ask how often? Um, okay, not how often if you're starting out in your new face or an aspiring model. How many tests do I need to dio? Normally, it would be great if you could test with what I was saying. Ah, female photographer. Which what the agency would probably want. Okay, cause she's gonna have a different take on you. A male photographer. Um, maybe he's a little more commercial based or does a lot more swimsuit? Or does it a different life, More lifestyle? Okay, um, and then you're gonna have an artistic, you know, more studio black and white. Whatever it ISS for that market, you should try and hit up those photographers now. It might seem expensive in the beginning, but it's definitely worth it, because if you're showing yourself for the first time, nobody knows who you are. The more stronger you present yourself, the better chances you're going to get booked. So when we talk about that, the agency Well, either a set you up with a photographer and they have an agreement with the photographer that it's a trade. Maybe you are the hippest, hottest chick in town, and they want to shoot you for free. But at the same time, you need to understand that. Now the photographer is done this trade with the agency. You might get a great shot from this, but you guys need to be in communication that you is the model coming in. If it's free, can't really tell them what to dio. Okay, now, if you are a girl Yeah, you can't. You can't even if you're paying What's gonna happen now? If you're paying for a test, the agency wants you to work with the particular photographer. Okay? They are going to contact that photographer. The photographer is probably going to give you four hours 4 to 68 hours, depending on how maney looks. You're gonna go over to that test photographers home. You are gonna be told by the agency what the deal is. How they want you to look. You need to keep quiet. Okay, As a model, you need to be. You know, I went into tests photography. They wanted to look androgynous. I was like, What does that mean? You know, I want to be pretty like, No, they'll come out great. They know what they're doing. Um, just trust them. The agency's setting it up for you, and they want you to work with, say, Matthew, just trust their vision. Normally, what I have come to understand, According to certain markets, when you're testing, you will expect to pay about 350 to $1000 for a test, and it's broken down in various ways. Okay, As a model, you should expect to pay that. Okay, hopefully with an inclusive team. Because thes photographers also have to understand that you guys air starting out. This is a test. You're trying to make money off of these pictures. So, um, you know, normally, let's say if you're getting a package for $350 they should be including 3 to 5 looks. If they want to have hair and makeup, they also need to decide to let you know that that's an additional $150. Okay, If they want the shoot to be style that the agency is firm on a particular look and you don't have the clothes, then you need to find out how much that stylist is gonna charge you to come in. They might just leave the close there. They might not have all day to spend with you. And you were supposed to leave those clothes fully intact, hung up and ready to be picked up by the stylist. Okay, is a model. It's super important to be respectful of the stylists because a lot of times stores don't want to lend to girls. Testing boutiques don't want to give out there close to models because it's not, especially if it's not going to get published if they're not going to get credit. Um, so you need to be gracious that they're providing these clothes for you. They're offering you probably a smaller rate than if they were to be working for another client like a magazine or a commercial. So be respectful, hang up the clothes, put it aside and just, you know, understand that. That's why tests cost that amount of money. Now you will also probably need toe, Understand How many images are you going to get from this test? Every photographer is different. Okay, there's no set style that is imperative. For instance, if you are paying 3 50 plus $150 for hair and make make up and then another $100 for styling, you might get three looks out of the whole deal. He might offer you five images per look edited and re touched. You might be allowed to choose those images, or the agency will choose Thean images. Or he will choose THEAN images You need to decide because everybody is very different. I've never met somebody that tests the same way or charges the same way, or offers the same amount of images they might offer you on location tests, which are great, especially if you're working in California or if you're working in Miami. Those agencies love on location. If you're in New York, probably gonna be in studio okay, and that's going to be different styling and all of that, but they need to communicate. You know what what your expectations are if you're setting up a test and your agency wants on location shots. They should be letting the photographer now, um and so that's kind of how it works now. If you were going to be paying for these tests, most likely it will be built to the agency. The photographer will build it. They have a relationship, and the agency will pay the photographer if the agency's not really sure if they want to put that money out because it's coming out of their pocket first, then you need to communicate with them, and I expected to pay this photographer. If that's the case, then get a receipt and you can use that as a write off. Isn't that right, because you're building yourself, so just find. Most likely it will be through the agency, and it will be deducted from your first paid gig. Okay, so that's kind of how it works. Are there any other questions about testing packages or charging or anything like that? No question. So you said that it's usually at the photographer's home. It if they're testing, let's be realistic here. They need to find to park that's open to the public. When you start getting into locations, permits or there's hassles that could happen or they can be doing it in their home, which is totally fine. That's very normal for tests. Photographers to be testing in their home. Okay, something strange depends on where you are, you know, and and how much their overhead is and or their convenience If they're really you know, I've met some guys that roll out of bed, They roll into their studio, and they did the most amazing work. Okay, so, you know, that's why you have to come in. Not asking. What are we doing today and just be okay with that? You know, they might just have, um, a great backdrop, Um, war clean wall in their bedroom. And that's where they shoot their girls and you'll get some awesome pictures. If agency is commissioning them for you, they know what they're doing. So, um yeah, it just depends. Seventies eighties toppers had big studios, but in the world of, you know, post recession era Yuki shooting anywhere, it could be a garage or a studio location or a big fancy city. It just depends on the photographer and and which state you're in. And I don't I don't. You know, I I don't want people to take it personally as a test photographer that I'm dissing if they're doing things artistically. I just think that the model should understand what's going on because sometimes you leave not knowing and could be frustrating if you're really trying to work and break into a market and you don't have the right pictures and it is a very cold ankle industry and let's be real. If you aren't with the in crowd and you aren't presenting yourself, they're not gonna probably give you a second shot. So that's really what I'm, you know, trying to convey for these models because you might want it so bad. But if you aren't working with the right people to get their than it, be hard for you to show your face again and say, Oh, I'm I've improved. Look what I've done if you've had to learn from your mistakes. So hopefully watching this, buying this video, listening to Matthew me, you'll avoid you know, those pitfalls and those you know, not knowing situations. I want to really talk really quickly, and this will be something Matthew will brush up. But, um, Matthew, I like for you as a model coming in. Let's see you see me. How important is it to have the right team when you're testing a girl and understanding what a test is and how it's not the the like what David sells? It was saying this is not the chance for the hair stylist to be showing off their most creative looks or the makeup artists to be showing their skills. When you commission a team, tell me, like as a model coming in What what should I be expecting from this team is This is very important for the testing photographer toe have his team and everyone to know that as a team, when you get a room of creatives together like a great makeup artists, hair stylists, photographer, especially in the beginning, it's very easy. Faber Teoh go crazy because that make Boris wants to show off. They can do the hairstyles as well in the photographer, but the theme of the hero of the job of this test is to make her look her best first and foremost. So. If you have this team that wants to do that, it's first its best first to get me just for her that a clean, simple, elegant or what the agency wants, And then do your wild and crazy stuff and what I wanted to say, Teoh, um, I feel like when I get booked for an editorial or a magazine or feature or something, I'm gonna bump up my expression. I'm gonna play along with the theme of the shoot. And if we can go to taking the first pictures again, you know, if we go, This is recent published work from this year. This is for a magazine. Um, you know, I know going in why I got booked, You know? Here. What will go back here? Sorry to the published pictures. I know communion is a model. That agency will say you got booked because they're looking for ah, young woman or a woman, and they need to show off designer clothes. Okay for that client, they want their readers. Let's say it's for Boca Retton or Palm Beach magazine. Those women can afford those clothes, right? So they want to show off those clothes, so I know to be a little more subtle. It's about the clothing. Also about expression. It's spring. It's light on dime. Working with the photographer with the team with the stylist, you know, you're gonna have the stylist say I'm going to need you to show off the sweater under there. So, you know, learning as a model how to work with the clothing that you're given a super important learning how to if you're doing a beauty test, will get into that showing off the makeup or just showing off the expression. So here we, you know, we go into more. It was, you know, it was more of a themed editorial spring fun kind of a sixties vibe, learning how to play along with the clothes and, you know, having having that fun with it. Okay, this was a shot for me being able to shop the jewelry. And also the makeup artist hired for that day, Waas trying to show off the makeup. Look being retro. So the lip was very important on learning to work with that. Here is a shot that we did for unedited Auriol. This was a cowboy themed look. Okay, um and what's gonna happen? And I love when photographers do this. It's so exciting. When you get booked for an editorial, you get a mood board sent over. Okay, So already as the model I'm getting into my head, I'm preparing that day. What? The theme of the shoot ISS. It's so much fun to as a photographer to work with the stylist. You've got the model that you want. Now you guys need to come up with the theme of the shoot or what the magazine wants. Or maybe what? You're trying to submit to the magazine, and I've got this mood board now I can look it up on my IPad. We're having our makeup done, and I'm already getting my focus, my concentration into the looks and into the theme of the day. Okay, we went out and shot with horses so that I needed to know that so that I could, you know, uh, learn how to deal with horses. Um, I hadn't been around horses before, so that was important toe to show that I was comfortable with them. OK, yes. No, the mood board on, and it doesn't it's not always sent out. The mood board will just basically be a folder of files sent over to the ages. Or it could be anything. It's an inspiration board. It's so fun because it's a model. You know, you want to be inspired and you want to, you know, have fun and and do what they want you to dio you want to be that girl that they booked and you want to deliver. So, you know, if they're booking you for a job, they're going to send the mood board a lot of times to the agency, and this is great, because I The question was yesterday I'd love to shoot with you wanna? She's a little more experienced. Um, how do I get her? And let's say that you don't have the budget and you really want to work with me and you want to submit it to a magazine. The agencies could want to know. What are you going to do with our experienced girl? How are you gonna show her to this magazine? They're gonna want you to show her age appropriately. And that's where I met by yesterday. When we're talking about swimsuits, you're not gonna put me in a triangle bikini because I'm not 19. I'm not Kate Upton. She's gorgeous, But she's younger than me. Sheas fresher than me. And I'm gonna wanna have a swimsuit that will be age appropriate for myself. Okay. And work with that. So it would be great if the photographer who wanted to reach out to working with a certain model expresses the mood of the shoot. And if the agency loves it and the models on board and thinks great, that what I could use those shots. Why not? Then it's important. So here, you know, it's getting comfortable with the horse. I was petrified of this horse. Um, and I wanted to, you know, make sure that I wasn't showing the horse that I was afraid because I was very respectful of this, this amazing creature. And here I am going to get on top of them and my too heavy is he not gonna like me, you know? So I had Teoh kind of get into the mood of the look, and it's, you know, outdoor location. The photographer was a friend of mine. I love working with him. Um, and he, you know, expressed definitely the mood of what he wanted. Okay? He presented this huge board not only to the hair team, but to the makeup artists into myself. And it would be awesome as a model to show up to a shoot like this and to hear from a photographer. This is what I want from you or as a model. If they are not saying that you need to show up that day on the set and say, What do you want from me? What? What? What you asking me for? Um, great. Great question to ask them, because it's important that you go in knowing maybe he doesn't want you to be so Posey. Maybe he just wants you to be subtle. Maybe he wants you to just be relaxed. Maybe he's not looking for that over the edge. You know, pose. That's, you know, gonna be so high fashion that it takes away. You're not going to see me on this horse doing, you know something that you know where to take away from from the thing. But, you know, we'll talk about that, and it's really just getting into character. Um, you know, and connecting with the photographer. I'm gonna talk about girls. How When a photographer says you're dead behind the eyes, how to get that spark in the eyes. How to show expression with your mouth with your profile with angling your face. Um, super important. Okay, um, here's here's an editorial we did in Florida. It was an Amelia Earhart theme, okay? And there was so many looks that day, and as a model, it can be tiring, but it could be fun because you're going to get a chance to be, you know, have a great shot of having interesting, different pictures for your portfolio. So they started out with the retro car, and then they brought a dog in. And how do I work with this dog? And there was a lot of beef jerky that had to be handed on the side, making sure that you know that he would stay with me and all of that and then to having an airplane, Um, and thinking about, you know, here they wanted me to think we want you to feel like you're going on a destination or that you've dressed, arrived and expressing that with the clothing because the stylist is gonna be there. And you're gonna be hearing what the art director wants from you for the magazine. What? The stylists is wanting you to show off And what the photographer is feeling for the look, and our director is someone who's running the shoot. They either get commissioned by a magazine or by a client, and they're directing. And it's great to have an art director. And sometimes it's not so great because it's way too many opinions getting involved. And you've got too much going on and you're you can end up feeling like you were just thrown into a blender. So it's it's It's important that everyone knows their role that day, what their job is. But tell me, what do you experience is working with art directors, and will it be good or bad? It's great to have a great art director is bed of a bad one, but they're part of the team. You have the talent part. The making part is model photographer, all of the crew. And then you have the client side, which could be an editor. What magazine? It could be an art director and art buyer. Several people on the shoot. So that's the business side of the shoot is the editor art director, art buyer, and then the creative side, which is the crew. So, you know, um, and here is a shot for cosmetic campaign. OK, this is for Caroline Cosmetics and Israel. I was there cosmetic girl for a long time. And as a model, that's probably the biggest honor is to be a part of a cosmetic company. It's what your goal is in life is to one day do cosmetics, Okay? And you know why? Because it's just I don't know. It's like an honor, and at the same time, it pays really well. And it's for life. I feel to say that I was part of this cosmetic company. Um, and it's just, you know, if you get in with the right cosmetic company, you could buy a house from that, okay? Or you can pay off all of your debts from living in New York. Um, who? But I mean, for you as a photographer, you do so much beauty work when a model gets hired for cosmetic. Um I mean, what is there? Are they just not over the moon? They are. They are a big deal hair care skincare, doing those jobs. It's a big, big deal, but very hard to find that model. Who can give you a lot right here. Yeah. Oh, yeah, Because I've had to learn, you know? And in the beginning, coming from top model was great because I felt like it was so much pressure to perform right away And to prove myself that it broke that insecurity on. Girls are saying, Oh, you know, they said I was this Don't Don't take so much feedback. You really need to learn your craft. Okay? Working your face, you need to study your face. When I did this campaign, we did about, I think six looks one with nail polish, one with eye shadows, one with lip glosses, one with, um, what else was there were card? Yeah, or just a clean face. It is exhausting to be sitting there for 12 hours and being a silent actress for that amount of time endorsing that product. And you're just working here. So we're gonna learn how to work with your face, work with jewelry, which is important when to kind of, you know, um, change the look in your eye how to open your mouth when to close your mouth. Um, so that way the photographers not bored with you, and you can get, you know, an amazing shot out of the day. Okay, so there we go. That was that is a, um for the lip passion. They put some wax on my hands and I had to pretend I was enjoying this delicious piece of chocolate. You know, it's supposed to be dripping chocolate and passion about my chocolate. And, you know, I'm sure there were probably 1000 frames that day, and this is what the client chose, and this is what the campaign looked like. So one, you know and you're there all day and you're doing over and over and over and moving in around. And so it's important to be patient as a model to not complain, OK, it's not, you know, all about me. They're not worried about their making sure that the makeup is telling the story that the photographers getting you know what they need that the model is showing. So there's a lot of things. So, you know, don't come complaining, especially if you're gonna be working long days. Yes, you start during the shoot. What do you suggest? You start out with a photographer, tell you how to pull or do you just start posing and he'll tell you to move a certain way. No. And it shouldn't be the photographers job to tell you. Okay, that's what a model is your their muse. For that moment, you are there, hired contract ID girl or whatever you've been asked to come. If you're not really sure, it's good to ask. But as a model, you should study the photographer. Who is this photographer who are his clients? Who is he working with? What are his publications? What is his style? What of the type of models he normally commissions to do tests with, and you can start getting a feel as to what they're gonna want from you. Okay, I've worked with David LaChapelle. He's over the top. He's amazing. His a genius. I'm not going to show up doing this. I know what he likes, you know. And that's why it's a business. You have to study. You need to learn, okay? And it's important to constantly be updating yourself with the photographers in your market with their style. It would be frustrating for Matthew if I've been doing this for 10 years to show up and say, Okay, Matthew, move me. Tell me what you want me to dio and him for him to come over, I would feel devastated, and I don't I would walk away feeling like Oh, my God. Um, I should have known that, or they're just things that will come in eight as an actress to or when you're doing, ah, perform. If you're a performer, it'll just come naturally over time but important to study, okay? And learn, Um, the style of the photographers.
Class Description
Yoanna House (winner of America's Next Top Model season 2) is coming to creativeLIVE to teach you all about the modeling industry! This is the inside playbook of the modeling industry! What does it take to be a model? How do you get into modeling and become a model? How should you prepare for your first photo shoot? How do you find an agent? How to stay healthy and how to take care of your skin? During this 2-day workshop, fashion model Yoanna House shares her own experience and teaches the skills needed in various types of modeling: runway, commercial, high fashion, and more.
Photographers: interested in learning how to find and work with models? This course has some great techniques for you, as well as a rare interview with an agency booker who has insider information for you! Also check out the related Working with Models workshop with Matthew Jordan Smith!
Reviews
Tbh, this course should be mandatory viewing for all new models. A very insightful review of how it is to be a model, what is expected, what you can expect, how the industry works, what kind of modelling there is, how to deal with different types of photographers, catwalk, etc. Everything they should know but often need to learn the hard way. All masterfully presented by Yoanna House and Matthew Jordan Smith. Henrik "Imaginara" Bengtsson Sweden