Modeling 101
Skype Interview: David Souza from Paragon
Yoanna House, Matthew Jordan Smith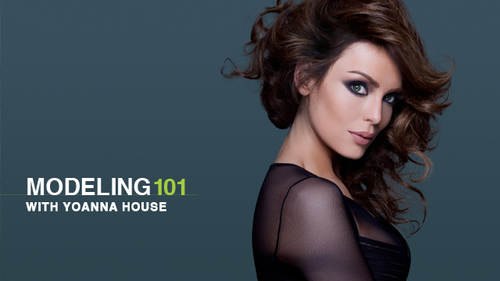 Modeling 101
Yoanna House, Matthew Jordan Smith
Get access to this class +2000 more taught by the world's top experts
24/7 access via desktop, mobile, or TV

New classes added every month

Download lessons for offline viewing

Exclusive content for subscribers
Lesson Info
9. Skype Interview: David Souza from Paragon
Lesson Info
Skype Interview: David Souza from Paragon
so I'm super excited cause I have David sells it from Paragon, who is on the line, and he has a ton of information to share. But also, I want to just hear from him a little bit about his background. Hey, came from some of the top modeling agencies, was a Booker there and is now working. Prepare a gone. I think he's running the whole ship there. Is that correct? Yes. So I got the chance work for two very good in New York agencies. When I first started Kansas Booker, I worked for Maryland and then for women in New York City. And that's why I got my start. And it was an amazing experience, and I decided that I wanted to move back to Mexico City, which is where problems and open an agency. So I'm back, and I opened a modeling and see in Mexico Mexico City, and that was 4.5 years ago, and we're now the number one in the country, so going really good. And we've been helping Teoh kind of like reinvented the industry in Mexico, and it's been working really well. And so now the new endeavor is ...
that we open office here in New York City, and that's where I am located. Now that's what we are doing. Yeah, and David, What we kind of wanted the audience toe learn about is what is the best way for new faces to submit in hopes of signing with Paragon or agency in New York. What's imperative for them to do in order to have you know your attention as as a Booker or in the new face division? I think the best thing is to take some have somebody to take some beautiful natural it pictures of you. So the simpler the better. It's more about focusing on the bottle, so it's like a plane or a simple background. And it's just the model, maybe in like some skinny jeans and a tank top or a bikini profiles full leg. Some, you know, quarter some close ups of the face, just kind of show what your beauty is and what you look like as a model. And just send that to an agency and the more agencies you send to the better, because then maybe you'll get a lot of responses and then see how you can go from there, I would definitely recommend it. Girl wants to start modeling. They should first seek an agency closer to home if they are not, you know, close to New York. And if you look closer to even a small market like Texas, you know Seattle Chicago separates is all those markets have agencies and you consume set. Sometimes start modeling there, and that agency can develop you to a certain point where they can connect you to an agency in New York. Yeah, and that's kind exactly what we were conveying in the beginning of the of the class today, and I kind of wanted to touch on to about the tests. Photography. Why are you using certain tests photographers and denying other tests? Photographers, especially for new faces? What are the common mistakes that these tests photographers need to know when they have access to shoot the girls at your agency, either for a favor trade or if it's a paid test, we definitely. When you're testing a girl and it's a new girl, the agency. At the end of the day, you want the images toe look expensive, so you want to be careful with the hair and the makeup and styling. But you also know what the hair, the makeup in the styling too important appointment a girl because at the end of the day, if it's a test shoot, it's the point of those images. Is to start the girl career to get attention. And if the picture of the attention goes to the hair or the makeup and the clients aren't gonna pay attention to the growth and what we need is these images to just, like showed with beauty of the girl just as a clean balance so that the client can imagine then that girl in their clothing, their campaign to wear fashion show So we tend to give it a shot. Most testing photographers and what? You definitely start developing a great relationship with the ones that kind of listened to what we're looking for and kind of get that that, you know, essence of the girl out, and they bring it into those pictures. Then sometimes some photographers over the growing do you know tons of hair and makeup retouching, and it's just images that the girl can't use anymore because it's so we touched are so heavy on the makeup or the sadly, that you don't even focus on the girl anymore or it's giving an image that's too specific. And you don't want to give that to a girl when she's Brendan. Okay, wonderful, thank you. How important is it for models to take care of their skin and dress like a model? It is extremely important because nowadays the competition there, so the Internet it is making it really embedded because there's so many girls everywhere. And you could be a girl in the middle of nowhere, far, far, far from New York, and you can have a certain look and you can be found on the Internet. It two weeks later you over in Milan and Paris and New York, shooting for some amazing campaign or some walking an amazing show. So the competition now is very hard, and there's always new girls coming in. So you definitely and the industry is looking for the best skin, the best hair, so you really need t take very good care of your skin. And I think that there's a misconception that a lot of times girls just think like Oh, you know, I want to be a model. Just eat very little and you know that I'll be skinny and then that's cool. And if you're not healthy, it starts to show in your skin. I mean, different girls have different symptoms, but sometimes your hair starts falling out. If you're not eating, you know, you get bags under your eyes, look yellow. You know you need to be healthy. You need to be well fed and eating good, healthy food and, you know doesn't take care of your diet. Your skin regimen you work with a lot of, especially during fashion week. We have a lot of girls. They start looking out because they get so much makeup put on and off so many times, you know, during a date and then a lot of time. Sometimes you have to be careful because a makeup artist might not be so clean with their brushes and stuff. So they put makeup on a girl that has actually. Then they put it on you. So I'm always very, you know, on top of the girls telling you, wash your face as all the time as much as you can. Try not to wear makeup when you're not working because, especially these girls, when their brand new your 15 years 17 you don't need to be wearing makeup. Your skin is fresh and you're fine, so there's no reason to be wearing it. That's great advice. I know some of the top make up artist. When I started out in New York, I got pinkeye. Another time. I got a bacterial infection because of dirty brushes or mascara wands that the makeup artists aren't changing out. And you know, the reputable makeup artist. But they don't really know. You know how long they've had that mascara in their bag. And and all of that. Another question. It's imperative, I think, for not only the photographers but the models to understand is how important is it to build a strong portfolio, a modelling portfolio? And how can the photographers help? It's extremely important because you have. I think you bump into a lot of girls that have, you know, let's say based aren't in the top 10 images and they're broken. They're beautiful images, but the girl is kind of giving you the same exact look in those images, so that to me, you know, to me into anyone that's in the industry, you immediately see OK, beautiful girl. She has no idea how to mom. And so it's imperative for a girl to have a good portfolio that involves great pictures. Great photographers. But But you have to show that you compose and you can move your face in your body and very different ways so that you can give the clients what they need. And a lot of photographers. I don't know how to get that from a girl don't know how to communicate to a girl. And and on the other side, there's a lot of models that don't know how to listen to the photographer and give them what they want. So I think it's like that we're looking for the perfect combination of photographers who can talk to the girl and get something out of them and girls who can listen. And you can actually get get to that place and give the photographer what they want. And it's definitely obviously very important to have a good book, because that shows the clients that you can do a variety of things with your look. Okay, now I want to emphasize that Mexican part of your agency. Can you explain to me the difference? Working with that Latin market? Mexico Market versus Let's Say, New York What do you find? The Mexican clients are really enthusiastic about What is their approach to casting girls or what are they looking for? Different than, let's say, New York In Mexico, they really, really, really look a lot at the personality of the girl. They really want to have someone that will be fun. When they're at the shooter at the show that they can talk to, they can hang out. They wanted to try to book a girl that once they book her, they're gonna book her many times they want. Mexicans are very warm people. They want to create a relationship. They want a girl who's gonna interact with them. And it's also a market that they're not looking for the skinniest girls or the youngest girls. They're definitely looking for more beautiful women. It's it. It has gotten more competitive, and they are, you know, pickier about the heights and the weight and stuff. But at the end of the day that they're definitely looking for beautiful comer, more commercial than New York women and they don't know. It's a market where you can go and you can start off 25 you can still have a really good career. And in New York, they're definitely looking for, you know, as perfect as you can be. And they're always looking for the next best thing you know. New French, Young. They closed the designers that the competition here they orbit. They're very thin girls. It goes all over the world. So sometimes the girls will start working and they barely even speak English. Although I do think that big clients, for example, Victoria's Secret They definitely put a lot of attention to girls that can talk that are approachable, that are fun, that are friendly, that you know, you don't see girls doing Victoria's Secret that they can't speak to the camera. So there are definitely a lot of clients in New York that also look for that. You know, that personality and that special little thing that every girl okay, and the last question what are the two worst mistakes models can make when they start out with an agency two or three, two or three? I would say girls, some girls start and immediately when they start working, picks up and they just start going up, up, up, up some girls, little by little. And I feel like a lot of girls when they start and it goes by in a and success comes easy. They get, they get big headed. They start being arrogant to other girls or to the clients or even to the agencies, which is the worst mistake you can make because the agency is. They're the people that are pushing you and they they're your team and you need to have a strong good relationship with your agency, communication and a lot of girls. It comes so fast that don't realize that there's so much work put into it, and they just think that they are the most amazing thing and they start getting headed. And the industry doesn't like that, not just agents, clients, photographers nobody wants to work with with DeVos, and I think it is one of the mistakes. Another mistake is girls sometimes get caught up in the you know, this is so fun and glamorous and so beautiful and, you know, let me take pictures so I can put on my instagram or Facebook, and at the end of the day, this is a job and you need to be on time. You need to look your best to have energy, and a lot of girls start partying. They start, you know, just getting into the glamorous life of fashion, and they forget that they need to be awake early for call times, and they need to look freshly to look good. That's another one of the mistakes that I made a lot and people don't like when you're in your late and nobody likes waiting around for girls so that you can burn bridges really fast in fashion and you can. It's definitely in a business where you can go up really fast and be successful really fast. But you can also go down extremely fast. So I think that's that's One of the mistakes girls make is that they don't realize how how big the consequences to their actions can be wonderful. Wonderful, I think. Yes, we haven't. We have a question from online way, have a global audience, and they're constantly uploading their questions. So if you can hold on, we have a question for you. David. Hi, David. My name is Susan. I have a question from our W photo studio who asked agencies or photographers look at a new person and tell them not to bother with modeling as a career. How often do you tell models? Just don't bother. Did you hear that? Yeah, I didn't hear it. I myself. Personally, I don't say that to people because together today. Fashion Yes, most okay in a certain bone structure and a certain but there's also rules they could be broken. There's one of my favorite bottles ever is Devin I? Okey. She's an Asian model. She's been a very successful model, and she is. I believe she's five, and she did a bunch of runaway stroller fishing else. She's been an extremely successful model and most agencies. When a girl who is 55 would walk in, they would immediately say No, tell you, maybe tell you that Don't bother. So it is. I think, that you need to be realistic. And if you are a girl that wants to model and you don't have a certain height requirements or something, if it is your calling in your dream, chase it. Why not? There might be an agency that has faith in you. There might be a photographer, designer or somebody that might find you. And I think that you are there, you know, their inspiration amused. So I try not to say that I just when the girl is not right for our agency, I just say, you know, I'm very sorry. You're not exactly what we're looking for, but good luck with agencies. Okay. All right. And one last question. Give two tips toe any way. They have a huge photography following on and give to tips to photographers looking to photograph new faces. Test them to break into the fashion is one of the two or three top things they need to be doing right. In order to gain access to your girls at the agency, you need Teoh build a book of some images. Maybe it never had access to a model. Maybe just take a friend or somebody that you know, somebody that you can find. You can photograph and show just to show the agency enough of what you can do. And then contact agencies either go in person or call or email and say I'm a photographer. I would like to test some of your new faces. And when you're given the chance to shoot one of these girls, make sure you ask the agency is much of what they want so that you can give them that because any agency, no matter how top agency is or how new food agency is, if you shoot their girl and you give them exactly what they want, we're gonna call you back. They're gonna let you shoot as many girls as you want. So once the doors open, just tried to deliver what the agency needs, and then it can go pretty fast from there. Hi, David. My name's Kenna. A question that's interesting from MPP s is how do you become a Booker? That is a very tricky question. I want to be Booker. Ever since I was very little, there is no At least I never found a college that offered a you know how to be a Booker major or anything. So it's a pretty tricky being. What what I would recommend is if you want to be a book or call an agency for many agencies, email them and say Hi, I'm looking to start an internship with your agency. It already hired Booker's. It's gonna be hard to get hired as a book or most of the time if you've never been a Booker. But you can definitely get an internship, which is how I started. I applied for an internship. York. I got there and I just hoping My eyes and I absorbed as much information as fast as possible, and I was given the opportunity pretty fast. Like I said, fashion is a place where they're always looking for new, fresh young ideas, and they're looking for driven people. So if you get your foot in the door as an Internet option, aces anything, a new pay attention and you see what needs to be done and you can do it. You can. You can be a book or really quickly. Great. Okay, we'll ask one final question. And this is kind of for all of the photographers watching. This is a question from Fashion TV in Singapore. David. We often advise models toe let their Booker's decide who to test with. Do your Sears. Do you see yourself playing an important role? And what do you look for in a photographer's portfolio? before sending your models out to them for tests. I do. Like I said, a model really needs to trust their agency. So it when you're still thinks that you know, obviously you as a model, you have a conversation with your agency and you guys come up with kind of like a plan of where your career's going. If your career is trying to go more of a very, very high fashion, that you need to look for photographers that shoot in that way, if your career is more of a lingerie commercial model, you know, smiling, you know, maybe you need which is riding a bike running in a field on the beach. So once you determine that that's the kind of that you look for photographers, they can shoot in that way. And you started relationship as an agency with a photographer. So I know that there's a lot of photographers that are really good at shooting brand new girls who are shy, who are uncomfortable in the camera. So I know these certain photographers are really good for those girls and their certain photographers were really good. But they cannot work with nuclear. They need girls with no at a mob. So as an agency, you know that. And you help the growth go shoot with the people that they need to shoot. All right. Thank you so much, David. And it was a brilliant and amazing on. I know the audience learned a lot was wonderful. Thank you. You think? All right, thanks. Awesome. Great. And reinforcing some things were saying three. Entire morning. Yeah, this is someone who you know is and all of the markets and was with the top agencies women competitors Teoh I am GMT. There are building thes. They're working with girls that are doing Gucci and Prada and also Neutrogena and UB. So on and booking J crew and bookings High end Saks Fifth Avenue catalogs. So to hear his input, it was really awesome. Really awesome. So I don't know if we could get my portfolio with Paragon. Um, I know that I can kind of show you how they put my book together for that Latin Mexican More women Lee market. Because I'm not like he said, super super skinny, fresh fresh girl working New York. Been there, done that. Don't want to go back to that ever again. So that's, you know, you evolved and it's fine. And you know, So yeah, so, you know, David approached me. He called me and said You wanna, you know, Mexico really loves your luck on. And this is what I'm saying because, you know, sometimes you hit you hit an age turned 30 and, like, Oh, my God, am I still going to be booked? And he was like, They love you. They want to work with you. They want a woman. They're not looking for that 15 year old girl or girl or that 20 year old girl. They want you two look like a woman. So that's what I'm saying. You need to find the market that's good for you and be realistic. Like I said, I understand. My look, my market. I understand where I'm going and I work with that. I don't work against it because I think if you try too hard to be something you're not, it's gonna read. And I think you won't get the work that you want. So So here, Like, you know, for the Mexican agency they have my daughter, which means my high boost Oh, means my my bust. Austin Sura. Meaning my waist. Calvera Meaning my hips. Cabaye io, which is my hair also spared this. My eyes and my shoe and I speak Spanish because my mom's Mexican. So it works because then people in that market, like, great she has a connection. She is half Mexican. This is the look that they you know, you'll see as it changes will go. And I got these pictures in Miami was for future with amazing twin photographers. Elliott, Eric Jimenez It's crazy that they're twins. They used to compete with each other. Now they work together and they are Ford artists on. They do amazing stuff. When we did this feature for a Spanish thing, I said, you know, they do a lot of kind of kind of weird, creepy sort of stuff with bugs and late, like going out and doing weird things in the forest. And I said, I'm not doing none of that, so they knew. But, you know, this is something that that the Mexican clients like, you know, they're really beauty driven, and some some agencies aren't about that. Okay, so here is, you know, the women, Lee, keeping my curves This was a feature on an editorial for Elite magazine. Just they really like clean a natural. Do you see? They're gonna use more of these looks in a portfolio versus a lot of the makeup. Looks okay. None of my editorials that are really beauty driven or makeup driven are put into my portfolio. They might put one, but that doesn't work for me. And it's not age appropriate because it does age me. That's probably this is probably the most makeup driven shot and compared to the others. But as you can see, it's really simple, clean on beauty driven, where this image might not sell for Chicago. You know, maybe in Chicago they would want something like Like best or that you know. So it's important that the girls understand the market and where they are amazing to me that you look like so different in each photo, you look like a different person. Is that is that pretty normal for a model toe Happy, So versatile? Or that's what David was saying. And it's great to hear that affirmation as a model because sometimes I see myself in pictures. I don't I feel like that's me to see yourself. It's hard because you look at it and you're not really supposed to identify with, you know, this. I don't walk around sometimes when I'm being, you know, my eccentric self in my my home and I want to do my whatever. But it's important as a model to pose, to know how to do a portrait. Pose a beauty pose, to know how to do up more of a high voltage, high fashion pose, to know how to do a subtle swimsuit because it is boring and there are models out there that do the same. Look all the time. There's one I can think of. She's high fashion. I think she's the most boring crazy, too. And you were like, Really, You see, her hair's the same length every year. Her hair color is the same length every year. She poses the same way. She's great, she's predictable. She gets booked for money jobs. But in reality it's kind of like she looks the same all the time, and that could be boring from an artistic standpoint. You know,
Class Description
Yoanna House (winner of America's Next Top Model season 2) is coming to creativeLIVE to teach you all about the modeling industry! This is the inside playbook of the modeling industry! What does it take to be a model? How do you get into modeling and become a model? How should you prepare for your first photo shoot? How do you find an agent? How to stay healthy and how to take care of your skin? During this 2-day workshop, fashion model Yoanna House shares her own experience and teaches the skills needed in various types of modeling: runway, commercial, high fashion, and more.
Photographers: interested in learning how to find and work with models? This course has some great techniques for you, as well as a rare interview with an agency booker who has insider information for you! Also check out the related Working with Models workshop with Matthew Jordan Smith!
Reviews
Tbh, this course should be mandatory viewing for all new models. A very insightful review of how it is to be a model, what is expected, what you can expect, how the industry works, what kind of modelling there is, how to deal with different types of photographers, catwalk, etc. Everything they should know but often need to learn the hard way. All masterfully presented by Yoanna House and Matthew Jordan Smith. Henrik "Imaginara" Bengtsson Sweden