Modeling 101
Skype Interview: Photographer David Benoliel
Yoanna House, Matthew Jordan Smith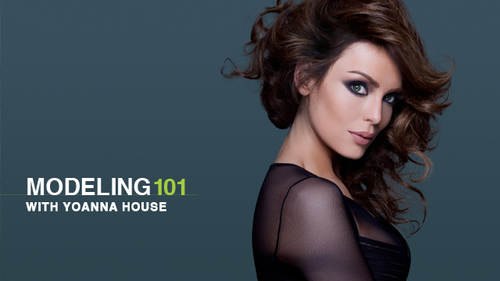 Modeling 101
Yoanna House, Matthew Jordan Smith
Get access to this class +2000 more taught by the world's top experts
24/7 access via desktop, mobile, or TV

New classes added every month

Download lessons for offline viewing

Exclusive content for subscribers
Lesson Info
10. Skype Interview: Photographer David Benoliel
Lesson Info
Skype Interview: Photographer David Benoliel
good. How are you? So, everyone, This is David Julio in Miami, and we're so excited to have you. We have a global audience and they're, you know, really big into photography and having someone like you with your experience, your publications, things that you've been a part of and just being in Miami, we kind of want to get your take on the Miami market and how you really got into doing thes fantastic editorials. I know that this is a direction you weren't planning on doing years ago and just tell us about you, is what we want to know. So Well, I know that I like that. You said we a Matthew is also an amazing photographer here in the audience way Way were trying to tell the photographers how important and even for models not to copy other people's work and to be original. Can you kind of tell me when you first started out? How did you feel personally about contributing to the photography world? What did you want to do So true? Just post stuff like that because you have to give something...
with your eyes. You're faced with your expression. So this is what? I'm trained work. Not with them in it when she Okay, So, as you're saying now, when you're working with the models, what is it important for the models to do as soon as they get on set with you? What do you What do you expect from the model? So what I expect is for the man to be dedicated, passionate on two Zs stick being beautiful, I think on when, when I'm shooting a mother, usually maybe the young market so what? They could not get me. So I have a lot of cases. So what? I'm trying to actually, when I shoot like that is close to explain when I'm winning for when we're going to say I'm showing a lot of God, consider what I like to have intimate lighting, interpretation, everything. So she feels a little bit when I'm going to do. Then I think this is like 50% of the reason I'm going to help me is to have released from Baptist next to me Wrestle, make a status, I don't know. Even upstate is that would make a huge different and that we have, like the young. But then the creative missing that pretty pretty for sure. So this is really important. And after the lighting is to try the perfect lighting for them to make our beautiful makeup shade feature gets better. OK, David, you had said and that you basically hid your work for two years because he wanted to kind of show the world what you were working on and you stuck to your studio and you kind of did these editorial submissions. Can you tell me a little bit about where you get how involved you get with these submissions? And what's the best way for magazine to actually pick up a creative editorial submission? So I'm doing for a lefty since three years in a row. So the 1st 2 years, I don't like too much my work, I mean, not enough to show it to people. And I like I said, I found the good actors to work with, and we had the same day six envision and story were really, like, did something to get up. So I'm trying to be different. I'm looking everything for inspiration, like every day, like holder time when I can, even when I make you more than I like I asked after you like anything you like tissue that we try to make up test So and I'm shooting, Tried to have my stand in every picture. And I think that is really important that what makes the difference. Like when you see, if you're still looks like this, put it out there. It looks like that sound tryingto my style preparing in Sexually Historia and submit to magazine. I don't get the magazine that I like. Um, so So I'm trying to to fit their needs to So I understand that's wonderful. What air? Like two of the most challenging things with working with models or even Miami models vs New York models are models in different markets. You find that there are some challenges. So yes, because I'm sure, like I told you, most of them Julie Beauties. So this is where this is the most challenging for me when I'm shooting beauty with a young mother. So I really, really need to connect with them again. For her to be able to give me something expression are feeling and it's really, really way are very nice team, So be very, very comfortable. Once you arrived in my studio on location, like there is no pressure, so it makes a big difference. So I'm not here waiting for you to do that. That she feels really nice. It's the waste. Joking always. I want something to eat, to drink two bullets to smoke. She tried to make our and she's relaxed, she said most of the time, and I always show what I'm shooting for her to see. Like she looks beautiful. This is nothing compared to what going toe and that that's the which, not only with new faces. I'm going to do that. Remove because I like that electricity Well, when Im having suits, they tried to give me more on. So that's the challenge. Uh, David, you talked a lot about team playing and how you choose your makeup artists, your hair stylists. We just got off the phone call with David South from Paragon Modeling Agency, and I wanted to hear from your perspective, especially since you shoot in such an artistic way. What kind of kills it for you as a photographer when you hire certain model on makeup artist hair stylist, What you find is, you know, something that was soon as something happens, you kind of feel kind of, I don't know. Do you lose heart on the day or you like, bummed out? What can you communicate with the team? That's super important for you and your vision? I'm walking with my teams. Let's be before the shoot saw. Most of the time everything is planning, admits when the memories that's always the case when it's not. My team is so creative, like I'm so confident that we're going to have something amazing, even if we don't know what we're going to shoot. And that happens a lot of times, which incomplete video give me up because or someone just system singing. We go for that because I just passed me Everybody on. If someone is going to critique my writing my picture, I would love because I am not still like it's because there was no weapon. So I'm video pencils to just general people that I respect and like they're walking and that's how I progress. I don't emphasise consists of fast in three years base because I hear everyone and I tried to grab every critiques in detail and I advice that I can take so it is very like a family. But I mean, like when we were right. It's not working for me. It's like way. Have some questions from the audience will go ahead. Okay. Hi, David. I have a question here from sweet Pea photography who asked for hired projects. Do you have a budget and have access to a studio and models except your How do you build a great photography portfolio with a small budget? Really? I work for free for the 1st 2 years, most because I didn't think that I should shots for that. I wanted to build for you. And, you know, when you being to go, for example, from the two to the head in black or white, you can expect to digest it. So I did. My staff I walked should three or four times a week until I I have opposed to do than I like. And after when I was like what? I put a price on my and people now expecting something that looks like what I have in my room so I can even go to that. I moved to your question most of the time I switch off with the first with three years until I have possibly than I was expecting. Do you still test with like, if let's say will mean in Miami or Fort in Miami, do you still do on the side? Pay test tests for models or No, this thing is that I almost never did this because Miami is a market where they expected of the scream suits my name, and I am not too funny onset. So I don't like to have, like a people smiling picture speaks to. So what I'm doing is usually when there is new. This is the basic package. Everything from with and what happened is when I found someone and I like I just take a should be do this five or four first For the agency, that means very clean beauty so we can see the girl very natural and after being my concern, so everyone is happy. The agency's happy and me, I can ship my ship what I want with the Gulf. But I don't take money for the disk because I don't want to know what the agency expect for me to do that, do that very well. And I'm just getting to test this. So I'm doing like, can I see a clarification question? Did you say that you had only been shooting for 3.5 years? Three years this month? Wow. Wow, That's amazing. I mean, creativelive is probably crash your website. I'm not sure if they have because we all like to go at the same exact time. But I did look at your work and it's unbelievable what you've accomplished in such a short amount of time. Yeah, but I didn't speak too much. So David, what was it like working with me? I never asked You was awesome. You know what? I stopped. I didn't know that you're nice. And I watch American next away. When you were actually and there was a beautician. If you were you were wearing a helmet on at the time I finished up for a lefty. And when I saw this, they just okay, I wanted to do TV, but I want to shoot people like that Way, this way. This is a picture of your house when she contact me to shoot me. Oh, my God. Every single people I know and I was so excited, so thank you. Thank you. How incredible. Awesome. Any questions for the models way? Do have some more. Okay, we have a couple were online questions. David. So we have Gabe M. David. Hi. Who is actually in Miami? Who says how did you go about finding a stylist way? That one. You have another status like you can find. Son of standing now to find the studies that it you needs, you start waas. Very that's the 70% of the diminishing. Now with one was to sense. That is because I'm happy with the result that I have. We understand each other with the same test that you have to try and if to move, one of them is going to leave. You have to find again and stop to shoot until I'm happy. But it's very hard to find I would make about this and status maniacs everywhere. I mean, someone that okay, you don't have to check with the makeup teas is doing on medium chicken until the guys coming on most most of the time. So this you have to try it on sometimes possible you. It's not enough because they can have a duty football for you until you walk with the animals and think you have really to try. I try to know those things and not okay. My question. Okay, We're good. David. Thank you so much, David. We're gonna show you work now so everyone can see it. Thank you very much. Okay. So, yeah, that's David. And I did get a chance to work with him in Miami. Way had a common connection and he waas building at the site, maybe early this year or something. And he was building his beauty portfolio and he approached me because he did like the helmet shot from America's next top model. I saw that I was like, Really? But now I get it and you know, so I kind of wanted to go over our work that we did together because, like, he said, as a photographer, if you can set up a test with the girl and it's a trade or something like that, he still wants to get He was saying his artistic vision with the girl, get his looks in getting his team involved, but at the same time, get the agency happy with stuff that he's produced, and he on A lot of these photographers who do work with these agencies know that when they start getting over styled or they start getting too eccentric with the hair or too complicated with the makeup plugs, the girl can't use the images, so it's great if you're working with someone. And you could say to them if the agency sets a trade agreement with you and the photographer or the photographers seeks you out through the agency or even another form, If you're comfortable with that, try and ask him, Hey, you know what? Before we get started, can I just get a couple quick shots of myself for my book, Not styled. And if they're pretty, you know, if they've got enough time and it's something they're most likely, they'll say, Of course, you know we'll do that for you, especially if it's a trade, because you have to benefit to as the model And like, he said, he gets his artistic, um, vision out of it toward the end. And then at the beginning, you get what you need for your for your book and for your clients. So this is stuff that David and I shot together in studio. Um, and this was just a test that he wanted Teoh a beauty test that he wanted to do. Various looks. He had the vision. I didn't come in with the notion. I knew he was really talented. The agency's raved about him. He was represented. So I really didn't have to go in being like, Who is this guy once you want to do, like, you know, and this is more of just a clean head shot, Um, more for like, I guessed my TV purposes I would use on this one. I love with the lace top and he he you know what he what I like about him. And I feel that a lot of these photographers, young ones want us over, centralized the girls or oversexualized them. And there's a fine line between pushing the girl to be too much of a T and a type of model versus seductive, sensual European. Andi, I think David understands that maybe being French and also just being in the fashion industry because you can definitely approach a very sexy girl in the wrong way and have her look really tacky look cheap and look kind of like that's it. And if you get enough of those pictures of yourself out there, people will already have type casted you. I'm not gonna go out there in a triangle bikini top, you know, pushing my breasts together doing that already. People like people in the legitimate agency like what's happening to her. Someone go help her a to, you know, talk some sense into her, right? So this is This is Central, but it's appropriate for me. It's It's It's sexy, just enough. And this is some of David's editorial work that, you know, he had come to me and said, You wanna I put this styling together? I put this team together. I got my makeup artists together. This was his artistic vision that he submitted, and then later you know, these amazing magazines picked it up and said, Of course we want to publish it, and I know that. I think if you're trying to submit with these models really making sure you cast the right girl for the looks. I mean, how crucial is that? Matthew? Extremely important. Extremely important. Picking the right girl for the right story that she is a question Yes, girl, Then when you actually get her on set, she's not. She doesn't work for you in the beginning. Yes, not so much now, because now I have learned through that experience how to cast better if you you learn from your mistakes for sure. And I started my career was definitely picking girls that all this is a beautiful girl, not really paying attention to how the personalities does, she believe fit this job. Now I've learned I picked the right girl for the right job. And, you know, I'm going to say this what David was saying and even while I was on, said he had a makeup artist that he really loved and used time and time and time again. And I feel like if your photographer and he'll touch on this when we start getting testing, you have time to train what you need from a makeup artist. I think that's the way to go, absolutely, to get images that you want battling for your artistic but for submitting or for these tests to get a makeup artist like for me going in as a model. When you know you're working with the great makeup artists you know your set. If you're having a bad day, you look tired. They're going to know what to Dio. They're gonna know how to work with Matthew and help you out. So makeup is key, and there's so many people out there doing makeup. Who shouldn't be for magazines for weddings, great for prom, great for day to day mall applications. They make you look great. But when it comes to the artistic editorial, different testing models, totally different story. And a lot of times makeup artists don't have enough exposure and experience toe learn. It's not that they can't, but it just needs to be about being in the right environment and having access to working with people like Matthew and A that so that works. So here's more of David's work. That was a great story about the way he does a lot of beauty work just like you. And this is, you know, Miami very sense of your player, and this is breaking into his commercial work and how great If, as a model, you know, it gets picked up with an amazing publication in Miami on your there for that season, and clients see that you could easily get vote for a major gig on make some money. So, uh, you want it? Yes. Question. We're talking about Miami. Earlier you talked about what might be good for Chicago. How count, Where do you go about researching what the different local markets are like Not just in the U. S. But all over the world. You know, a lot of it. I was new to me, too, because I didn't know the Miami market still about. I knew a little bit about it starting out because when I was testing before America's next top model, that was the closest market to where my hometown Waas, and it was very clean and very, you know, smiling pretty. And like David said, sometimes I don't want to be shooting man Miami market because it is very swimsuit driven and and and I was very shy starting out. I would not want to be in a swimsuit, but name Tian No, no, no. But now I get it. Now. I don't mind doing it. Um, I think it's being involved in that market understanding, getting connected with the photographers, the publications, seeing what they're putting out there, these publications It's important to know. I mean, even if you look at a vote worldwide us their advertisements so different what they're showing versus a French folk French Vogue so different with their models they cast in the way that they show them Studying magazines. I think our super important for photographers always. I have to really great friends who are testing doing starting to Editori submissions and just like me because I'm a magazine junkie. We get about to 35 magazines. I get Australian Vogue. I get Italian Vogue. I get W. I get the magazine. I get Teen Vogue I get you know, some of the quirkier fashion magazines. It's important to learn who the photographers are, who the models there are, who the editors are with star stylists, because a lot of times you could end up working with those stylists. Appear photographer. If there indeed magazine because these stylists want to build their books to, you know, and if you're reputable photographer, they will work for you on a trade of some sort. How important is styling with models and extremely as well. It's a team effort. It's not just a photographer, it's not just the model. It's the entire team. That hair, makeup stylist, photographer model, all working together. It's a team effort. Yeah. So, um, can I just reiterate again? Sure. Kind of asking that question about where to find that information here in this workshop? Yeah, is what information is not there. And I wanted to bring a Mexican agency a New York side of Miami. You know, Matthew has so much from every angle, but yeah, you know, and Parisian European l a market commercial. I'm not that familiar with the whole commercial market. A little bit more now, but it's taken a few years for me to gain access to the inside of that world because I was, you know, involved so much And, you know, the fashion modeling, TV hosting. But now that I been getting booked, more commercial jobs and women Lee jobs, I needed to learn more of what their expectations were for those markets. So, yes, it is a question about, like, fitness modeling. Yeah, if you have any, like insider, I know from what I've heard fitness modeling, you have to be really exactly what they want. Because when they're shooting you, I don't think there's a lot of retouching that could be involved. When you're a fitness model, it's gotta be your body. Isn't that right? That's very true. Let's say you're endorsing a five step Siris of workouts. You need to show exactly what would what would happen if you were consistent with that. And people don't want to be looking at a girl that's been photo shopped to death. Or if you're endorsing a vitamin or a diet pill, they're gonna want you to, you know, be exactly the way you look. And you probably would know more about that a little bit. Being in L. A is more than market in L. A, for sure, or L. A. And Miami. You probably have more of that, but it is. You'll see a lot of athletes in that John Road Martin modeling, for sure, and it's important as a model if you're how to learn to work out. I can't tell you how important that IHS, because you could still be super thin and be gummy looking, Which what agencies always say gummy, needing doughy OK, and I've had photographer sense. Yeah, she was a size zero to shoot that the clothes, but she was so gummy. And I'm like, Well, tell her to do some sit ups hang out because they're eating junk food and they're naturally super skinny girls. They don't I don't need to work out. I'm fine. He good. It's like, Well, you kind of need to just tone a little bit and I have to learn about toning How much toning I had to stay away from certain exercises would build my bra size. I would learn that my chest would expand. Instead of being like a 32 33 bra, I would jump up to a 35 and I hadn't put on weight. But I learned that I can't if I'm gonna fit into certain styles of clothing. Muscular, too. It was getting too muscular, or if I was getting too up and down, I felt like I was doing yoga too much, running too much. I was losing my waist and I was losing curves. So that's why I started getting into Matt, Matt Pallotti's and all of that stuff and learning how to get a slim but healthy frame. And if you can come down to like learning what works best for you and the agencies will tell you Hey, lay off your lifting. Too much weight or it's time for you They don't have a problem saying you need to get your abs and, you know, kick him in here. Yeah, I was sitting down. I was so tiny was like, Are you doing your French is I'm like, uh, yeah, I really wasn't. I was exhausted. I was thin and whatever, but he's like, you know, we're gonna send you out for this job. We want you to be ready and especially, you know, getting booked for laundering jobs. Super important. You could be super then. But if you're not toned and you're booked for a catalogue booking lingerie, let's say Coles or Macy's books you for the day. They don't want to retouch that image because they probably have to show six of those bras eight of those Panies, and to go back and re touch is so expensive and so time consuming. But they want to basically shoot that girl in and out, push her out and have her be fit and ready to go. Now, if it's for magazine, get a little more take like you know who will work with the girl. Little more retouch for a little more with catalog work that pays money. If you're not in shape, consistent are yeah, or if you're too muscular or if you've gotten too skinny than they're not gonna book you.
Class Description
Yoanna House (winner of America's Next Top Model season 2) is coming to creativeLIVE to teach you all about the modeling industry! This is the inside playbook of the modeling industry! What does it take to be a model? How do you get into modeling and become a model? How should you prepare for your first photo shoot? How do you find an agent? How to stay healthy and how to take care of your skin? During this 2-day workshop, fashion model Yoanna House shares her own experience and teaches the skills needed in various types of modeling: runway, commercial, high fashion, and more.
Photographers: interested in learning how to find and work with models? This course has some great techniques for you, as well as a rare interview with an agency booker who has insider information for you! Also check out the related Working with Models workshop with Matthew Jordan Smith!
Reviews
Tbh, this course should be mandatory viewing for all new models. A very insightful review of how it is to be a model, what is expected, what you can expect, how the industry works, what kind of modelling there is, how to deal with different types of photographers, catwalk, etc. Everything they should know but often need to learn the hard way. All masterfully presented by Yoanna House and Matthew Jordan Smith. Henrik "Imaginara" Bengtsson Sweden