Pre-Production
Vincent Laforet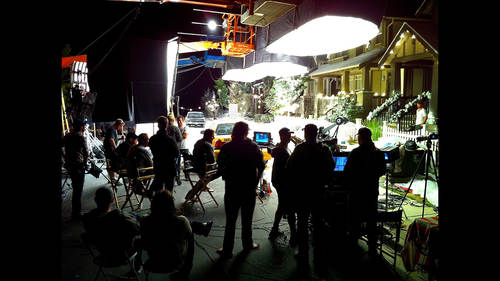 Pre-Production
Vincent Laforet
Lesson Info
4. Pre-Production
Lesson Info
Pre-Production
um all right, so hopefully you get the job. Obviously, I got the job and directed it. Shot it. Let's talk more about the gritty business knowledge stuff. This is stuff that no one teaches You, um, put everything in writing nothing in phone so you can talk to someone. But if there's any key important things, make sure you say, Hey, do you mind writing? That's up to me in an email after the fact, because there's a very high pressure environment and people will change on you and turn on you very quickly when things go wrong. So if you agree that you're not gonna have a weather day or not, get weather insurance. Put that in writing that when the weather turns on them, you pull out the email and say, I'm very sorry we discuss this here. It isn't black and white versus in saying it's all your fault. I hate to say it, but everything in writing it's not in writing. It doesn't exist. No surprises from other side. No arguments. That's what a little boy to have any writing. Okay, insurance, hire ...
the right insurance. Your photography insurance is probably not adequate for production okay. They don't know how productions run. They don't know what you need. And God forbid you have a stunt or a drone. Forget it. Okay. Um, legal. Are you lawyers and my lawyer? No. Have a lawyer that works for you to review all these 20 page contracts. Make sure you know what you're signing. Never signed a contract without reading it carefully. Three or four times. Never signed anything on the spot ever. It happens in production all the time. P a. Will come over, slap a contract in the wall and say Sign here. My answer is no after review it and have someone else reviewing their like. But they told me you have to sign him like I don't care. I'm not gonna sign a legally binding contract that I haven't read unions again. You don't know anything about unions. Most of you have someone like your line. Producer has experience. Explain to you the pros and cons. I'm part of the Directors Guild of America. A great unit for directors. I work with SAG local local local everything. Sometimes sometimes I don't. The Clyde determines that sometimes they want to go union. Sometimes they don't. We discussed the pros and cons. Preproduction prep is 90% of your job. It may look like Martin Scorsese is sitting there doing nothing, is in front of a little TV with, you know, through headphones. And he nods. Why is that? Everyone looks at that. I couldn't do that. What he does is yell cut once in a while. It's easy job, right? Why does he look like that? He just spent several years or months or weeks explaining everything in his mind to all of his key people, and his team is DP is gaffer his art department. His actors, they've rehearsed. It should be much more relaxing on set. You shouldn't be figuring anything out on set. Don't be that person who's there with their menus on their camera the day of the shoot. That's not the day it's called camera prep. We've all been there, all done it and you start recording and nothing records or you don't know what, how what can in log is or whatever not the time to do it. You have way too many people on set. You're paying way too much money, even if it's like lunch money. It adds up real fast. Be ready to your prep before fancy storyboards. These are my sketches which wanted to embarrass myself. This is the move for coming, Bryant. The red is the camera one a 11 a one a one a one b a wide me in closer than close up. And that was the full move. And I have to end on the left foot. Have a Nike swoosh. Be in the right direction. Okay, Didn't have the fancy. Just do the work. That's the key. And directing what you show your client is one thing, and that should be fancy looking hopefully. But just because you can't make it fancies me. You shouldn't do it. Do the prep. Here's what a call sheet looks like. It lifts your locations, the client theme, the people and their call times the nearest hospital contacts and weather so that people know when they get that sheet. First of all, the jobs never realty. You get a call sheet, I don't care if you have three people or 300. You have to do a call sheet and just emailing it doesn't count. You have to call them and confirmed they received it. Usually pH do that. If you don't have PS, you do it because my dog ate it. My spam filter rated. If you're missing one key person, even on 100 person crew, the whole shoot stops. And also you don't have to give breakfast. It's not part of most union deals, but we always give breakfast to Cruise. Why is that? So they show up early. They're not looking for parking when you're supposed to eat it. Eight. They showed up at seven to get their free breakfast, and everyone's relaxed. When we get into it nicely together, we don't have to give him breakfast. It's the smartest money you ever spent. And, of course, feed your crew or they'll eat you thistles. A typical calendar for scouting, locations permitting in the middle. Production prep is a week, and then we shoot from the 16th to the 22nd. Okay, these are typical schedule, so even though it's a 32nd spot, it's usually at least a month's worth of work usually too. Okay, uh, this is what I do. People think I'm great on premiere or photo shop. I am an excel themed. I type up every single shot for the Nike commercial right there. The shop number shot sized, the action lights turn on on general view and Kobe turns left to right. Move locked off camera, epic platform sticks. That's what a director does. It's all listed out a lot of work before I ever set foot on set. I give that shot list to my first a D, and they go ahead and turn that into a schedule that we adhere to religiously. Okay, this is what I do for a living. Excel Sheets conference calls, treatments. I spend 1% of my time shooting as a photographer I'd spend as a photojournalist The New York Times. 60% of my life shooting as a cover photographer, 5 to 10% as a director, one or 2% just the way it is. That's what directing really is. It's all that prep work, okay, And so doing all this stuff, I like to say, prepare to be spontaneous. Think about that. It's an oxymoron. But that's the idea. If you're prepared and you know everything you're supposed to do, you could be spontaneous. Don't be spontaneous in the hope they'll be prepared. It doesn't work that way. Okay, casting. How do you cast people? Well, uh, actors vs models are acting well. Models don't act. They look good. They don't know what a one or two is their first or second spot. They know how to act. Careful. They're cheaper sometimes. Hire great actors. Uh, again, Casting directors do this. They find great people for you. Go to casting sessions, give them good casting notes. Who you're looking for, what they look like. What age are there? What kind of haircut or style do they have? What's you know, someone from breaking bad? Or is it someone from downtown Abbey? Get the idea and the help Bring people in When you work of veterans, Guess what? You need to teach veterans how to act. No, it's why they're usually veterans first. But if you could have have to have someone run into cold water 10 times in a row, it might be better work with the novice who wants to have a big break because the federal say I'm not doing it and guess what. They're not doing it. Okay, keep that in mind when you run a casting session for the first time. Ask yourself these falling questions. Can they remember their lines? They can't member for casting. Why? They're gonna get better on the day up with more pressure. When you given direction like a note, you try it this way. We listen to you and adapt or did the same thing exact again or the opposite. It's a big hint of how it's gonna go on set. Are they on time for the casting call? They're not on time. They're not gonna be on time of the day. Of my favorite saying is your other early in on time on time and late or late and fired? Okay, Makes sense. Um, do they have specific skills and reform? You know, I did a job this summer that the client loved this person, and I said, clearly didn't watch the videos like, How do you know, like, is on the video? This person who's we're hiring as a skateboarder said I can't skateboard, jumped on the skateboard and did a header into the psych and fell off his skateboard. I'm like, told you like Okay, that's what you're the director. How do you work with actors? Well, your role with them is to be that person who helps guide them as a director. You're not there to teach them how to act. You know the pressure Professional. Don't Don't hire an experience actors, if you can avoid it. If they're great actors at best you give them good feedback and you're there for moral support and you respect their process and you guide them. But if you have to teach an actor how to act, forget it. And no kids, no pets. Forget it. Okay. Um, crew, how do you hire a crew? Well, I put looks for you know, the commercial I have here for Nike. I pull them off Google images. I look for lots of DP's. I find one that I like. I have a national conversation with them and who hires the gaffer wires? The first a c who hires the key grip. The DP have to worry about it. I hire a line producer. I recommend a director of photography and maybe a 1st 80 That's it. And, of course, cast. Everything else is done by the keys of the department. Makes sense. Very, very standard way working. Here's some of the gear we used on Nike, all based on the amount of money we had. We didn't have a fancy spider cam, so we did the movie on a rope and lowered it like a pendulum. It worked right. We didn't have the money. Even on Nike commercial for fancy fancy stuff, Tow wire the entire stadium key piece of advice before Chase comes on, never get involved in Spy Nan Shil. Aspect of their crew is a director. That is not your domain. That is a line producers domain. If I start to negotiate a rate with somebody and the producer is negotiating a different rate, create severe problems, not to mention I'm not involved in the budget production. Companies like to keep you separate and say you concentrate on the creative will concentrate on the money. That way you can be creative and not be worried about how much you can afford. It's a very, very important lesson and, God forbid, just try to stay away from finances. Even if it's your production company, have someone else do it always better to have someone negotiate on your behalf as opposed to for yourself.
Ratings and Reviews
It was super interesting! Vincent you are a kind of a big deal! )) Thanks!
Student Work