Interview with Scott Robert Lim
John Greengo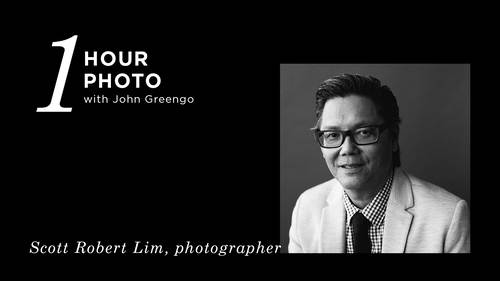 Interview with Scott Robert Lim
John Greengo
Lesson Info
2. Interview with Scott Robert Lim
Lesson Info
Interview with Scott Robert Lim
All right. Next up is my guess. Scott. Robert Lim. I'd like to bring out on State Scott. Great to have you here. Thanks a lot for being here. Thanks for having me. Let's let's grab a seat here. We're gonna look at your photos here in just a moment. Now you teach a number of classes here creativelive, don't you? Yeah. I started teaching here about four years ago, and I've done a lot of different types of, you know, different workshops on I'd love it. You know, I just have a passion for teaching. And, um, it's just when it's so rewarding. Teoh kind of bring those people wanting to get to the next level with their photography, and you help them in some way. Um, do that. It just feels so great to help somebody along with their photography journey. Well, one of things I've been watching, a number of your classes and one of the things I noticed about you got a lot of high energy. You are. You are pretty passionate about this. Where does that passion come from? That's a good question. I think...
in general, my very positive and very optimistic person and I really, um it's weird, you know, that would be teaching a class, you know. And I think I would be a good do a great job on teaching a certain lighting aspect or whatever. And then people would come up to me and they went to say, you know, I just really love your passion. And I thought I just told him I had some great information about whatever I was teaching. And then so many people just come in about the passion. And then I realized that, you know, that's a key thing keeping people inspired, right? And I think when you when you're passionate about something, then they can buy into it. But if you go along and teach other whole home whatever, they don't get inspired from that, right? And you're not passionate. Are they gonna be doing that? They go. Wow, that he's really excited about that. It gets them Maurin tune. And, like, Wow! Yeah, you know what? I need that kind of energy. Um and so it's kind of contagious. Only when you're somebody in a room and they're passionate and their high energy, you can't help but be high energy. Also in passion about something. Yeah. Now what? What type? There's some people out there that maybe don't know who you are. What do you like to shoot and why I started out as a wedding photographer, you know, and I think that's a great training ground because you got to do everything I can. You know, you gotta do it all within 30 seconds to and deal with the crazy mother love, whatever. Right? And so, But then I tend to kind of girl out of that because I was locked into a specific situation and hopefully getting two minutes to do something I call. Well, wouldn't it be great if I could go and kind of have a little bit longer to shoot something and in part, some of more of my vision into what I shoot? And so I started teaching, which I really love, but I really just love shooting portrait's and exotic locations and travel locations. And I just love it like going somewhere you've never been there before. There's terrorists walking around everywhere but this iconic, you know, landscapes. And OK, we gotta get something now, right? And that challenge of going in there and finding something and getting a great shot with the lighting and the posing in the composition, Um, and then allowing others to do it is just a really great
Ratings and Reviews
I'm loving this series. I'm going to watch on YouTube mostly though as I'll end up with a pile of interviews in my library. Love the Q&A session and photo "critique" sections. Please keep on doing these.
Student Work