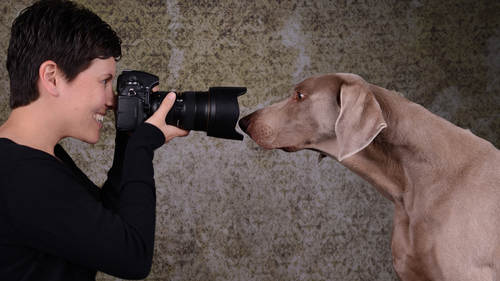 Class Description
Artful pet photography is no easy task. It's hard enough to get a person to sit still in front of a camera, let alone an energetic pet. Aside from hiring an assistant (and halving your profit), how do you run efficient pet photography sessions and still find time to market your business?
Join cL Spotlight winner and veteran pet photographer Arica Dorff for a 2-day creativeLIVE course dedicated to the craft of pet photography. During the workshop, Arica will teach you the necessary skills, tips and tricks for capturing priceless images of our furry friends that will thrill clients — and demand fine art portrait prices.
Arica will take you step-by-step through the psychology of pet photography, teaching you the key skills needed to unveil a pet's personality and capture it on film. Learn to master crucial processes including preparing pet owners for upcoming shoots, working with pets, and building an appealing portfolio that will impress even the most particular clients.
If you are an aspiring pet photographer looking to grow your toolkit into a marketable business, you won't want to miss this course.
Reviews
I've watched A LOT of CreativeLIVE courses and Arica is by far the most effective and talented instructor I've seen. She's also got an extraordinary ability to photograph animals and their humans while remaining calm and in control. Even if you're not a pet photographer, this is a fabulous resource. Putting aside how amazing it is to watch her photograph in what seems like impossible situations and get the shot time after time, she also gives a lot of great information that applies to any professional photographer, whether they photograph pets or not. She's truly an amazing talent and I hope she does many more workshops -- I'm not a pet photographer but I'll watch all of them.
Arica's presentation was extraordinary. Such an incredible amount of valuable, practical information on everything from the basics of how to run a business profitably to how to attract and maintain value-oriented clientele to actually working with and photographing a variety of pets and their people. Arica demonstrated time and again during the live shoots that she was in mastery of both her techniques and her subjects, and in a way that felt simultaneously relaxed/casual and businesslike. That last session with the horse, duck, chicken, rabbits, dogs and people was a challenging balancing act and she pulled it off flawlessly. Finally, I appreciate all the detail she provided, such as names of vendors and how and why she uses each one. Absolutely no filler, all substance. I am in the process of taking my own pet photography from sideline business/ volunteer work to profit-making status and the timing of this program could not have been better for me. I'm a huge fan and look forward to more from her although it's hard to imagine that there is anything left for her to cover about this topic because in this course, she did it all. A natural talent: smart, great on-screen presence, honest and a true teacher. Thank you, Arica!
Hi I am an aspiring pet photographer. I own 6 dogs and 4 cats that have been rescued in some way. I have learned a lot just by practicing with them. Arica's course today and yesterday showed me what I was doing wrong and everything that I was doing right. I impressed myself that I actually was doing very well. lol. I do have a web site http://squeakynes.wix.com/lisas-creations ,and if you can review it and give me some positive critism, it would just be terrific. There is a tab titled pets etc. My email address is under contact me. Thank you in advance. I tried to watch other courses but none of them would keep my attention. I had no problem with Arica AT ALL. I definitely will attend all and any other courses she offers. Her courses made me realize this dream of mine is just what I am suppose to do in life. I have a lot of the same qualities as Arica and my passion for animals. But...............I WILL NOT photograph snakes, no way. lol Arica, you TOTALLY ROCK. I look forward to the next one. xoxo