Photo Week 2015 West Coast Tour
Photo Week Bus Tour - Clip 10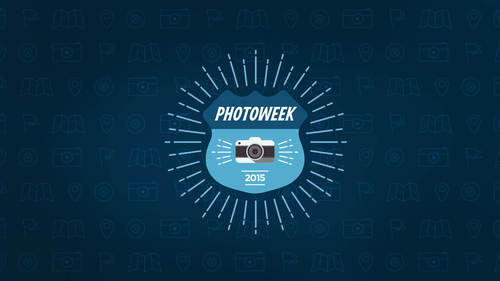 Photo Week 2015 West Coast Tour
Photo Week Bus Tour - Clip 10
Lesson Info
Photo Week Bus Tour - Clip 10
All right so we are writer park here um it's kind of like the last minute photo challenge do what you can so I am I love water anything any time I get a chance to shoot water I'll shoot it what I'm going to do here is so we're standing on the bank if you want the easy shot the easy shot is shoot out there into the water I always like four ground foreground is one of those things that I guess I'm always looking forward to improve the photo so there's a little bit of a dead tree out there um again you could stand that the bank you can get the shot you're going to get it's not really deep water it's not really cold so I'm just gonna walk out there and get get what I think is a better shot the reason why I'm going out there is because if I shoot this way and get the water won't get the sun in the shot but if you look over there there's some back there and I'm hoping when I get to that side of the log I'm hoping that I can get the sun into the shot and makes it a little bit of a better phot...
o so that's the that's the idea behind it wish me luck well it's colder than it looks yeah set up the tripod it's actually a little bit deeper than I thought it wass um but all I'm trying to do is position myself so that it can get this in the foreground and get the sun coming through the trees in the upper left hand corner of the shot I don't want the sun all the way out because then it's just going to overpower the photos so I can get it coming through the trees you have that nice little sun star I'll shoot it f twenty two see what way take a test shot the idea is trying to get as much motion as I can in the water any time you're shooting if you kind of see that you could see a lot of little mini rapids and a lot of motion in the water so I want to capture as much as that as I can what I'm going to do is raise my apertures highs aiken go so f twenty two if that doesn't work lower my eyes so I got it down the I s o sixty four and even at that I don't have a fast enough or have a fast enough center speed I want it slower so I put a three stop usual density filter onto the camera so that's going to slow my shutter speed down enough and I can capture the water coming around and makes these little patterns around the tree and everything you go a little bit closer wait go so when uh the idea was, and I think it actually worked out really well. Get. This is your foreground. Get a little bit emotion coming around the tree. Capture the motion in the water and include the sun into it, just to add another element to help out the photo. And you get a nice son, start coming through the trees that
Class Description
CreativeLive is kicking off Photo Week with a West Coast Tour and you are invited!

Join Sue Bryce, Jasmine Star, Victor Ha, and Matt Kloskowski as they begin their adventure in San Francisco – meeting up with students in Sacramento and Portland – while making their way to the Seattle CreativeLive studios for Photo Week 2015!

Online viewers can stay tuned-in to their adventures by watching the On Air broadcast and following the hashtag: #photoweek2015

West coast CreativeLive fans are invited to join us, in person at the San Francisco, Sacramento, and Portland stops!

San Francisco - CreativeLive Office
444 De Haro St San Francisco, CA 94107
Friday September 18, 2015
8:30 AM - 9:30 AM

Sacramento - Cesar Chavez Park
910 I St Sacramento, CA 95814
Friday September 18, 2015
12:00 PM - 1:00 PM

Portland - Jamison Square
810 NW 11th Ave, Portland, OR 97209
Saturday, September 19, 2015
1:00-2:00

We are kicking things off in San Francisco with an early morning meet-and-greet. Join us in our Potrero Hill offices for coffee, donuts, and fun with your favorite CreativeLive instructors.

In Sacramento and Portland, you'll get to watch the masters at work and take part in our exciting and educational Photo Walks! Sue, Jasmine, Victor, and Matt will be shooting and exploring – while our awesome partners will be out with us, ensuring you leave feeling educated and inspired.

If you love CreativeLive and have always wanted to get some face-time with our incredible instructors, don't miss out on your opportunity to join us on the road.

BONUS! We'll have some seriously awesome swag for the first 50 folks at each location!

Reviews
This has been a fabulous way to introduce Photo Week. We have had a chance to see the masters working in real conditions, and making the best of the conditions they found themselves in. Well done.