Photography Brand Makeover
Student Pin Boards and Graphic Standards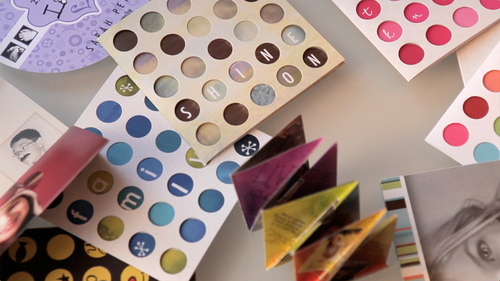 Photography Brand Makeover
Student Pin Boards and Graphic Standards
Lesson Info
Student Pin Boards and Graphic Standards
So something else we want to kind of review this morning that we did yesterday we gave our fabulous live studio audience homework assignment and I just I want to acknowledge you guys for your spirit and how you've just jumped in with these projects with our theme they went running around seattle looking for mustache is less I think they have moustache is on their pin boards he made these little pin boards to give them that tactile experience and andrea, I'm glad you mentioned that europe in board or pinterest person but to actually do it and that's why I told everyone yesterday do it get a big construction board or ah a court board yeah and get these things on there because I can already see yours is evolving and changing and you're adding and and you're bringing in and I want to just kind of show everybody's bored and maybe you guys could each take just a second to talk about what has changed in your mind. What have you discovered through too pasting things up? Did you discover that y...
ou really like warm tones instead of gold tones or what have you discovered through this activity? All right, um for me, I've definitely realized I think my colors for sure I'm definitely rich jewel tones for sure um I think I'm gonna be changing main main aim um sorry mom actually it's my our family brand um tea bar nine okay grew up on a farm so it's very special um so I'm thinking t bar nine studio is if I don't have a studio so I don't know if that was it makes sense or photography I don't know which way I want to go for sure so how do you say the bar? You see that and that's something else it's yeah I don't know if I'd spell out the bar or would t barnett and that's what we knew would be the graphic element right goes on things I don't know I think I'd have to see that that's a good one of those rules that can be broken for a reason right? Because that's a really cool yeah um explain what what you mean by your family. So farm yeah from montana so literally this one here is on our horse one of our horses that's like little trade brand on actual brand worst gets yeah so and it's been in our family for one hundred years so see that's cool so sometimes your logo on your identity can stem from something personal that the rest the world on the surface isn't going to know but once they learn about it it's so much more powerful than just picking some random name so everybody has something cool that's very well t bar nine I don't think that's fun to say so and something I realized funds don't really do anything for me I think I'm all about color so I was having a really hard time with fox she couldn't machlas website I don't care if you like it I did find a few kind of like the hand script a little bit by little fancy I guess very cool and you know what I find interesting the t bar nine it's you know it's a farm in montana with them really rustic rustic and then you've got the juxtaposition of your girly rich colors and I think that's why really cool is there an element of that in your photography unexpected by chance yeah I like tio I kind of feel like a lot of times I'm almost a second shooter I like to just kind of high and catch those special moments that you don't expect so less posed that s o I feel yeah a little bit that unexpected that way but I do I do like color and stuff you know I'm still working on trying to figure out howto incorporate the color without you having a studio so that's always the one part so yeah I love it I love to see I mean just things they're opening up for me in my mind just watching you do this that is so so so cool I love tea bar nine thanks good job andrea your pin board every day look at her I know we joke she's like taking clothes, car jacks or cool can I e hit upstate for a sweater like you know, hit up kate first sweater today it was really pretty purple and she's like no sorry, you know I take a picture of it. Yeah that's what's great about this the crew here there anything we need, they get boris right, print this, print this and there on it. So thanks to you guys again it creative live you kardashians crew can a kardashian and crew how about you, matt? What what's coming along on your board and with your brand and things you've discovered I've been trying tio through text message worked with my wife on uh trying to get some things, some ideas open up the lightest. I don't know if you really open up added a couple additional colors black and white ok, kind of more of the classic contemporary clean high contrast black white you know, the shades of gray, very crisp. Ok, which I see with your photography, too. Yeah, crisp is a word which in your work she didn't know you guys are all working through this words that describe your photography can also describe your brands. If you say you're photography is clean and crisp, your brand and your elements should be creating cleaning chris it's not that not grungy you know, they they're just they're both cool, but they're different, so getting those words will help us. We're going through this process, so I love that your colors are are reflecting the way your photography is seen. Absolutely. One of the things you talked about yesterday was tiffany and company that was was something actually one of the things I brought along with me, I like the started with the product, the packaging, I like the packaging, but as we spoke yesterday, the emotion that the brand evokes is something that really speaks to me as well. So that was something that I I was excited to have on the board, um, and then some different elements personal elements from home of kind of who we are bringing that into ah to the board as well. Excellent. I love how you're you're starting to see this, and I love that you're seeing the purpose of creating the identity and how you look is so that people will fall in love with your brand and embrace you and refer you and love you and talk about you. And since you mentioned tiffany's in case my husband's watching our fifteen year anniversary's coming out in cases in me get ideas, I think, is that is that subtle it's so funny because we talk about I'm so not like a a jewelry girl of like our bathroom could be reading you know, practical kind of girl so you know, some some landscaping are but the blue box the branding person in me like you know, maybe landscaping gift certificate in a tiffany's box I think I would I think agree yeah no that's awesome I love where you're going I love where you're going with it and what about your logo you were talking yesterday about not being sure about it how are you? What are your thoughts now on now? I found some some script that I like that I could show you later and can I just say before he said that I'm thinking crisp and clean to me I'm thinking would you say contemporary describes your work? I don't see a script as being as contemporary as a clean, crisp sand saref okay, so consider that light airy fresh also even when you think about tiffany's and you think about the font that they use I think classic classic is what comes to my mind when I think of them yes and I think the the part of tiffany's that you like that feeling is that like someone really cares a lot to spend this kind of money that higher, you know, that piece of it is what you love about it not the classic piece of it so with your work being contemporary there two things kind of at odds there so I would think you know as you're talking with your graphic designer and as you're working through this when you say the things that you like about tiffany's it's not that classic aspect of it it's that feeling that you have over the brand yes yeah so for you like with the trout mons remember the logo that had and we'll show them in a little bit the it had a the clean something at the bottom which just said trotman photography with a little line and you really liked it that's something I see for you clean and chris just like the photos just like the colors I don't see script for you now script could could contrast nicely with that for promotional pieces or headlines wedding of course is very elegant that way that I see your logo and especially being a guy right? Not the guys in girls I mean minds very masculine, but you being a strong guy with this crisp, clean look and feel I think that your logo should reflect that so I don't know when the more I'm learning about you and seeing this evolve I'd like you to consider okay that clean, crisp look fresh font not something trendy, something timeless but I see a sand saref kind of so let's play with that a little through the next two days absolutely cool carrie how about you? What is what is opened up? What is what light bulbs have gone up off? What changes have you made? There are things you've changed about how you see your business in this exercise probably the biggest thing was just to get that kane plan like right now I'm just using the script okay? And it you know, like the whole emotional thing it doesn't say anything like right? So can it can I think if if you like that it could have some contrast because it's just one it's just written out in this scrimmage, right? So that's where taking a font and combining it with another fun I mentioned that book yesterday my favorite book, the non designers design book by robin williams actor it talks about contrast ing font and it's one of those books that I pull out every year it's a real skinny little paperback because it just it's so brilliant it talks about contrast ing a sarah if with a script with a sarah for sand saref and how just little things like that I mean, I don't think a script could be wrong for you and I'm looking at your style packaging you have that? I mean, it does seem to reflect I'm looking at your work and I mean, when I see script and I see you're packaging, I think more formal and then I look at your work and I don't I don't see formal there in this just maybe me I mean I see I see relationship I see you know it's not a supposed all you have the one family post but the other the other images aren't there more you know, like this is what's going but there's also like a soft warm antic our men's true, I don't know if romantic is the right word but like the little kids holding hands and they're sweet and there they're yummy and I think a script is kind of a yummy look, so if you look at the difference between his work in your work, you see where a script for her could be perfect and and you look at your work and it's totally different and not this scripts can't work for different kinds of work and things like that, but I'm just trying to get you to see that I think a script could work for you um maybe contrast id with a stronger like a sand saref to give you that grounding and that that feeling that you're looking for versus when you just type it out in a font that's what isn't my favorite because anyone could do that and it looks like there isn't that contrast there isn't that a beautiful use of typography that pleases us and creates value and makes us feel like a brand so I would say I'm not saying definitely do a script that I think for looking at your work and your earth tones and your warmness of your style and your color palette that you like a script might be a just combined with a with other another type of fonts well, I do have a local graphic designer that I'm going to be working with, okay? And he's been to my studio and so he's seen my colors he's seen the samples I have on the walls and so I think he and I've seen his work and I like his work good, so I think they now we have not discussed him doing my logo, so but I think now I'm gonna go like or you're going to be clear on how did you direct him? Right? That's what I think by a graphic designers a lot of times get a bad rap because they're great designers, but they're not getting good direction from us, you know it's not going to get your hair done and saying make me beautiful? Well, my view of this beautiful might be differently maybe like spiked hair red crazy which their thinking is really cool and arts because they think all your photographer but I was really just want normal highlights so the more direction we give our hairdresser the better or here is going to be and same thing with the designer and I think no one's ever really been taught how to communicate with the designer and how to give them. And you can say three grier's, you're sitting here after yesterday and watching the reviewing the logo's I think that for sure I can easily sit down, communicate my ideas, you know, all shown this yeah has seen my studio, he has what kind of work idea? And it'll be in actually you guys working through this twenty one day branding program and writing it is that helping you? Yeah, get cleared, yeah, because especially gets into tag lines and I don't know that that's and then again words, I mean, like you were mentioning earlier with taglines its work that's, that's where the emotion starts to come in more to, you know, from choosing fonts is something that's pretty, you know, straightforward, I like this. I like that, but then you start talking about words and you start talking about things that you want people to feel when they come into contact with because I'll get little soapbox moment, you have to have a soapbox moment, every segment, it certainly the guys come on, if we're gonna all use the same tagline capturing yesterday's memories for tomorrow, how does that make us different? How does that make us different? And it read in a book somewhere, if you can take your tag line and slap it on every other business, then it's not a good tagline, okay, so we can all say that people have been saying that for hundreds of years, so my philosophy is, if you can't come up with a tag line that's, a specific just don't use one for a while until you can. So that's, where the I love having, I encourage you to put that in a binder with with a note pad to take those ideas anywhere you are, where you hear a word or you see something that evokes the feeling right down because I'm not naturally a good writer, I don't even know that I'm a good writer, but I love words that make me feel a certain way, and I'll be in a conversation and someone will say something like, I grabbed my purse. I keep a little journal with me at all times because you never know what I'm going to get an idea, and I write these words down, so when I sit down and I'm saying, ok, I've got to give direction to my graphic designer, I pull out this journal, and it just puts me in a place of create creative writing, which is hard for me to get to so I go through and I'll say, oh that's a cool feeling that's a cold word that's a cool combination and that can help me get teo words that describe my brand words that ways I want my clients to feel asking your clients you know, in sales presentations I get people saying things so amazing we did a gift to our best clients one year and I got in a voice mail of a lady sing like got it at night when she got her mail and she said, oh my god, your place is full of love something really calling that everything you do is full of love there's always love in the air there, you know? And I thought that if my client thinks that about me, then that's I agree, but I maybe wouldn't have thought to use that, so I'm jotting these things is down, so the next time I'm having to create a promotional piece whether I'm looking for a tag line, which is really your positioning statement of who you are and what makes you different, I'm looking for a headline for a fall promotional piece that are mailing or a wedding piece and I'm trying to evoke a feeling from brides and it was seniors I see if you would think it's all about you, everybody can say that you know what is different about you with the senior so dig deeper, get those words out and if you are constantly paying attention to what's happening in the world, these words are out there describing you describing someone else or two totally different kind of business and it will appeal to you so you guys could even get a marker. They're sharpies laying around write those words out right on the back if you want in it luncheon when you're sitting together, talk about each other's work and say, I think your works very x or y and jot those words on the back because sometimes we get a little close to our own work which were very guilty of way to make things that sometimes as hard as we can for ourselves. But that's, why the freshest of everyone else? So good job where they can see you guys moving and growing and evolving entrapments let's see what you got? Look at the's. Oh, my goodness! Very brown. Yes, very worth, jones. Very brown. Very. I love that leather sofa like an old you see that filled in a smoke, it actually looks like the surface you're does. It does. It does. So is this some of this twenties, thirties, forties stuff really, really works for us? Yeah, yeah, yeah, you know, it may cool. Do you ever do the the forties and I say pin up but not in a sexy way for seniors but like with the fun hair and that not facing years but for mom for mom's you've done it because I had a senior several years ago she's probably getting ready to be a senior we did her older sisters and she said, I want forties when I come to you so we kind of have a file that we've been saving because we have a specific kid and said she wanted that um this was the sister of the girl we did in the prom dress in the tractor wheel three girls and they're just darling, they're crazy about their dad who's a farmer you know, sometimes kids are like, oh that's not cool and they're like we want to be and we went out to their farm in their field and we again with the juxtaposition we tried to do unexpected the problem dress with the tractor girly girls girly iss girls with a problem with that with the big big green tractor and those tractors or cool those big green tractors they are cool, but I don't know just just looking at what you love and those those retro different eras could be something that is a special line for you when we're talking this afternoon by product mix where you guys I don't ever do the promotions you know many sessions? Yeah, little, many sessions where I know some people will bring in, like little chicks, it easter and stuff like that it's never been something I want to do, probably because I don't want to have to build a set like this for if I had if I was here and I could tell these guys that teo, I would totally do this, but I could see you guys doing it, not in necessarily a themed way like very princess or whatever. I mean, it could be right for other people, but looking at what you guys like and your style, how fun could that be to do for your seniors? One year? Like as a just for the seniors that come in this season, we're building this area and we're doing something very vintage, very this or that, and it becomes against something really cool that sets you apart. It makes you different. And you you have a designer design look and feel of the peace, and maybe they all get a cool poster or something. So it kind of becomes a product that no one and you can copy that no one else has that passion no one else has that vision when we use that word vintage a lot. That's the word we're very comfortable with its it's part of it is the location that we're in so vintage is a word I would get a marker and write on the back so when you feel these boards are good too because when you feel like you're losing your way or you feel like your stuff starts to get generic and it's happened to me, I looked like a few things down I feel like ok, we're starting tio go toward the middle a little too much of manila, maybe we don't have enough time to do something really special that we just grabbed photography that eggs is this when really we should have shot something new? Go back to this and say is this is vintage is this is this all that we really wanted to be and take inspiration from that? Because I know we all get focused on you know what we're doing and where we're grabbing and we're having to keep all these wheels in motion, but when I look at that, I'm really clear on where who you guys are and where you want to go and this is what we need to communicate to these kids into these moms these target these people in your target market all of these words and these colors in these things that make you different and I see you have some of your your website with a blue logo and you have your curls pots and they get to watch these two go yeah but you know this is so people at home to really see this is what came off okay that bright white just wasn't working you know, we really looking really looking for like a cream or an off white or aged white or something so we started pulling things back off going okay this you know, like next time I buy these were you know, it's got to be a different color paper is the light something with our website was really fun to see how it just doesn't you know everything here matches and measures and this is just way too blue way have to recreate the wheel like I have all these cool things now let's go move for the website way all do it we've all because we're creative and we're like, oh, that's a pretty color and we forget that simple and consistent is better like we talked about yesterday, you're planning a party for your kids and it's got a mexican theme when people show up, it should all be consistent and then they recognize you and they feel like they're in the right place a lot of it is that that personal feeling of we show up in a party and you're like, oh, I brought the wrong thing I'm not dressed right eye don't you know how that is when you show up when you feel like you're not in the right place and when everything you put out there is consistent they showed they know what they're getting they show up they their expectations match the expectation that you you've created and that what you're delivering and the things like the way they I think they should look and the props and every single thing is consistent that's how you get thrilled clients and I think you know again way all have experienced this in life and so you walk into a restaurant, you walk into a store and you think it's going to be one thing because you saw an added it in in the local paper in the magazine and the you know, the food photography was gorgeous and the logo was great and then you walk in and it's not and it's just your trust just goes to the fore I mean I automatically my guard goes up and I'm like, what is going on here? Did they change owners? Did they you know what happened here and we've all had it happened in our lives but when it happened we don't think about it in her own businesses but we're the same way when we look at ourselves as as a professional business we have to hold ourselves to those standards of going into macy's we know what to expect you know, we all those of all of our favorite brands we know what to expect when we walk into an apple store we know that so our clients should feel the same way about us when they are having an experience with us when we walk into an apple store, we can expect that our credit card is going to weigh just had that little trip yeah, and it was dangerous, but let me also say that I run a boutique business so everything every decision I make and the filter I have is saying is this the coolest product I can offer? Is this the coolest experience I can offer? Is this the coolest everything I can offer but that's because I'm boutique and that's the expectation I have created if there's someone listening here that owns, you know ah, a channel of mall franchise it's the same conversation that we would be having it's about creating an expectation and then delivering honest so a mall like a franchise studio wouldn't mail out the kind of elaborate promotional piece that I do that pops out and turns and twists and is on gorgeous paper with var edition very tactical and yummy and this experience and then people come in and there's a line of thirty people and they're saying sit, click sit click but their their messaging and their their colors and everything says hey come in every month and get these fun things and it's not expensive and you know it's going to be a quick little thing and you can have tons of images to give everybody in another you know, we all have friends that send us like three different images and you know, valentine's day and it easter and at this and that that's like whoa you know it's a different different client it's on and even it could be the same klein I tell my clients, go to tar jay or pennies wherever and get the get the pictures for grandma's that show people what your children look like and do it every couple months if if that makes you happy in the wallets but that's not what you come to us for were the kind of place we create large wall portrait's and artwork for your home that you're going to love forever so we're not saying there's this is the only way to do it it's right? You know and everything else is wrong it's about creating an expectation and delivering on it and isn't it interesting to see how one little thing like a website that doesn't look like anything else? You d'oh oh is creating that disconnect one little thing one that a website decision and it's not bad that's the thing I see this a lot when people lay out all their things this is cool and this is cool and this is cool, but they don't look good together business, and I think that's what we do wrong is creatives is we're having all these cool things that aren't for the same party and we're going to a party and we're wearing the wrong clothes or we're expecting it to be formal and it's casual or vice versa. So I think that this is actually the perfect time for us to talk about how you keep yourself consistent let's do, and we talked yesterday about rules and how rules can be a good thing. I know creatives you like rules, the rules can be a good thing because they can make this whole marketing stuff easier for you. And so that's, what we wanted to talk about with you guys now is having graphics standards and what can go into your graphics standards to keep you consistent and to make sure that you don't end up going with a website template that is really cool. It just doesn't fit everything else and all the hard work that you've gone about creating to show your clients who you are and what you feel like, yeah, intent were worth fans of templates if you can take it the template and run it through your filter of all your rules. Tweak it, change it and make it work because we'll talk about theres some cool website templates photo biz is a great website template because look, we don't have the budget to go out and spend ten grand on a custom website, right? We away have we do have to use template sometimes and that's okay, but that's, why all of you can create graphics standards. Okay, you can see mine here minds about I think it's ten or so pages and this's. What we used to make sure that when we are buying a template or when we are working with a designer for a new piece because, you know, for example, we've got, you know, pets and you want to start doing pets and it's different from your kid families stuffer it's, different from your senior stuff. How do you make sure that people still understand it? The same brand? What are those rules that you need to follow to make sure that people still recognize that it's you and so that's? What this is about creating graphic standards that lay out the rules for your logo? Lay out the rules for your design elements and your colors and how your logo should and shouldn't be used taglines we have a tag line for each division, each target market, so pet seniors kids, family, they're set in a certain way with a certain fund, so we don't just go grab a fun and type in that tag line it's created to complement our logo and reached to that target market it's gotten a color palette, and everything is consistent with that business, so you guys can see through this, everybody in the audience is looking through it, and you know, we'll walk through what exactly goes into it? So this is something that your graphic designer should create for you when you work for them, or if you've already gone through this process in ten years ago, you got your professional logo, you can create this for yourself and actually on the slash day, to the joy of marketing dot com forward slash day, too, if you opt in for the goodies, we've got a whole checklist there of everything that goes into your graphic standards, so you guys have it right there for you that you can see what all needs to go into it, and if you want a copy of sarah's graphic standards, when you log in to get the check list, you can see him there, you can grab him. I think we've got him in there for nineteen dollars, so if you want it sometimes, it's easier for me to have a template to follow along with when I'm creating my own so you can see what exactly we put in here you know and how we laid it out but it's great because you know for example on this page right here we're talking about the color palette and you see on sarah's color palette because she's whimsical because she's fun it's very clear in here that the types of colors that she uses in any type of peace whether it be her fall piece whether it be her holiday card whatever it maybe it needs to beacon assistant with that brand that she has established over the last thirteen years so colors we talked yesterday about pantone matching system colors pms colors you guys want to nail those down? You're still kind of playing with families but you want to get that pms color selected so you have it you want to name out the fonts that you have that you love so again your graphic designer once you get the logo and the identity or the logo, then the next step are those other elements what bonds do you use it's crazy to just go pick a random thought that's not part of your identity, okay? And I'm not talking about a headline decorative font I'm talking about the fonts on your website should match the fonts on your printed piece that should not match the fun on your auction poster that you do when you donate to school auctions all of these things have to be consistent, and your your graphic standard may not be as many pages is mine. We've seen people do it on one or two pages where everything is really just jammed in there, you can pin it up on your bulletin board so you can say, okay, my my fonts are these and you're talking to someone that's laying out an ad for you lot of a lot of you guys shoot for magazines and you trade for ads and you let them lay out the ad that's, bree and disconnect that's brand failure if they go and they pick curls, are they big? Uh, we got into a discussion in the lunchroom with you, the all the creative live guys who are like, I'm so glad you're talking about these bonds, piras, that we should start there trying facebook group already, you know, no more piras. So could you imagine if I let someone lay out an ad for my studio that I've crafted so carefully and there's pup iris on it? But they don't know they don't know unless tell them and so that's what the graphic standards are about it's about laying those rules out for yourself so that when the radio station calls the needs a logo for this because you're doing something in trade or the magazine does they are very clear on how you need to be represented and what your face needs to look like every single time yet so the joy of marketing dot com forwards last day to it you want to grab the checklist everything that goes to grab the checklist you guys have it in the twenty one day jump start your brand so you can be working through your graphics standards with everyone here with everybody you partner with this is something you hand them these if you want to use my logo or whatever this is the standard that you have yes and if you look at the back of this twenty one day product jumpstart your brand you guys have there's a checklist for how when anything leaves your business you need to make sure do they have any ps logo do they have all of these things that they need because it's so easy a friend calls and says would you sponsor my kids soccer team and their great client? Your answer is yes and you forget to grab a logo off your website and you know you get there and you're horrified because you're a photographer I have a pixelated logo or someone asked you to sponsor something and they're doing it themselves so it's a visual reminder that hey don't let it get you know we're all running fast and we're being reactive sometimes with our marketing so it's a way for us to say yes, I'll do this and let me grab my little sheet. Here are a few things I need to tell you to make sure, you know you have to be the brand. You are the big brand police. Nobody else is going to do it now or, you know, so good. So I'm excited to see you guys work through this. And if you have questions while you're working through it, it's going to benefit everybody. So the more work you can get done on this, the better.
Class Description
Learn branding from Sarah Petty and Erin Verbeck! Attract the right clients to your business by creating your own unique brand, new distinguishing products, a more profitable price menu, the right marketing and a new sales process!
If your marketing isn't working and you're not attracting enough of the right clients, Sarah and Erin will go step-by-step, showing you how to address each part of your business's brand to make sure it reflects you and brings in clients you'll love.
Reviews
Great class - fantastic, immediately-usable advice for reaching new customers with the right marketing mix, whether you are just starting or want to revamp your small ("boutique") business.
I have watched this course completely with so interest and excitement!! I just wish I had it three years ago when I opened my photography Business. Even if you have been in business for awhile or just starting out this is the course for you. Sarah and Erin have all the kinks worked out for you. You must take this course. I can't stress that enough!! oh and the book "Worth Every Penny " is also a great book So Much info.
Anything Sarah Petty has done is wonderful! She has such an eye for photography, sales, and marketing! This would be a GREAT investment! =)