Adobe® Photoshop® Camera Raw: Instant Image Special Effects
Adobe® Photoshop® Camera Raw: Instant Image Special Effects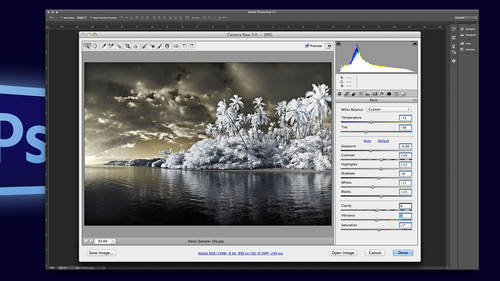 Adobe® Photoshop® Camera Raw: Instant Image Special Effects
Adobe® Photoshop® Camera Raw: Instant Image Special Effects
Lesson Info
Adobe® Photoshop® Camera Raw: Instant Image Special Effects
But now we're going to be continuing on what we just did on retouching with mme or special effects or what I call embellishing or elaborating on an image so the first thing cover is why especially now when we have an avalanche of special effects that are infecting our photography through our wonderful aps and iphones and instagrams and everything else in the world the democratization of enhancing of images has come with the advent of everybody in the world having the equivalent of you know some short of manipulation photo manipulation software on their head and let's be honest it's fun the reason why there's ten billion people doing this is because it's fun it allows people to interpret their photograph and I think that is what is exciting about what we're going to be talking about here and why it's being done is we have so much visual information hitting us all the time and now because we can take a nice sharp bright colorful image the your picture in my picture is is khun be the same...
it used to be the challenge to get the correct exposure and everything else about it now the technology is making that so much easier so I think the reason why we like our effects is that as soon as you see effect you know that the hand of somebody touched it it didn't come out of the camera that way so somebody did something with it there's that that tactile almost sense that somebody made a choice or decision to do something to it. And that, by definition, is an artistic process, I think that's. Why? To be honest, the backbone of fine art photography has been black and white photography forever. Because you look at a black and white photograph by definition it's an interpretation of it's, not just a nice guy. Crisp, sharp, clean, well composed image it's an interpretation of reality. So anytime we interpret something embellish or elaborate on it, we get into this artistic will. And I think that's what we like that's, what I like and that's. Why I, you know, push my photographs as far as I do. So the question is enhancing our special effects within this arena of procedural processors, whether that's, adobe camera raw that's built into the bridge and photoshopped, or whether it's adobe photoshopped like room, both of them have the exact same engine and therefore worked the exact same way. I do have a photo shop open and come over here. I mean, the light room open. So we will try and keep that I've got. I'm actually looking at the exact same folder in like room as I am over in adobe camera, so we may go back and forth and fool around with that were actually in light we're looking at the exact same images that's exact same folder I created catalog from the same folder and as we can see here it even has the same you know snapshots the exact same snapshots carry over everything is completely compatible everything related to the interface especially here within the develop module within sight of light room is exactly the same so that helps us there but we'll jump back to the bridge in adult became a raw since that's what we're talking about here okay this class presupposes that you've taken my two other classes here it photoshopped weak yesterday on optimizing the one we just did on retouching because they build upon each other you never would enhance an image embellish it to a special effect before you've optimized and got the best color in tone okay that's called polishing a can't member the term but it's an awful visual analogy you don't want to do it first get it right on camera fix it to get the best possible shot and then if you think it will be a stronger story with this embellishment then go for it or if you think you can soak your client for a few more bucks go for whatever your motivation is you have my blessing okay so with that in mind let me go ahead and I'm going to do a select all here in the bridge also everything if you if some of these images are going to look familiar they are familiar there from a three day class that I have that covers all of this that's already in the can with here creative life so whether on adobe camera or in light room I have a full three day set of courses that covers everything related to optimizing enhancing retouching and for shop integration okay, so I'm gonna do a commander control are as I've already mentioned as opposed to a commander control o that would have forced photoshopped open that will take most of my ram so since I do so much work in a job a camera or a light room there's no reason to have photo shop open when you're working in those programs ram is the elbow room in which your computer does all its work and uh the alternative is europe you run out of ram then it's going to start using scratch disk or fake memory and that's not pretty and anyway okay, so our first special effect we did we talked about the tango and optimizing images I won't do that but that is where you would start we've got an image here that I think we'll start off with by how schmidt of light workshops I keep plugging all my friends and photographers who helped me out where I teach and things like that so hopefully you guys won't get tired of that butt lite workshops is an excellent school started by george lap in morro bay and I can't say enough good things about it one of his wonderful shots beautiful young model and we're going to do and enhancement on it in this case we're going to do a high t image on it if you know high kihei key means that the overall a feeling of the image is high or bright or light versus lo que everything is dark and moody and you know hidden so we're going to a high key image and also kind of a high contrast image and it's gonna allow us to do things with a portrait that we normally don't do so first thing that I'm going to do is I'm going to turn this into a black and white so let's actually start off with black and white before we do high key because you can get away with with that so let's actually start off with a few tips on high key and that will also allow us to play with color and for that we'll do this image which I've also another brooke crystal shot that I've used for a million years and it shows the power of something that is totally unique to like women adobe camera not in any of the main adjustments inside of photo shop and that is this panel over here known as the h s l panel the h s l grayscale panel ok, in light room, it looks slightly different. H es, el color and black and white is its labels over there and again will be in the hse sell mode. First is the color or the black and white mode. We're going to talk about black and white, but I'm not going to use this black and white option. I'm going to come over here and I'll show up let's actually do this in light room just for fun, it's exactly the same as in a cr will come back to a cr in a second just make you guys feel good. I'm going to come over here within hhs l over to hugh over to saturation I'm sorry, and I'm going to manually take all these sliders down now. This d saturating of the image is something you would never do in photo shop d saturating the image in in photo shop is the worst way of doing a black and white conversion awful bad don't do it. The engine that photo abuses is a standard rgb colors space, both light room and a cr are using more of the lab color space where luminosity is separate from the color components, so by changing the luminosity or color of the image it's able to maintain the integrity of the luminosity of the image better than in photo shop you'll just see it if you d saturated image it will become flat um whereas it won't inside of light room or a cr I won't tell you a really funny story about that somebody who made a really good living d saturating to make his black and whites and so I told him go for it dude, you make more money than may knock yourself out but in the let's not try and do that so in this case we did a d saturation by going into the h s l panel taking out all the sliders it leaves behind a beautiful black and white image but this is just our starting point but before we go any further I've got this adjustment here as we did in our retouching class when we did some adjustment brushes that we use for enhancing the eye or scan or things like that and I mentioned that any time you do anything in any program whether it's photoshopped or a starlight room more than once take a deep breath and go ok is there some way I can automate this process? Can I save it as a preset? Can I write an action? Can I do something that won't make me do the same thing over and over again? Because I know you guys never do it but it's amazing some people actually spend a good part of their time day in and day out doing the same bloody thing over and over and over again you guys wouldn't do that but I'm just telling it to save it so anyway I've got this thing right here so I want to save a preset so I'm gonna come over here to the presets panel over here on the left hand side which is one of the last panels in a c on the right and when you just click the plus button and it's going to come up here and says, what do you want to call this preset so we're going to call it d sat we'll call it um c l d sat and I'm going to put it in a folder this is one thing that a dopey camera doesn't have you can't organize your presets into folders so I'll just say miscellaneous for now it does save them has the same parameters it just doesn't have that sub organization and what you want to do is you want to come over here and save on lee the parameters pertinent to the effect that you've just done. In other words, I wouldn't say click all because this may have color and tone and the tango and vibrance and then yet and all this other stuff and that's not the effect that I'm saving it's just since simply d set trading the file so I'm going to say none and I'm going to say color okay, and this is this color the h s l it's actually labeled different in adobe kamerad says h s l and that's what it is and that's actually is I think better name but that is what we're working on here. We're going to say create and now we've got our he said, and the reason why that's powerful is a number of reasons as you'll see in a second it's a nice thing to have in your bat utility belt we haven't gotten to the secret mickey mouse club handshake yet, but we do have a bad utility belt so I'm gonna come over here and I'm going to go to luminosity here out of those three options hugh saturation luminant I'm going to jump over and illuminates and I we used this tiny little thing here and this brings up another little difference in the interfaces of light room in adobe camera you may or may not have seen this little target logo um on your interface it's been there for a million years in light room it's one of the most mind boggling, really useful things in the world and you wouldn't know at all what in the world it isthe um unless you roll over it and wait and you see it adjust the luminous by dragging in the photo well, but it left out of step that you have to click on it and then you can go in dragon into the file, and then you click on it. So just you mean somehow that's got to get in there and it does tell you that they were up and down your oh, so that kind of tells you what you should be doing with it in, um, adobe camera. It is this tool right here are targeted adjustment tool r t eighty and also, if you click and drag on it tells you what would you like to change if you come over here and do our little and we've got a little d sat over here, I've made a preset beforehand. Ok, so if we go over here to r h s l two saturation, you'll notice it's down here. This tool is going to come into the window and work exactly like the one that we have in light room. So the ta ta is up here. It's not built into this interface, but it works the exact same way. And the presets as I just showed you is over here rather than over on the left. Ok, hopefully you can do all that gymnastics in your head back over to light room. And this is where the fun comes in, because by clicking on this and clicking somewhere in the file and clicking up or down watch what happens to our luminosity sliders you can see that we have access to all the different colors in the file we actually unlimited colors that just gives you these categories and by simply clicking let's say I come over here and click on the skin tone of our model and drag up it knows that that is orange and it is lightning that up okay and or dark meat down, giving her a little sun tan. Okay, so whatever. So I'm going to take that up. I'm gonna let go move over to the background and dragged down and you'll notice it knows that that's a blue it's actually partially blue and partially aqua over here. So those two things of clicking on the skin and dragging up and clicking on the background and dragging down is allowing me to change the luminosity of those colors. It is based upon the color I'm not selecting the background I'm selecting the color came so again, I can take that way down and I can take her way up and because I've been like we might do have a nice little before and after which is that backslash key? Ok, so that is a nice the peaky and adobe camera ross and some in one panel would also be doing the same similar effect so that is great it allows me to do one effect let's say that I like this here I've been mentioning this idea of any time you see something that's useful make a snapshot of it so if we come into snapshots and I go ok this is one thing I want to share that with a client maybe so I come over here we'll just leave the timecode light room does use the time code as opposed tio entitled one two three four and I got it so that's locked in that saved everything that I have right here is saved as part of that snapshot now I'm going to come over here the ta ta is still selected the target adjustment tool I'm gonna drag up on the background and click down on the model's skin give her a little tan or a lot of ten too many but if she's in florida click the snapshot and we're good to go so right now we've got two completely different stories and literally took half a second to do it you'll also notice the nice thing that because we have this navigator preview window when you hover over anything on this left hand side it automatically shows me the preview of what you would get if you were to click you don't even have to click you just kind of hover over those another difference between the interface of adobe camera and light room so I like that I think that's nice I've got two options the power and why we went to all that trouble to make that h s l d set preset comes in here because we haven't turned the image into black and white it is still a full color file all we did is de saturated which means that same targeted adjustment tool can come in here into the background and go like that so now we have what's known as a selective re color to the file go well that's a training littlefinger yeah so it will make me an extra buck and it's fun and like I said sometimes it's just that the fact that when you sell something to your client they know that an artist spent time coming up with an interpretation of that to make it a more potent story and sometimes hopefully all the time what you're doing is making a stronger story it will have more impact it's more likely of going up on the wall over the mantel place because it's an interpretation of the moment rather than just a documentation of it and I say just there's no such thing is just when we photograph everything is an interpretation right? Ok but there's another one to come over here to snapshot thank you very much that's great maybe one wanted coming down here turn that to black and white give her back full color in her hair and even on her lips okay, so now I've just brought in some color and click and so now I've got four different interpretations of the image literally in a second it's a fun thing this is an elaboration on it there's no reason to not take advantage of that black and white here's a couple little other examples of that so again we'll take advantage of that pre set we're going to come down and ah they're under my miscellaneous all right, so we'll use the same one that we just did c l d sad so we've got our file here close that up and, uh same thing so we go to saturation the t eighty tool is still active just click here re saturate the bridesmaidsdresses if we want we goto luminosity go to the skin tone brighten them up a little bit if we don't want to make any money from this bride we can come over to the hue and change the color of their dress because you thought the purple was tasteless and now you wanted it more of a periwinkle or whatever so whatever fantastic can you just do the firings is that ah when that being need now the just doing the flowers it's almost a ziff you know I should have another project here waiting in the lines for but no in this case for what we're doing right here, we can't do just the flowers because this is based upon the color, not something that's inside the color I'm changing all the blue is no matter where they are inside of it over in this case purples, right? So in this case that's global an adjustment and I can't target it to an area but of course we never like having anybody say noto us so I'm going to do exactly what you're requesting because that's where targeted adjustments come in even though I'm targeting a color this is technically considered a global adjustment I'm affecting all the blues in the files not just separating out the blues from the dress from the blues in the flowers very good question yes uh yeah that's was my next question why thank you you having a coronary zone right now? The thing that's also cool about this because this is procedural and we didn't have to do any masking or anything else to it brooke another brooke crystal shot obviously just went ran out brand behind the girls have them hold it up scream got another hole shot this is now going to be a two page spread in the wedding album, right everything but he's having fun we want to have the match between so this is where the sinking comes in we sink yesterday inside of adobe camera let's, do it now inside of light room, where I'm going to shift click on two images and, of course, that's. The problem with this is a soon as I put down the keyboard shortcut it, uh, it means that I can't shift. Click on enough one because I can't click on that that's an interesting thing with pinpoint, so I've clicked onto images. Whatever is up here in the main screen is the parent, as it were, whatever is also selected in the film strip is the child we come over here to sing it's going to ask me, what would I like to sink you can sink any one of a number of parameters, just like when I created I've already got the process version and that it's just the color treatment synchronized. And now when I come over here, I've got the same effect, okay, so instantaneously you can unify whole series of images and that's. Another point related to this idea. Enhancing or embellishing an image is that often times you have all these disparate images to color, tone, maybe even coming from different photographers, different techniques, infrared, full color, whatever, and it's the the flavor, the patina that you add to the images they're going to unify as one story they're all black and white there all sepia tone there, all selective color and all of us, and it takes these all these disparate images and turns it into one story, and that could be very, very potent, especially when you need to, because the lighting is different, all these different things are different, so keep that in mind last one on that selective color here you know, the world's most beautiful girl that's that's no longer this young and we'll come over here and we'll do that same little d set you'll notice that I've got turned on and my panels that I just need to hover my cursor over the edge and the panel's open up so you can turn that on in preferences. So, um, sometimes I'll share with you some little tips on the interface. I also have what's known as solo mode I'm going on here, and that is where you hold down the option or all key and click on any one of these arrows in light room, and it makes it that if you open up one, it closes the other one so you don't have all fifty panels open at one time it's called solo mode simply hold down the option or all key and click on any arrow and that becomes solo mode that way you're never more than one click away from anything ok back to our targeted adjustment to actually let's just go in here because what I want is I want the magenta is of the rose I'm not in the human kind of shifted saturation the magenta of the rose pulled in and the greens of the rose and maybe the yellows as well so there is a selective re color I'm simply by doing that same little trick we just did so here's our before after before after okay so selectively color all sorts of different things in here and we will do a riel hand coloring in just a bit but that's just wanted to show you how you could do it oh also before I forget you know the cool thing about this which I'm a show you if you guys are real nice is um this right here can be applied video because light room does video doesn't do video as well as adobe camera you can't open video in adobe camera or can you know be cameras now available as a filter inside of photo shop that could be applied to a smart video clip and you can do anything that you can do in light room or in a job became a raw to a video clip inside a photo shop taking advantage of adobe camera that's pitching because that's probably why you aren't shooting as much video as you could be because your photographers and you all know my photography looks amazing because I can polish that till it just glistens and my video looks like it was shot on an overcast day in a because it wass right now we can't so anyway, keep that in your mind even things like this, you could have the video clip of this going on here, and the model would be black and white and the colors would work out okay, so color so we were talking about black and white let's go back to the model that we were starting off with and let us do thiss high key transformation of the photograph so go back to our basic panel will go ahead and use take advantage of that de saturation technique, and now we're going to break the tango the tango for optimizing, which is how to balance out the color and tone to get the chris the greatest dynamic range, the truest color, the richest, most vibrant color most popping edges were going to break that and do something totally illegal with it nice thing about that is it shows you that even something like the basic panel khun be used for a wide range of special effects, so let's, just go ahead and do that there. I'm going to say that the exposure is set so if you want it already do the tango to get the basic tone you can't this one is already set so now I'm going to go right into this high key effect and for that I'm going to take my contrast all the way up one hundred percent something I would never do to regular photograph black and white I could get away with it if we were in full color you'd see any time you increase contrast to increase saturation by definition so it ain't pretty okay so black and white is going to help us with that so contrast all the web highlights all the way down that's telling light room or adobe camera I want all the detailed possible in this file I want everything okay? You know what? I'm not giving you permission to blow it out but maybe I will shadows all the way up I want all the shadow detail in a pot I'm getting totally greedy um tearing this image apart six ways to sunday but because it's slightly weirdo became a rock I can get away with it and now I can do the whites and blacks to taste but before I do whites and blacks to taste so far all I have is contrast one hundred percent highlights minus one hundred percent shadows plus one hundred percent and now I'm gonna do clarity and clarity like we said before, normally you would never do that, especially to a portrait of a woman, but in this case I can come up here and increase the clarity to it, even on a female portrait, especially now that I'm going to take that up two hundred percent just for teaching purposes. You can see that with all that, I still have my full dynamic range here, and I can turn on my clipping. I've got no clipping whatsoever going on with this file, even though I've exaggerated the totality of that much and now I'm going to go into the whites and kind of shape where I want my detail, okay? How much do I want to blow out that detail? So this is where it's going to be to taste and I can even come up here and say, you know, I don't need that much highlight detail and I'm gonna come up here and I'm going to exaggerate it, so this is a very, very dramatic, harsh image. This is a harsh rock star don't mess with me, I could kick your ass kind of thing right? And with that I'm going to come over here and use my little, you know, snapshots and start there's my don't mess with me look, now that same thing since I've got this exaggerated contrast in tone in the file I can also take out my clarity in ways that I wouldn't have before possibly let's go ahead and take money thing down and I could get away with it even softer look than I would normally get or want that water color look because of the, um contrast that I've used on the file is not getting water color it's a very, very soft look um glowing look here and I could again save that as a another look to it and concert with this, I may take advantage of that vignette ing process, which we didn't start off by doing that little vignette could have so let's go ahead, we'll go ahead and use our post craft and yet since I have bad mouth did in comparison to other ones okay, so I'm gonna come in here and I can either dark in that outside, okay, increasing the feather so I'm getting it um still somewhat subtle thing yet to it or if I wanted, I know it's got a bad reputation I can come over here and add a lightened vignette we're going to blow out the edges of the file, ok? So for a very, very light look so that again is two completely different looks one if I take that then yet down and dark and everything up where her her face and her eyes are showcased then I've got that look let's just go ahead and we'll do one up we'll do one down I think I'll go back up and go back to that um my main basic tab and I played around with that whites let's take those blacks now down and again you can see how I can shape the dynamic range of the image with fine tuning that black point I mentioned that yesterday that's why I have that white and black point in there especially when you're doing special effects because of this ability to get carried away with these things and then you can reshape it to get a full dynamic range in the file so again I like that another look right here the hs cell that we're taking our advantage of over here that's when it seal it more so r h s l also especially when it comes to high key especially we've got a young lady with freckles here um we can add this to the mix because as you know in luminosity with r t eighty tool we can come up here and lighten just the skin tone of the model as opposed to the background or anything else and if we want to let's go ahead and zoom up here a little bit we've got again a little bit of a freckle situation going on here we cannot do the main skin but weaken just take up the reds okay, we can brighten up the reds actually it's probably fitting into the orange is more than anything else so I confined tune this to kind of minimize the, uh, freckles on the model ok, so again, this is kind of a ghostly that's what am I thinking? Little little too much? I'm going really high key going on here but you get the effect I'm totally exaggerating it for what we're looking at, but what we're seeing here is ah, a complete control of the dynamic range of the image through simple sliders with no filtering going on, we'll do one more here and let's go back to that basic panel we're taking down our clarity let's now that we've blown out a lot of our skin detail let's take it back up so another one of those don't mess with me looks and you get the idea okay, so we're getting a number of different ranges in this file also at this point if we wanted to excuse me because we have way use that little hs l trick, we can also come over here and click on the background and bring back in the blue is to the file right? Because you've always got a free no cost, no obligation targeted re color because of how we did the black and white tree it's freebie you want to use it great if you don't use it great no harm, no foul. But in this case, it's gives me another option to soak my client. I mean, to deliver my client the most potent. You get the idea. Ok, so that's what's going to, we could continue to use this image and just go in all day. But let's, go ahead and go back to this image in my light room class. Shameless plug right here. Um, we've come up with a bunch of presets for you all. And that includes a number of high key. So as an example, you can just kind of hover the cursor over and, you know, get a lot of these different effects that exaggerated glow. So as you will be doing because there's no reason. Any time you get any kind of look that is and even remotely, you know, enjoyable for you make a preset for it, you know, make a snapshot. Do something else. There's. No reason in this case, I also have the d sat as a pre set of those, um, things here and let's go ahead with something a little bit nicer. And I've also got d sat s o the cools only. So that means all the skin tones are left warm. Our only the warms in here let's get you to that rick color so you can come up here and just have foliage or just warms of just cools in the file so you can come up here I've made presets even for that even one for unifying skin tone and that brings us to another little thing that we could have done in the last retouching class but we'll use it here now because we're spending more time in h s l and that is this ability now let's go back to our library and go back to our retouching and that's this gentleman right here a good friend and and snapshots and what we're going to do is work with this challenging situation here we had freckles a little bit ago this is even mohr we've got a surfer and sunburn and maybe realization some other things going on can we use that exact same concept over here of our hs l panel to do what would be more of a retouching than a enhancing or elaboration of course the answer is yes we can because if we look at our issue here what do we have well we have a portions of the skin tone of going to read and portions are actually going to yellow it's almost you know this this friend of mine is a real estate agent this was his business card so I go dude because we live in san diego do I need that image and goes why you'll find out it was chided the local kinko's and their copyright is embedded in this is a great guy but anyway is such a great you know dynamic range will say um but this is a color thing and this is for everybody no matter what ethnicity or what you look like none of us have completely consistent skin, but it would be really nice if we could have the ability to say would you make the reds go more toward orange makes the yellows will go more toward orange and meet in the middle, shake hands and make up right, especially with a slider without having to paint in these specific areas so let's do that I'm going to do it right now um just by doing it with the sliders, I'm not going to use the t eighty tool, so I'm gonna take the yellows jen, you'll notice this that's another great thing about the h s l panel is you can't go too far. You can't completely shift the color range as you can in the hse ellen photo shop, which is actually for the most part is a benefit here, so this you'll notice yellow khun go toward orange and red can go toward orange, so when we do that we get this, we'll start off with the red and in one fell swoop you may think that that was all that's needed we'll take the yellow and move it so they kind of meets in the middle and that right there gives us um are um before after and it doesn't need a little bit of rosy cheeks is fine and we just don't want the rose asia okay but the thing is we really wanted to minimize that that's probably fine that's good to go right there but red is not only a different you then say yellow orange it's also a darker hue and it's a more saturated q by definition so we could go up here saturation and reduced down the saturation a little bit goto luminosity take a luminosity of the read a little bit and you can see if we wanted to we could completely eliminate with a nice smooth transition with no um asking at all this area so just like we did it when we did it for expressive with the woman with the blue background or the flowers or the bride's man so any of those things the exact same concept works you can take one portion of a coloring from an image and change both its shoe it's saturation in its luminosity yes um what would you do with the thai till uh good point yeah in this case you were just in the code that was that effect car tie as well so let's go to grandpa here because we actually have a similar situation here where we want to and here we'll jump ahead, since this isn't the retouching class, but I didn't get to grandpa in the last class where we've come up here and we've done the tango, and then I've used the healing brush to get rid of a few things here, so there is are before and after in terms of our basic, but the nose still has its own unique color, that we may not want to have that way, it's a distraction to what is a fantastic portrait. And, um so that is where we go back to our target adjustments in this case, the adjustment brush and the way that you re touch with the adjustment brush and let's actually jumped back into adobe came around because this is supposed to be that we came around him ending up and, um, completely and flight room, but the same exact thing as you can see here, the snapshots exactly the same, everything works the same way we'd go over to our adjustment brush here did a little bit and retouching, but now what we're going to do on the nose, we want to selectively make this less blueish, purplish, pinkish, but we don't want to affect the lips. And so we just simply come over here, we're going add the opposite of what we have too much of and in this case we have a temperature and tinged slider and that's usually where this situation is coming into when we have a an issue with skin color it's this magenta purplish thing, so I'm going to reset all the colors were just going to take down the magenta ah bit in the nose and possibly we may do some of the blue as well. Nice thing is, I could change it after the fact, so I don't need to worry about it. I am going to not use autumn ask, but I will show that mask let's hide those pens for right now get rid of our green circle and I'm going to come up here and I'm going to paint now I can choose a different color because that's a little disconcerting when I'm trying to get rid of purple to have it so that's how you can change the mask came tapping the okey let's you and show the mask in light room shift so lets you cycle through different colors. You cannot change the mask to any color you want in light room, but that shows me what I've want there will hide that mask can and can see that I'm getting too carried away in terms of that blue you know we don't want to add blue actually wanted to add some of that to it so we're going to come over here and again well exaggerated and I not only can add the opposite color of what I have too much of but of course that same mast area I've got everything at my disposal here including that ability to take my maybe exposure up a little bit maybe shadow up the darkest portions I can't even take the highlight down contrast down if I'm getting too much shine on grandpas knows and I can also do what we did in the last class on retouching is take down our saturation a little bit so all that does this ok nice smooth edge the distraction is gone we're looking at grandpa I don't need quite that much yellow but um basically it is adding the opposite color of what you have too much of including you can use the color tent down here the last class we did and retouching we did actually make up on a model so you know you can add a nice translucent tent we're going to do that in the in a minute and um then if whatever the color in tone that is again the great thing we've got one two three four five six seven seven adjustments going on here we're just flavoring it to taste but in photo shop of course those would all be different adjustment layers and would have to share the mask of that adjustment, but either putting all those adjustments into a folder and masking the folder are using clipping groups or something else. So again, I just love doing it well, we're here let's d'oh one thing here we talked about photo shop integration on the retouching class grandpa right here will just jump into this. We're going to come over and say open object and I'll show you we've got a five o'clock shadow on grandpa that we definitely do not want to ever have to retouch in light room or a c r that's why god made photo shop filter noise dustin scratch is what you want to do with dustin scratches is bring up the radius big enough to get rid of the offending area in this case the this double and then the secret why you may never views this before because that you go well that's just a blurry image. The threshold is at what point does the filter kick in? And I could actually bring back in the poor structure of grandpa. Okay, well, I'm getting rid of the stubble in half a second. This is where you should be throwing money up on stage because that is really freakishly good, right it's been in photo shopped for a million years, nobody's ever told you it's awesome fantastic cool groovy bitch and now the thing is that when you do this I did this as a smart object thank you for smiling did this as a smart object which means it's a non destructive filter right but you'll notice it's doing all the hair on grandpa so let's take advantage of the fact that we have a smart filter applied this image and a built in no cost or obligation layer mask I typically like painting in effect rather than painting out what should I have too much of I have too much on here so I could paint out where it's kidding the eyes but instead I'm going to fill this mask with black and paint in the effect in other words I'm going to give grandpa shave where I want it so a shortcut for phil with your background color which is the default background is command delete or control delete on the pc the other day gave you the nice shortcut shift delete is going to bring up your fill dialog box which lets you filled with any color thing for grand color content where phil whatever okay go to our brush over here make sure it's at one hundred percent paintbrush filled with white and if you khun anybody khun do a electric razor sound ok it was a pretty lame but you guys you get the idea ok and but this is not just for grandpa anymore because if we look over here it's actually do this um where else do you get little teeny stray hairs that are distracting knows ayers and even teenage boys and girls right? You get a strong backlit citing every little teeny peach fuzz is going to come up well, this is a instant peach fuzz removal tool you can instantly come in here and get rid of all those nice little distractions. Ok? The other thing that's cool about this is that this is a one hundred percent you'll notice that all sorts of other little crunchy things are going on here with grandpa. I don't know again, I think it's an amazing picture taken in the hospital this may be the world's most beautiful picture, so what I'm gonna do is I'm going to change the capacity not of the layer but of the brush make sure I'm back on my brush tap five for fifty percent and now watch what happens to all the little teeny spider veins and everything else. Now I'm using noise reduction as a skin softening wrinkle reduction tool where I'm not interested in getting rid of everything. I'm just kind of softening these distractions I'm not going to get close to the eyebrows or anything else, but I can actually come up here and do a wonderful another variation on skin softening by using this um dustin scratches okay, so it slices and dices does all sorts of things and here is our before after before after okay makes sense dustin scratches the things too that radius is big enough to get rid of the offending object in this case double to the threshold big enough to bring back in the poor structure but not so much that it brings back in the the offending area so if you keep going, you're basically saying I want everything so this threshold is actually the same one as a kn sharp mask built into gunshot mask. Okay, so there's your photo shop integration this case for mohr retouching, then special effects okay, back to that, let us do affects questions in aa studio audience ok, good trump it's from mary from costa rica asking about a c r doesn't have the ten temperature sliders on the adjustment brush for variations prior to see x c s six of their an option there in a prior version n c a six you know? But you do have the ten slider, the little tent at the bottom, so basically the thing is it's a very good question what we're talking about here is in the adjustment brush there is no temperature intent this temperature intent really isn't white balance they call it temperature intent it's just, you know, blue, yellow, green, magenta so if you add the opposite by coming up here and adding a tent here, what you have too much of it's, the exact same thing so that's how you use it so yes, you can so let's do ah, a couple other things real quick in terms of these air maura simple enhancements coming on here that we have mentioned before. So let's come up here to our before little graduated indy effect, ok, not as much an elaboration as but something we do all the time got another beautiful crystal. I'm going to come down here, do a little exposure reduction, I'm going to click on the sky dragged down, I've just done our little indie effect, right? You can come up and change it. You can see what it's doing it's changing the exposure based upon this and you basically set a start and in point I could add a little color if I wanted to, I could come up here and if I was a little greedy, the nice thing about this is that obviously we like doing these things, especially for overcast days. But when if I dark in this up here and I want to come down here and exaggerate this wet sand, going to simply click and drag, and I've also done my foreground and well, I do that I can also come over here and maybe add something like clarity, which is going to make the reflection of the father and daughter you know, there past and present in the future and everybody's weeping and crying and so dragged down, drag up fine tune and again you're you know, done so that ability to very quickly in this case, doom or than when adjustment both exposure and clarity is really fun um or exaggerated version of that is this little sample here. This is a sandy foster shot, another excellent photographer out of texas, and I want to do the same thing where I want to in this case, make it look like a cloud is coming over to further make the little girl pop. I want a cloud to come over, so I'm going to throw the background into darkness and the foreground stay light. Well, I can't use that grady in because I can't go around a girl that's breaking the plane that I'm in. So what can I do? And this brings up the question that came up earlier about can't you just use an adjustment brush in place of either the radio filter or thie grady in and yes, you can, and it has its own benefits because it has this ability toe have an auto mask so this is the first time we're going to use the auto mass because I actually want to mask around this little girl blond hair on a yellow background I want to come up here and mask around the hair which again should not be possible in a procedural editor so let's see how far we can push it so I've got the brush I've said it tio exposure taking it down I want to see that mask I always want to see the mask while I'm working because sometimes it's just too subtle the adjustment you're doing so make sure that you see the mask so you don't forget anything let's change it to another color so we can see it and what how the auto mask works is you want to click in a portion of the file that is completely different from your subject matter don't be anywhere close to it because it's actually saying ok that's what you want me to select and not anything else if you do accidentally go into another place you use that eraser option right holding down the option or all key automatically gives you the eraser for the same brush your working on and then it says oh you don't want that so it actually gets smarter the more you use it so it's great so if you do go overboard race and you'll be fine so I'm gonna come over here and I'm going to do even a bigger brush just a giant brush because that feather is the closest I'm going to get to a grade ian right that's his closest I'm going to get I want to settle grady it so I'm gonna come over here I'm gonna work in this upper portion here, okay? And I'm actually going over the little girl a little bit but you can see um where it is not going you can see that transition if I want I can come over here and change that density I mentioned that if I want I can actually get kind of a smoother transition um in a adjustment by coming up here and I'm actually removing a port that adjustment because it's no longer now going to be one hundred percent it's still doing that auto mask but it's now fifty percent of that transition you can't see it because the mask right now but trust me it will be there and I may also come up here take that back up a little bit and a little bit more I can see that I'm you can see that yellow it's different enough from starting up here so I'm going to come up here and I'm going again do a little mask a little bit closer to the girl here hey still trying to get stay away from her let's actually take this to mohr of a purple because I can tell that I am getting some overspill like I said before you see a little purple under face someone hold on that option are all key and I'm gonna race I still have the auto mass turned on so it's going to go up to the edge of the little girl I started completely in the little inside the little girl's face so it knows what I wanted you can see that it is doing a mask around the hair but until I turned that mask off but I'm looking around the hand you can see it is a little another spill of the um on the arm but again it's also erasing intelligently and let's take a look at what we have by turning off that mask okay, that is pretty gone gosh darn cool and if we look at the story that we've told you can see how we're now making the little girl pop off the background and because it's not destructive weaken get his greedy is we want okay? We can also come up here and we'll say new we're just now add a little exposure and now turn off that auto mask and maybe come in here to the little girl's face it just to make that pop a little bit more maybe at some contrast and just you know, because that's the story so here we have a nose to adjustments we've got that hiding the pins okay so you can and you can see the transition is it as it moves in here um between what is a sect it is selected and what's not if we wanted to you notice that she's shooting fairly wide open with a nice piece of glass were getting a nice blurring in the background you can d'oh take advantage of that blurring which will do in a second or another project by going into here in this case I don't need to use the brush because I'm not going to go around her let's do one more targeted adjustment and for a first time we're going to de sharpen a file or blur a file watch what happens to the foreground with my adjustment here I'll zoom in in a second okay so I am actually blurring my foreground and the nicely is what I typically do with this issue may that's blur at minus one hundred anything over fifty is going to be giving you a blurring so sometimes I don't need all the way a hundred but I'll actually go click drag click drag click drag and what that's doing is I'm getting three different flavors of blur as it comes into the file so I can actually change that depth of field as it's coming in is it a true um okay no um is it going to give me the effect that I want for you know drawing attention into the little girl yeah works great. Fine. Okay, so that is the blurring um another uh blurring uh that would be on another project but I dio do that on here we did our retouching in the previous class keep bouncing back and forth and, um I'll just go ahead and show how I use it. That same blurring for some other techniques here is I'm doing the tango and the retouching that we did in the last class where we saw from the skin tone enhance the eyes um and it looks let's see what we've got here we've got a little bit of that eye these two eyes a little bit of circles under the eyes use that anti clarity and here's our skin softening right here, which is an anti clarity but when you have these flyaway hairs rather than retouch them out often times I'll just come up here to new and ah, come over here and do an anti sharpening and I'm basically just going tio b is if I, you know, was shooting a little bit more open with my camera setting and so it is okay just goingto soften that transition up and again I can do it you can't if you just keep on a painting on it it's not going to get more blurry once it reaches its little option um it's going to stop but if you say new and paint again and basically do another adjustment on it, you continue continue that blurring times like three or four times. In other words, I can't do a four hundred percent anti sharpened to blur. So you khun, do these, you know, settle transitions to imitate in a rough way a quick and dirty way a shallow depth of field? Yes used the feather of one hundred and then the density and float those settings. I always will use the feather its has its challenges in that feather adobe has continued to work on it. It's a little bit better in the radio filter. I'll show you in a in another project here doing something similar s oh yes, there's no reason why you wouldn't feather it um, one hundred percent flow. I always have a one hundred percent cause I'm not doing that subtle airbrush right? A cz you can see I work very, very quickly if I can't finish, you know an image in a few minutes. Well, then I'll just keep working on that technique in the sliders until and come up with it. That's the great thing about being a teacher that's I get to pull around with how how am I going to give you the highest quality, flexibility and speed? Everything that I do so um the feather is going to be up the flow is fine at one hundred percent the density I'm always going to have one hundred percent as well typically I mentioned when I may not have it since I have my sliders at my disposal if I want to make something more subtle I can't either change the overall intensity of the fact after the after the effect by changing sliders or I can use that little density trick take down the dense dietrich after the fact in a race a portion of it okay, good questions let's go back to speaking of that shallow depth of field here's a shot in chicago that I took here is it um doing the tango ok so again nothing shot into something that certainly is a wonderful image about the time in this clock here that you know maybe from a with but let's do almost a tilt shift effect as you may know that if you've got a variable focal angle lens what's known as a tilt shift you khun do selective sharpening on a portion of an image like a lens baby would be a type of a of a tilt shift so what we want to do is one shallow make the shell load up the field but almost target the focus to a specific area and for that we'll use that radio filter and we're going to do that same thing outside. Anti sharpened all the way at one hundred percent and we're going to come over here and click and drag and you can see starts off everything is blurred and I'm just opening up a porthole into a sharpened version of the image and we'll take our feather after the fact all the way up and you can see as I move that around it's the sharpened area and the top of the building is now out of focus okay so um that is giving me a nice little exaggerated sharpness on that image softening the rest of the images if I wanted to exaggerate that I think that's more than enough anything more than that you're probably getting greedy um but that's you know fine that's up to you move that around a little bit you can often take that feather down to zero and you'll see the transition you know as a stark especially if you let's take our exposure so this is how you can kind of see what the feather is doing is change something you know like exposure at the same time and that way you can see the sphere of influence of that particular effect I wanted to add more to it I could go back to that little grady in't trick and I can come over here click drag I'm adding it click drag click drag and now you can see how much blurrier it's getting as it's going into um that background okay, which I think is basically what we have here. So here is our starting tango um a little bit of blur whole lotta blur okay, well, I'm just I'm giving you a bag oh, tricks pull okay and back tosto targeted color we've got a few more things related to color. Um looks like we're doing good in terms of time. Another brooke crystal shot take this um over here we now we have the same obnoxious colors in the bouquet as we have in the bridesmaidsdresses. So that was your question before how can we target a portion of this image? Leave it in full color takeout color do that kind of controlled recovery. We saw how we did it with a grand pas knows but let's do it a dull, different way here and, um I I'm going to ask you guys to figure this out. I want to have the bouquet as is typical in full color and the rest beautiful black and white name two ways to do that using the adjustment brush yes, that one step one might be to saturate usually just impression d saturate the picture okay, we'll be step two well, let somebody else into them I'll answer that one because you're right, you could de saturate the entire image and then hold on the option all key and punch a hole in that d saturate erase where the bouquet is you've got it back to full color so that is one great way of doing it but it's not the greatest way so let's think about math again, as I mentioned, we're going back to our surfer math takes something away someplace bring it back in some place. Yes, we're about brush um the healing healing bryce we're not going to want to do any retouching you probably could do some really fun stuff with the healing brush, but it's more related to this idea of math, we're moving something some way and adding it back another way the clarity yes, we're going to actually use clergy exposure and then situation well, we are going to use saturation that's exactly what we're going to do the question will be how are we going to do to adjustments? The first concept you had was make one adjustment to punch a hole in it that's one adjustment I want to do to how my going to use to adjustments to do the effect set one pin but the brush to de saturated that said the new pin just for that one area to bring it back like the thirty sixty idea re saturate exactly right that's exactly right? And so what would do we'll do it that way there's other ways had it to do that de saturate, but that is a totally fine way of doing it. So let's, go ahead and do exactly that, but you're right the saturation in the brush so I've got a d saturate brush here, we'll do it! I'll take the brush up huge brush and I'm not even going to bother with looking at the mask because it's just scribble and that now I can punch a hole, I could just hold down that option key and erase and there's our thing back. So there's the first concept, but I'm not the reason why is by erasing it it's a anti adjustment there's, no adjustment there, I can't control it, I can get back to the original, but if I do two adjustments by coming up here and saying new and instead of being plus a minus one hundred saturation, I not go back to here, which is zero but all the way up to plus one hundred if you subtract plus one hundred minus one under, you end up with zero you're back to where you started, so it is going to do exactly that idea of coming us getting us back to a neutral, but the benefit of doing it this way is of course I have still now fifteen other adjustments in my disposal. Clarity as an example like that I can change the tent I can do whatever I want so I'm going to get first back by doing the saturation and we'll show the mask and we will auto mass we've got hard edged flowers here so what was the tip on using the honor mask first klick is completely inside the edge don't get anywhere near close to the edge click and you can see that it's actually how good that's doing it okay I mean that in some ways you see that little skip over there hold down my option or off anyways it's now going to get smarter okay that's a little troublemaker right there don't know what that is but it is actually doing a great masking job, right? I mean I'm going way down into that flowers it takes you two seconds to erase it some of these are pretty sold flowers but you can see I'm getting that hard edge when you're done with the hard edge aspect of it. What I often do will turn off auto mask and then do the interior so it doesn't keep trying to, you know, find an edge when you're not interested and then so I could just do the rest of that there have now done plus one hundred um in addition to that minus one hundred turned off the show mask and we're back to one hundred percent ok so it's exactly the same so that gives you that again that surfers math where minus went under plus one hundred exactly the same not how you would do it in photo shop you can't take out something in photoshopped remove contrast into another just plus contrast but now because that is its own separate adjustment I can come up here and I can do whatever I want I can add clarity to it to make them pop I could you know, make him fuzzy and warm I could shift that color if that you know, supposed to be this or that and the other thing that could make the exposure will brighter it's its own adjustment if I had just punched a hole I wouldn't have any control of it. The other thing that's nice in this way is if I come over here and let's say I do that little you know, anti clarity film wa effect okay? And maybe I take up my contrast and I dual shadow so now I'm gonna make that you know, pop a little bit more of the black and white since this adjustment is on top of that it's not a hole. So this little glow that I'm getting this nice little glow that is throughout is um well exaggerated so you can see how it's coming in this nice little room lighting is affecting this as well right? I don't have a whole so here's our before after before after ok good okay continuing on speaking about targeted adjustments and hand tinting let's do a riel contenting and again all these are from my three day class that creative life so if you've already seen these images purposely keeping with the same images so that you guys can go if you want all the files air with it all the you know, the presets, the files, all that stuff is part of that three day class and either a cr or like room it was my snake oil sales pitch right there. Okay, so I'm gonna come over here back to the adjustment brush world's most beautiful mother, yes and it's a true black and white the same thing could be done with this image here, but I don't use my mom's image instead this would be an example of another brooke crystal shot turned into a a light black and white and then we content on top of it, but we'll just go ahead and do this and we're going to come over to our adjustment brush and on ly use this one little colored swatch down here and if we click on the plus remember it's going to reset all the other sliders and here I'm going back to our light room for a second so if we come over here and just for thie purposes and in that re touching one back to the library back to the effects back to mom back to the developed module back to the adjustment brush and our little color tent right here so it's the exact same thing that we're going to get in just a second over in adobe camera and so click on the plus click on our swatch and basically what this is doing, you'll notice that you have two parameters you can change saturation and you know, luminosity we'll get into that just you and saturation, which is really all you want um and we're going to start off with choosing something that would be like a skin tone like a brown and we'll just say ok that's a little heavy handed and I've got a nice big soft brush so again looking over here at flow under percent density hundred percent feather all the way up size is based upon whatever I'm working on and, uh we'll just do skin tone and so I'm going to come over here and just very quick and you'll notice I'm going over the blouse I'm even going over the eyes in the teeth, okay? Um because one I'm not trying to imitate a photo realistic coloring of the image of trying to imitate how hand tinting was done one hundred years ago and that's when a bunch of, you know, forty nine er gold miners were lining up in the door to send a picture home or civil war whatever and they had a very limited number of colors half a dozen at the most, you know? And they were done very, very quickly very sloppily with these translucent dies this's what we're getting so I will hold down my option are all key and I'll just come up here and I'll do the teeth and again, I'm going to purposely do this really quick I'm going to say new come over here, no, not undo thank you. Click on that it's one that is the mask overlay and come over here and let's do a kind of a green background we've actually got it being here and I'm going to do this for the background and again, I'm going to be sloppy going to go over the hair a little bit as well. Okay, great done move on new color swatch let's do a blue little blue here come over here blue, as we all know, since there is no white color if you wanted to do blue, whether an old tinting or in comic books as an example, what was super man's hair color blue, right? There's obviously meant to be black hair, but you can't just do black so it would be blue, so a little blue tent and I'm putting it in both the hair and in the blouse and let's go ahead and make that a little bit more saturated and we'll find tune you can see how I can find tune that all being nice and nondestructive let's do last thing make up okay new swatch put in a little red come over here cheek pop pop come into the lips ok you'll notice that really great interface thing I had a nice big brush was big enough for the entire cheeks I zoom in I don't change the breast size and it's a smaller brush why? Because it's relative you zoom in and get smaller great ingenious interface and now I'm gonna come over here and just do the lips I can do that same sort of thing here where I come up and then use my eraser to kind of you know playing tune that thing yes question over there does it call this watch have a color picker I've I've never been able to find a color picker following a match that color swatch toe a color that's already in there I can't I have to guess no some point there was some little hidden easter egg will you come over here and you click and drag and then you khun you know go outside of it you can see how it's you know moving and it seems like it's choosing a color from within the file it's really not all it's doing is that it reaches the edge and as you move around it's just it's stuck on that edge. Um I don't think there is option command shift ald that's a been wilmore question binges sits in a dark mood all day trying different keyboard combinations and he's found them all he's awesome! Just kidding been anyway and so let's actually. So we've got our little hand tinting here let's hide those pins and here's our before after before after really should be another one of those things where it should be about two minutes to do it because if you're spending more time it's not going to look like a hand tinting, the more it looks like kind of a sloppy hand tenting, the more you're going to be able to charge it as if it was a hand tenting it's not that digital look to it and that includes the overlay, but the great thing about this is that the fact that you have mohr than certain things at your disposal so I'll come up here and we'll change that saturation okay to exaggerate if it is kind of that exaggerated look post world war two years might mom was a world war two bride dad fresh off the boat, having um, or in the background let's go to the background again rather than a photo shop where we'd be limited to one thing, I want to take the background and I'm going to do take advantage of the fact that I've got that clarity because we now know that clarity right does that little diffuse chlo and I could exaggerate if I want to make her pop, but I like that diffuse glow that little film noir you know gelatin on your lens kind of look and I could also take that exposure down if I wanted to at the same time so you've got this and I can I think I also wanted that's a little bit too yellow, so we're gonna come over here and make it a little bit more brown so fine tuning all that excellent great wonderful fun kick in the pants um and it's going back to the reason why we elaborate and embellish no one is going to look at it and go well, that was an instagram filter it's obviously somebody did something with it because it is very organic looking and natural ok? And here is this images to show a another one so this is a little hand tinting on this from here to hear completely different story has got the wonderful hair style going on here is a little landscape and infrared and a little tent here okay, same thing when you congar go in and fine tune any one of these elements in this case I think on the little church this is over in hlava valley on the island of mallorca in hawaii I would tell you about my creative photography for the sole event that's put on there every year with two national geographic photographers but it's sold out yeah I'm only doing one week this this year so anyway so the little church here we could obviously change the color to a little red church and we could also come up here and that clarity you'll notice that I can exaggerate almost kind of earnhardt deco airbrushed the edges of the church at the same time kick in the pants okay speaking about molokai will do one other special effect here we're coming up for the end of the day uh infrared foe in for it that's another little thing I get to mention that you guys may have mentioned that one thing we've got coming up in may looks like we've got some dates already I'm going to start a whole new siri's I'm here a creative live on creative photography techniques which will include infrared quadcopter hdr underwater motion blur macro basically any little technique that you could use tio get your motor running back with your photography and so that's going to be great and that one of those first classes will be infrared and I love true infrared this image right here is a true infrared um here and it just it's, ethereal and and I just love it and you convert a camera to shoot just infrared, but oftentimes with infrared. What we love about infrared is this high contrast nature of it the dark jet, black skies and the light foliage ah, ansel adams would shoot not an infrared, but he would put on his orange amber red gels on it to cut off certain portions of the spectrum and give him the black skies. So he was basically doing a type of, you know, infrared or isolating a portion of the light spectrum, but in this case, how can we do it with a black and white? And so we're going to go back to our hs l panel that we did before, and we will, um, convert to gray scale in this case, I don't even need the color, I'm not going to do any little trick on it, and I'm going to come up here and just simply do what we were doing before, maybe take our yellows and our greens up and are blues and purples and see even the ark was down and we'll take even our oranges up so you can see that we can actually get a, um, nice rendition of the dark sky slash light foliage, especially if we use it because oftentimes the older infrared I actually did have quite a bit of drop off on the edge or been yet and we're going to come up here and add a dark then yet taking advantage of that highlight slider that we've done in previous classes to keep the whites nice and crisp as they come in. So um and let's do two other things what others? There are three things that were associated with traditional film based in for it, which I hope you've never ever have to do in your lifetime because digital infrared is awesome no tripod fast shutter speeds it's great um three things one and exaggerated and yet to a high noise because of the high sensitivity of the film and three because they were long exposures they had a glow associated with them that long exposure actually builds up light on the film, so we've got our vignette here are noise what you probably know right up here in the same place where we did the vignette is our grain right? So you have grain tip I'll give you hear is you can take that amount of grain up but don't get too carried away with size because that will actually reduce the detail in your file if you take the size up, you'll notice that your image starts to soften so amount knock yourself out, you can take roughness if you want more of that, you know large silver grain effect, but it's a beautiful way. How to add your noise in the last thing is that glow. How do we do glow you guys all know it. Clarity. A little. Anti clarity is going to give us our little infrared glow, which, by the way, if you want, you can add that little anti clarity to digital infrared, because it doesn't have that glow it's, not along it exposure, and you can actually get, you know, a nice, nice effect that way.
Class Description
Learn from Jack Davis the quick and easy "Wow" techniques behind creating special photographic effects like luscious high key black & whites, turn-of-the-century hand tinting, "instagram" cross-processing and antiquing, and even changing depth of field - all done with the latest Adobe® Camera Raw - quickly and easily - without ever using a single Layer! Also see how to create invaluable Presets and perform Syncing tricks to quickly apply these enhancements to multiple images at once to dramatically increase your productivity.
Software Used: Adobe Photoshop CC 14.2

Reviews
Very useful for me. I guess it depends on what you are doing. I imagine I will be reviewing this many times, as there is so much good stuff in here.