Photoshop: Adobe® Camera RAW
RAW vs. JPEG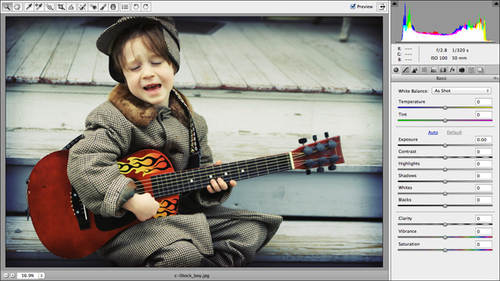 Photoshop: Adobe® Camera RAW
RAW vs. JPEG
Lesson Info
RAW vs. JPEG
So today we're gonna be talking about Adobe Camera Raw seven, the newest version of the software that gets installed right alongside photo shop and photo shop elements. Yes, you also get camera off he and saw elements. It's a little bit. There's a few tools that you don't get, but for the most part the sliders and the basic panel, which is what we're gonna use to create to correct exposure and atonality of our images. All of those air, the same in the the one you get when you start element. So that's an amazing thing. Before we jump into camera raw, I'd like to share with you a few things here air we dio. So you might wonder why we're looking at a photo of ingredients, perhaps for some quality banking. Well, that's because this is how I like to think of raw files as raw ingredients, unprocessed un compressed goodness that you can make all kinds of wonderful changes Teoh to correct the color and lighting in your images. So that's why we've got ingredients here. Also, I'm happy to share ...
with you a discount from istock photo dot com. So if you've got any great imagery that you'd like to blend with something else. Let's say you took a shoot of a wedding and you wanted to blend the happy couple's photo with the oh so romantic Bed of Roses. You might not have that better roads a shot. So that's a good opportunity to use stock imagery. I stock photos my my favorite stock imagery side. And always tell folks, if you can't if a bed of roses isn't the appropriate in minister, blend your photo with well, then you can find the right image on dot com, even if it's a bed of nails and I stopped has been kind enough to give it all the students that creativelive a nice little discount on credits 20% off, and you can take advantage of that special deal by going to istock photo dot com slash creativelive dot p h p. So I stopped photo dot com slash creativelive dot PHP. All right, before we jump into the actual software, listen in just a few moments, talking about the differences between shooting in raw format and shooting in the J pic format again with the ingredients for baking analogy on the left hand column here, we can see how J pegs are processed. So, for example, a J peg, to me is like a baked cookie, whereas raw is like the raw ingredients of a cookie. Ob did all David out into those nice little bowls that we know you get when you walk into any kitchen on the Food Network, right? All the ingredients are divvied out in those wonderful little bulls. I haven't figured out how to make that happen at home yet, but to me, that's what raw images are there, unprocessed their un compressed there like a negative. They contain maximum information about your file, maximum color, maximum mining information and because there's so much information there and it hasn't been processed in any way, they are infinitely flexible, far more flexible them J pigs. So if you compare raw ingredients for cookies with an actual baked cookie, think about how versatile the ingredients are versus the cookie. What can you do to a cookie to change it? Well, not a whole lot. You could frost the darn thing. Add Sprinkles to it. No, that's about it. But with raw ingredients, you can take ingredients out. You can add chocolate chips, you can add some nice MCA. Damien. It's You can do all kinds of of things with the raw image. Also, Jake egg images are undergoing some processing in your camera. He may not realize it, but your camera is adding a little bit of saturation, so you get a little bit of color boost When you're shooting in JPEG, you're getting a little bit of noise reduction, okay? And you're also getting a little bit of automatic sharpening that's going on with a raw file. Your camera doesn't do anything to it. It is the raw data. So what that means is if you compare a J peg with a raw file, and I would invite you to do that if you're not shooting and raw already, go ahead and dig into the menu system of your digital camera and you can turn on a feature that lets you capture a J peg and a raw every time you snapped the shutter. Cain. That that would be a neat thing to do for a little while. It's gonna eat up your memory card very, very quickly, cause raw files or honking big, But nevertheless, that would be a good exercise for you to do. However, if you compare age a pig with a raw file, the J pegs and I look far better because it's got a little bit of that in camera processing going on. So it's gonna look a little sharper is going to look a little brighter. The raw file most always will look like crap next to you, Jay Big K look very flat. It will lack contrast, Okay, but we can fix all of that in the camera. Raw software. Another neat thing about shooting in raw is that you have the ability to change the white Malins after the shot. In white balance is simply your way of telling the camera what color the lighting is. Are you shooting under tungsten lights? Fluorescent light three. Shooting under the light bulbs. Are you shooting under sunny atmosphere or you shooting in a cloudy situation? What is the color of light? Because any light source puts off a color caste to some degree, so if you happen to get that wrong in camera, which I am really good at doing, I get so excited because I'm shooting, shooting, shooting and one lining condition and then the lighting conditions will change. For example, I'll be outside and then I'll go inside and I'll start shooting. And then when I come back home and I apple of those those photos to my computer, I wonder why they're all blue, because the color of light that I told my camera was shooting under was wrong. But happily in a raw file. Since it hasn't been processed in any way, you can change that color of light called white balance right in the software with a J. Peg. You can't do that. Yes, you can. Color correcting. And yes, you can use other tools to make it look like you're really changing the white balance. But you're not really doing that. Okay, so raw file is far more flexible, especially in that aspect. One more thing to mention is that raw format produces enormous file sizes. I'm talking gigantic, huge honkin files, and when you purchase this course because we know you will and you download all the exercise files, I don't think there's a one of them that's under megabytes. I mean, they're just they're very, very big in the painting upon what kind of camera you're shooting with, I shoot with a can and 40 D Those files will be even larger. If you're shooting with a five day and so on, they're gonna be honking. Big J Pig produces a far more manageable file size. Why? Because there's compression happening. Okay, so tiny, tiny, tiny bit of the detail in your image is being tossed in order to create a sought, slightly smaller file size. So these are just a few things to keep in mind why you might want to shoot in raw instead of J. Pig. I started out shooting in both for a while until I got sick of feeling at my memory card instantly, especially cause I shoot on burst mood because I don't often carry a tripod. So I like to put my camera on burst mode. So that means if I fire off, let's say three shots of anyone seen that shot in the middle should be the one that sharpest, because when you depress your shutter button, you can introduce a little bit of camera shake. So if I depressed my shutter button and hold it down and I fire off three exposures, the 1st 1 might be a little bit blurry. The last one might be a little bit blurry because of the act of releasing the shutter button, but that one in the middle ought to be the sharpest. So if when I was shooting with JPEG and raw capturing both file formats with each depress of the shutter button, you can imagine how quickly I was blowing through memory card. So I shoot withdraw exclusively now, and I just I wouldn't go back for any reason.
Class Description
Lesa Snider takes a deep dive into the power of  Adobe®'s Camera RAW tools.