Photoshop: Content-Aware & Cloning
Removing with the Patch Tool Part 2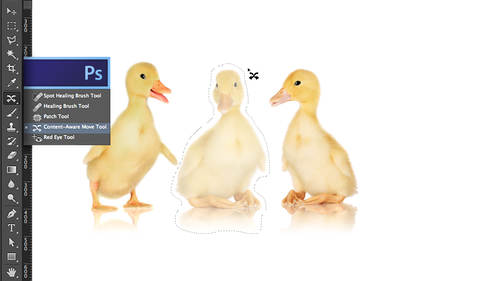 Photoshop: Content-Aware & Cloning
Removing with the Patch Tool Part 2
Lesson Info
Removing with the Patch Tool Part 2
Here we have a scare but let's he's our option ault visibility eyeball trick to see the original image way had another scare in there so this is going to take a little bit more work but you'll be shocked at how good of a job that the patch tool in conjunction with the clone stamp tool can do. So what's our first job creating new empty layer onto which we're going tio zack the competition now it's we still have the past show active, but for this one I mentioned earlier that you could use any selection tool that you want to create this election and then switched to the patch tool let's do that so we're on our empty layer there's really only one selection tool that were work on several layers at one time and that is the quick selection tool which also happens to be a great one to use in this particular image because we've got decent contrast between that skier in the the background area so activate the quick selection tool in jump immediately to the options bar and turn on the sample all ...
layers checkbox did you guys know that you could sample more than one layer with a quick selection tool that's right fools in minnesota bit so now we come over here and using our bracket keys the left and right bracket keys next to the p key on the keyboard peeper paul mccartney then you can paint a selection onto that skier and remember when you're using the quick selection, told that the area photoshopped grabs is proportionate to the size of the brush cursor. So for skinny little things like these little bitty like a little bitty skis or the boost there, then you definitely want to make your brush size really, really small. Now what happened as I was clicking and dragging to add more to the selection, I added too much a couple of different things you could do at this point. First, someone make my brush a little bit bigger so you can see the icon that's inside of it. Right now, we've got a plus sign on the inside of that brush cursor, and that simply means that the tool is in ad to selection moves, so clicking anywhere else on the image is going to add to that selection. Well, you can put the tools into subtract from selection mode by holding down a modifier key, and that is the option key on a mac or also the pc. So when I do that, watch inside my brush cursor and see how it changes from a plus sign to a minus so that's just your visual indication that the tool is now in it's a trash from selection mood so while I'm holding down the option key, I can come back over here and brush across the area that I didn't mean to include in my selection first place to get rid of it. So then when I released that modifier key, then we're back in addis election mode well, that's all well and fine, but typically you're not going to be able to get just the selection you want with the quick selection tool because you'll either end up with a little too much in this election or not enough a great way to find him in this selection visually, it's easy easy peasy is to pop into what's known as quick mask mood so we're going to press the cuchi and you'll go free caps we're going to repeat this I could just feel you're going oh my okay so when he popped into quick mask mood what photoshopped does is it gives you a nice kind of light red overlay across the areas that are not yet included in your selection and just to make sure that your quick mask mode feature is set up like mine, I want you to go ahead right now and locate the icon at the very, very bottom of the tools panel looks like a layer mask I connell circle within a square I want you to give that little double click and what that does is open the quick mask options and do make sure just for the purposes of today, I want you to make sure that the color indicates masked areas because you can flip flop that but I want to make sure that we're all using the tool in the same functionality okay, so go ahead and make sure that that is set tio indicate the masked area or the area that's hidden okay, so press cue to pop into quick mask mode now what we can do is we can use our regular old brush tools set to paint with other water black and that will just allow us to guaranteeing the selection simply by painting threw in a zoom in a little bit I'm in a press bead activate the regular brush tool and go way down and brush size here and this is going to make it a little bit easier for me. Teo select thies small areas so while you're painting with white, you're adding to the selection so I'm gonna press cue to pop back out of quick mask mode and you can see that now I've got the ski pole in my selection I didn't have that in this selection before can you imagine trying to paint across that? Teo added to this election with the quick selection toll you'd be here till next week doing that so pop back in the quick mass mode so this just allows you to use a brush tool to quickly paint in order to find him the edge of your selection and again I'm making my selection a little bit bigger than the thing I wanted to leave just so we don't end up with any freaky skier outlines when we get rid of him okay? So now I've got a pretty good selection now let's say that I added too much to my selection well I'd have to do is flip flop my color ships by pressing the ex key so that I'm painting with black and I can just remove that area from the selection so takes a little bit of time but in some cases when you don't have a whole lot of contrast between what you're trying to select and what what it's background is been popping in the quick mask mode starting out with a quick selection total popping in the quick mass mode and find tainting the selection there could be very, very handy and again, we're going to walk through that again here in a second when you're finished was press cue to pop back out of quick mask mode and you can evaluate your selection and my looks pretty good snowmen easing back out a little bit so we can see more of the image scoot over now we're ready to switch the patch tool, but that would have been really hard time consuming tio hand draw selection with the pashto itself so don't think that you are forced into doing that make this election with any tool you want use any method to fine tune it then switching paschall so now we can just go straight to the setting the sample point so if we click and hold on our mouths button inside of our selection then we can begin dragging it around to the portion of our image that might work best for the patch so I'm going to try something in this round because if you can see here his head is covering up a little bit of the tree well I need a piece of the tree to make that part of the real you know this right here probably not gonna look that realistic but something over here it's going to look more realistic so let's let's give that a go so I released my basket and and put a shot tries to do as good of a job as it can to perform that patch now before you get rid of that selection let's trot up to the adaptation menu in the options bar and let's start running through those different algorithms and seeing which one looks the best to us I've got a little bit of an area down there that I didn't include in my selection but that's so little what tool would you reach for to fix us that one little spot is about healing brush would be perfect six that little area, so I'm not that concerned about that spot right there, so let's keep trotting through the different algorithms so far, medium to me is looking the best. The street doesn't look very bad, either told us we'll settle on medium and then press come and be your control d to get rid of your selection and then come back in and do your cloning or spot haley et cetera to make the patch look more realistic, so let's, go ahead and create another empty layer. We'll call it spot healing, grab a spot healing tool with a keyboard shortcut shift j, just watch for its icon and then come over here in either click, click and drag to fix that area, and it looks like I can see a little bit of a ski pole over here. A little bit of a ski pole outline left over, so for this one, because that area is a little bit blurry anyway, it was blurry when it was captured. You could probably get away with using a blender for that one, which would be either the spot healing brush or the regular healing brush if you needed to control where the sample point was coming from, so if this area in the image were tax sharp than I would use the clones santel instead of the spot healing brush in this area but we're just going toe fix up a couple of the areas that didn't didn't fare so well and our patch but you can see before and after that's precious few areas to have to touch up I mean just look at what we did here which is pretty darn amazing I mean hello way took a guy completely out of the image and it wasn't like some of the other images that we've worked with and we didn't have perfect background around it you know this is pretty complicated the selection was a little bit more difficult to create but wow and it didn't take us that much time ok? So let's talk through that again shall we go and delete all these layers in my document don't delete these at homes turn there visibility's off so let's have another go so the first thing we're going to do is trade in the empty layer we're going to use our patch tool to zap the competition when you like to do this your life to have somebody hanging out with you and just like you're on my planet, people are saying that you have issues okay, so again we're going to have a go at this with another selection told not the patch tool that's hard to hand draw that selection around such a shape that's irregular like that go and make your new layer grab the quick selection total make sure you've got sample all layers turned on for the quick selection tool you can even turn on auto enhance if you want auto enhance option for quick selection just means photo shop is going to try to help guess what you're selecting in orderto get a selection of it more quickly. Sometimes it works sometimes it doesn't, so I'll leave that up to you if you want to turn that on or not. So we're going to get the bulk of our selection by either clicking or clicking and dragging with the quick selection tool when it becomes too difficult to do like we need to select the pole over here in the skis down here. There's not enough contrast for photoshopped to do a good job, but that if we start trying to select that area, we're going to get a bunch of snow in our selection that we don't want. Okay, so india my last step tio not include that selection. So now let's, use the quick mask mode to fine tune our selection quickly, visually by painting, so we'll press q to pop into quick mask mode and photo shop is showing us what area is selected right here said the full color bit is selected the red overlay in the case. In indicates what is not selected right now so let's grab the regular brush tools at his press be to go to the regular brush tool is right here in your tool set and take a picket your color chips now to be honest with you, as long as I've been using the program and as long as I've been teaching it, never once have I ever remembered right out of the gate which color to paint with in quick mask mode I just my brain doesn't hang onto so what I usually do is I just go ahead and paint a few strokes and I'm like, ok, well that's taking away from this election I want that video and then press x to flip flop your color ship so with quick mass mode set up like this so that the red overlay indicates what is not yet selected, then you're going to paint with white too add to that selection you're going paint with black tio subtract from this election so with why is my foreground color ship? I can come over here and pretty quickly expand the edges of that selection, right? So we catch a little bit of the background quickly pain over the skis, which would be nearly impossible to select anyway and quickly and you don't have told on your mouse button at all, but you didn't quickly come around here and find two in the selection without having the madness of you know using that quick selection tool to get it just right you won't be able to get it this ride with that in most situations now your next question is going to be well if I'm skilled with the pen tool can't I just use the pen tool to quickly draw a path around the object and then load the path as a selection? Of course she can he show off yes you can so that when you get this election just right and again if you kind of mess up here painting with the brush tool in quick select in quick mask mode all you have to do is press x to flip flop your color chips see how black hopped on top and it was our background color a second ago and then he could just come over here and quickly remove that area from your selection when you get it just right press q and you can see there's no limit to how many times you can pop in and out of quick mass mood if you pop out of it like this and you see old dead women I need to work on that selection a bit more just press kun pop back into it and keep on working at it until you get it just right when you're finished press q and then switch to patch tool so we're gonna seem out a little bit and scoot over only because I know we're going to use this area of the image for the patch now, it's switched to the patch tool tap shift j or just activate the tool from the tools panel. Make sure it's incontinent where mode makes your sample all ares is on don't even look at what this new city mouse over point your cursor inside the selection click and holding on your mouse button in drag that selection tio a portion of the image that looks like it would work best for the patch and again, we need to replicate the bottom of that tree trunk, so I'm gonna try to find an area with snow and the corner of a tree that I can use to make it look more realistic. Go ahead and release your mouth spin trott straight up to the options bar and go through the adaptation you need to see which algorithm is going toe look best for that particular patch. Let's say medium looks pretty good press commander control d two d select, maybe zoom into your image a little bit evaluated I see a little bit of peace see how I did a completely different job this time and we had nearly the identical selection, but we don't have the problem on the tree trunk like we did a second ago and we don't have the problem down here in the snow like we did a second ago but we've got a little bit of a trouble spot right here we get a little bit of that ski pole left over so we just add another layer in, you know, depending upon what tool you want to use to fix it if the area of the image is tax sharp, then I would probably try to use the clone stand toll, but since we have a little bit of a blurriness just because of the depth of field, then I think the spot healing brush will do a nice job and weaken just either make it large enough to encompass the thing that we want to correct or click and drag with it and then let's zoom out of our image to roughly the size that it might print and evaluated again to see if we need to spend a little bit more time on it and then certainly when you're doing any of this these techniques you want to make sure and save your first shot documents as a really photoshopped document so let's say that this was a j peg that we'd opened up straight from our camera well, we would wanted to use file save as and depending upon how you have your directory structure set up you know, I typically when I import my photos, I important them into a photo that's named for the event with a day, so, you know, maybe maybe maui, october two thousand thirteen, etcetera, that's where all of my original d angie's my negatives or if I'm shooting in raw format, or j pegs that's, where all my original captures go and inside of that filner, I have another folder called processed and that's, where I'll save any of my photo shopped documents because, to be honest, I'd be very touching in light room, so I often don't need to go into photo shop, but for stuff like this, removing complex items, you're never going to get it done in light room, removing little blemishes and little things. Sure, you could get that done in light room, but this kind of stuff no way, jose, never gonna happen, so you will have to go into photo shop. So when you do this, make sure that you say that document and choose photoshopped from the format poppet menu, and that is going to keep all of these layers intact. Let's say, if you have, ah, large format in jet printer at home or you send it out to a lab and you get the image back and you think, oh, dad, gum it there's a little piece of something left over from that thing that I dilated like it means a little bit more work, then you can simply pop open this photo shop document in all of your layers, air right here so they need you can go ahead and add another layer toe find him just that one spot. You just don't ever want to have to start over on this kind of stuff. So before we move on to something else, anybody have any questions on the patch to? Oh, you bet we do. Ok, so this is from laws on photography, and they asked. I noticed that when I used the patch told there's a color shadow shows after the patch tool works, how do I get rid of the color shero that exist after the natural that's? A familiar? Well, without seeing the image, I can't say for certain, but it what I would try is expanding the selection because it sounds like that might be a little bit of an outline that's being left and blended with the surrounding background, so I probably make my selection a little bit larger and see if that helped.
Class Description
Ready to take your Photoshop skills to the next level? Join author of the best-selling Photoshop: Missing Manual book series, Lesa Snider, for a full-day immersion into Photoshop's Content-Aware technology. Lesa will cover everything you need to know about Content-Aware technology, in which Photoshop intelligently analyzes your images for optimum results when resizing, removing, or moving objects around. You'll learn concrete and practical uses for all of these tools including Content-Aware Fill, Content-Aware Move, and Content-Aware Patch, plus you'll learn how to use alpha channels to get the absolute most out of resizing your images for specific output sizes with Content-Aware Scale. And when these tools don't do a perfect job? That's when the Clone Stamp tool comes in! By the end of this deep dive, you'll have mastered the art of using all these tools non-destructively for maximum flexibility when editing your images.
Software Used: Adobe Photoshop CC 14.1

Reviews
LOVE Lesa! Her very down-to-earth approach makes her workflow easily understandable and replicable. It's not just aimlessly following steps, but nor is it relaying concepts and then good-luck-to-you on how to apply them. She has great examples and a wonderful sense of humour! I've learned a lot from several of her courses.
This is a great course. I work for a clothing company retouching and post processing photos of the models. Being able to remove wrinkles from clothing and make it look natural is critical. Lesa does a great job of teaching the various methods of repairing everything from wrinkles, to color and texture. I go back to it often when I feel I'm missing something.
Excellent course. Downloaded prior to a trip to watch on the plane.