Cookie Cutter Tool
Lesa Snider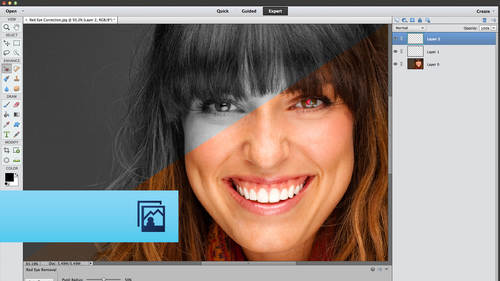 Cookie Cutter Tool
Lesa Snider
Lesson Info
18. Cookie Cutter Tool
Lesson Info
Cookie Cutter Tool
So when we left off, we had looked at how to use the refined edge dialogue box to add a really creative frame to the edges of our image. So let's continue in that vein, but use a different tool in elements called the cookie cutter tool. So even dealing a lot with cats. So we want to give dogs the equal stream time. Here s so this particular frame was created. It takes a second to realize what you're looking at. Here it's that is a Chihuahua trussed up as a turkey. So Elements has this amazing tool called the cookie cutter tool, and it really is just a a crop tool with interesting edges on it. So that's built into the program. This is one example of the built in frames that we have. And here's another example. But to the Caretas here. So if we look in my layers panel, you can see I've got the original image hanging out here that we're gonna use again. But if I turn off this color solid color feel layer that I created so that you can see the transparency checkerboard, you can see the sha...
pe of that frame that we used. So Cookie Cutter told Makes sense, right cause a real world cookie cutter. If its star shaped, you press it into the dough than the dough is gonna be a star shaped same kind of situation here, so I'll turn off the layers that I made for you and turn on the original layer. So the first step in this technique is to duplicate that layer by pressing commander controlled J. Now we're going to go grab the crop tool lives at the bottom of your tools panel, an expert moon, and then the cookie cutter tool is an option for the crop tool. So you just click that little funky looking shape next to the crop tool and you get the cookie cutter tool. Now this tool has been in the program for several several several versions. It used to be accessible from over here, but now it's accessible inside the options bar, but the same tool. So from this little preset picker, we can see all the built in shapes that elements has for us now, straight from the factory. We're just seeing the default shapes, and I can make this pain a little bit larger by clicking and dragging the right corner of it so that you can actually see it. Those are just the default shape, so those are as unexciting as it gets or lame. But looking all the categories we've got look at all that. So from this poppet, many right here, let's choose all elements shapes, and I think you'll be impressed. Now we've got a little scroll bar here on the right hand side. Look at all those shapes that you can crop your images to. Thes are the ones that I personally like the best. These are these, like brush strokes edges, So these were really useful. Here's a heart shaped one will use that one in a second. All of these things will crop your image to the shape of the thing. So with these faces up here, you'll end up with the photo just being in the black part. So wherever you see black, that's where you're going to see the photo, so not sure how useful those are. But if you were to apply them to a solid color layer, then they might become more useful cause you'd end up with that solid color shapes would be an outline of one of these faces. So many different opportunities here for creativity. Their symbol, footprints. He'll sheriff's badge. I hope the scrap bookers out there really foaming at the mouth right now I got no those were in there. So all kinds of interesting shapes that you can use all thought bubbles. But let's go back up to the top and find those shapes with the brushed edges, so I'm gonna click the shape to activate it. Then I'm gonna click down in the panel, just toe close that little pop up window and then click to minimize our options bar. And now, to apply the shape, all we do is click and drag atop the image. Now, if you want it to be constrained to be proportional, you do need to hold down the shift key for this one. So see how that changed when I through the heart. So if I release the shift key, then I can really customize it. And she love it when your document scrolls and you don't want it to. But if I want that heart to be perfectly proportional the way it was drawn, then just hold down the shift key and it constrains it. So while you're doing that, if you want to move the shape around atop your image, you can press and hold the space bar and you can scoot around on your image while you're still in the act of drawing it. It's like we're in Scrolling Hill. There we go. OK, I'm still holding out my mouse button. So that's the thing about this particular tool is you really got to be careful where you position because you don't get a second chance with it because it's just gonna delete the pixels outside of the frame so that with my mouse button down and the shift key down in the space bar down, I don't have a lot of hands left to control my scroll bars. So I'm just gonna release all those keys. There we go. And now you can continue to fine tune the shape if you want reposition it atop your document. But the minute you press that little green check mark or press return, it gets applied to the image. And since I turn off that visibility, then that is the end result of what we've got here. So fun little thing for using with scrapbooking. Saul. Just undo a couple of times or press the undo button at the bottom of your interface. Enlist it one more time. Well, she's a different shape, so we're gonna choose the crop tool. Now. If you look at my tools panel here, you see that now the cookie cutter tool appears over there. The tool that you used last is what you're going to see over here. So until you use that cookie cutter tool, the only way to get to it is down here in the options bar when you click the crop tool. So it looked like that. So you just click the crop tool and then click the cookie cutter tool. But just remember that when you want to get back to the crop tool later on, just give that to a click. And then it's choose crop from the options bar, so we'll go ahead and close that hopes I want. I want to choose a different shape. There we go. So I wanted to use this one right here because it's more vertical in nature. So work out better for a portrait aspect aeration a picture. Okay, coz that options bar and now click and drag to draw the shape on top of your image. Super Keep Kitty a little bit of an angry kitty. Maybe not too happy. People's air dilated Press return. When you're finished, you click the green check mark. And now, since we've got those creative edge is we need to add another solid color layer so we can do that from the half black, half white circle, the top of the layers panel, and we could just pick another color. Now what if I wanted to pick up a color from the image for my new background, then immediately press okay, dragged that layer below the photo layer and now double click that icon to bring the color picker back up. And now we can mouse over to our image and we can snatch up a color that's in the image. And I really like to do that, because if you if you're building a new background like this after you've masked photos edges instead of sit there trying to recall color theory that you had maybe 15 years ago for me, then you can be assured that the new backgrounds going to go with the photo if you steal the color from it, so we'll just do that party. Can I'll delete this layer. So let's say we're right here. We add this solid color layer, then it immediately covers up our photos so we can't see it. That's fine. Just click OK, then click and drag it beneath the layer that you apply the cookie cutter tool to now double click that layer thumbnails or reopen the color picker. And now you can mouse over to the image and snatch a color from it. But that's the a surefire way to know that the color that you pick for the new backgrounds gonna match and looked like it goes with it now. What's the next thing that we're, I mean, practically required by law to do to this framed photo? Anybody? Anybody drop shadow people Come on. So click the effects button at the bottom of the layers panel, and this time we're gonna use the styles section. I wish that said layer styles so would give you an idea of what's in there and then from the resulting pop up menu, we're gonna choose drop shadows Now, these applying these presets are a double click affair. Like we apply the color tent earlier. So the shadow that I normally go for is either this one or this one. They both have a soft edge, but you can control the distance of the shadow from the from the object after you create it. So just give one of these thumbnails a double click. Now we've got our drop shadow. Now, if we go back over to the layers panel, we can see that right up here a little FX has appeared to the right of the layer name that lets you know that a layer style has been applied to it to customize that layer style. All you do is double click that little icon and up pops the style settings, dialog. Yeah, I folks don't realize that just because there's presets there for layer styles, they think that you can't get to a dialog box to customize it. This part's a little un intuitive because you have to go back to the layers panel and the double click that effects. But they all could be customized. So now you do several different things. You can change the opacity of the shadow. You can change the distance by dragging this slider here, but if you mouse over to the image it cell, you can click and drag to move the shadow around independently of the object. So that's what I usually do, because I could not tell you what angle I want my drop shadow to be. So I like just clicking a dragon and around on your document. And then when you're finished, you can just click. OK, and there's our final little image key, didn't it? So, same thing here. I've got an original image in the layers pain before you. So just turn off the visibility eye of the layer that I framed. Turn on the original duplicated when you're practicing this at home after you purchase the course, then we're going Teoh, go grab the cookie cutter tools already active. Click the tools options, but in the pop, open those options so we can get those other shapes. Do you make sure to choose all elements shapes from that poppet menu at the top of that box Else? You're only going to see these, and you're going to think that something's wrong with your coffee of elements like I didn't get those shapes. How come you have all those shapes you have them to use? Have to love them? So now let's scroll down. And here's that bubbly looking shape and then just click anywhere on this panel to close that and come over here to the image. Click and drag. If you want it to be proportional, hold down that shift key. Can you get it about the right size and scream If you want Teoh when you inter scrolling hell and then this. Release your mouse button and continue to find. Tune that frame and you can reposition it atop your document by clicking and dragging it. And when you get it just right, press return or click the little green check mark. And then now it's time to add the obligatory drop shadow. And we do that by clicking the effects button at the bottom of the Layers panel and then choose styles from the top of that panel from the pop up menu underneath that choose drop shadows and again, this is just elements way of trying to keep you from being overwhelmed by showing you a BA jillion options double click one of the presets To apply it. Switch back to the layers panel. Double click that little effects icon that appears, and that's where you can find Tune the settings of that particular layer style Click. OK, let's say we hadn't added that solid color fill layer yet. We can do that now, or Grady or pattern. Whatever you want. Your new background to be closed this guy up. Drag him beneath the layer that we frame now open and back up. And now I can mouse over to my image and steal a color that lives in the image. The little garish. But okay, good times, good times. So let's say that you are now ready to save this out, but you're gonna place it on top of something else. Let's say you're gonna put this in a presentation. How to dress up your dog. I don't know. You're gonna put this in a trance in a situation where you need to maintain transparency, gonna put it on a website. Maybe that website has a pattern background. You're going to put it in a slideshow, etcetera. The way you do that is you make sure that you turn off the visibility of any solid color feel layers you may have added. So we're just gonna turn those off. So you want to be seeing that grade checkerboard transparency behind the image. Now you're gonna trot up to the file menu and you can do a couple of things. Probably the best one is to do safer web. From this dialog box, you're going to choose one of two file formats. You're either gonna choose Jif G I f or the more a little bit of a newer format a little bit higher quality than Jif is PNG. How do you know to choose P and G eight or P and G 24? If you put a drop shadow on your frame, then you want to choose P and G 24. If you do not have a drop shadow on there, then you're gonna choose PNG ate. The reason that you want to shoot Pete P and G if you've got a drop shadow is because that particular file format supports partially transparent pixels, which is kind of what a drop shadow is. So if you want that shadow realistic, a top of new background then you need to choose paying 24 instead of paying eight. I don't have a drop shadow cheese paying eight. So we'll choose paying 24 cause we've got one. Did you see how that white background disappeared? Did you see that? We cruise around here within this. Okay, so we'll go back to Jif because we have a drop shadow. Jif does not support the saving of partially transparent pixels, so it doesn't know what to do with that drop shadow. So tax, white background behind it when we choose Ping a were still in trouble. Ping 24 Perfecto. If we did not have a drop shadow, we could have gotten away with any of those other formats we could have gotten away with Jif or we could have gotten away with paying eight. It's only when you get a drop shadow that you enter that scary, partially transparent pics of land and you just want to make sure that transparency is turned on right here and then click save. And if you do it that way, when you pop open that image and put it in a slideshow or put it on the web, it is going to maintain its transparency. But if you choose any other format, let's say J peg quite background pops back into your image no matter what you do. So there's only a couple of file formats such support, transparency, those air, Jif and paying. And there's only one file format that supports partially Trant transparent pixels, which is what you need when you've got a drop shadow going on. So you choose paying 24 for that college done. That's how you save an image with transparency.
Ratings and Reviews
Creative Live has opened my eyes to education on-line and out of all the on-line resources I have come across, Creative Live is the best and there's never a catch. Creative Live is one company I trust 100%. They never would take adavantage of anyone. I love Creative Live.
Every workshop I have watched LIVE is absolutely FREE! And... there is a rebroadcast that follows that is free. It is only if you want to go back again and again and again - that there is a purchase price. The knowledge of the instructors is phenominal..... well worth the cost if you choose to buy the workshop.
Love the class and have been thoroughly enjoying it. One question- has anyone else had issues downloading the files? It seems to only go up to folder 13 and most of day 2 is missing?
Student Work