Creating an Album and Connecting to Lightroom
Lesa Snider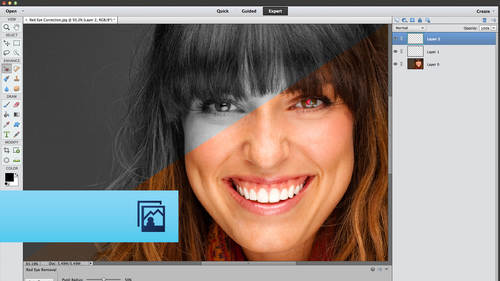 Creating an Album and Connecting to Lightroom
Lesa Snider
Lesson Info
2. Creating an Album and Connecting to Lightroom
Lesson Info
Creating an Album and Connecting to Lightroom
So let's go ahead and pop into the organizer. So I mentioned earlier that Elements has two components to it. It has a database component, and it has an editor editing component to it. So let's take a look at the organizer. We're not going to spend a ton of time on this because I want to get you guys into actually doing things in the program. But some neat things that you can do from the editor is you can import images from anywhere on your hard drive or import them from your memory card. Okay from your camera. Easy enough to do big honking import button right there at the top left. See how the buttons air big that this interface. Now the organizer looks a lot like I photo, so you can import photos from files and folder on your hard drive or from your camera or card reader or straight from my photo. So let's just go ahead and I want to show you we'll do for my photo. I want to show you one of the options that you get when you import photos, you can automatically. The dialogue box didn't...
come up, sold it this way. Here we go. So let's just say we were gonna import files for my hard drive. Look at this right here. Automatically fixed red eyes. Photo shop doesn't have that. I can't really use Photoshopped import photos, but bridge doesn't have that bridge would be the organizational database that you could use in conjunction with photo shop, so automatically fix red eyes right there. So that's not a huge deal these days. I mean, are you guys getting red eye in your in your images? Yeah, Our cameras. You're getting better. Better? Better. We're getting, you know, to be better photographers, But if you do have photos with red eye in them, then you can fix them right on import, which is really nice. The automatically suggests photo stacks. Feature means that you're saying, hey, elements I want you to take, like, a series of photos that I've shot on burst mode. Please stack them up. Don't litter my whole you know, viewing area with five million pictures of that Hawaiian flower that I shot on burst mode or that whale that I couldn't believe that I saw so automatically suggests photo stacks is great for organizing. So That's just what I wanted to show you here. Those two features in the import dialog box, which is incredibly handy. So once you get some images into your organizer here, you can apply a star rating system just like you can in Let's say bridge or I photo. You can do that in light room as well. And again, if you are using light room to import, don't open the organizer. Just say no because light room is far better. You can do all of your tagging so you can add key words and tags to your images right here in the organizer. Let's say, for example, I think I've got a picture of people in here somewhere. We'll go down on zoom level this a little bit. There's a people picture, so let's say you want to tag. So Elements has facial recognition, just like I photo does. Except it's a little bit better than I photo in that it will interface with Facebook so that when you tag and elements and you upload to Facebook straight from elements, that's easy to do, too. Then you don't have to tag and Facebook again because the tag goes along for the ride to Facebook, so that's really nice. So how do you do that? You activate the photo or photos here in the organizer window, and then you come down here to the little ad people. But look, big and family, those buttons are, then it does make you happy. Just looking at the interface. It's so friendly. So we're gonna click to add people, and immediately it analyzes the images, says, Oh, I see faces. Who is this? But look at this little option down here. Download update. Facebook friends list name people. So that's how you can integrate it with with Facebook There. So that's a really neat thing you can add places, tags, Sell this, click another photo here and come down here. So this will be geo tagging your images right here in the organizer. So we're going to click the add places friendly round button. And from here we get a map. Were Weekend Island exactly where that photo was taken? So this was taken in the peel eBay. Maui finds the place on the map. Is this right? It asks you just click the little green check Mark. I mean, look how easy the the confirm or reject buttons are to identify, You know, in Photoshopped, the There's a little X and some things that you do that you can. You reject that change, but it's microscopic, and then usually you have to press return to accept things like a crop box or a transformed box. But right here in elements, you know, it's just so friendly you got a big old green check mark. So once you start adding tags like this to your images will go ahead, say, done. Then you can begin to use these different views so that you're viewing Onley images that were taken in a certain geographic location or Onley images of certain people. We're not gonna trot through all that because it is boring, but so you can do all this kind of file organisation maintenance stuff right here in the organizer. You can create albums, so those would be subsets of your images that say you might use for a slide show. Was there a question on tell you? My phone has has data on where it was taken. Will that be imported into elements also, absolutely and fantastic. Question. If your camera or your shooting with your smart phone has geo tagging ability. Then that's gonna come along for the ride right here in the Organizer, which is really fantastic. So let's take a look at creating an album here so I can select these images to throw them into an album. So I just click the big old plus sign next to the album's name, and I can come over here in Name it Maui and say, OK, once I've got an album, it shows up here in the top of the it's called is the source list, cause it just let you know what you're looking at. So these are folders of images that I've imported on, and here's the album that I just created. Well, once you've created an album, how easy is it to do a slide show when you have some kind of, ah, an image viewing opportunity occur like when a neighbor drops by after you've just gotten back from Hawaii, you like, Oh, just sit down right here won't take me just a second bam slideshow. Do you serve them a cocktail? When you do that, give them a little bowl of nuts or something? A snack in a nice beverage and they'll be happy to look there all your pictures. So we've got our images activated here that we want to do the slideshow with, and there's a big slide show button right down there at the bottom. Give that sucker click and you've got some options that will come up so you can customize sound. So this is canned music that comes along with the organizer. So how easy is that press escape to get out of it? Easy peasy. It's wonderful. One of the new things in the organizer that comes with Version 12 is this mobile albums feature right here. So what you can do is you can hook up your organizer account with another adobe service called Adobe Revel R E V E T l. And basically it's adobes cloud storage for consumers. All right, kind of like, if you're using an apple computer in your using I photo, it would be your photo stream through ICloud so that this a similar thing. So what you do is you can click this little I next to the mobile albums area and again, this is new in version 12 and you just type in your adobe I d And you can start sharing albums. You can make them private. You can make them public. It's really quite amazing. I'm gonna not gonna try it all through the steps of doing that. Just be careful. When you put in your adobe I d and you click Sign in because the next screen that you're going to see is this gonna ask you what photos you want to share and you have two options. Everything or selected photos or selected albums. Choose the selected photos or selected albums, or your entire photo collection will be shoved to the interwebs. That actually happened to me when I was reviewing elements 12 for Mac World. They had me on a call with a product manager of elements and there are a couple other people on the call, and I accidentally selected the 1st 1 cause it was a little bit confusing. So I said all photos, not realizing that it was going to take my 10,000 photos and shove them onto the Internet. So imagine the product managers doing this demo online and and we're all dialed in, and I'm seeing my images appear in his work space, and I'm about to have a heart attack because I'm not really sure what's gonna happen next. So I am losing my mind, trying to figure out how to stop this sinking. So learn from my mistakes. Don't sink all of your photos. I was okay, thank you. But it was sure was scary for about 0.5 seconds there. So this kind of feature would be very handy. This mobile album sharing if you to share images of clients so great for collaboration. Also great for shared vacations. If you take family vacations with other family members or just with neighbors or what have you, then if they take pictures and they upload them into their organizer and upload them to the rebel adobe Rebel, think it's just adobe rebelled Adobe Dark rebel dot com June to search for Adobe Revel R E v e l. And you'll find it and you don't really have to have an account. You get turned. Remember how many how much storage you get? Something like five gigabytes for free. Then if you want to go over that, I think it's five gigabytes or 1000 photos a month that you can store on that cloud and share with other people, whether they have elements or not for free. And then you can get access to more storage, which allows you to upload more pictures and share more pictures for, ah, little monthly fee. But so this will be a great thing. So if you know Bob and Elsbeth across the street shared their pictures from Hawaii on Rebel than I could see them right here. If they shared them with me so they would show up right here in my copy of the Organizer and I could run a slide show. I could make a slide show that combines all of our pictures without them having to give me their memory card and actually download them to my computer. So that's a really handy thing. And again, that is new in Elements 12. Another incredibly cool thing in Elements 12 is the ability to order prints straight from shutterfly. Shutterfly dot com is another online lab that is quite good. My favorite is in picks dot com, but Shutterfly I've ordered lots of things from them to for our holiday photo gaffes, Holiday photo gifts class that we did which also have a city on sale here. Creativelive great for creating holiday products with your photos. But Shutterfly does some great work team, and this organizer is integrated right with him. So let's say, for example, if I wanted Teoh print this image right here or send it often online lab to print it, I would click to activate it. And then I can come up here to the share menu and look at all these options I've got. I can make a private Web album. That's the adobe Rebel interface. That would be the same thing as as doing it over here. Okay, so you could make private or public albums. I can go straight to Facebook from elements, and it is fast, and it handles all the re sizing for you. Let's say this was an image straight off my camera. It was still really large and pixel dimensions. I don't have to worry about re sizing it. I'm gonna send it straight to Facebook. I can send it straight to my email program, and it will resize it. You know, my mother lives in East Texas, and if I send her a 10 mega by image over email that's going to set her back a couple of hours, download time and she's going to call me and she's gonna be very upset. Least K. What do you do that? So choosing this option right here, we'll try you through the process of changing the size. So it asked you if you want large, medium small, you pick and then it'll pop open your email client and attach the photos. All you have to do is fill in the name. So amazing functionality for folks who just have not done this kind of stuff before. Goes straight to flicker. Great for photographers. Go straight to Twitter. Go straight to SmugMug, which I like more than flicker. Why does Lisa like it More than flicker? Because SmugMug prevents people from right clicking on your image and coffee in it. Which is good. Go straight to video for sharing videos and YouTube is well. But these two. If you have imported videos and you can manage videos with the organizer here, then you can send them straight to Vimeo or YouTube. Right from here, you can burn a video DVD or a blue radio straight from this money right here and you can create a pdf slideshow. So there there's all kinds of really great functionality. I thought the Shutterfly button was right there. Photo prints. There it is. Order prints. So let's give that a click. There we go. I was almost right was in the menu next to the Chairman E. So create and then photo prints so you can choose to print to your printer. You can choose to create a picture package. What's the picture package? Remember way back in elementary school and we got our school pictures made and they would have those with sheets with all the different sizes, the wallet size and the postage stamp size and etcetera, etcetera. That's what you can create here and elements of the picture package that's great for client proves. Oh my gosh, can you imagine? This is fantastic. Contact sheet also great for client proofs. And here's the integration with Shutterfly. So if we click this, it would take a straight to shutterfly dot com, and the organizer would manage the process of uploading our photo. And then we can order photo gifts or prints until the cows come home. So some really nice integration with some common tasks that are a little bit Harry for folks who are just getting started with with image editing, so we'll get back out of that. A couple more things on the organizer before we go to break is that you can actually perform some corrections right here in the organizer without going into the editor, which is a separate interface. So let's say, for example, I'm going to try to color, correct? Oh, this photo right here. Then I could click to activate it. Come over here to the photo fix options, which were hanging around, and if I wanted to crop it, I could do that. I could just click the crop button and it walks me through cropping. The image gives me a crop box that I could easily change the size of. I can use these controls down here at the bottom to restrict the photo to preserve what say the original aspect ratio, so on and so forth. Easy right here. I can also dial in the exact within height dimensions that I want. I can fix red eye. If I needed Teoh, I can bump up contrast if I need to see if we click that button, then what elements does is it performs an auto contrast fix, and then look what happened right next to the image. Now we've got a right facing arrow next to that image if I click that little arrow that stack. So elements took the copy that it made and stacked in the organizer, so I don't have to see to that same picture here. So here's the original in Here's the one that we got by clicking the contrast button. So this is what I was talking about earlier. That Elements is gonna duplicate your images to perform nondestructive editing, which is nice, but you do get duplicate images, but you're not going to see them necessarily on your hard drive, because elements squirrels all your images away in a catalogue. So the only place you're really going to see them is right here. But I love that auto stacking feature because when I start correcting images, I don't want to see Tan Avi's you know, in my view. So let's just click on this image and let's click the color Adjustment and again it's gonna perform an auto adjustment and in some cases that may be all you need to say. Make the images look good enough to go to Facebook or SmugMug, etcetera. We'll click this one. And if we click levels, we get auto levels. And again we get a stack of images click to expand, click to collapse. And if he clicks sharpen, obviously it's gonna sharpen your image. Smart fix. That means elements. You're telling elements. Hey, do what you think you need to do whatever it is fixed. Contrast. Six levels, six colors. All that stuff. Do whatever you need to do to make that image look good. And on some pictures, you may be able to tell the difference in on some like this one. You may not be able to, so you can do a little bit of editing right here in elements. Any questions on the organizer? If me, um, can you do batch editing like select the mall and then choose color? Absolutely cool. Yeah, Great question. Anybody else do? Yes. We should be sure. Dio So just a quick clarification for Angelica. Probably one of our newer students were watching you work on a Mac. But all of this stuff elements can work just fine. on the PC. Is that correct? Absolutely. And I believe that it looks the same on both platforms. Yeah. So all adobe programs are available on the Mac and the PC. And from my experience, interfaces really do look the same. Unlike Microsoft office, right? It looks completely different. And U N is asking if you have already imported images in light room, will elements make another copy of the images in elements in the elements organizer or just make a reference of it? It's gonna copy them. So you don't want to do that for really? Honestly, third time Now, if you're using light room, do not use the organizer. Don't. There's no reason to you because everything you do here, you can do over in light room, just about everything. Okay? I think we're good for now. Great. All right, Well, speaking of light room, why don't we pop into light room and see how we can send an image over two elements? So I've got light room open here. That a funnel Halloween ish image. Okay, so firm. The library view Good view. What have you couple different ways You can send an image right over two elements you can't control or right click it, choose edit in. And then from this mini right here, you would just choose edit and other application. And then you would navigate to where the elements application lives on your hard drive. And then until you change it, that's going to be your external editor of choice right here from White Room. You can get to the same command from the photo menu, choose at it in so same menu. So edit and other application. And when you do that, you send the copy over two elements. You send a J. Pig over there and then when you make your changes in elements, if you choose file save shows right back up in light room. Same thing in I photo. Sure, if I got my photo open here, it's probably filled with my images. We can take a peek at my photos preferences. Oh, it's gonna marches through an upgrade situation so we won't do that. What you would do is you would choose I photo preferences, and there is a section and there where it lets you set the external editor and it's the same kind of menu you just say choose application, and then you just navigate toe where elements lives on your hard drive. And then from that point, and I photo in any time you use this edit button down here, the very bottom of the I photo interface when you click edit, then that would automatically open your image and elements in the elements editor, not the organizer. So it's a great way to use the elements editor in conjunction with another program that you used for your importing and organizational database. Peace and in all honesty, light room and I photo I find are a little bit better. The organizer will crash a little bit a little bit, but if you load your computer up with hard drive space in memory, that will happen list. But I do like the database organization of light room, the best so light room plus elements. Sweet. Can elements be configured to open directly to the editor and just skip the organizer altogether? Yeah, they're two different pieces of software. Yes, so you don't have to open the organizer at all. In fact, if I mouse down to my dock here at the bottom of my Mac, you can see, Here's the elements editor that I have opened. You guys haven't seen it yet, but it is open. And then here's the organizer. So you just wouldn't double click or, uh, create a short cutter alias for the organizer. You just leave alone. So they said, How are you feeling? I know we got a break coming up. Do you want to break now or do you want to show us maybe one more thing before we go to break? I think right now would be fantastic. All right, you got it. All right, you guys, we're gonna take a 15 minute break and I want to let you know, um, Well, actually, so let's talk about what we're gonna do when we get back first. When we get back, we're going to jump into the editor. We're gonna look at how to open images, um, in the editor. And also, one more thing that we're gonna go over the editing mode. So we talked about quick edit mood versus guided at it. Mood versus expert moves. So we're gonna get a broad overview of those different editing modes. We're gonna look at working with the interface and the panels. And then we're going to dive right into just what we would do if we were in the big honkin expensive version of photo shot. We're gonna talk about layers editing non destructively with layers, and we're going to spend the rest of the day just editing the heck out of our images. I do want to mention one more difference between Photoshopped and Elements, especially for photographers and elements works on Lee with eight bit color. That means we don't have as high of a dynamic range of imagery of colors rather available to us in elements as we do in photo shop. But unless you're Menkin honkin big prints at super high resolution, that's probably not gonna be a deal breaker for you. So that would be another reason to use it in conjunction with light room so you can keep your 16 bit images, which just increases the colors that you can have in your image. You could have those over in light room and then when you need Teoh, pop over into elements. But just know that your image is going to be a bit when it gets over their anti element Fantastic. So we will go through the guided. That the guided corrections? Yeah, absolutely. We're going to start out. We're talking a little bit about what layers are after. We look at the three different editing modes, and then we're gonna use guided edit mood to create that puzzle effects. And then we're gonna pop back over expert mode and look at our layers panel and see exactly what elements did to create that effect non destructively, which protects our original image.
Ratings and Reviews
Creative Live has opened my eyes to education on-line and out of all the on-line resources I have come across, Creative Live is the best and there's never a catch. Creative Live is one company I trust 100%. They never would take adavantage of anyone. I love Creative Live.
Every workshop I have watched LIVE is absolutely FREE! And... there is a rebroadcast that follows that is free. It is only if you want to go back again and again and again - that there is a purchase price. The knowledge of the instructors is phenominal..... well worth the cost if you choose to buy the workshop.
Love the class and have been thoroughly enjoying it. One question- has anyone else had issues downloading the files? It seems to only go up to folder 13 and most of day 2 is missing?
Student Work