Custom Gradients and Vignettes
Lesa Snider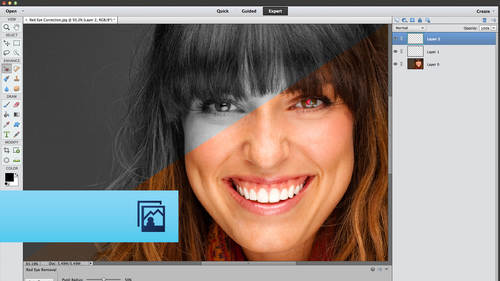 Custom Gradients and Vignettes
Lesa Snider
Lesson Info
16. Custom Gradients and Vignettes
Lesson Info
Custom Gradients and Vignettes
so continuing on with creative color. I want to show you how you can add a color tint to your image in a couple of different ways here in elements. So one way that we already looked at that bears repeating is to create a Grady int map adjustment layer so we can go ahead and do that by clicking the half black, half white circle at the top of your layers panel Choose ingredient map and from the Grady it map preset picker that automatically opens when you create a great map adjustment layer, we can turn on the reverse button and then used some of the built in presets that are already installed in elements. So to do that, we're gonna click the little down pointing triangle, and then you can simply trot through the different presets that are in this poppet mini right here. Well, some that work really well, I believe, or in this simple section and the reason we turned on that reverse check box was because these radiance all start with white. So they fade from flight to another color. Well, y...
our shadows air going to be re mapped toe whatever the left most color in the radiant is. So that's why we're turning on that reverse check box. So now, as we go through here and look at some of these Grady INTs, that the darker the color on the left, the better off you're going to be. But you're not stuck with just thes presets like a sad you can load at me. There's a bunch of them in here a bunch, bunch, bunch. But you can also create your own or modify some of the existing presets. Let's say that I wanted to create a C P A. Well, I might start out with one of these presets right here or that one. And then what I could do is close at that panel just by clicking somewhere else on this panel. Now we're going to click on this area. Okay, So before we were clicking on the downward pointing triangle to open the preset panel, the radiant picker preset panel. But this time we clicked on the grading itself a single click not to just one. And we get the Grady Int editor and I'm gonna resize this dialog box just a little bit by clicking and dragging the bottom right. Actually, I thought it would let you make it more narrow, but apparently not. Apparently. So how can we change this Grady int down here at the bottom? This areas is showing you all the precepts that we were looking at. That's the same menu. Get if you click that little downward pointing triangle over here. But if you look down here, you can see the colors in the radiant. So to change any one of those colors, all you have to do is click the little box that has that color in it. This is called a color stop. Once you single, click it, then you gain the ability to change its color. So now we could single click toe open the color picker, and we could choose another color. So if you're shadows are being mapped, took the color on the left and I want that color on the left to be pretty dark. And on the left, I mean the left side of the Grady in. So I'm gonna dark in that brown just by clicking in this colored square over here on the left. See how that's changing my image. Now we're creating something else entirely, and you can customize that however you want now. As I said, I've got a darker color chosen from this box over here. Now I congrats the slider over there on the Rainbow Color bar, so just experiment with all the rest of the colors to see what we can create. So that's, Ah, probably the most flexible method toe. Add a color tint to your images, and it really is quite beautiful. It almost looks like a duo tone. What kind of business? So let's just walk through that again. Isn't that beautiful, though we love that. And when you do create a custom, Grady it like this in this particular dialog box you can save it is a preset, which is really nice. And how do you do that? You just click. That little disk icon looks like a floppy disk, which is hysterical, isn't it? Like those of you who are under 25 probably don't know what that is, What that weird square icon, uh, so then you can save it is a preset to use later. Now you can add more color stops. If you want to create even different radiance, you'll you'll notice in the presets that they're not all limited to fading from one color to another color. You can see right here that we've got three colors, got blue to red, the yellow orange to yellow to orange, someone and so forth all the way down here to Rainbow Land. The multi colored radiance like this are not gonna work out too well for this particular technique. But there wouldn't be anything from stopping you from adding more color stops. You just click on that Grady Int bar to add another color stop. And once you do changes your radiant. So now Argh! Radiant! Only has a little bit of wide on the left and it fades Teoh a little bit darker. And then it gets really dark over here, which just pumped up the contrast over here in this particular image. So do experiment with this kind of stuff. So I'm gonna click, OK, and then we're gonna evaluate our image, and then we're gonna do it all again. So remember, you've got layer opacity control here. If I like that look. But I want to make something even different than I could drop the opacity of that layer slightly So let's delete that layer. Now, when you get really good at doing this and you start learning more about how the colors and your radiance affect your image, then there wouldn't be anything to keep you from going ahead and setting your color chips to the colors that you want to use in that Grady in ahead of time. But that's something that you're gonna have to learn. Some colors will look better to you than others. So if I did want to do that, I could click my foreground color chip, and I could set. If I want something in the CPI around, I could set this one Teoh a really dark brown, and then I could set my background color ship to oh, something on the light side, but not too light. I could do perhaps a light brown, and you'll need to experiment with this range of color bars over here and clicking within this bart until elements how light, or how dark you want that particular color to be. Let's cook. Okay, now we click our our adjustment layer menu up here, and we choose Grady and man. It's gonna call those foreground and background color ships to create something else entirely to use elements presets because most of them start with a light color that goes to a dark color, which is the reverse of what you want. Here, in so far is remapping the shadows and highlights of your image. Then you're going to turn on the reverse check box. Also fun technique for Halloween. And then to give it the presets, you can either click the downward pointing triangle and experiment with the presets that you're going to find here or to go straight to the Grady and editor. Go ahead and a single click somewhere within this bar doesn't matter where and when. The Grady int picker comes up and you can either start with a preset or you can simply customize customize your own. So I've got the reverse button turned on, so I'm gonna go ahead and turn that off. And now click the radiant, preset picker. And even if I don't like the look of what I started out with with my color chips and you confined to him, that here and all you have to do to change these colors and the radiant is click where the color is coming from this whole color stop right here. So give that a single click that gives you the ability to edit that color. And then you're gonna single click that little color well, and that's when the color picker is gonna open. So then you can fine tune that color if you want. So we might want to come up here to something in the blue room is really pretty click OK? And then we made a side that we don't like that that really light brown because it's were moving too much of the contrast in her image So we could set that back toe white if we wanted just by clicking that color stop single click, then clicking the little color will and then from the resulting color picker choosing whatever color you'd like. If we wanted to, we could pick something in there Really light blue room just depends on what you want and click OK, And then, if you like the custom, Grady that you've created that make sure to click the little disk icon and then elements will give you a naming opportunity so you can name that preset something meaningful to you. and you can also add color stops to change the radiant. Give it a click. Clickable color will pick the color that you want. I mean, there's no end here again to the creativity that you can't create just by experimenting with creating your own Grady INTs. Another great opportunity for that frosty beverage. Friday Saturday night Click OK, and because you've done all that on an adjustment layer, if you decide you don't like it, you can just click the expect that activate that layer and delete it, get rid of it or drop its opacity for something else entirely. So that's one way to add a color tint to your image. So I'm gonna go and close this panel and delete that layer. And now let's do another method using elements built in color tinting effects panel. So in expert mode, you can come down here to the bottom of the elements interface and single click the effects button. Now this panel has a bunch of a bunch of different sections in it, so if you take a peek at the top of that panel when it opens, you'll see that you've got filters. You've got layer styles and you've got effects. So for this particular technique, we're going to click effects. The next thing you're gonna do is you're gonna turn on the show all option from that pop up menu because right out of the gate, straight from the factory, when you install elements, you're only going to see three thumbnails in your to get your going to say, That's lame. I'll never use that panel again, ever. But in elements attempt to not overwhelm me with a 1,000,000 choices, it's squirrels. Option the weight, hide them over here. So that's what's going on in this panel for each of these three categories. You've got tools and gobs of options inside this poppet mini right here. So these are all categories. So what I usually do is I just turn on, show all, and I just leave it set that way. That way I can see everything that's in here. I don't have to go hunting around trying to find the effect that I want. So the color chance or at the very bottom of this list. So there's a scroll bar on the right hand side that you can use to scoot down to where the color tents are. And there these last six right here. So and if you point your cursor at any of these thumbnails, you get a little tool tip that tells you what that effect ISS. So this is tenting your image to be a black and white that produces the Les mis to black and white you have ever seen in your life. So I would not use that method for creating a black and white. But the color tents that are also down here are are pretty nice. So here's a blue tent. Here's a green tint. Ah, purple tint, a red tent and the oh so popular brown tent. So if we wanted to make this image look like a C Pia, then all we have to do is double click that button and immediately elements applies a brown overlay to it. Now, if I want and do that and experiment with these other color tins, all you have to do is click the big, soft, fluffy, fluffy, happy, helpful undo button at the bottom of the elements interface or press Commander controls E on your keyboard, and we can just take a peek at some of the other color tents. Here's a blue press commander Control Z. Here's a green. Now these you do double click. So that is one instance in the interface where you need to double click instead of single click. But most often times you're gonna be single clicking on things to affect their settings. And there's a red tent, which is really nice. So now let's take a peek in the layers panel and see what elements did in the background to make that happen. How do we open the layers panel? We're gonna click that layers button at the bottom of the interface, and then I'll pop that panel back open, and we can see that elements all by itself bless its little heart, duplicated our background layer to keep us from applying the tent effect directly to the original, which you don't want. So if you like it great, if you don't like it, you just throw that layer away and do something else again. Try dropping layer opacity to create something altogether different. So let's just do that 11 more time. I'm gonna delete that layer. It doesn't matter how many layers you have in your panel But if you do, if your image consists of multiple layers, let's say I had a levels adjustment layer here, too. Change the color. Maybe I used the Mentone slider to pump up the contrast a bit. We looked at how to do that yesterday. So now I've got two layers going on in my layers panel. We'll elements is gonna want to duplicate a layer. So let's just see what happens when we click the effects button at the bottom of our layers panel. And now when we apply that red tent list, double click it and we get a little error message. Why is that happening? Well, the currently active layer was an adjustment layer. So what elements is trying to do is duplicate the layer deploy I this effect on. But if your document consists of multiple layers and you're gonna have to do one more step to make these presets work correctly, so I'm gonna click the stop button. Let's go back to our layers panel. Remember yesterday remember what technique we covered it in, but we talked about creating a stamped copy of multiple layers. So there are tools in the program that will only work on single layers. Well, once you begin editing and correcting your images and elements, you're not gonna have single layer documents. You're gonna have something like you see over here you're gonna have image layer, maybe several image layers. You're gonna have some adjustment layers hanging around. So there will be times when you need to create one layer for many, but in a way that you don't completely screw up your ability to edit with layers. So what you do is you make a stamped copy of all visible layers. And it's that cumbersome keyboard shortcut we talked about yesterday. So watch what happens when I do this. So the keyboard shortcut is shift option command E for ik. That's an awful keyboard shortcut or on a PC. It would be shift all control E for EQ. So when I do that keyboard shortcut elements creates, one carries a new layer that contains all the content across visible layers in my layers panel. So if you've got the visibility, I turned off on one of your layers and that layer won't be included in this. But what we've got now is a one single layer that contains everything that was on all visible layers. That's a really useful trick when you're running filters, because filters will only run on single layers. Layer styles can Onley be like drop shadows can only be applied to single layers. These preset effects in the Elements Effects panel will Onley work on single layers again because elements is trying to duplicate a layer to keep from harming your original image. So you've got to give it a layer to work with. And if you have a new adjustment layer in your layers panel and that's the currently active layer when you go to run with those presets and it won't work. So we're gonna create a stamped copy so we'll just do that part one more time and then we'll go at our color 10. So you've got a multi layered document going on. We're gonna press shift option command E on the Mac or shift Ault control E on a PC, and that will take all of the content that's on visible layers. Visibility eyeballs turn on, and it's going to create a new layer that has all that content that keeps you from having to flatten your image or merge all those layers together. You're making them unedited ble. Now we go back to the effects panel and we double click the effect. We don't get an error message when we come back to the layers panel. We see the elements duplicated, that stamped layer that we made, and that's where it applied the color fit. I have a horrible memory, so I can't remember that shortcut work, and I find that in the menus. It's awful, isn't it? Well, let me see if it's in the menu. What we're really doing is first of all, if you purchased the course, you're going to get my list of keyboard shortcuts in the companion guy. But if you can't remember it or you don't purchase the course, then press and hold the option key on a Mac or Ault on the PC. Just the one key and then let me delete that layer first and then click the layer panels fly out menu and you're going to choose merge visible holding the option or all modifier key triggers this to happen on a whole nother layer, but otherwise that command doesn't live anywhere. So see, we got the same effect so either option or Ault choose. Merge visible. See, there's the rest of the keyboard shortcut right there. Shift commander. Shift control E. But it it is a you know what to remember. That's why. But But if you look at your fingers, it may be easier just to remember your finger placement on your keyboard rather than trying to memorize what it is because I couldn't. If you ask me tomorrow with that keyboard shortcut is in my mind, I would visualize my hands on the keyboard. I might not necessarily be able to regurgitate the actual key names, but I do remember how my fingers look because the option in the command are all in control on a PC or right next to each other there to the left of your space bar. And then you just put your ring finger on the shift key and you remember, eat what an awful keyboard shortcut in the tacky. I know that sounds a little convoluted, but once you begin editing with layers and you get multiple layers in your documents, you're going to use the heck out of that keyboard shortcut. Another thing that I do when I'm home is I keep a stack of post it notes you with sticky things and all right, hard keyboard shortcuts like that on them, and I'll paste those sticky notes all over my monitor. It's not pretty, e. Remember, you're not letting clients come in your studio, right? Never, Never, never, never let them see you at it. OK, any questions on the color tunes, interweb? But I also wanted to reiterate that we are giving away with the purchase of the class the pdf with all the keyboard shortcuts. That's right. You know, just really, really hopeful were good up here. Okay, So let's close this image, and I've given you some more images to play with here in the color tents folder. So if you're following along those air just extra exercise files to have at your disposal, then the next thing I want to show you is how to add a dark edge of and yet on our photos were back to the super cute pumpkin kid. So this is another technique, cause we're gonna run a filter for use a filter to add the darkened edge of and yet and filters like we just learned only work on single layers. So if you've got multiple layers in your document, then you're gonna need to do that stamped copy situation that we just did before Iran. The filter. So let's just do that. So let's say we popped up in this image. Oh, it's great. It's a little washed out, so let's correct it with levels, adjustments half black, half white circle. Choose levels. And as we learned yesterday, if you've got gaps on either side of your hissed a gram Mountain range, then you're going to drag the little sliders into where the information actually starts. So let's call that good. So this might look like you're layers panel when you're really doing this on your own images. So now let's create a layer onto which we can run the filter. So let's do our stamped copy keyboard shortcut again. Either option are also click the Layers panel, fly out menu and choose merge visible or press shift option. Command E. On a macro shift, Ault control E on a PC to create a brand new layer onto which you can run that filter, and I could even turn the visibility of the original layers off just to prove that that new stamped copy does really contain everything that was on the visible layers. If you have layers of their visibilities turned off, they're not gonna be included in that stamped copy. So you don't have to select your activate any layers before you do that keyboard shortcut. But I do typically click to activate the top most layer in my layers panel before I do that keyboard shortcut simply because when you add a new layer in that way, they always appear above the currently active lier, so that just save me the hassle of the stamps copy ended up somewhere down here and then me having a mouse all the way over spent layers and drag it all at the top layers panel. If you've got a really big monitor that males, time can take some time. So that's the only thing that I would do when I was doing that for real. OK, so now we've got a layer onto which we are clear to rent R filter, so we're gonna add a soft, dark edge vignette by trotting into the filter menu and choosing correct camera distortion. This is very nearly the same dialog box that you encounter in a photo shop CC. But over there is called lens correction. So the first thing I do when I use this filter is I turn off that dad gum grid that keeps me from seeing anything in my image so you can turn off the grid that's at the bottom. This this dialog box, really, or this filter rather is really for removing that kind of dark and has been yet that you can get from using some inexpensive lenses. But graphic designers were real quick to figure out that the edge vignette actually looks pretty cool. And all you had to do is drag the slider in the opposite direction to Adam. And yet so in the middle of the dialogues big honkin dialog box, you're just gonna look for the word vignette. Don't pay attention to any of the rest of the stuff in this dialog box. You're going to grab the amount slider and drag it all the way. The lift, the end period and that easy. You can also point your cursor at the word vignette and it will turn into a little scrubby bar. There we go urge to the word amount rather, and you can click and drag that way. So if you dragged to the left, you're going to get a dark Finn. Yet if you drag to the right, you can get a sort of life and yet, but you do. You will encounter a little bit of a color shift to go that way. It's always drives the lift. When I was a kid growing up in Texas, my parents trotted Meteo Olin Mills Portrait Studio every year like clockwork. And this technique always makes me think about only meals, because that's exactly what they did. They always did that soft, dark edged you can think of. This is the only Mills effect, but doesn't didn't really enhance the photo. It's such a tiny thing, and it was so easy to do. So let's just take a turn off the preview check box here and we can see our before and our after. It's funny, because without that s been yet, it's still a nice shot. But when you add the vignette, boy, it really looks like a professional photographer took that picture. So that's just another thing that you can use if you're gonna be doing any kind of printing for your clients, or even if you're using an online lab like in picks dot com or what have you if you're even given your images on a disk or allowing them to be downloaded so that your client can take them and have them printed wherever you could do? Add that edge vigna to some of them. Give him an either or choice situation or not. But I think it's a really beautiful effect to have in your bag of tricks. So when we click OK, we go back to our layers panel, we can see that that Vigna has been added to that stamped copy. If we need to go back and do any more fine tuning, let's say on that levels adjustment layer. All you do is turn the visibility these guys back on throw this layer away, and now we're back to kind of where we started so we could tweak that levels adjustment layer a little bit more if we wanted, and then we just create another stance copy onto which we would run our filter so that whole stamps copy business that allows you to keep your original layers hanging around in case you need Teoh need to tweak them. So let's just do that one again. I've got the top most layer active in layers panel simply because our new layer is going to end up at the top of layers panel that way, which is where we want it. So we're gonna press shift option command e or shift all control e we better stamped. Copy. Now let's go up to the filter menu and choose current camera distortion. Turn off the show grid check box. I wish it with stay turned off. But alas, it does not grab the amount. Slider. Drag it to the left. Now, if you want a widen that edge vigna a little bit, you can drag the midpoint slider to the left. So let's say we like the width of the vineyard there. What are we going to do about it? Covering up her face? Anybody Mask Mask it. You could add a layer mask to that layer and that would hide that from that part of the photo. All about flexibility. Click. OK, and now we've got our beautiful Edgerrin yet what if the edge vignettes a little dark drop layer rapacity. If you do that, though, you do want to make sure that you leave the visibility eyes on of those original layers. So as we drop layer rapacity, it looks like it's on Lee affecting the vignette. That's because the only difference between this layer in the other layers is that dark and judgment yet. So that's why it looks like it's on Lee effect in the vignettes, really dropping the opacity of the whole layer. But that's the only difference between that layer, and what's underneath it is that EJ vignette, So don't think you're stuck with, you know, just the default settings of that edge been yet. You can tweak it to your own personal liking by either adding a layer. Master that layer in hiding some of that vignette from your subject or by dropping the opacity of it, kind of tone it down a little bit over in photo shop. We can run that filter as a smart filter, which gives us the ability to mask and change opacity of Onley. The filters effects, but we don't have smart filters over here in elements, so this would be your work around for that kind of thing, so let's just do it one more time. Let's go ahead and Anna Levels adjustment layer because you'll likely have one. Give it a little tweak. This one really doesn't need any tweaking, but were just in it for the sake of having multiple layers in our document. Now we can create our stanch coffee. Now we can come into the filter menu, choose correct camera distortion, grabbed the vineyard slider, drag it all the way to the lift and click. OK, and if we want to drop the opacity of the vignette, then we drop the opacity of that layer while leaving the original layers visibility eyeballs turned on.
Ratings and Reviews
Creative Live has opened my eyes to education on-line and out of all the on-line resources I have come across, Creative Live is the best and there's never a catch. Creative Live is one company I trust 100%. They never would take adavantage of anyone. I love Creative Live.
Every workshop I have watched LIVE is absolutely FREE! And... there is a rebroadcast that follows that is free. It is only if you want to go back again and again and again - that there is a purchase price. The knowledge of the instructors is phenominal..... well worth the cost if you choose to buy the workshop.
Love the class and have been thoroughly enjoying it. One question- has anyone else had issues downloading the files? It seems to only go up to folder 13 and most of day 2 is missing?
Student Work