Adobe Photoshop: Retouching and Collage
12:45 pm - Clipping Masks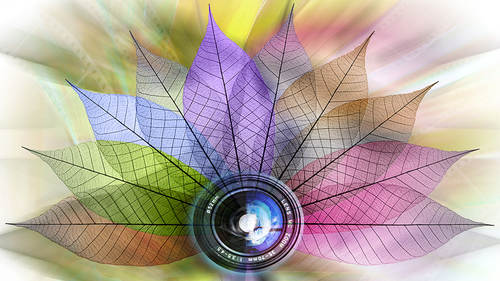 Adobe Photoshop: Retouching and Collage
12:45 pm - Clipping Masks
Lesson Info
12:45 pm - Clipping Masks
Let's see here. I'm gonna pop into Futter shop, and here all I have is a simple document of created. It has a solid color background. On top of that is some text, and on top of that is brushed aluminum. I'm calling it, but you know what it is. It's really what? Add noise, Motion blur, right? And the only thing I've done to that top layer in addition to that is I scaled it a little bit, because when you do motion Blur usually needs to push stuff in at the edge. There's nothing beyond the edge for to grab hold of to move. Let's say you're gonna motion blur everything is gonna push it all to the right. But what happens in the edge of the photo where there's no material beyond the edge to push over? So in the end, what I did after doing this, I used content aware scale to just stretch it out. So it filled the whole space. So that's the only thing to consider is if you do make that brush, look the edges. You might get a little yet less usable space either Make a little bigger than you need ...
or when you're done scaling. But what I would like to do now is cause this layer to Onley show up where there's information on the layer below later, directly below it is in text, and I want this layer to only show up with the Texas pretty easy to do. Actually, all you need to do is go to the layer menu, and in there you're going to find a choice called create clipping mask. When I choose, create clipping mask in my layers panel you're gonna find just to the right of the eyeball for this layer is gonna end up being a down pointing arrow. And that's the visual indication and the layers panel that something's happened. So if I look in my layers panel down coin Arrow means this only shows up where this stuff ISS and that's all that little town pointing arrow means. Now there's more than one way of doing that. If I choose undo, Um, instead of going up to the layer menu and choosing create clipping mask, which is what I did a moment ago, I could have instead move my mouse to the line that separates these two layers and When my mouse is on that line, I can hold down the option key, which is all time windows. Holy it down right now. And if I click, it will do the same thing. Do it a second time. It will undo that effect. And so it's a personal choice of yours. Which one of those techniques you prefer? I just find, uh, I'm kind of old school in that I'm used to where that used to be, either the only way or the easiest way used to be the option. Click on the line. Um, so it's up to you. So whenever you have that, the layer you're working on will only show up when there's contents on the layer directly below. If you were, hide all the other layers below that, wherever you see a checkerboard is where the layer you're working on would be hidden. So wherever it's empty on the layer below. But that's not all. What's nice is if I go to this layer that contains the text, I can go down to the letters f X and add things like a bevel in Boss. And what happens is it first thinks about making the layer above only show where the text is, and after it's thought about that, it thinks about adding the bevel in boss on top. So if I do a bevel in boss, it goes right on top of that texture. And so I could come in here and fine tune this, get it? However I'd like And you don't need to just have one layer. You could have multiple layers that also causes toe happen. So maybe I come in here and not only do they have that brush stuff, but I could create another new layer in that later. Maybe I end up using the Grady Int tool. And instead of using the setting that we used last, which is where it goes around, sweeps around like a radar we could use the one that radiates out from the center and I'll use white is my foreground color. So that's what I start with. And I'm just gonna click somewhere here and drag out to try to remember the the Grady int we had created. It went from black to white to black to wait. So we ended up making a donut there. I'm gonna go back to the original setting. This is the default setting usually get with Grady Int Tool. If you've never used it before, that's what causes it to start with your foreground color and end with your background color. And so I just click that I had clicked in the little down pointing arrow next to the Grady into get to it. Okay, now it's tried. I'll click here and I'll drag out quite a distance, and I should get a bright spot fading out to black. So maybe I want that to use is a highlight that is going to apply to what's underneath. I don't want it to apply to the entire document, so I'm going to clip it. Go to my layers panel, hold on the option key and I'll click on the layer. The little line, I should say that divides that layer from the one below it, and now we have two layers clipped to the text. So the way Photoshopped thinks about it is that these layers that have the don pointing arrow are clipped, to which ever layer is the 1st 1 that doesn't have the down pointing arrow, and you can also see that it's indented these layers, so it's really clipped to the first layer. That's not indented. It's hard to tell with the text layer, though, because there's no real box around the letter T. But both of these layers are only showing up where this one is now. This layer is completely obstructing our view at the moment of our brush metal, just like if we didn't use clipping at all. If you just had a layer that had brushed metal in a layer with Grady Int, the grating would completely obstruct your view of what's under it. So we'd have to do something. Then, to get the two to interact, we could simply lower the opacity on the layer that contains the Grady INT and therefore, by lowering the opacity appeal to slightly see through it and see some of the brush look. Or I could possibly use a blending mode. I mentioned before that if you're in the move tool, there is a way to cycle through the blending modes, and that is, if you hold down the shift key, you could do the plus or minus keys on your keyboard, and it will cycle through one at a time. Those choices, and we can see if one of those might look better than others for this particular purpose. Maybe elect screen mode, Uh, or if I like some of the darkening that was in there, one of these other choices. And if one of them's too much, just lower the opacity, the layer toe lesson it. In this case, the other thing I might want to do is go to the bottom layer and I could come down here. You can also apply Grady Int not by clicking and dragging on your image, but instead you can go down to the letters FX, and one of the choices is called Radiant Overlay. And it will just like it can add bevel in Boston. Drop shadows. It could add Grady int and I could possibly tell it Teoh. So what direction the light should come from and apply a blending mode there to the background. I wish I could cycle through this one to try them all out, but you have to manually click on it. Teoh, try them out. But I could have the background also with Grady, but it's the ah, a little down pointing arrow, which is helping us out. Most here with allowing these two layers to only show for the text is you can just keep going. As far as refining this image, I could have drop shadows, do all sorts of other things, but it just gives you an idea of a simple idea of clipping one layer to another. Let's look at some other uses for clipping. Here we have a simple object on a simple background, and so here's our brush metal again. And then just a shape. Sometimes what will end up doing is I'll create another shape in here. Maybe it's untaxed or just any kind of element, and with that, I'll end up adding a drop shadow. Not sure if you're aware of it or not. But when this drop shadow dialog box is open, you can actually click and drag on your picture to move the drop shadow. And when you click and drag what it's really doing within the drop shadow dialogue is it is just changing the distant setting, which is how far the shadow is away from the subject in the angle setting, which is what direction it was moved. So if I drag, you'll see those two settings or changing. But that only works while this dialog box called Drop Shadow is open once you click OK, you can't drag anymore. So anyway, what's sad came in here in created a drop shadow. Well, if I want this toe look, I don't know if I call it at all realistic. Nothing in here is riel. But if I want to give ah better feeling of having dimension here, you could think about how shadows should look. If you put your hand on a table and look at the shadow that's underneath your hand, you usually find that the shadow that's underneath your hand will be really close to your hand. It will usually have a relatively crisp edge, and it will be dark in this particular situation that we're in right now. That won't be the case with my hand because we have a really nice lighting above us. You guys can't see on the video, but I can count at least 20 lights. You think above us something like that. So what's here is not what you'd usually see. But if you just put your hand on the table and look at the shadow, it's underneath it. Usually it will be close to your hand. It will be dark in the edge of it will be relatively crisp. As you lift your hand above that surface, you'll find that that shadow starts changing. It becomes lighter, softer in often times further away from the subject. So if I wanted to look as if this blue shape is truly above the green one, then it should have a different shadow hitting the green shapes. It's closer to it, similar to my handy and closer to the table. And it should have a different looking shadow over here where it hits the background because it would be the equipment. Have my hand above it where it gets softer, lighter, that kind of stuff. And let's see if we could figure out how this feature we just talked about could help us do that. So I have this layer of the top. It contains our little shape, has our drop shadow attached, and it's attached as a layer style, which shows up right here right now, since that's attached to the layer itself. If I do that trick where we can make one layer only show up where there's information on the layer below. This is what happens. That's not exactly what I want, so let's see if there's other things we could do. Instead, I need to somehow get that shadow to be on its own layer. And you can do that if the shadow was created by clicking on the letters F X to add it. That's where I found Drop shadow by going up to the layer menu, and there's a choice called layer style in in this menu. You could have also added a drop shadow, because this offers the same choices as the men you find at the bottom of your layers panel. But it also has some extra ones down here that we can't get from the menu that is at the bottom of the layers panel. One of those choices is called create later. What that means is detach whatever effect I've applied to this layer from the layer itself and make it completely independent on its own layer. So if I have a drop shadow, I'm going to get one new layer that contains a blurry, dark thing that's a drop shadow. If on the other hand, I had bevel in and Boss applied to it. I'd actually get to layers one for the highlights on the bevel in and boss and one for the shadow. But it would try to reproduce the look of the bevel in boss effect, using individual layers instead of an effect attached to that player. Any time I choose this command, it's usually gonna warn me it's a. Some aspects of the effects cannot be reproduced with layers. It's lying. All I have is a drop shadow. Every single aspect of a drop shadow can be reproduced with layers. It's that some of the effects that you have available in that menu can't be exactly recreated as individual layers, but the one we used called Drop shadow. It can perfectly reproduce, so I'll just choose. Don't show again and watch my layers panel when I click. OK, you see drop shadow used to be an accessory to this layer. It's attached to it, but when I click OK, it's on a separate layer now, So if I were to turn off the eyeball on all the other layers, you see there's a drop shadow, all right, and you can do that with any of the layer styles that you find in this menu is just after you apply into a layer. We went to the layer menu. There was a choice called later style, and that's where I found create layer. It's great out right now because this particular layer no longer has any styles attached. But if it had a bevel in a boss or drop shadow or whatever, it should be available. So now that I have that shadow as a separate piece that's not attached to that layer anymore, then I should be able to take it and make it only show up where the layer below is. And there was two ways to do that. One was toe option. Click in the line that separates this layer from the one below. The other one was to go to the layer menu and choose create clipping mask. And if I do that now, you notice that the shadow is only hitting that object. That makes sense now the shadows on Lee showing up where they have information on the layer below. So then I could create a second shadow to fall in the background, a shadow that would be lighter, softer and possibly further away from the object that is casting that shadow. Because that's how it would work with your hand. If you take two of your hands, have them. So there's different heights. Put one near the table in front of you and the other one up above and you look at the shadows. The shadow for the hand that is close is gonna be sharper and stuff the shadow for the hand that's further above is gonna be softer. And we need a similar effect here. So I could go back to the layer above. I could go back and add a drop shadow and I can drag it just like we did before. But this time I'm gonna make the size. Larger size determines how soft the edges and I might bring the opacity down further so that it is lighter shadow. I don't want it attached to that layer, because if it is, it affects the entire layer, which means we still have it over here affecting the the green shape that's there. So I'm gonna come over here again. Choose layer layer style, create layer to have it become its own independent layer, and then I congrats that layer, and I could just drag it underneath the green shape. If I can get it down there, they're underneath the green shape. Eso that Now we have two shadows one here, which is just hitting the green shape, a different one in the background. Now that green shape casino has a glow around it that's trying to make it look almost like it's illuminated. And that's why it kind of adds this little, uh, right spot in there. But you can see how we can get multiple kinds of shadows. So if you ever creating a composite, you're putting together multiple images and you're trying to get the look as if you have multiple layers within your picture. Something's floating above something else. You might want to think about how those shadows look and do you need a different shatter to fall just on one part in another shadow to fall on the background? Does that make any sense but be able to get it on its own layer and then be a little clip it to another layer so that it is limited and where it shows up when things air clipped like that, we can still move them around so I could come in here and let's say I click on the layer that contains the shadow that's hitting the background. I hold down the command key control on Windows, and I click on the layer that contains the shadow that seeing the green shape and I command click on the top layer Command Clicking just means give me one layer at a time, selected. Now I could use the move tool, and I can move those layers around. No problem, as long as they're all selected at the time a move them. And if I know, I might want to move them in the future, when I have them all selected like that, I might want to go to the bottom of my layers panel, where I'm gonna find a link symbol. And if I have more than one layer selected when I click that link symbol, you'll see the little link appear on the right side, and that means when I have any one of those layers active. If I use the move tool, it should always move the others, too. The link means those whenever I move or transform them, but transforming mean scale of rotate. It should do all of the layers that are linked. The link symbol will only show up when one of those layers is active. If I switch toe one that's not within that grouping, then you wouldn't see the link. But the moment I click on one of those layers that was in the linking, you'll see it show up in the way. Did that as a selected layers and just click the link symbol. So now I don't have to be concerned with it, for the layers are selected or not, I could just come over here and move them around, even though one later is active. Since they're linked, they all move. I'm as should, K said. It's sorcery sorcery for those of you that are going to use that linking a bit. That one problem is if I link all that stuff together now, what if I decide that the shadow that's falling on the background is a little too far away? Well, if I click on the layer that contains sad shadow and I try to move it, it's linked to the others. So they all move together. I would like to unlinked this layer, but only for a couple seconds just long enough for me to move it a little bit closer. And then after that, I'd like it to be linked again. Well, what you can do is if you look at the link symbol, you can shift. Click it to temporarily disable it. That means just for now, I don't have this move with the the rest. When I'm done a shift, click it again. It's re enabled. So if I need to just temporarily reposition any of these layers, I shift, click on the link and then say, OK, this one's independent. I can move it around, get to there. Then I shift. Click the link to turn it back on. I want to go to the other drop shadow. Usually all of them would move. But if I shift, click on the link symbol. I mean temporarily turn it off and I could find tune its position as well. Shift click the link to turn it back on. That's linking and to use linking any time two layers really, really need toe. Always match up. I will frequently link a retouching layer to whatever the original content is. I'm retouching, you know, like the base image that's there. So if ever moved that base image, the retouching will move with it. And I never have to think about having an issue with it, because sometimes when you re touch all the retouched out is one pimple on somebody's skin. And I'm not gonna notice that that particular layer contains a microscopic speck or it's covering up somebody's pimple eso When I move that layer, I might not remember that the reduction was even done. But if I link the two layers, then when I move it, they're both gonna go together. And I don't have to worry about it so much. So any general questions so far about, uh, the clipping mask, which is how you make one layer only show up with this content on the layer below? We just got one question here from David G. Does breaking apart layer styles increase the file size? Uh, yeah, most likely does. I haven't tested it, but it makes sense that it would, because it's gonna contain the entirety of that effect. But I don't know about how much it most likely does, though
Class Description
Part of the Complete Photoshop Mastery Bundle.
Learn how to retouch any image, whether it be the simplest problem or the most complex and seemingly impossible task. Understand the difference between all the retouching tools and then learn how to supplement them with other Adobe® Photoshop® features. See how multiple images can be combined into a seamless composite that is much more than the sum of its parts.
Learn the difference between all the retouching tools and when to use each one
See how the Clone Source panel can help with difficult retouching jobs
Rid your images of telephone poles, power lines and pedestrians, even if they overlap complex backgrounds like trees
Discover how Layer Masks, Blending Sliders and Vector Masks are best implemented
Learn how Smart Objects can allow you to make almost infinite changes to your design without having to rework your image
This course is also part of the Photoshop tutorials series. 
Software Used: Adobe Photoshop CS6

Reviews
Always love Ben. So clear and deep at the same time. I like buying his courses and love the added notes file. Shout out to his lovely wife for the awesome job she does!
This is the my first purchased Creative Live course. Enjoyed the live broadcast and now practice a bit of the segments at my own pace. Ben Willmore is an outstanding instructor. Went off and purchased his Mastering Curves which is just as useful.
Absolutely loved the class! Found out so many things that could either help me out when in PS or just add to my arsenal of editing. :) Thanks so much!!