Adobe Photoshop: Retouching and Collage
3:30 pm - Blending Modes and Color Matching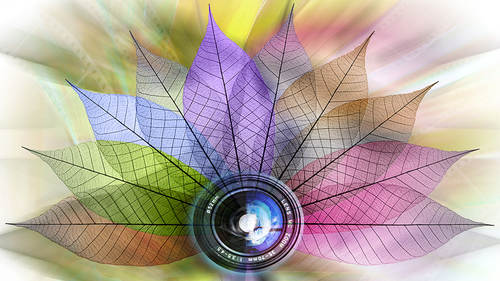 Adobe Photoshop: Retouching and Collage
3:30 pm - Blending Modes and Color Matching
Lesson Info
3:30 pm - Blending Modes and Color Matching
one of the other features I use from compositing images together are blending modes. And so, for blending modes, you're gonna open an image and open another. Just gonna put these one on top of the other. I could just do a select on copy, then close this document. Paste it in here. When I click on a menu that sits atop of the Layers panel, it's found here. This is the blending mode menu, and it controls how the layer I'm working on interacts with the layers that are underneath. He had. I use these features all the time. I just want to cover a few of these. I mainly want to show you how certain filters don't like toe. Act on an empty layer in how, By using this menu, you can cheat and get them to be. That way, you can get them to act on an empty layer, But by changing this menu, you can control how this later interacts with what's under it. One of the choices in this menu is called screen mode. Screen mode acts like light. What that means is, if you think about light, how do you make bla...
ck using light you don't use any right turn off the lights. So if in screen mode it acts like light, any area that's black is gonna have gonna do nothing. It's like there's no light whatsoever, and then any area that has any brightness at all, you usually use a little bit of light in it will end up applying to our image. It's a ziff. I took this image and I projected it using a projector on a wall. And then I grabbed a second projector and I loaded this image well, The black parts. It shouldn't project anything. It's black. Only in the areas that are lighter than black would have project any light out there, and I can get Photoshopped to act that way but simply changing the blending mode menu to screen mode. You see how the black background has disappeared. Any time you have lightning fireworks or anything similar to that, you can use screen mode to get the background to just go away. You notice there's some city lights down the bottom, though I could always add a layer mask in paint with black because black and layer mask obviously hides things so I can say don't let the city lights show up in. This can overlap things if you needed to. Any time you use screen mode, all the other modes that are in that same grouping will act very similarly a swell. So if you're gonna try screen mode, you might as well try lightened mode as well. Give you a slightly different and result looks to be more colorful to my eye. Compared to screen mode, you could try a color dodge. Not so good. Linear dodge. Lighter color. They're all very similar to each other, but there are some of those modes that allow me to do things that I usually can't do. Let's see which ones those are these air the filters that do not work if you have an empty later active. But sometimes I want them to work when I have an empty layer active, and I want to show you how to cheat and get these filters to make them work on an empty layer. I'm just gonna pick one of them. I'll pick lens flare. I'm going to create a brand new empty layer, which is where I'd like to apply the lens for a filter. But If I attempt to apply the lens for a filter with an empty layer active, it simply won't work. Same with the rest of that list of filters I showed you. And that's because this particular filter can Onley, brighten or darken what I feed it. And right now, what I'm feeding it is this one layer that contains nothing. But if I come over here and fill that layer with not a pattern, not my foreground color but 50% gray now it has something that could brighten and as something that could darken and the filter would work. See, it works. But the problem is, if I put the image underneath, it's not applying to the image that's underneath. Well, there's a whole category of these blending modes that make 50% Greg go away in a 50% gray can just go away, but this bright area can still brighten. My picture in this darker area might able to darken my picture. Then we can get this to be on its own layer in the 50% Gray would need to be there for the filter toe work, but will simply disappear in the modes that allow 50% greater disappear, or most all the modes that are in this category right here. This section. So let's try him out. I'm gonna use overlay mode and see what happens. You see, we have our lens flare. The 50% gray just went away. I can try the others. Just cycle between them. This is overlying. Here's soft light. There's vivid light, linear light pin light, hard mix. I don't like so much, Um, but hard light will usually get it to look as close to the original filter uh as you can get. And so, therefore, if there's any of those filters that I showed you in that list and you want to apply them to a multi layered composite image and you're having difficulty cause you can't just put it on top instead, it only where wants to work on one layer. You can fill a layer with 50% gray first and then apply any of those filters that I had in that list, um, to that 50% gray layer center, too hard light mode, and you'll have it sitting there on its own layer so I can come in here and add other elements to this image build up my layers, and as long as I leave that layer of the top, it will still be able to apply. So I find that to be useful. Those same blending modes were also very useful for applying textures to your image. Let's talk about a few other issues you can run into when compositing images. Sometimes I want to take an element from one photo and put it into another. But when I get it there, it just doesn't feel like it belongs. So in this case, I have this photo taking a sunset and I want to put this balloon in it. So let's see if we can do that. I use a quick selection tool make a very well. And actually we've been using the quick selection tool too much. Let's go old school. I'm gonna use the lasso tool, and all I'm gonna do is when I'm done with lasso tool, I'll use the magic wand tool and just hold down option, which means take away and click within the sky, and that can help get away. Get rid of whatever I click on when I'm in the Magic Wand Tool I can even come in here. In between these little ah areas. Hold on the option key, which means take away. Try to get in there. It's not gonna be the most perfect selection, but we're not talking about selections right now. We're talking about getting the colors to match and look right. I'm gonna double click on the name of this layers so that I can change it from background because I can't have a layer mask in the background and I'm gonna add a mask. Now let's use the move tool to drag this over to the other file. I'll click within this dry governor, the other image dragon to that picture and let go. Take this and I'm going to scale it down. I'll just take command t for transform and I don't know about you, but I'm a little pickier than this in that I just think it's too darn obvious that that balloon wasn't there. That makes as I'm going to see if there's anything we could do that would be relatively quick and painless to make it look a little bit more like it belongs there. Other than making a better selection because we're not talking about selections right now, talking about just getting the colors to match. So let's see if we can do it. I'm going to apply a filter that to this were not a filter, an adjustment. So I'm making sure I'm working on the image, not the mask. So the image is active. I'm inner. Choose image adjustments, match color. When I choose match color, this comes up and down near the bottom. It wants to tell me, what image should it match? If I click on the source pop up menu, it's gonna give me the names of all the documents I currently have open. So just glance at the top of this document and I can see it ends with the number 89 So I'll choose that one to say, match something that's in this document, Then the next choice down is which later should it match? Because in my layers panel, we have two different layers. It doesn't know which one look at, and so I'm gonna click on the layer pop up menu and say, match the background, and when I do, it's gonna analyze what the background layer looks like. It's gonna try to make this layer look similar to it. See that Then we have three sliders to modify the end results. Sometimes the end result will end up looking just a little too brighter Dark because the subject matter will be quite different. And so the Luminant slider would allow me to brighten this up a bit or darken it up? Not dramatically necessarily. But it lets me have some control over it. The color intensity is going to control how much the color varies in there. If you bring it up, you're gonna get more variation in color within that layer. If you bring it down, the colors will be more consistent in that layer. More monotone kind of looking and then fade means do you want to go all the way where it really thinks this matches the background, or do you just want to head in that direction? Fade is like an opacity control for this adjustment. If I bring fade all the way up, it's going to show me the original picture. If I bring fade all the way down, it shows me the completely adjusted image. And I could go anywhere in between to say sure had me towards that look, but I might not need to go all the way. So if it does a bit too much, you can back off on it. There. You can usually ignore the neutralised check box that tries to color correct the layer. But most the time when I'm doing this, I want this layer to have a color cast like the background, and so that is gonna make it look a little odd. And so it's not gonna really help in this particular kind of situation. I'll turn the preview check box off and let's see if it looks any better before after, So look a little more like it belongs. I just need a better selection. I could go around and just refine the edge of that. Just the teeniest bit to make it look better. Makes sense, uh, at the very bottom. If you just want to know what it does, there's a load and save statistics button. When it analyzed, the bottom layer is showing me a little small version of it here at the bottom. Ah, it looked at various statistics about how bright is it? What color is it? All sorts of stuff and you could hit save statistics and then say could save that somewhere. And then later on, if you ever want an image to have quality similar to this image here, you wouldn't even need to have this picture around. You could take any picture you want and go to match color. And instead of feeding in another picture, just hit the load statistics button and feed it that file, and it will make it have the same warm feeling that we're getting right now. So let's see if we can do this for a different picture. I think I have another one open. Not that there. This one looks slightly different. Different feeling. So all we need to do is take this layer, drag it over to the other file, and now it doesn't look quite appropriate for their because way too warm. Well, all we need to dio is choose image adjustments, match color. We need to tell it to look at what document is this? It ends with 77 and look at the background and we might need to say in this case, bring up the color intensity because it doesn't quite look right. We're just luminous, but it's not always perfect. Sometimes you're gonna have something where you have some Hayes in your image, and this isn't always going to duplicate the look of the haze. So let's look at how you might deal with that, because this having like a soft feeling in here that feels this isn't so. Here's how you might deal with it. I'm gonna create a brand new layer, and in that brand new layer, I'm going to apply a filter that's called clouds. Now be aware that the clouds filter uses your foreground and background colors in minor at my defaults. Right now. If I had green and orange, they're going to get it. Green and orange clouds. I need the black and white sitting there of filter render clouds. Now I don't want to look like this. I just want the variation and brightness it's giving me. Afterwards. I'm gonna apply another filter, which is simply ghazi and Blur, and I'm gonna blur this until I can't recognize it as clouds anymore. Instead, it just looks like varying brightness. Maybe something like this, it just looks like it varies in brightness. Then I'm going to clip this to the layer that contains the balloon. Remember how you can option click on the line that separates the two, and then I'll simply lower the opacity of it so you can see through it to the balloon. I'll bring the opacity all the way down. Now slowly bring it up. And is that adding a little bit of the feeling of the haze that we're getting in the back there? It's just some stuff that varies in brightness that we have in opacity, that it's giving it passed. So hopefully that gives you an idea where if you put something into another file and doesn't look like it belongs there, that you might be able to get it to, um, to still look appropriate. That makes sense. All right, one final thing. So if you have some elements, you're going to use the same techniques we've talked about all day to put him together. So all I'm gonna do here is grab the move tool and dragsholm images together and just do some very quick compositing positioning these where I'd like him to be just giving you a couple ideas to wrap things up. I use my crop tool to add a little bit of space here. I want this to look like these Earn three dimensional space a bit. I would like the letter e to go behind the cone. Well, I could move this layer behind the cone, but then the whole thing goes there. So you remember before we had our little swirlies, we made it so they interacted. What I did is I command clicked on a layer to get a selection of it. Then I went to another layer, and in this case, I'm gonna add a layer mask. There's a trick with a layer mask if you click it. It thinks you only want to keep what selected looks like this. If you hold on, the option key gives you the opposite option means opposite. In this case, Alton windows. So now it on Lee hid those areas where the cone waas I grab my paintbrush tool paint with white to bring it back. So now does it look like the letter e dips behind the cone? Now I want it to look like Letter X is inside. So I'm gonna come in here and I need a selection of the cone. I'll just turn off the X so I can see it. And here's a trick. I'll make a selection with the elliptical marquee tool, but I can't get it to line up with this. Here's the trick. There's a choice called transformed selection instead of transforming your picture to scale it and to rotate it. This does it just to the marching ants, and that might make it easier to match up here. And I don't need to get this to completely match. I just needed to match in the bottom edge. And like along this bottom edge of the funnel, let's just call it close enough For now, I mean, then go to the letter X in at a layer mask. It's gonna keep just the area that selected, and I can simply grab the paint brush tool and bring back anything it shouldn't have. All right, then I can finally create a later above that, and I need a little shadow, so I just get a soft edged brush and I'll paint one in. But darn it, it's also getting on top of the funnel what was in their way to clip something so it only shows up where there's a layer below later X is directly below. So why don't we clip this to later? Below? And then I could also adjust its opacity control How dark it is just making sense as far as you know what we're doing. You could also take the cone at a drop shadow to it maybe with a drop shadow effect in this case. And if I want that to Onley fall in the word innovative, I would end up coming in here insane. Hey, put it on its own layer. It would take that shadow, and I put it on top of the word innovative and was in their way to clip it. So it only shows up where there's contents of the layer below. Do that. And now they would be a little bit of shadow on the end there. And I might not want the shadow to show up here. That's what a layer mask can do. Hide things so I could just come in paint with black. I'm working. A layer contains the shadow plate there, I'll get it off. So anyways, is giving the idea little simple find thing at the end just kind of put it together, but I hope we covered a lot of the techniques that you think will be helpful and you're doing it. It's up to you, though, to come up with creative ideas of what would you like to put together? This was more about the technical aspects of doing so.
Class Description
Part of the Complete Photoshop Mastery Bundle.
Learn how to retouch any image, whether it be the simplest problem or the most complex and seemingly impossible task. Understand the difference between all the retouching tools and then learn how to supplement them with other Adobe® Photoshop® features. See how multiple images can be combined into a seamless composite that is much more than the sum of its parts.
Learn the difference between all the retouching tools and when to use each one
See how the Clone Source panel can help with difficult retouching jobs
Rid your images of telephone poles, power lines and pedestrians, even if they overlap complex backgrounds like trees
Discover how Layer Masks, Blending Sliders and Vector Masks are best implemented
Learn how Smart Objects can allow you to make almost infinite changes to your design without having to rework your image
This course is also part of the Photoshop tutorials series. 
Software Used: Adobe Photoshop CS6

Reviews
Always love Ben. So clear and deep at the same time. I like buying his courses and love the added notes file. Shout out to his lovely wife for the awesome job she does!
This is the my first purchased Creative Live course. Enjoyed the live broadcast and now practice a bit of the segments at my own pace. Ben Willmore is an outstanding instructor. Went off and purchased his Mastering Curves which is just as useful.
Absolutely loved the class! Found out so many things that could either help me out when in PS or just add to my arsenal of editing. :) Thanks so much!!