Printing and Flattening Your Image
Ben Willmore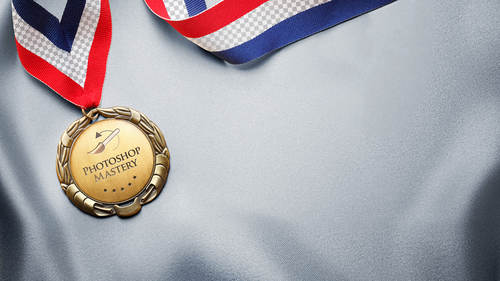 Printing and Flattening Your Image
Ben Willmore
Lesson Info
9. Printing and Flattening Your Image
Lesson Info
Printing and Flattening Your Image
Let's say I have a black and white picture, I'll have to just take one of these and converted to black and white here's me spinning molten metal on the beach it's kind of fun. First off when you convert to grayscale mode, it's not actually a simple is just going to the menu and choosing grayscale because photo shop needs to know should it prepare this for display on screen? Or do you plan on putting it on a printing press in just going to grayscale mode is not enough to tell it which method it should prepare it for. So just like when you go to see him why I came out when you got a grayscale mode there's a setting that's used behind the scenes to figure out what kind of printing or on screen display you're preparing that image for in the place where you set that is under the edit menu there's a choice near the bottom colored color settings in color settings there's one pop up menu called gray in this determines if you were preparing this image for onscreen use or for printing. The choic...
es called dot gain are for printing and printing press the bottom two choices or for onscreen use, so if you're going to print this on a printing press, it would be best if you talk to your printing company about how much dot gain you expect them to experience because it will be completely dependent on the kind of paper they're using. You'll get higher and higher dot gain if you use cheaper and cheaper paper closer to toilet paper kind of quality in as you go to more coded papers and just higher quality papers, you'll get less and less dot game. What docking means is if we were to take a little square of let's, say, fifty percent gray and actually printed on the printing press and then measure how dark it became after being printed on the printing press if the if the ink absorbed into the sheet of paper and spread out as it did, that it's actually gonna get darker in the difference between what you started with, which would be fifty percent gray and what it actually ended up being on the sheet of paper would be how much dot game you have. So on a really nice coded, shiny sheet of paper, the ink pretty much sits on top of the paper, doesn't absorb in much, doesn't spread out much, so you have very little doc game as you get into cheaper and cheaper papers, closer and closer to newspaper, then it ends up absorbing into the paper more, spreading out mohr, and it ends up looking darker, and so you get higher docking numbers. So ask your pretty company what to expect in here to get your best results, then down here, these two choices air for onscreen use, and if I remember correctly, and I'm no expert on this exact setting, but most computers, I believe these days use a gamma setting of two point two. It used to be that the macintosh used one point eight, and windows used to point to and that's why it used to be. If you viewed an image on the internet, they would look different in brightness on mac and windows, but I think apple changed theirs to two point two to standardize, so it doesn't change on the internet, so pretty much the user for printing and the ones down here are for onscreen. Now, when you print a printing press, you've got to be careful, because if you try to reproduce really, really dark shades in your picture, oftentimes you lose detail. If you try to print ninety nine percent gray, for instance, it will often end up being a hundred percent when you're done. Because the paper you're printing on the inco's onto the paper, it spreads out a little bit in the way you'd usually create ninety nine percent gray would be of solid black area, with tiny little white dot senate to say, this is not quite solid black well, with the ink's going to absorb into the sheet of paper and in the process of doing so, spread out those little dots will go away, and where you used to have ninety nine percent gray is going to turn black, maybe ninety eight percent great might turn black and so on in a similar thing can happen in the bright part of your image to reproduce one percent. Gray used tiny, tiny little dots to say this is not quite white, and in the process of printing out a printing press, your image gets transferred multiple times from the printing plate to something called a blanket on then to your your paper, and in doing so, you might lose the lightest dots, so you could ask your printing company for some technical information. And if you got this technical info, you would be able to prep your images to make sure you don't lose detail in the shadows or highlights. If you want to ask your printing company that what you'd want to ask is the following, and not all of them are good at answering these questions. So I'll give you a generic value as well to find out what is the brightest shade we can print without it turning whites on the printing press. What you want to ask them is for the minimum highlight dot reproducible on press minimum highlight not reproduce more impress means smallest dot that doesn't disappear on the printing press for the darkest part of the action of the image you'd want to ask what is the maximum shadow dot reproducible on press? And that means what is the darkest shade econ print that doesn't turn to black then if you want to prep your image to make sure that you're within that range which you can do is go to levels when you're in levels at the bottom. By the way, I've got two levels with image adjustments levels I just use the keyboard shortcuts uh, these little sliders in the bottom this is going to take what used to be black in your picture and instead of ending up with black it's going to end up with whatever shade this points at, so if I set that to the darkest shade my printer can print could reproduce, then I'll do find it if I set this one on the right to the brightest shadid can reproduce um I'll be fine. The only problem is these numbers are not percentages, so somehow we'll have tto learn how to convert into these percentages so let's, take a look at that. Well, if you look at the range of numbers we have, it ranges between zero in two fifty five, so let's just figure out what's one percent of that so if two fifty five is the highest lingo what's ten percent of two, fifty five most people could figure that out maybe twenty five point five then what would be one percent of that well it will be two point five five because all you do is move the decimal over each time I know if you're a visual person that you're not the biggest on math but one percent of two fifty five is two point five five so what I could do is let's say my printing company comes in and tells me that they need uh the brightest they want is three percent the darkest they want is ninety seven percent so I'm just going to write down three in ninety seven that's what my printing company tells me in somehow I need to get those values um in here I could do that using math but if I did three times two point five five I don't have a calculator but whatever the answer of that is is how much we need to change the numbers or what I could do it just to find it out once is this credit new document fill half of it with white in half of black it doesn't have to be half just fill part of it with white him part of it with black in the info panel you can get the info panel if you click on these little ah doodads right here turkey basters you can tell it to give you a grayscale value. So when you move over here, this would tell me whoever you see in the info palaces white over here it says one hundred percent well, just adjust it with levels and a levels pull in the lower right slaughter like this. Move your mouse over here. Do you see? It says seven percent in my info panel bring it down now, it's his three percent. So do you see the number two forty nine that's going to give me three percent gray? The other side here's black. They told me to use ninety seven percent. Move this over a little bit. Move your mouse on top of black we're at ninety eight percent. We would down little further back ninety eight percent keep going. We're at ninety seven percent. So all I'm doing is adjusting these two sides and moving my mouse on top of black looking the info palate when it's set to gray scale what number? I'm getting ninety seven percent move it on the right what number of getting three percent and I can figure out what numbers to use and the thing is it's not that you have to do this every day you probably print on either one kind of paper because you work in a newspaper and it's always the same or you might crown up to about three or four kinds of paper. All you're going to do is have a post. It notes that next year monitor that tells you newsprint and then to the numbers brochure and then two numbers and then catalog into numbers and it's gently going toby what to set these two bottom field's too? That makes sense it's not like you have to do this every day. It's you have to do it one day the day that you get the info back from your printing company, you put it on a post it now leave it next to your screen in anytime you have a black and white picture that you need to optimize you calculate what's needed by just having a document full of some black and some white get the info palate over here where you set it to gray scale oh, and then adjust it until you see the, um numbers that you're pretty company requires here I'm seeing ninety seven percent when I'm over black on over white I got three percent that's. What I ended up running down is if my printing company gave them to me, then I know these two numbers right here are the numbers that I use all the time when I want to go in prints on that type of a printer and so if I had a picture and I want to prep it for that kind of printing, and I want to make sure you maintain my highlight and shadow detail before I send it off to be printed. I would just go over here, choose levels, and I would put in the same values down here. I don't remember what the values where that I'm guessing eighteen to forty nine, thanks so that's going to limit it's going to bring it in so I don't quite have black, I don't quite have white, but by the time it gets on the printing press, those are going to get brighter in the bright parts and darker in the dark parts, and they're going to be as close to black and white as would be safe. There's something similar with seen why came out, but it's dunmore automatically for you, and that is in the settings that are involved. Remember I mentioned you could go to the edit menu and choose color settings when we had one pop up menu right here where you choose the kind of printing you're going to use within the choice that you choose. Here is this setting called black inclement, which would be the exact setting we were changing on our black my picture there's also a setting within that choice called total inclement. Which is if I add together the amount of science magenta, yellow and black what's the maximum I should get and that's built into the choice that you choose here so it's not as troublesome with a scene y k image because the moment you convert to see m y k it's doing the majority of that for you okay one other issue when it comes to seeing why came out that a lot of people uh run into is if you create a complex design that has multi layers and a lot of fancy features then you're going to find that the colors in your image end up shifting a lot more when you convert to seem like a mode and I want to show you one of the reasons for that in this particular image I just have two layers I have just solid black in the background and on top of that I have black text that has a layer style applied called outer glow the outer glow um later style uses the most vivid green I can reproduce and saying why came out to see high dollar din hundred percent sigh in and one hundred percent yellow put together that's most vivid green I can get in seeing white came just to show you a point I actually created this document in seeing why came out to begin with just to show you that it can reproduce this nice green glow but let me show you what happens if I changed modes on a picture whenever you change modes that always asks you this and there's a reason why it asks notice first off, when I switched rgb mode the green became more intense I did not but she's undo this was seen why came out rgb mode was better at reproducing that green but you might think that's because rgb mode can reproduce a better green seeing white came out just might not be capable of it. Well, let me take that same image and convert it back to seem like a mod whenever you do that it will always ask you do you want to flatten and there's an extremely good reason for it? I'm gonna flat now I'm in seeing white came out and this is kind of weird but look at the green it's really nice and vivid it's just like the green ahead when I was an rgb mode but it doesn't look as good as the original let me choose undo a few times sieving show you that I'm just going to choose revert okay this is my original image created in seeing white came out from scratch this is my end result in cm why came out but some of the work was done in rgb into me it looks better before after is that weird to me it is so the reason why show this is twofold? First, I find a lot of things in photo shop work better in rgb mode and that's why I do the vast majority of my work in rgb mode even if I'm going to end up on a printing press and this is one example that green glow would not look anywhere near as good if I worked in seeing white came out the entire time. The second thing is when I convert to see him why came out in ornament maintain the closest appearance to what I have when it asked me to flatten the image if it all practical, I'll flatten it if I didn't flatten it, let me show you what would happen here it is an rgb mode go to see him like a this is a do you want a flat and I say no, no I love layers I'm not going to flatten that then it goes to the dull green again so here's rgb seemed like so what happens is if your layers are created in rgb mode and if they're finalized in rgb mode meaning they're actually physically combined together will still in rgb mode they can often reproduce a better looking and result than if you made the same layers either in scene why came out to begin with or you went starting with rgb and when you converted you kept your layers so if at all possible finalized those layers while you're still in rgb not unless there's a really good reason not to one really good reason not to might be that trick I showed you to do a black only shadow, for instance but that doesn't mean I'm not going to take all the other layers and merged them together so all I have is one layer of in that case a picture of a bus, another layer of a drop shadow in the final layer of what's underneath I wouldn't keep all the others I would try to merge them together when rg in an rgb mode so I know for some of you if you're not used to working in scene, why came out and you like let's say you're straight up photographer and usually if you have anything printed on a pretty impressed you send it out to ah graphic designer or something else they will usually have to deal with a lot of this stuff so it really depends on where you're coming from but seem like a moat is used when you print on a printing press not so much a desktop printer and if you're sending out your image and instead of getting ten copies getting fifty copies you're getting five thousand or ten thousand it's probably going on a printing press in the images goingto have to at some point end up and see him why k mode couple important things was first go to the edit menu to color settings and make sure that this setting right here is set properly. Ask what kind of it has to do with the kind of paper you're putting on eso ask your printing company what setting to use before you convert to see why came out when you convert to seem why came out, it'll ask if you want to flatten, if it all practical his say yes, your image might look better because of that, and if you're a photographer and you're not used to thinking about seeing, like a mod, know that if your image is going to end up on a printing press at some point in the process, it's going to need to be converted, if you're not going to do it, somebody else will have to. And so just make sure that somebody else knows that you're getting rgb files, so they have to do a little extra work to prep them. All right, any questions, comments? We two overall, we have both questions and comments, they I'm just going throw this one out to you from me actually been, yeah, is there a way? And I know we have to deal with us back in the day, is there a way to change the default specifications of the black for use of seem like a so when you say for the black, do you mean the color of black and the default black? And do you know if there's a way to do that? It depends what you're talking about when you say default black, do you mean the color of the ink or how much it absorbs into the sheet of paper? I would say the color of the ink that's in your bottom swatch, when you hit the default hit black, ok, so he's saying, when you reset your foregone colored black by heading like let's, say the letter d and then you click on your foreground color to see what it's made out of these numbers over here that are seen. Why k that's, what you're talking about, okay, we're working in yeah, we're working in some white came right now, let's say, okay, we're working in scene why k? When I reset my my foreground background colors to get black suddenly the numbers that appear over here are a certain mix of simon gentle yellow and black that's completely determined by the setting you have chosen under the edit menu under color siding cool and so if you change this setting right here, it will change the mix that you end up with. When you change these there's a bunch of settings that are built into each one of these, if you want to actually see the settings, you could go up to the top and choose custom see m y k and you would notice settings like black inclement so right now said to one hundred in total, inclement says three hundred, right? So when I reset my forgone color to black it's going to allow it to use one hundred percent black hank, and then if you add together all four colors of ink, it won't be like seed this so I could say, no, I want ninety five to be the maximum for black, and I want to eighty for this because I'm praying on cheaper paper, so if I did that ninety five to eighty let's, say, and now I'd reset my foreground color click then these numbers should end up being different based on what I've chosen in there. Yeah, but I'd have to tweak them quite a bit to see a measurable amount there. Yeah, that's near the bottom of the rabbit hole, I think yeah, policy wants to know if you're working with inkjet printers, is that something that the's would this stuff kind of stuff would come into play? Not so much inkjet printers usually I work in rgb mode and that I sent it off to the ink jet. The only time I might go to seem like a moat is if thean check printer has a rip attached to it. The raster image processor rip that is designed for interpreting seemed like a and that would be more like a proofing printer that are pretty company might have, but otherwise usually it's better to let the printer could do the conversion to seem why came out then photoshopped it's more aware of, uh, what's what's needed for that particular printer, and so I usually print from rgb to my desktop printer, okay, even though it has science, magenta, yellow and black ink in it got it, and a cm just wants a little bit of a clarification trying to understand what you said about printing presses is that for making posters or picture print so you just briefly printing press means a huge machine if that it prints individually with science magenta yellow and black ink I mean a huge machine it wouldn't fit in this room kind of thing. I didn't close and that's why? When I say, when you go out and order, some prince let's say, if you're quantity is let's, say five hundred or less, I really doubt you're on a printing press instead, you're on some prints or liquid into a desktop printer. But maybe fans here, uh, if, on the other hand, you're ordering five thousand ten thousand twenty thousand, then in order to make that economical, you're probably on a printing press. If you get the end result and you look at it closely, usually you can see the little half tone dots to make it up if they vary in size. If you see big circles and small circles that make it up under a magnifying glass, it might have been a printing press. If the dots that make up your image look relatively consistent in size, they're just closer together and further apart. It's probably maurin chet. But the main thing is the quantity, if it's, a huge quantities printing press. And but for most photographers, unless you're printing out of something for a client, that's, a massive company, you're probably not going on a pretty dress.
Class Materials
Ultimate Mastery Day 1 Images.zip
Ultimate Mastery Day 2 Images.zip
Ultimate Mastery Booklet.pdf
Ratings and Reviews
I have always enjoyed watching any of Mr Willmore's courses, engaging and entertaining with a gentle professionalism, with a good pace of delivery for the target audience. What I so enjoy is that the underlying theory is 'correct' with obvious care and understanding of the terms used and this speaks volumes as to the instructor's commitment. I have always learnt something from these courses and this was no exception.
This is by far the best investment I've made. Ben is a qreat teacher. I watch repeatedly the videos over and over until the concepts become second nature. Since I bought the complete bundle, I can go back when ever I want and watch again. My Photoshop skills have improved exponentially. I'm extremely happy I made this purchase.
I just started to get familiar with Photoshop and know the basic. After watching just first three lessons I am totaly blown away - I can see how much far I can go with editing my photos, what possibilities I have. I edited some of my photos and they look way better now! Ben Willmore is excellent lector and I encourage the beginners to buy this class too. It's easy to understand and follow if you already know what is layer and mask.
Student Work