The Little Stuff: Layer Panel Options
Ben Willmore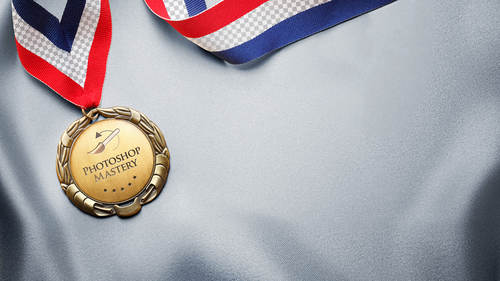 The Little Stuff: Layer Panel Options
Ben Willmore
Lesson Info
15. The Little Stuff: Layer Panel Options
Lesson Info
The Little Stuff: Layer Panel Options
Here's, one of my images have captured on route sixty six it's kind of a gritty early hdr image when the hdr process was first introduced, the software was more crude than it is today and it was much easier to get kind of ah illustrative grungy look out of it and it was difficult to get a purely photographic looks. So this is one of my early hdr images and in here I have a bunch of layers I'm going to turn off all those layers a shortcut for train off all your layers is if you just want to be the bottom layer, move your mouths onto the eyeball for that bottom layer, hold on the option key alton windows and just click on that eyeball. It'll automatically hide all the others, so usually the bottom most layers my original picture and I leave it untouched and then we have the layers above that is how I'm changing the image option clicking the bottom eyeball will hide all but that layer and if I want to turn the other layers back on, I can option click the eyeball again it will talk with th...
e other layers back on it will remember which layers were visible on which ones were hidden, so if there were a couple of these that were turned off like this in my option, click on the eyeball the bottom it's not that it's train often on all eyeballs. Sure, it turns them all off, but when it turns them back on, it remembers which ones were visible in which ones were hidden. So it keeps that. But now let's, take a look at some of the features that are found near the top of my layers panel up there you're going to find an area that has a lock, symbols to see these guys, I want to show you some times when those air overly useful, because if you end up working with complex photoshopped documents, it could be very easy to mess things up for once in a while. So in general, I try to leave my bottom most layer in most of my photoshopped files is the original image, and I try not to make any changes whatsoever to that bottom layer, and therefore any changes that I make are not permanent because I could always throw away the layer that contains the change and get back to the original. Well, the problem is, is it's overly easy to change that bottom layer? Just drive the paintbrush tool in paint, you're going to be changing it. Sometimes you just don't realize which layer is active when you do something and it's just a little too easy to change that bottom layer. Now, if you look at the bottom layer, it does have a lock symbol next to it, which means there are certain things you can't do to it. The main thing you can't do, two it is poke a hole in it, meaning I can't select an urn hit the delete key, and if I do that instead of seeing a checkerboard show up, which would mean there's an area that's empty, it would instead just fill with my background color because it thinks that I can't poke a hole in it. The other thing that I can't do is move it up or down in my layers stack, you see, I got no symbol for my mouse when I try to do that, it's just stuck at the bottom. If I want to get rid of the lock symbol, I simply double click on the layers name and give it any other name, but sometimes I like toe lock the bottom layer in a way that it's not originally locked, so if that bottom layer is supposed to contain my original picture and I never want to change it, then what I'm gonna do is come up here and I'm going to lock everything about it this lock symbol means lock, all lock everything that can be locked. By doing that, now, that bottom layer cannot be changed. If I try to grab the paintbrush tool and paint on it, it'll give me a no symbol in a low complain if I try if I make a selection like this and I press let's, say option delete that would usually fill with your foreground color, it just doesn't do anything because the bottom layer is completely locked. Now. One thing I don't like about the way the background layer works, if only choose undo a few times to get back to when I had a background layer. When the background layers active, you can't hit that lock symbol. You can't turn on any of these lock things it's kind of great out, and I wish you could further locket because with default settings with the background layer, you can grab your paintbrush tool in paint right across your background. You can do all sorts of other things to that to change it, so I first have to double click on the name I called original image and then click the lock symbol up at the top of my layers, so lock everything about it, and that makes it more limited than it would be as just the background layer all right, then above that I have a bunch of layers, you know, most of these layers air, just adjustment layers there refining this image, I turned them all off. I could turn them on one at a time and you'll see how this one is making the window and the chairs more colorful. This one is adding contrast could bring out some detail the chairs, this one's lowering contrast in the surroundings, this one is darkening the edges of the picture thiss one's working on a tiny little area where there's a little box on the wall, I brightened up here's, where I painted at the top and bottom to get the edge is dark and then finally here's, a black and white adjustment layer that has a mask on it so that it's only black and white in certain areas. So I got all those things, but if you look in my layers panel, you'll see that there's a mask on each one, and my masks are often very complicated. If you want to look at the contents of any mask, just hold on the option key and click on it. See all that stuff. The problem is, if I ever have them move to elective and I click and drag when the slayer's active, that mask is going to move, and if it moves, it's no longer going to line up with the original image that's underneath. And I've had that happen a few times on really complex documents where I didn't realize something was active and I either bumped the move tool where the move tool was active in my hand hit the arrow keys on my keyboard, which would nudge a layer, and it made it off a little bit if you don't realize that that happened, you come back later on like after you make a huge print, you realize something just doesn't look right about it. You look really close, and one thing is off to try to figure out what slayer is off is not an easy thing, so any time I'm going to paint on masks and the content of the mask lines up with the original picture, I'm going to select those layers and at the top of my layers panel, we have those symbols, I'm gonna lock the position of that layer so it cannot be moved and you could do that to more than one layer at a time. If you simply select more than one at a time, then you should be able to lock the position. The one thing you can't do and I wish you could is lock the position of a group you know where you have it in a what looks like a folder because I could just as easily move that mask, but it won't let me lock it I can lock the layers that are inside of the group, but they don't have anything that lines up with the image it's underneath in this particular case, so it doesn't really matter other things that you can lock that I find to be useful, I'm going to create a brand new empty layer here on top and I'm just gonna paint on it well this soft and brush one of the other things that you can lock up here is the checkerboard that means the empty parts if you look in my layers, you see what's surrounding this looks like a checkerboard of my layers panel if I click there now if I try to paint, I can't cover up the checkerboard I can on ly cover up areas that already have information in them, so let's change the color I'm painting with instead of painting with green let's paint with red and now if I try to paint out here, nothing happens because the checkerboard for that particular layers preserved, but if I paint over here, it works it on lee works where there's already paint on this layer there's a little trick with that and then let's say that that's turned off that I'm not preserving the empty parts there's a keyboard shortcut you can use to fill with your foreground color, a lot of people are used to it it's option to lead I'm just going to type that right now that would be all backspace and windows but that usually will fill the entirety of the layer and it's only if you have a selection active that it would only if a part of the layer well here's a trick if I'm going to use that keyboard shortcut for filling with my foreground color if I simply add the shift key the shift key will temporarily lock the checkerboard so you cannot change the empty parts of this layer so if you're used to doing option to lead to fill with your four on color just throw in the shift key is well and you're only going to fill the contents of what's already in that layer which I found to be overly useful so if I painted on a particular later and I decide that the paint was a little too dark I just choose a lighter shade and then do shift option delete and it would phil everything except for the empty parts so anyway those locks symbols I used quite a bit just want to make sure that I covered them and got in there yes question just a quick question based on something needed yesterday you had us do the knock through deep or something on that only works you said on a background layer so would you incident renaming the original layer if you unlock it rename it background and then lock it again is with that word, no, pretty much if the layer is called, if the layer you can't just have a layer called background like you typed it in yourself and have the knockout feature, think of it, it has to be what is known as a background layer, meaning a special layer in the only way usually create that if you don't already have one by unlock this layer here is you go to the layer menu you say knew background from layer and that's different than just rename unit to the word background. So, yeah, that would that's the one limitation is if we do change that teo to something else, then that knockout deep is no longer going to knock, too, that it'll knock all the way to emptiness to like a checkerboard. The alternative you could do is put whatever you're trying to knock through trying to knock a hole and put it into a group, then you can use knockout shallow and knock out shallow means only knocked through the things that are inside of those group, and therefore you can kind of work around that little bit. It all depends what you need so there's sometimes when I can't do that because I'm using that knock out deep, so but I'm glad you connected those two somebody's paying attention. All right, karen made up this graphic she likes making cute little graphics she's known as her official title of my company, which is digital mastery is she's the digital ninja eso we're going to talk about some other features that are found at the top with layers panel using this image, this image contains a bunch of different layers it has actually more than one version of this graphic, innit? Because she was experimenting with what she wanted here and let's see what we can come up with. Some of the features that I show you up here will have some new settings only available in photo shop cc, but some of the other features that are up there are available with other versions as well. So and that is up here, this little bar here you can limit which layers you're viewing so let's say that I wanted to change some text that's in here, I wanted to choose a different fun because I just didn't like the look of the fund, but there's so many layers in this document if I actually open up all these groups that it might be difficult for me to locate where all the type players are so I can limit which layers air being viewed by clicking on those icons they're just below the layers tab and if I click on the one that looks like a letter t I'm going to see on ly the type players, and therefore it will be easier for me to find and target a particular layer, possibly make a change to it. Here I can turn off this layer to see which one it is turn off this layer and so on, so that could be nice to drill down. But let's, look at the other icons that air there. The icon on the far left means pixel layers layers that contain the equipment pictures they are not text layers, they're not smart objects that usually there are not other kind of things, they're just pure pixels. So if I want to find one of those layers quickly, I can click on that icon the one next to that is for on ly adjustment layers. So if I know there's an adjustment layer within my image that's maybe doing color correction it's just so hard to find in a really complex layers panel, then I'm gonna click on that icon toe on ly be feeling my adjustment layers I could then click on that adjustment layer to make it active and afterwards turn that icon off in now I'm viewing all the layers I'm seeing them all in my layers panel, but it was just easy for me to drill down and quickly target that layer. To the right of that, I already mentioned the text one of show me only type players beyond that, though there's another icon and that's only for shape layers. If you used photo shop shaped tools which are found below the textual in when you were using those shape tools, you had it set in the top of your screen to create shape layers as opposed to just pixels or a path. Then when you click on the icon of top your layers panel looks like this one it's going to show you on ly the shape players would be very easy to drill down and find them like this one who looks kind of naked uh, then the final one on the far right is for smart objects. If you've committed anything into a smart object, when you click on that, it'll only show you those layers that are smart objects and so it's just a nice way to make it a little faster to find particular layers. There is also a popular menu next to that and hear a lot of these choices air new and photoshopped c c s so you're not going to find them in a lot of others, but I can search, for instance by name, so if I know there's a layer in there called texture or something like that, I could just go in here and start typing it's only going to show me uh layers that have that particular text in the name uh a few other things here to drill down and if you choose things like attributes, you'll get another pop up menu here so I could find out where all the layers that are locked because something won't let me move something and I wantto find it where all the layers that are completely empty they might be visible and I just don't realize there's nothing in them uh where are the ones that are not visible or so on? Uh if you've ever drilled anything down like that your viewing a limited set of layers you're going to find a little switch that turns red next to it. If you ever see this little red thing here, it means you're not viewing all the layers and if you click on it, you're going to turn off your filtering so that you're seeing all the layers. But if you ever find that you know that there's a layer in your document and you just can't find it, just glance up there and see if that thing's red if it is, it means you've done something up in this area tio either filter that kind of layer your viewing the name or something else, and if you clicked on that it would turn gray and meaning that you're looking at all your layers now
Class Materials
Ultimate Mastery Day 1 Images.zip
Ultimate Mastery Day 2 Images.zip
Ultimate Mastery Booklet.pdf
Ratings and Reviews
I have always enjoyed watching any of Mr Willmore's courses, engaging and entertaining with a gentle professionalism, with a good pace of delivery for the target audience. What I so enjoy is that the underlying theory is 'correct' with obvious care and understanding of the terms used and this speaks volumes as to the instructor's commitment. I have always learnt something from these courses and this was no exception.
This is by far the best investment I've made. Ben is a qreat teacher. I watch repeatedly the videos over and over until the concepts become second nature. Since I bought the complete bundle, I can go back when ever I want and watch again. My Photoshop skills have improved exponentially. I'm extremely happy I made this purchase.
I just started to get familiar with Photoshop and know the basic. After watching just first three lessons I am totaly blown away - I can see how much far I can go with editing my photos, what possibilities I have. I edited some of my photos and they look way better now! Ben Willmore is excellent lector and I encourage the beginners to buy this class too. It's easy to understand and follow if you already know what is layer and mask.
Student Work