Sparking Your Idea
Jeff Emtman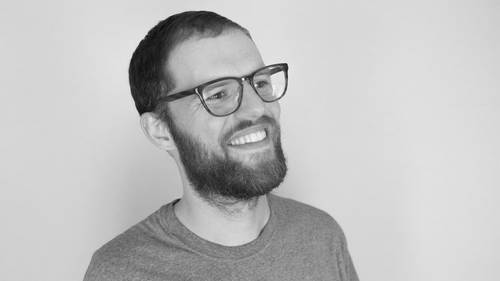 Sparking Your Idea
Jeff Emtman
Lesson Info
2. Sparking Your Idea
Lesson Info
Sparking Your Idea
Sometimes, you have an idea, right? Like sometimes, these ideas come to you late at night, like when you're lying awake in bed trying to fall asleep, or maybe they come to you when you're in the shower or maybe they come to you while you're driving or maybe they come to you from wherever. And there's this kind of common misconception that there's this like blank slate problem. I've never found this to be true, this idea of the blank slate. Like I have the exact opposite problem where I almost always wind up something more like this, which is like this just galaxy of ideas, right? And you have like a central topic in the middle somewhere and then just all of these satellite ideas just flying around. And the problem here is that like some of these ideas are good and some of these ideas are bad, and you have no idea which is which, right? The connections between them are either weak or non-existent, and everything kind of seems like a good idea in this moment. Actually, who here is workin...
g on a project right now that kinda feels like this, like galaxy? Okay, that's good, that's good, and this is kind of a scary place to be. And what we're gonna be talking about is we're gonna be talking about turning this into something that's actually organized, something that you can take into an interview and talk to someone with. So when I'm in this stage, when I'm in this like galaxy stage, what I always do immediately is I always make a main document. This is just like where everything goes. This is like the info barf place where you, or I just put everything. I put my research, I put any initial questions that I have about a topic. I'll do free writes in there, I'll add images, contact info for people that I wanna talk to. If I take a phone call or an e-mail, I put all of this information in here. When I'm in this process, I use a software called Evernote, which is not like a pretty piece of software to work with but is something that lets you just put every single thing you have down in a big list format. Of course, there are other options too. I know a lot of people use like Word docs, or lots of people who just like use notebooks or anything. It doesn't really matter what you use, but what you need to do is you need to have an initial place to put everything. What I like about using this digitally is that I can just write whatever I want, and then, for me, CNTRL+F or Apple+F if you use a Mac. Just be like, "Okay, so where was that thing I was writing "about like dogs," or like, "Where was that thing I was writing about like birds?" Or I don't know why I'm thinking of animal examples here, but, "Where was that thing where I like I needed that link, "or I needed that reference or that quote." And it's just all there, just search for it, you can find it immediately. I've been, just recently, I was working this summer on a big piece about the religions of Santeria and Palo, which we're not gonna talk about the specifics of, but needless to say, I knew nothing about them, right? I knew nothing about them, and so, I had to do all this research. And so, like this is my main document here. You can see like there's like research. There's stuff from a pre-interview that I did with a source. There's links out to things that I'm gonna need later, phone call notes, scans from books, notes from other books, notes from articles, links, and everything. And another piece that I did that was similarly, it was like about a topic that I didn't know. Sources, contact info, scans of old maps, and things like that. Like all of this just winds up in this one document, and this is essential. This is like your lifeline, but we have to treat it carefully because it is that info barf. It is that like galaxy of ideas, and you can get lost in these things really easily. So we have fluff in here, right, and we need to get the fluff to whichever of these ideas are not good. We need to start forgetting them. So what we can do is we can simmer away the distractions, the relevant facts, the side notes, the tangents, and the best way to do this is just to wait. Give it some time, and we often think of forgetting as like a negative trait. But forgetting is actually just a way of turning down the volume on everything, helping you remember what's important. You don't get sidetracked by all these distractions. You can remember what is important and what you care about. So this is where it's important to walk away from your research, walk away from your main doc for awhile, and that time is going to be incredibly beneficial to you. So how much time though? It really varies depending on the source. Of course, if you're someone who's working at a newsroom, and you're like filing daily podcasts or something like that, you don't have the luxury of waiting a month on a piece. Or you know, on the other end of that, maybe you shouldn't be waiting on a piece. Maybe you need to be going faster. So I kinda found the sweet spot for this kind of waiting process to be somewhere between 30 minutes and 30 days. Of course, you're gonna have to go outside of that from time to time, but what's important is that you do take time to step away from your project and forget a little bit. My sweet spot is kinda somewhere in the neighborhood of 12 hours to seven days, but I've definitely gone shorter and longer on both of those. The benefit to the short turn around is that you can actually get working on a piece and use that initial energy that you have. The benefit of the longer wait is that you'll actually have time to reflect and really forget in a good way some things. The danger on the short end is that you might be under prepared, and the danger on the long end is that you might have lost that initial energy, that initial spark that got you interested in the piece in the first place. So what should you be doing during this time? Well, you shouldn't be looking at your main document. You should be eating, feeding yourself. You should be thinking about this. You can open up that main doc if you wanna like journal about it or like free write about the topic. One of the best things you can do though is you can pitch your friends. Like if you have good friends, your friends will be like, "Hey, so what's new with you," right? And usually, people use that as like a small talk sort of thing, but like take them seriously on that and be like, "I'm working on this news story. "I'm working on this project, "and here's why it excites me," right? Like, "Here's what's really exciting "about this piece to me," and the first couple of times you do it, you know, just in a sentence or two. The first couple of times you do it, it's not gonna be any good, and people are gonna be like, "Oh, cool," like whatever, you know. And when people start coming back at you, when your friends start coming back at you and start asking you like more questions, like follow-up, like, "Wait, but what about this "and this and this and this?" That means that you're starting to coalesce your ideas in a more helpful way. Another thing I'm gonna (laughs) I'm gonna just throw this out here. One thing that I like to do is I like to take baths, and... Like when you're in the bath, like you... You can just dip your head underneath the water, right? And like suddenly, because I'm an anxious person, right? I get anxious, and that can be beneficial in some ways. But what I have to do is I have to find ways of countering that, and so, if I dip my head under the water, like I'm suddenly in another world, right? And I can like hear all my joints moving, like I can hear my breath going in and out, and I can hear and see the world in a slightly different way. And it helps me forget these things that are constantly running through my mind. I find that really helpful, but it's gonna be different for you, right? You're gonna find this as you do this more and more. You're gonna find the things that help you forget. So what we're doing in this process, though, is we're figuring out what is actually interesting from that initial galaxy of ideas that we have.
Ratings and Reviews
This class has a lot of really interesting insights and ideas. It is definitely focused more on narrative/interview/experimental style podcasts, but I think anyone interested in any aspect of podcasting would enjoy listening to Jeff speak on the subject. He's a really unique person with a really neat perspective on the medium, and sound in general.
Jeff definitely communicates the ideas very well and he is a compelling storyteller. The course offers many useful concepts. However, in my opinion, these little nuggets of insight are strewn about in layers that will have to be discovered as one gains more experience and spends more time honing their craft. I feel, for example, that while I picked up a lot on the techniques, many more aha moments will come about as I keep at it and encounter moments that I will connect back to these lessons. Then I would have peeled away another layer and deepened my understanding. This is a course that will continue to hold value long after you've completed it.
Student Work